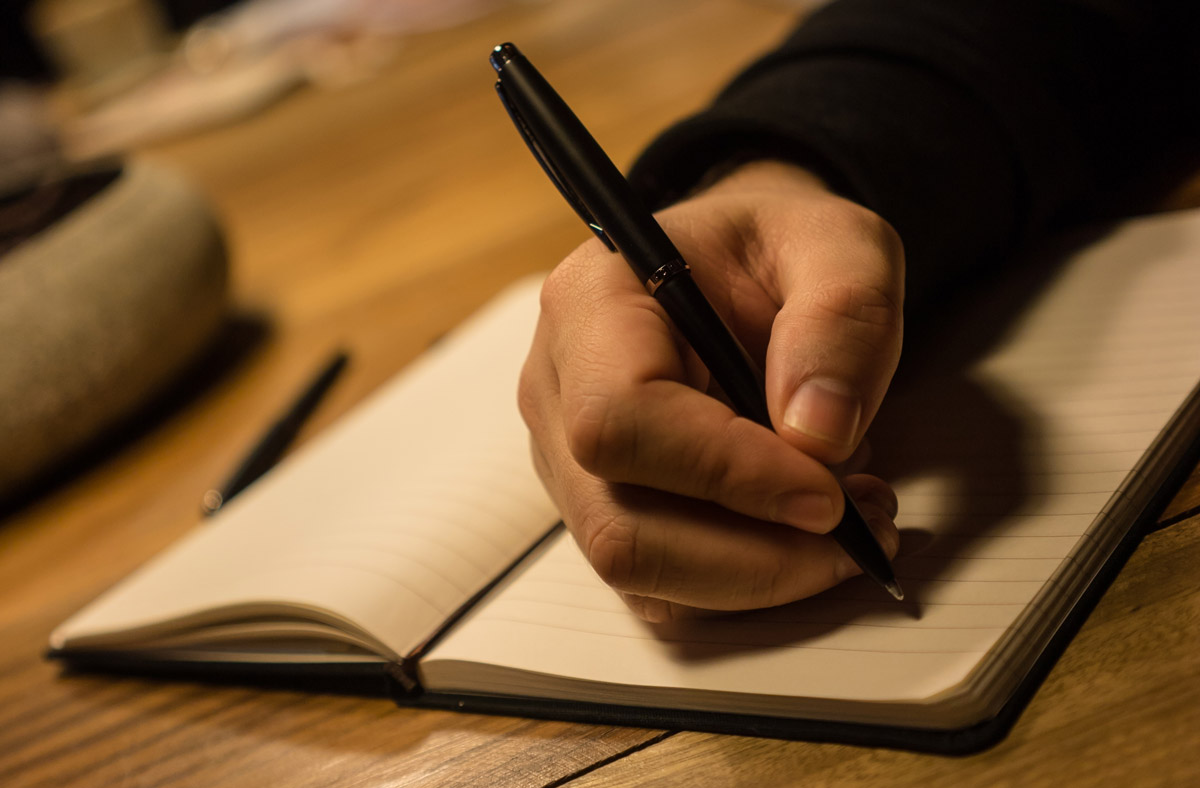 Launched in 2014 by former Georgia poet laureate Judson Mitcham, in collaboration with the Georgia Council for the Arts, the Georgia Poet Laureate's Prize is an annual program designed to encourage works by teen writers. It is open to all students in grades 9 through 12. Read more about its inception here and meet the 2023 winners and finalists below, selected by state poet laureate Chelsea Rathburn.
Winner
"Right Here"
By Eniola Badejo
You're gazing out the bus window when you see it.
November. Rocking on the horizon like a storm
cloud ready to burst.
Yesterday or the day before that, the brewing
Monét painting outside would have consumed you.
Another November?
With a to-do list thickening like weeds sprawling across Eden?
With a frost tracing winds harboring such heavy howls?
       "You're lonely, you're lonely, you're lonely, you're—!"
But today is different.
Light ricochets on your lap the same way it did
the last time laughter streamed from your
mouth like juice from a pomegranate.
Watching it pour from the window knocks the wind right out of you.
You're finally ready to let it all go, you realize.
The fatigue rotting under your fingernails.
The vengeance hiding in the fractures of your lips.
Could hope be coming back? Right here?
On a Thursday morning drenched in sweat?
You start unraveling.
No more waking up with apologies caked on my eyelids.
     Peeling.
No more teeth grinding into sand behind an assembly line smile.
      Tearing.
You get so close you can hear the water running.
You can see the steam rise over the stove.
November is coming, and you can do it this time.
You shiver as your spine cracks in half.
I can start all over again, you whisper.
Right here.
Eniola Badejo is a senior at Hillgrove High School. He is a storyteller, creator, and hope enthusiast who loves messy notebook pages, hearty laughter, and "The Orange" by Wendy Cope. He is deeply honored to receive this award and thanks the teachers, family members, and best friends that have inspired and trusted him as a human and an artist. As he departs for college, he plans to continue sharing sunlit pieces of his heart through art.
---
Finalists (alphabetical by author's last name)

"Prism"
By Isabella Fonseca
The sunroom was a prism.
A prism where sunlight poured through the windows,
filling the room with stained glass colors
and beaming onto the round rosy faces of kids
and the softened silhouettes of their kin.
A prism that left its inhabitants bathed in
watercolor light.
The sunroom was a garden.
A garden where daisies bloomed in ceramic pots,
glassy eyed fairy figurines perched behind leaves,
and the melodies of cicadas and Elvis intertwined.
A garden where a girl and her grandma hosted tea parties
for esteemed guests like teddy bears and Barbie dolls
and butterflies in mason jars.
The sunroom was an observatory.
An observatory where the stars flickered and winked
in the mountain fog, illuminating the wide eyes of kids.
An observatory where a star could be caught in a jar
and observed from every angle,
its wings bumping against the lid, until the kids cried
that it wanted to be free.
The sunroom was a prism,
until suddenly, it wasn't. Until, suddenly,
sunlight was just sunlight and lightning bugs were just bugs.
Until suddenly, people didn't sleep under quilts but
under dirt like seeds that never bloomed. Grief left the room
fragmented and stained. I sit here, now, feeling like a butterfly in a jar,
patiently waiting for metamorphosis.
Patiently waiting for a sliver of sunlight.
Inspired by Richard Blanco's "El Florida Room"
Isabella Fonseca is a senior at Harrison High School in Kennesaw. She is an alumna of Georgia's Governor's Honors Program in Communicative Arts and recipient of the High School Phi Beta Kappa Book Award. Her writing portfolio, which includes prose and screenplays, was recognized by the Scholastic Art and Writing Awards. When she is not writing or dancing, she can be found shamelessly overanalyzing anything written by Joan Didion or Taylor Swift. She is honored to have this opportunity and is eternally grateful to her teachers and family for their support.
---
"Morning Anemoia"
By Andrea Lam
anemoia: nostalgia for something one has never personally experienced
The air is thick and heavy
The sun, just making its debut
Into the early yellow sky,
Lets its warmth consume the space around me
The streets are sprawled with early breakfast eaters
At the corner table sits a man alone
Sipping idly at his coffee, that
Leaves a ring of sweat on the wood it sits upon
Wrinkled faces, filled with wisdom
Wait reverently behind stands that hold
Fragrant helpings of: phở, bánh mì, gỏi cuốn
Each one made fresh just that morning
The market around me is filled
With faces that are similar to my own
Square faces, silky hair, sallow skin
I slip right in with the crowd
My parents often share stories
Of their childhood in Saigon
How before it was no longer their land
Before it no longer belonged to them
It was the most beautiful place to ever be seen
I have never been to Saigon
But this is how I imagine it'd be
I'd find comfort in the tranquility of its mornings
And a time for which I have yet to see
Andrea Lam is a senior at West Forsyth High School. She's always had an appreciation for all kinds of writing, but had never felt confident enough to share her own until this year. When not writing, she loves to listen to music (Taylor Swift is always a given!), read novels, and spend quality time with her family and friends. Later this year, she will be attending UGA. Andrea is honored to receive this award and would like to thank her family for being a constant inspiration, along with her English teachers, especially her senior-year literature teacher, who fueled a deeper love for writing and continually encourages her to look for the "little coincidences" in life.
---
"The Habits of Strawberries"
By Celina Simone
I still pick them from my Nina's garden, with sweat-
slicked hands. I never wipe them, afraid that without
the salt they'll be too sweet. I tug them from waxen
stems pretending they're little hearts grown in a body
of tangled juniper and dusty yellow. I always
forget to rinse the filth away before placing
the soft and tender red between my teeth, never
hesitating to swallow them in an instant. They drip
warm and sweet into my tongue tasting of the things
I still repeat. Things I have grown from vines,
like prickled nets around my stunted bones. Nails peeled
and bitten down to slivers, favorite songs on repeat till
they're hated, pressing my molars together,
so absent-minded, this pressure may force them
to become one. I strangle the bridge of my nose,
and scratch away the freckles on my arms, still
hoping I will grow to leave the weeds behind.
That I'll become something starry and beautiful,
like the red berry moon that rests in the warm,
summer sky. But what grows inside me is just
a patch of tangled habits, weeds born from the soil
to strangle the garden and all the fruit it could ever offer.
Celina Simone, a sophomore at Lambert High School, is a University of Iowa BTL Alum and will be going to GHP for Comm Arts this summer. She has been published under the pen name Celina Naheed in multiple literary magazines, including Words Without Borders and the Lumiere Review. She is the founding editor of her school's literary magazine (Mis)Printed and has been recognized by Scholastic Arts and Writing Awards. When she's not writing, she loves watching movies with her dogs and watercoloring.
---
"Music Box Ballerina"
By Jeonghyeon (Erica) Yun
What happened to our pas de deux?
Velvet curtain wilts closed.
My elbow blooms purple from
when you dropped me on the stage,
echoes of Tchaikovsky ringing in my head.
I don't want your consolation roses.
The thorns prick my fingers,
leaving ribbons of pink scratches
along with your lies (the regret in your eyes)
braiding around my arms
as I exit stage; this must be my swan song,
some figure suffocating in a little girl's
forgotten music box.
(I actually do want the roses.
The petals unravel softly,
falling as I was, and I'm convinced
I was that beautiful,
and my lies adorn my arm
with silk ribbons, like a doll.)
The elbow does not seem blackened, anymore,
and I'll forget the failed dance.
Please wind me up again,
paint my arms with your porcelain,
and I'll forget you were never there for me
if you open me up and let me dance.
Erica Yun is a senior at McIntosh High School. Her interests right now include photography, visiting antique stores, and watching movies (especially 2005's Pride and Prejudice). She would like to thank her loved ones for their support.