Justin Amick is excited. You can tell by the way he rattles off details at lightning speed, describing everything from sport courts and decor to food and beverages. The co-founder of the Painted Pin and the Painted Duck, Amick is getting close to launching his third project, three years in the making. It's one he holds near and dear, as he, himself, is a competitive pickleball player. But Painted Pickle is not just for pickleballers. To Amick, it's "a high-end compeatery, gaming, and entertainment venue—a place to compete, eat, drink and be social."
Located in Armour Yards near East Pole Coffee and SweetWater Brewing Co., Painted Pickle is 32,500 square feet of space designed for convivial rivalry and social engagement. Like "eatertainment," a "compeatery" is a conglomeration of words, one Amick is hoping will catch on. He even trademarked it. "It really captures what this place is all about—rivalry, camaraderie, friendly competition, and social activation," he says. "Pickleball has generational synergy. What other recreational game can you thoroughly enjoy with three generations on the court at one time?"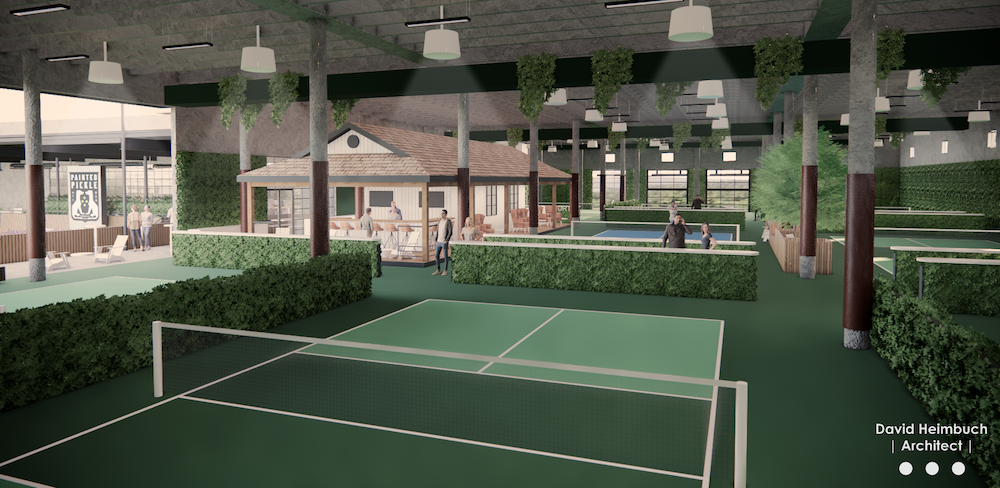 Slated to open in mid-to-late November, Painted Pickle is located at the proposed intersection of the BeltLine's Northeast and Northwest trails, so Amick expects an active lifestyle to be top of mind for his guests. Painted Pickle will have eight indoor pickleball courts centered around a courtyard, with elements enabling an indoor/outdoor experience when the weather is nice. Each court will sport four 5-foot-high walls with faux greenery and hedges and permanent, professional nets. In a nod to Wimbledon, each will be painted green, while a central Championship Court will feature the US Open's signature blue. A white clappered siding cottage will contain a small pro shop with swag, a private bar, bathrooms, changing areas, and showers. A wraparound porch with Chesterfield Football Club chairs will provide a place to relax and watch others in action. "It's an All England Club meets Augusta National aesthetic—the court is the show," Amick says.
Painted Pickle will host leagues, demos, lessons, open play, tournaments, round robins, and corporate events. Players will pay by the hour—PCKL balls and paddles included. During the day, the courts will be open for reservations, as well as walk-ins. In the evenings, it'll be first-come, first-serve with a waitlist when it gets busy. (This is the same process Amick's other establishments use for bowling.) On Friday and Saturday nights, blacklighting will illuminate the court lines and glowing balls for cosmic pickleball.
For those who rather not hear the incessant ping of pickleballs, 13,000 square feet of other social activities await. A wine wall sits afront giant black iron-wrapped windows. An Advanced Sommelier, Amick is leaning in with a globally inspired, robust, and diverse wine program at the Pickle. A reserve list will also be available. Painted Hospitality corporate beverage director Julian Goglia, formerly of the Pinewood Tippling Room, is creating a menu of classic and signature craft cocktails different from those at the other Painted locations. There will be two alcoholic slushies, including a frozen transfusion, made with vodka, grape juice, ginger ale, and lime juice. Local craft beer will be served, too.
Painted corporate executive chef Thomas Collins is designing a menu of easy-to-eat "bite food," such as sushi, charcuterie, panini, salads, grain bowls, and shareable snacks like fried pickles (of course). Select brunch items will be available on the weekends. A 10-12-seat sushi bar will welcome guests for dining, and soft seating areas are sprinkled throughout the venue. Three covered patios will offer full service. One will have outdoor beach and lawn games—like frisbee golf and Spikeball—in the area below it
Guests can also order at the bar and eat while playing on the indoor gaming lawn. A stage in the center of the lawn will play host to DJs and live music. Expect three holes of putt-putt and three rooms of ping-pong, plus BucketBall and something called Subsoccer that can be played while sitting at a table. Traditional games like darts and table shuffleboard will be there, plus twists on games like tetherball using a pickleball. Like at the Painted Duck and the Painted Pin, these games will be complimentary.
The full venue will follow a similar schedule to the other Painted spots, opening around 5 p.m. on weekdays and full days on weekends. Amick and business partner William Stallworth are also working on another Painted venue, called Painted Park, on the BeltLine's Eastside Trail. It's slated to open in January 2024.