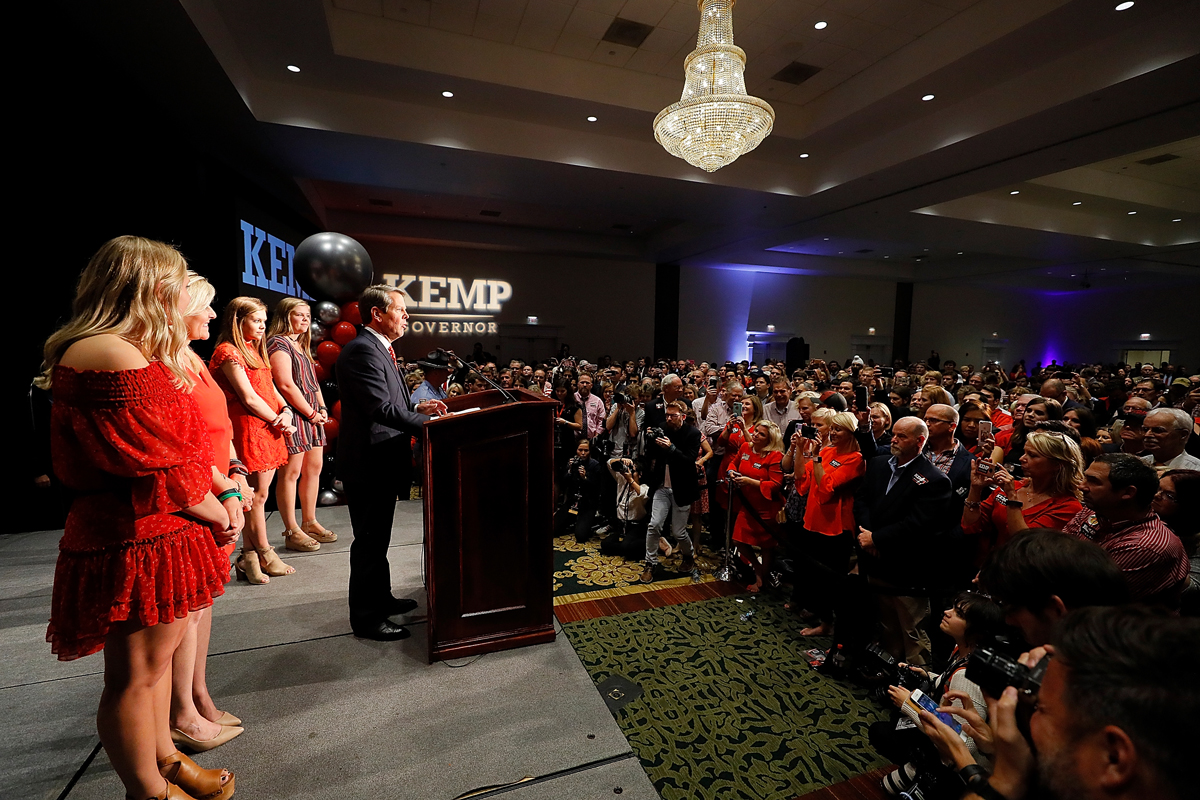 After an election day fraught with polling precinct problems—election officials only delivered three voting machines to the Pittman Park location, causing long lines, and officials at a precinct in Snellville neglected to bring power cords for the voting machines, causing extensive delays—candidates and supporters gathered to watch whether Republican's 16-year control of the governor's office would come to an end. Stacey Abrams held court in downtown's Hyatt Regency hotel, where just one year prior Keisha Lance Bottoms celebrated her win of the Atlanta mayoral race; Brian Kemp partied in his hometown of Athens at the Classic Center; and Ted Metz and fellow Libertarian candidates ate pizza at, where else, a Mellow Mushroom in South Buckhead.
For most of the night, the party inside the Classic Center was a sea of black and red—the colors of both Kemp's campaign and the beloved hometown University of Georgia Bulldogs, from which Kemp is a graduate. Many donned a mix of UGA and Kemp-branded clothing, and a few "Make America Great Again" hats peeked out in the crowd.
One supporter, Andrew Lawrence, a senior political science major at UGA, was also an intern for Kemp's campaign. "I grew up in Vidalia, and [Kemp] visited my town three or four times," Lawrence said. "[Kemp] really took the time out to go and speak with people in those communities—farmers and small business owners. I'm hoping there will be a benefit there."
Lawrence believed President Donald Trump's administration helped Kemp get more support, noting that the "silent majority is not so silent anymore."
"Seventy thousand people reserved tickets for the Trump rally in Macon, and [Vice President] Mike Pence came down twice. I definitely think that the Trump voter base is going to come out for Kemp. I hope that they do at least," Lawrence said.
At the Hyatt, press from across the country packed the media pen to watch Abrams's nationally talked about race to become the country's first black female governor, requiring organizers to add an extra row of chairs. Long lines of supporters stretched outside the downtown Atlanta hotel as people were brought down in waves, led through cordoned-off area, then through metal detectors. By 9 p.m., a crowd of roughly 200 people filled the ballroom, where talk show host Rashan Ali served as the emcee.
Security was also tight at the Classic Center, with doors crowded by police officers and security guards. Here too, local and national press lined the back wall as the standing-room crowd sipped Bud Lights from Kemp-branded koozies and cheered for emcee Erick Erickson, the conservative Atlanta-based political pundit who kept enthusiasm high, particularly when he was announcing Republican victories such as the GOP's retention of the Senate.
At Mellow Mushroom, most of the TVs were broadcasting sports, with the exception of the half of the restaurant the Libertarian Party of Georgia had cordoned off for their watch party. Alongside Metz was public service commissioner candidate Ryan Graham, who said he wasn't expecting to beat his opponents but instead was pushing for a runoff so he could further spread his message.
"I think Republicans are, by and large, fed up with the public service commission—if they're paying attention," he said. "The problem is, most of them aren't. I have an endorsement from the Atlanta Tea Party because they're paying attention."
Metz, too, echoed a similar sentiment about his role in the gubernatorial election. "This whole thing is not about winning; it's about getting the word out about what's going on in our country," he said. He called both of his opponents—Kemp and Abrams—"scandal-ridden," and hoped a runoff would give voters time to get to the bottom their alleged malfeasance.
First stop of the night: Manuel's. It's, of course, packed. pic.twitter.com/5HQucKl0wy

— Jewel Wicker (@jewelwickershow) November 7, 2018
Meanwhile in Poncey-Highland, a note from management taped to the door of Manuel's Tavern began, "For us and for all of our patrons, tonight is our Super Bowl." Inside, 72-year-old Mac Ryland, wearing a black T-shirt from former President Barack Obama's 2008 campaign, called the popular political bar the "informal Democratic headquarters of Georgia." Ryland has pulled a chair between two tables in the crowded bar and watched the screens intermittently with his arms folded, unmoved by the chaos around him. He was trying not to get his hopes up as projections rolled in but wanted Abrams to be Georgia's next governor because she's "smart, dedicated to the welfare of all people and in favor of expanding Medicaid."
Throughout the night at Kemp HQ, supporters hand off their phones to friends to take their pictures in front of the podium. Republican Senator David Perdue took the stage around and delivers a favorite talking point for the crowd. "I've got good news," he says. "Today is November 6, 2018, and Hillary Rodham Clinton is not the president of the United States." He added, "What Democrats believe in doesn't work in America."
Around 10 p.m. in the ballroom at the Hyatt Regency downtown, with Kemp enjoying a comfortable 250,000-vote lead, Democratic Congressman John Lewis urged the supporters to remain optimistic, the first of several battle cries from Ebenezer Baptist Church pastor Reverend Raphael Warnock, state Senator Nan Orrock, and R&B singer Keri Hilson that carried a tinge of resignation.
Congressman @repjohnlewis comes out to urge supporters to remain optimistic. Tells the crowd that many votes still need to be counted. pic.twitter.com/dB5CWv5Ilq

— Thomas Wheatley (@thomaswheatley) November 7, 2018

At Manuel's, the crowd counted down every projection and erupted into cheers every time CNN or MSNBC—the two stations playing on screens throughout the restaurant—called a race in favor of a Democrat. Michael Taylor, 75, cast an early ballot for Abrams but was concerned as he watched the day's reports of long lines, voting machine shortages, and other issues. He said he believed the instances were designed to suppress the minority vote. "It's always been some wall to keep minorities from voting," Taylor said. Still, he cast his ballot for Abrams because he believed the country is capable of change. "In order to change the system, you have to participate in it," he said.
In a smaller dining section in the restaurant, 40-year-old Shanunacy McHenry donned a costume: a blue onesie with a cape. She was a "blue wave" superhero, she said. A volunteer for LGBTQ nonprofit Georgia Equality, McHenry sported a blue wig and blue rhinestones on her face. From head to toe, she's a symbol of what the crowd at Manuel's hopes to see in Georgia and throughout America.
Spotted at Manuel's: 40-year-old Shanunacy McHenry has created her own "Blue Wave" superhero costume. pic.twitter.com/u2UELTYB6D

— Jewel Wicker (@jewelwickershow) November 7, 2018
Inside the Abrams party, a diverse mix of black, white, Latino, and Asian people, young and old, milled about, turning their attention in between pep talks from the stage to big screens tuned to CNN updating on races across the country. The news network projected that Democrats were on track to take back the U.S. House of Representatives, ending the one-party rule that has gripped Washington, D.C., since Trump took office.
"Georgia is changing, and Stacey Abrams in her own brilliant way has found a way to capture the imagination of an emerging American electorate," Warnock, the reverend at Ebenezer Baptist Church, told Atlanta magazine. "Regardless of the outcome tonight, and certainly we are hoping she will win, through the registration of nearly 300,000 new voters and the brilliance of her candidacy, she's already transformed this state. Imagine it: this is the cradle of the Civil Rights Movement and the heart of the Old South, the Confederacy. To have a black woman be the nominee for a major party, to run such a formidable race here in Georgia at a moment like this, in a real sense she's already captured a victory for us. No one on either side of the aisle will be able to run in the same way."
By 10 p.m., the crowd at Manuel's began to thin shortly after NBC News projected Republican Ted Cruz to win over Democrat Beto O'Rourke in Texas, a Senate race watched arguably as closely around the country as the Abrams-Kemp race. The remaining crowd managed to muster a "Sta-cey" chant as MSNBC updated viewers on the race just before midnight, but the cheering dissipated within seconds.
As the night wound down in Athens, Zac Brown Band's "Chicken Fried" and Alan Jackson's "Country Boy" had both played around 10 times, and several "God Bless America's" and "God Bless You's" had been addressed to the crowd for voting Republican. Plenty of kids, even babies, were still awake, but some began to sit on the floor as they waited for results. Fulton County, traditionally a slow county for election results, was even later than usual due to issues and long lines at some precincts—the county announced just before midnight on Twitter that all votes had finally been cast.
Supporter Dale Atkins, from Baxley, Georgia, a rural town 200 miles south of Atlanta, noted that a runoff between the candidates would be "like a football game."
"We'll kick her butt in overtime," Atkins, a UGA grad, said with a chuckle. "I just don't think it's going into overtime, but if it does, we'll regroup and we'll win it."
"There's two Georgia's," he also said of the election. "There's Atlanta, and then there's the rest of us."
Cameron DeBose, a 22-year-old supporter seated with friends on the floor as Whitney Houston's "I Wanna Dance With Somebody" blared over loudspeakers, came to "watch history be made," he said. He was hopeful about the tide turning in Abrams's favor. "We've seen this before with Keisha Bottoms. It started off that way, but at the last minute, it very quickly turned around." Just before midnight, the 16-story atrium lobby bar of the Hyatt Regency, where supporters unable to obtain wristbands to join the ballroom had gathered, erupted in applause as a 10-point margin that had held steady for hours narrowed to three points, separating the two candidates by roughly 100,000 votes. An Abrams supporter informed the crowd that early votes from Democrat-heavy DeKalb had been counted, and in the process cut Abrams's vote deficit by half. Outstanding votes from Fulton, Gwinnett, and other urban counties were starting to trickle in and favored Abrams. Metro Atlanta was finally starting to deliver. Inside the Abrams event, the mood swayed from dour to overjoyed, as supporters danced, sang along to music, and sipped drinks as the prospect of victory—or at least a runoff—seemed more realistic.
But the race would stay too close to call for the remainder of the night. At both election night parties, supporters waited for their candidate to either announce victory, concede, or simply say, "We'll know tomorrow." Around 1:30 a.m., Abrams, backed by her family and a mix of young and old Democrats, addressed her supporters. "Tonight we have closed the gap between yesterday and tomorrow. But we still have a few more miles to go." She refused to concede the race, hinting at a runoff by saying, "If I wasn't your first choice or you made no choice at all, you're going to have a chance to do a do-over."
"We are still on the verge of history, and the best is yet to come," she said. "This is not about me. It's about us. It's about our voices. It's about our time." She encouraged the crowd to chant with her, "Say it with me: We are Georgia! So let's get it done."
It was another hour before Kemp approached the podium in Athens, with his wife and three daughters by his side. He apologized for his tardiness and joked that "it took the girls a little while to get ready."
"I built this campaign on one promise, that as governor, I would put hardworking Georgians first," he said. He noted his high-profile endorsements from Trump and Pence, but said the "most important" support came from the people in the room. "We've chopped a lot of wood."
"There are votes left to count but we have a very strong lead," Kemp said. "And folks, make no mistake, the math is on our side to win this election. We're waiting on the final results, but I'm confident victory is near."
Now what? Our recap of what happened Wednesday as the race remained too close to call.