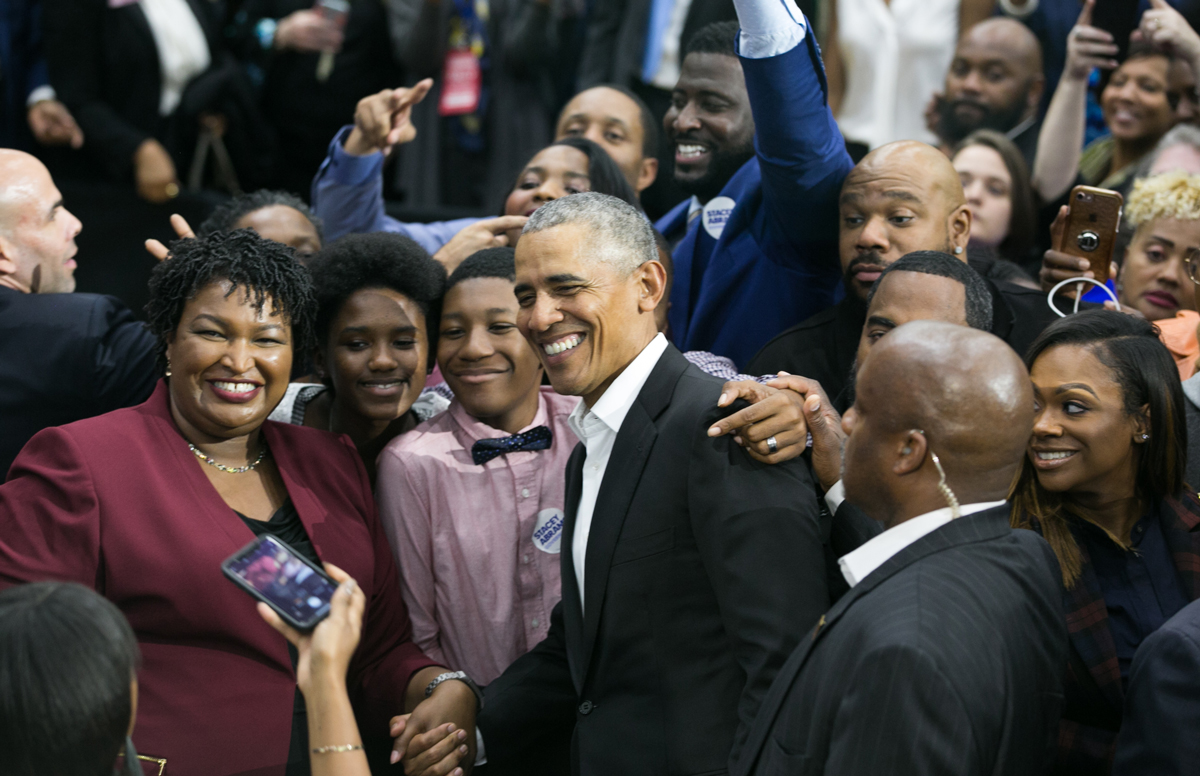 During a rally for Democratic gubernatorial candidate Stacey Abrams on Friday, former President Barack Obama played all of his fans' favorite hits. When someone in the crowd shouted "Obama, I love you," he replied, "I love you back." He said, "Don't boo, vote," his oft-repeated phrase from 2016, multiple times during his hour-long speech at Morehouse College's Forbes Arena (only during one of which was the crowd actually booing). He talked about "hope" and "change," the keywords of his campaign for president a decade ago. And of course, as Abrams welcomed him to the stage, the crowd chanted his 2008 slogan, "Yes, we can!"
Just as President Donald Trump has been touring the country stumping for Republican candidates in critical races—including here in Georgia on Sunday where he held a rally for gubernatorial candidate Brian Kemp in Macon—Obama too has been touring in support of Democrats since September. He spoke at a rally in Miami, Florida, on Friday afternoon before arriving in Atlanta that evening, and as such, he sounded hoarse as he spoke and made reference to the fact that he was losing his voice. At one point the crowd shouted, "We can't hear you!" but that had less to do with Obama's straining vocals and more to do with poor acoustics in the arena, where most of the speakers were difficult to hear. (The notable exception to this was Congressman John Lewis, whose booming remarks projected louder than anyone else's.)
The event drew a full house to Forbes Arena (the Abrams campaign says the fire marshal estimated 6,600 in attendance), many of whom were a who's who of notable Atlanta Democrats seated in the VIP section. Celebrities such as 2 Chainz, Chris Tucker, Kandi Burruss, and Jermaine Dupri sat near leaders such as Lewis, Atlanta Mayor Keisha Lance Bottoms, and Ambassador Andrew Young. Former Attorney General Eric Holder, who spoke at the event, drew cheers from the crowd upon his arrival. Other speakers included Bottoms, Ebenezer Baptist Church senior preacher Raphael G. Warnock; Democratic candidates Sarah Riggs Amico, Lucy McBath, and Carolyn Bourdeaux; and student leaders from Spelman, Morehouse, and Clark Atlanta University.
Bottoms earned a huge reaction from the crowd as she took the stage just after 5:30 p.m., as many were still entering the arena and nearly two hours before Obama spoke.
"The first time I met President Obama," she recalled, "I proudly extended my hand and I told him I was a member of the Atlanta City Council. And he gave me a really big smile—you know the one we all miss seeing every day? And he patted me on my back, and he said 'Good for you.' So in my head, when I see President Obama today, I am going to extend my hand and I'm gonna to say, 'Allow me to reintroduce myself.' I'm gonna say, 'Atlanta has a mayor named Keisha!'" (The crowd then began chanting her first name.)
Bottoms then discussed how less than 1,000 votes lead to her victory over Mary Norwood in last year's runoff election before rattling off a list of mayoral accomplishments. "We were able to do it because you showed up and you voted," she said, reiterating the night's main theme: the importance of heading to the polls on Tuesday. "While it's been great to have Oprah Winfrey here and it will be wonderful to have President Obama here today, they can't vote in this election. Only we can do that."
Abrams, too, encouraged supporters to do whatever it takes to get their fellow Georgians to the polls. "I need you to call folks you don't like that much," she said. "I need you to call folks you broke up with. I need you to call the people you owe money to."
"Social media will not solve this problem," she continued. "We need your hands and we need your feet. Georgia, don't stop voting until you run out of options."
When the former president finally took the stage just after 7:30 p.m. to thunderous cheers, he laid out his central thesis. "I love Georgia, but I'm here for one simple reason. I'm here to ask you to vote."
"This Tuesday may be the most important election of our lifetime, and that's saying something because some of those elections were mine," he said. "But the stakes this time really are that high. The consequences of any of us staying home are profound."
He then spoke about the divisive rhetoric he said was driving the country apart, including discrimination against race, faith, and sexual orientation, noting that "the character of our country is on the ballot." He reminded the crowd that the election was their chance to "reject [those] politics," but also that "we have been at these kind of crossroads before." He then called to Congressman Lewis and his efforts in the civil rights movement.
"John saw this game being played before, and the good news is eventually we made the right choice as a country," Obama said. "But it didn't happen because everybody sat back and waited for it to happen. John Lewis didn't sit back and say, 'Man, I hope some day things get better.' It happened because some people marched, some people mobilized, some people organized, and when they won the right to vote, people voted to make a better history."
Of course he didn't let the entire night pass without taking a few jabs at Kemp and Trump, neither of whom he mentioned by name. Referring to Kemp's alleged voter suppression, Obama said, "If you are aspiring to the highest office in the state, in which you pledge to look out for the people in your state, then how can you actively try to prevent the citizens in your state from exercising their most basic right?"
He said he was stunned by a controversial Kemp quote from leaked audio during a Buckhead campaign event that made national headlines after it was published in Rolling Stone on October 23. "He said he's concerned about Stacey trying to get people to vote on Tuesday, and I'm quoting here, 'especially if everybody uses and exercises their right to vote.' He thinks that's a problem." (The full quote from Kemp, per Rolling Stone, is "They have just an unprecedented number of [absentee ballots], which is something that continues to concern us, especially if everybody uses and exercises their right to vote—which they absolutely can—and mail those ballots in, we gotta have heavy turnout to offset that.")
"If their efforts to take away your right to vote makes you mad, there's only one way to make it right. Don't boo, vote!" Obama said, repeating the last word as the audience began chanting, "Vote! Vote! Vote!"
Obama discussed healthcare at length—both Republican efforts to repeal his Affordable Care Act and Abrams's promise to expand Medicaid in Georgia. On Republican promises to protect those with pre-existing conditions from discrimination by insurance companies, which Kemp and Abrams sparred on in a recent televised debate, he said, "They have literally been doing the opposite." [This likely refers not only to Republican efforts to repeal the Affordable Care Act, which includes protections for pre-existing conditions, but also to the policy the Trump Administration announced in late October, widely criticized by Democrats, that would allow states to "use federal funds to subsidize short-term insurance plans with skimpy benefits and fewer protections for people with pre-existing conditions," according to the New York Times.]
"It's like calling up, down. Calling black, white," he said. "We can also call it what it is. It's a lie."
That brought him to what he called, "the bigger question of this election. What kind of politics do we want?" He discussed that while politicians throughout history have "fudged" the truth, "What we have not seen, at least in my lifetime, is an approach in which folks in the highest levels of office . . . will just blatantly, repeatedly, boldly, shamelessly lie."
"When words stop meaning anything, when people can just make stuff up and there's no consequences, democracy can't work," Obama said. Citing George Orwell's 1984 and calling on the Morehouse and Spelman students in the audience to "pick up that book," he continued, "we've seen before what happens when there is no consequence to lying, words stop meaning anything, and truth no longer matters. Not only can democracy not function, societies can't function. Marriages can't function; friendships can't function; businesses can't function if when you say something it doesn't mean anything."
"That is the moment we are in in our country right now, and the only check on that kind of behavior is you," Obama said. "The only guardian of truth is you. You and your vote."
He closed his speech calling again on Democrats to vote and cautioned that Abrams's election wouldn't be a magical, instantaneous cure to problems. But, he said, if voters get involved, "something powerful will happen," echoing the campaign slogans that helped get him elected a decade ago.
"Change will happen. Hope starts blossoming. With each new step we take in the direction of fairness and justice and equality and opportunity, hope starts to spread. That's what John Lewis taught us. Make history here in Georgia. Make things better here in Georgia. Get to work here in Georgia. Let's go vote!"