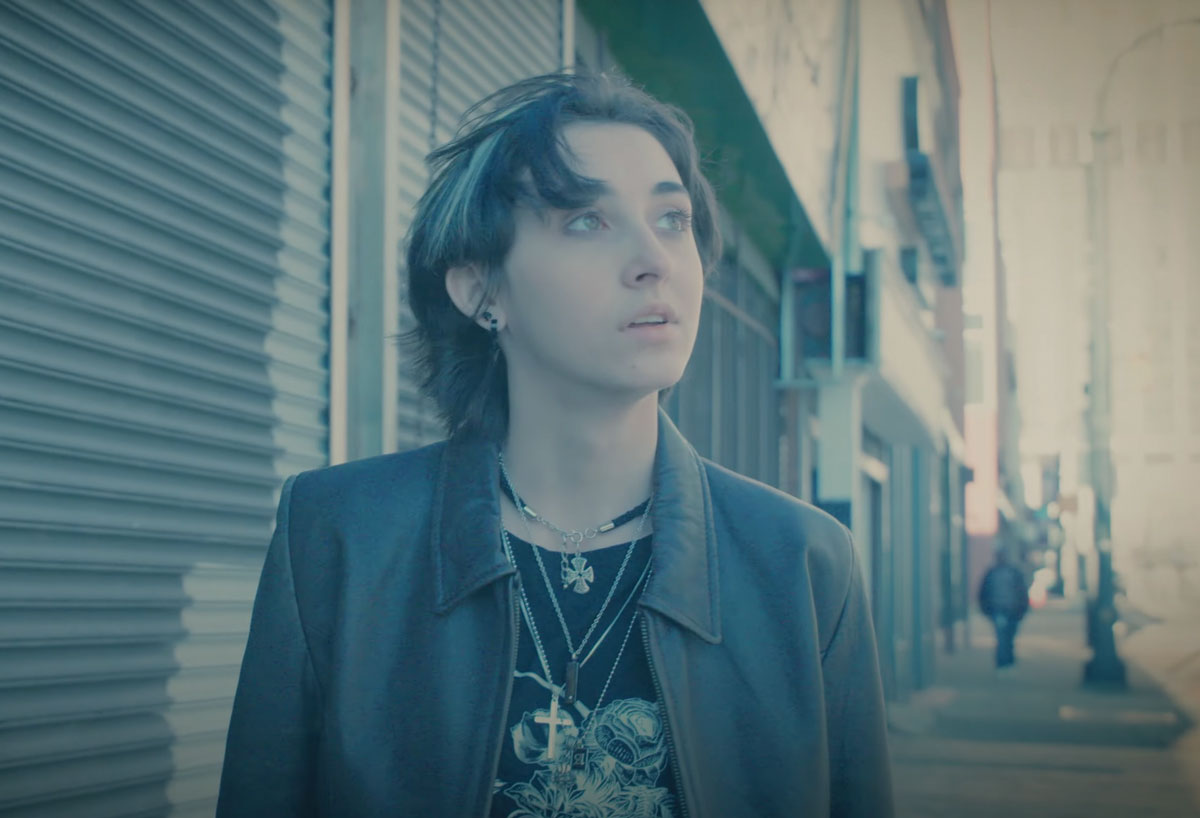 "I've heard Indigo Girls described as country music for liberals," said Sarah Jane Von Hagen, sipping boba tea in a bustling Peachtree Corners cafe. "Which is kind of comforting, because my family's all really Southern." Eighteen years old and a senior at Paul Duke STEM High School, Von Hagen has plenty in common with the Indigo Girls, not least her striking resemblance to a young Amy Ray—a role Von Hagen recently found herself playing, opposite the real, adult Amy Ray, in a music video for Ray's new single, "Subway." Von Hagen's friend Iris Rubin costarred as young Amy Ray's girlfriend.
"Just a random girlfriend," Rubin clarified, sipping their own boba tea on a couch opposite Von Hagen. Rubin, 16 and a junior at Paul Duke, was holding BMO, a ferret the teens are coparenting. "She has both our names on her tag," Von Hagen said. (Pronounced "Bee-Moe," the animal's name comes from the lovable robot in Cartoon Network's Adventure Time). She and Rubin used to date, but that was months ago; now they stick to ferret care and various creative projects.
The music video opportunity arrived serendipitously. Ray, who has a solo career in addition to her work in the Indigo Girls with Emily Saliers, wrote "Subway" as a nostalgic serenade to being young and queer in New York; the video depicts the two versions of her, younger and older, wandering the city streets with a guitar in hand. Video director Scott Lansing, who lives in the Atlanta area, was in search of a young look-alike when he remembered that his daughter had a friend at school who might fit the bill. Von Hagen was down. Did she know anyone who could play her girlfriend? Rubin was definitely down. "Amy Ray's my celebrity crush," Rubin said. "When I met her, I died."
The pair didn't get to meet Ray during shooting. The singer filmed on the streets of New York, while the teens filmed on the streets of Atlanta—downtown and Little Five Points—cleverly angled to look like NYC. But they did attend an Indigo Girls concert shortly afterwards, where they got to introduce themselves. "I said to her, 'I'm playing you!'" Von Hagen recalled. "She gave me a big hug."
Starring in a music video was thrilling, but the teens have other interests as well. Von Hagen's headed to Agnes Scott in the fall; she wants to work with people with disabilities. Rubin plans to become a prison psychologist. And then of course there's the ferret to care for.
"Can we take a break, actually?" Rubin asked. "I think she has to pee."
This article appears in our April 2023 issue.