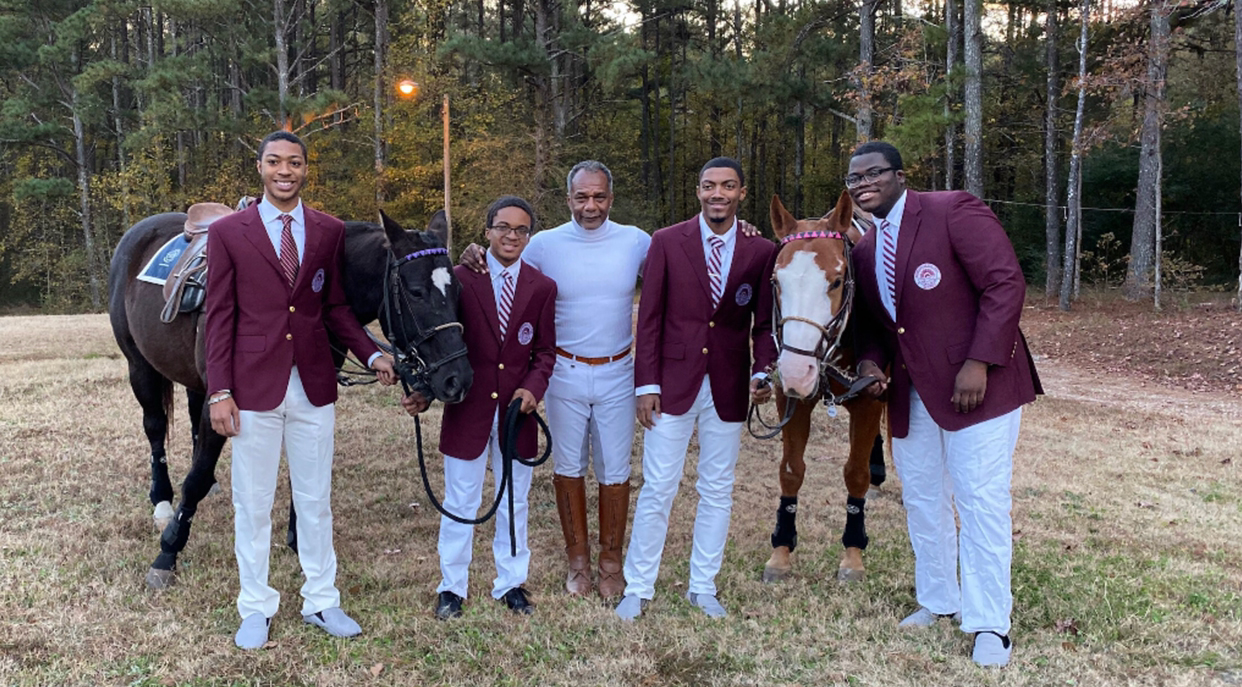 Morehouse College has always been a groundbreaker, and that legacy of shaking up the establishment continues as the school will now have the only polo team among Historically Black Colleges and Universities. The U.S. Polo Association, the governing body of the sport, has officially invited the Maroon Tigers polo club into the organization, immediately allowing Morehouse to be involved in Intercollegiate/Interscholastic (I/I) division competitions.
The idea of an HBCU, or any college, having a polo team may seem unusual; the sport isn't one of the several sponsored by the NCAA, and athletically, Morehouse has historically had a reputation for its strong basketball, football, and track and field teams. But Amy Fraser, I/I Director of Polo for the U.S. Polo Association, says she's confident the school's alumni will embrace the new sport.
"What impresses me most about Morehouse is the strong alumni base and how the alumni, whether polo playing or not, have embraced the polo team and have stepped up in numerous ways to support the program," she said.
The dream of having a polo team at Morehouse was even more feasible to local entrepreneur and team cofounder Miguel Wilson. Along with four Morehouse students, Rian Toussaint, Justin Wynn, Jayson Palmer, and experienced equestrian Caleb Cherry—whose polo coach suggested he try and bring a team to Morehouse—Wilson used his Ride to the Olympics (RTO) nonprofit foundation to begin gathering funding for the team. RTO, established in 2017, is on a mission to make equestrian sports (polo, show jumping, dressage) more accessible to youth who might not normally be exposed to the sport. Morehouse's polo team was established last year.
"First and foremost, [the team's existence is] historic," said Wilson, a Washington, D.C. native and horse enthusiast. "I think we as a people aren't used to seeing ourselves playing this game. For a black institution to be involved with polo, it's sure to inspire a whole lot more people."
As a child, Wilson worked at local stables to earn riding lessons and spent summers as a riding instructor as a teen. "Those experiences led to a lot of jobs while I was in school," said Wilson, who's son, Miguel Jr., also played collegiately. "We have athletes around the city who could be phenomenal polo players, and the more we expose them to the game, the better. This can create a level of player that kids can look up to that look like them."
Morehouse's prestige is a boost for the U.S. Polo Association a boost as well. "The addition of Morehouse, with the strong backing and promise of growth of the program, will be a tremendous asset to the USPA I/I program," Fraser says. "In general the men's intercollegiate division is our smallest segment, and we are continually looking for ways to increase participation and membership in this sector."
Wilson agrees. "We have an initiative at RTO to create 10 HBCU polo teams and to grow the sport."
The team will play its games this spring at the Atlanta Regional Polo Center in Tyrone on the appropriately named Polo Lane.