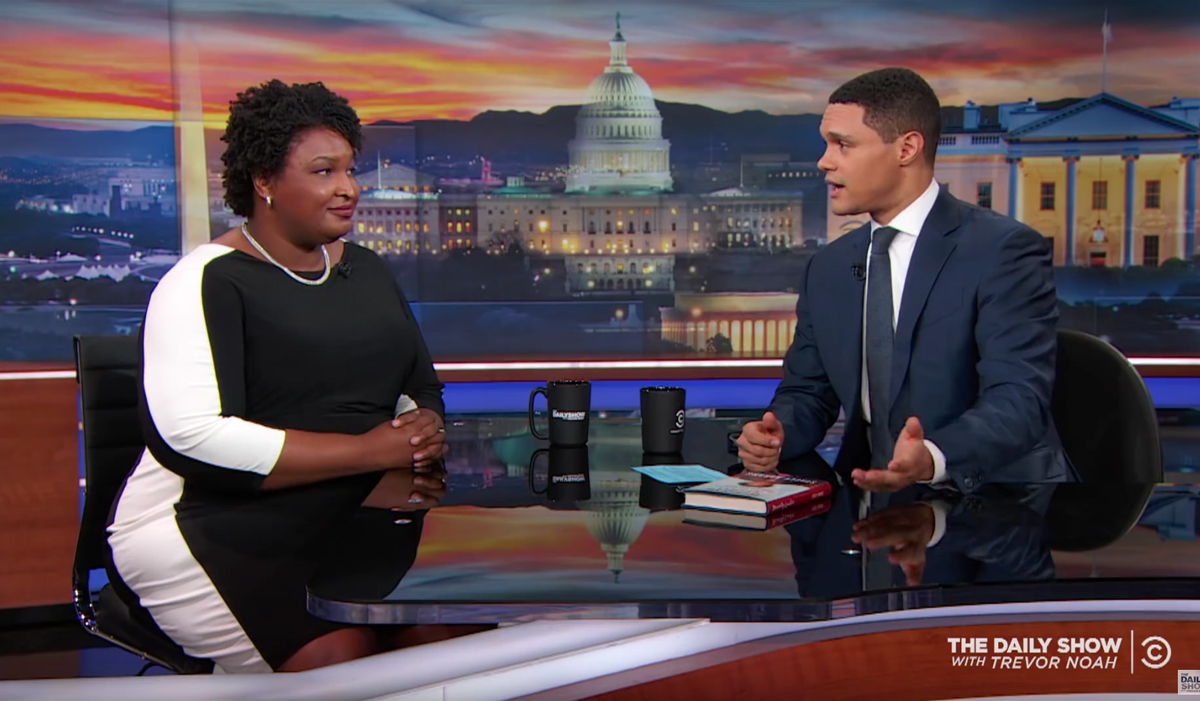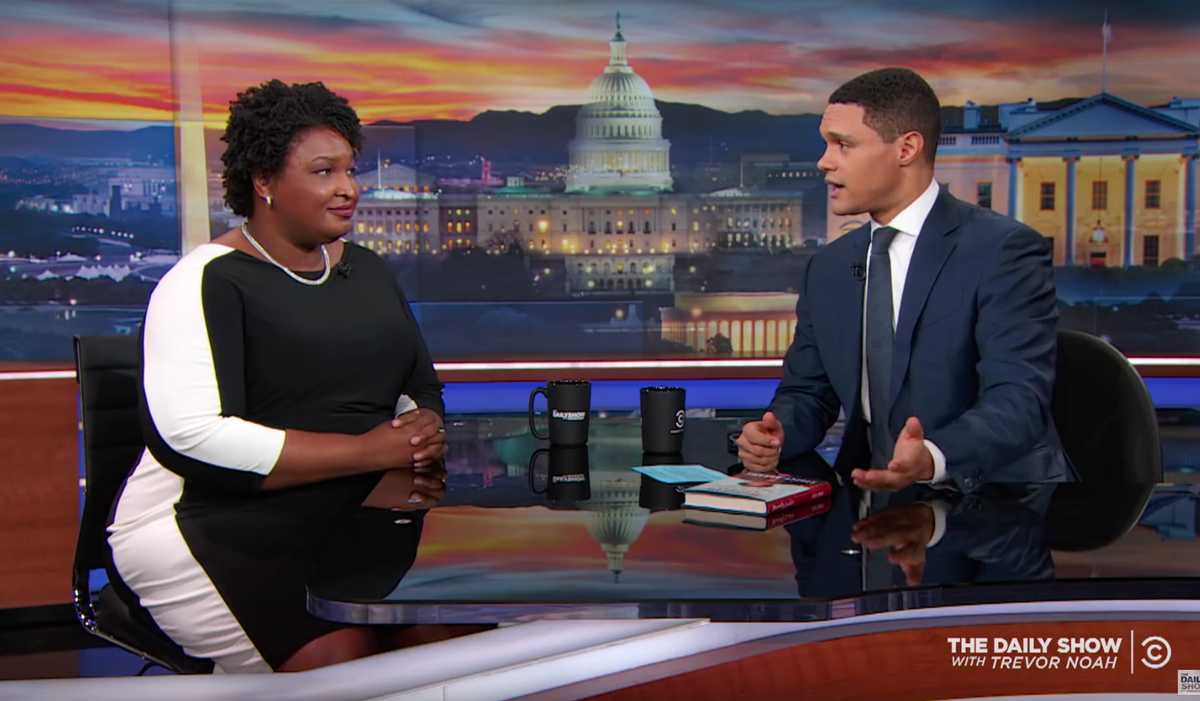 This week's guest lineup on The Daily Show with Trevor Noah was more Atlanta-centric than usual: Democratic gubernatorial candidate Stacey Abrams stopped by for Monday's episode of the late-night political comedy show to promote her book Minority Leader, and Outkast rapper Big Boi appeared on Wednesday's show to promote his most recent album, Boomiverse.
Host Trevor Noah opened his interview with Abrams discussing how the fact that her win could be historic sometimes overshadows her platforms:
"We joke about it on the show, but people often refer to you as the first black female governor," he says. "That's they one thing they say, 'She could be the first black female governor!' And then they go, 'and her opponent—' and then they'll mention all things he's running on: 'His platform is this, this, and this. But she could be black. And governor.'"
"I think sometimes there's a Crayola version of policymaking that happens where they do focus on color," Abrams said. "My mission is to talk about issues. To talk about education and to talk about why it's so critical that we create jobs for everyone that pay a good wage. To talk about expanding Medicaid so that poor people don't get sick in Georgia and that we have hospitals that take care of people when they get sick. But it's hard to get them to focus on that because I think they're so surprised by how far I've been able to come despite what they consider both a disqualifier and an interesting fact that fits really nicely on a chyron."
They also discussed President Trump's tweet about Abrams, prison reform, and how Abrams has been open about discussing her debt, something Noah said a politician would generally hide.
"I want people to understand that you want leaders who actually remember what it was like to have to make decisions, to struggle with money, to struggle with the real choices we make every day," she said. "I have student loan debt because I went to really good schools that cost a lot of money. I have tax [debt]. I reported my income to the IRS, they never failed to know how much. I just told them, 'I'll get to you.' I'm gonna pay. Because I have parents who have medical needs; I have niece that my parents are raising. I'm responsible not just for my household but another one. And I want a leader that knows how to make decisions when things are tough, not just someone who can make easy choices because they've never had to face challenge. I think it makes me a better candidate."
During Big Boi's interview, Noah noted how colossal Atlanta's influence has become in hip-hop. "Music that has come out of Atlanta and that is shaped by Atlanta has essentially become hip-hop," Noah noted. "Everyone has some type of Atlanta influence in their music right now."
Noah asked Big Boi, who wore an "Atliens" hat during his interview, to describe how Atlanta has changed in the past few decades.
"First it started with L.A. Reid and Babyface with LaFace Records, and they gave us a shot, and they had TLC and Toni Braxton," Big Boi said. "And then the movie industry came, and so along with that came the traffic. And then I guess for the past five or six years, Atlanta traffic is like New York or L.A. traffic now. And I think that's when I discovered it, yeah."
"That's how you know you've made it?" Noah joked. "Everyone else is honking in the traffic and you're sitting there like, 'We made it, man. That's right.'"
Big Boi also praised two of his Atlanta protégés. "Two of my biggest accomplishments outside of being in Outkast are signing Janelle Monáe and Killer Mike," he said. "Finding those artists and seeing that there's artists that can take the baton and run with it. They both kind of knew what they wanted, and I didn't have to really babysit them with what they were doing. It was just helping them flesh out ideas, and to see where they are right now, I'm like a proud big brother of both of them for sure."