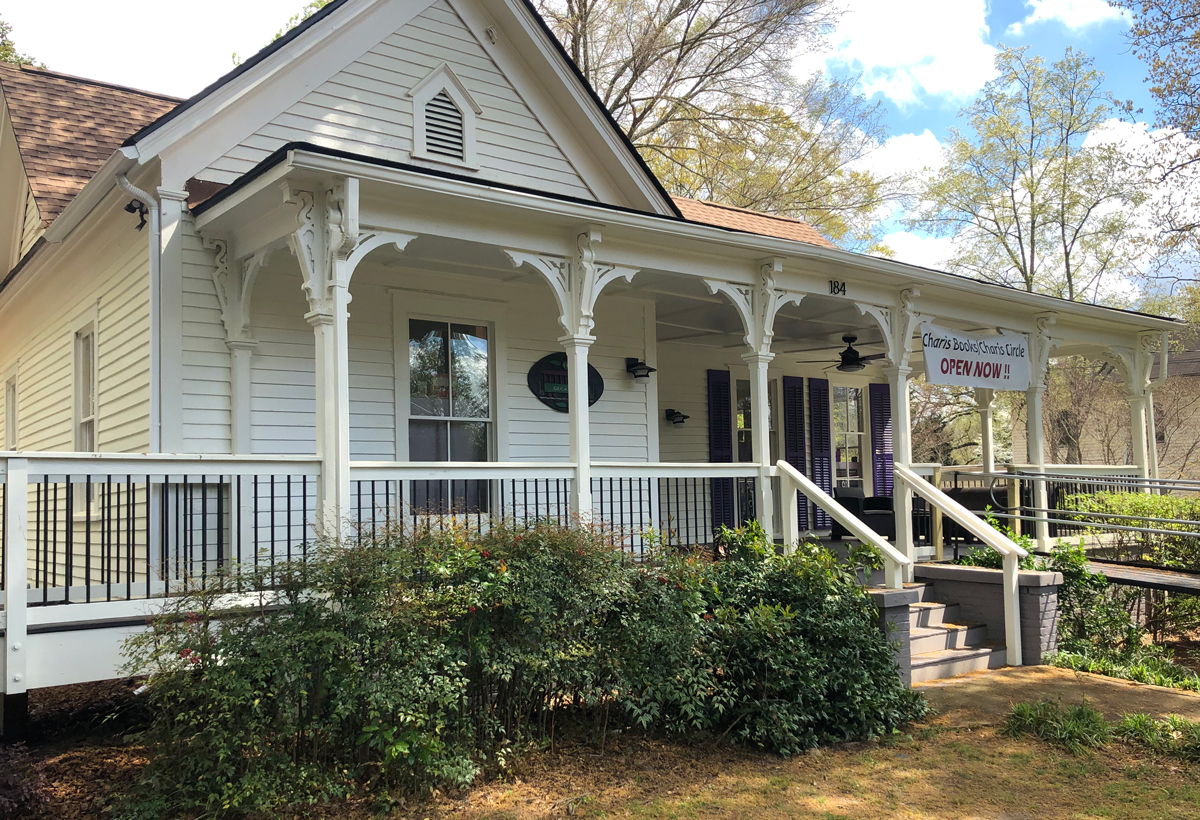 Two years ago, Agnes Scott College, a women's college in Decatur, and Charis Books, a feminist bookstore in Little Five Points, both reached turning points.
With most of their students ordering books online, sales were lagging at Agnes Scott's school bookstore, located in the basement of the student center. The store was set to close, leaving students without a convenient place to purchase school spirit swag, aspirin, and tampons, among other items.
Just a few miles away, the team at Charis Books was also at a crossroads. They'd owned their building on Euclid Avenue for 45 years (they're the nation's oldest feminist bookstore), but rising property taxes and a lack of parking was making it hard to stay in Little Five Points.
This is when E.R. Anderson, the executive director of the store's nonprofit arm, Charis Circle (and a member of Atlanta magazine's editorial advisory board), and Elizabeth Hackett, a professor in Agnes Scott's Women's and Gender Studies department, began talking about a partnership. The timing couldn't have been better since the school owned an empty house at 184 South Candler Street—just across across the street from campus and a perfect location for a bookstore.
"The textbook model is a disposable model—you extract the information and then the product is of no use," says Anderson. "We want to encourage folks of all ages to develop a personal book collection. Even if that's five books that you carry throughout your life, almost everyone should have some guiding books that they really invest in."
They formed a "Charis at Agnes Scott" project management team, consisting of students, faculty, and bookstore staff, to ensure a smooth transition. The college funded the building upgrades for the century-old house, and Charis raised funds for the move. The result is a quaint white house with purple shutters and soft green walls that feels intimate and inviting.
"Students are excited to have a new location to purchase Agnes Scott College T-shirts, mugs, water bottles, and other cherished Scottie items," says Agnes Scott President Leocadia "Lee" Zak. "We welcome our new neighbors."
Charis patrons can expect a completely accessible building, plentiful parking, and upgraded technology. Agnes Scott students, faculty, and staff can expect a new space to hang out, show-off school pride, and access more works from the writers they read in classes.
Charis moved into its new home on April 1 and hasn't missed a beat, immediately rooting itself into its new community. The store recently hosted critically-acclaimed writers Feminista Jones and Damaris Hill, and they'll host a sold-out conversation with Stacey Abrams and former attorney general Valerie Jarrett on April 23. It'll host its grand re-opening celebration on April 27, National Independent Bookstore Day, from 11 a.m. to 4 p.m. Georgia native Tayari Jones, author of Oprah's Book Club selection An American Marriage, will make an appearance in the afternoon.
"Charis has always been about [having] a home away from home," Anderson says. "We want it to be a place that is deeply intergenerational, multiracial, multigendered—it'll be a place where people will interact in ways they're not accustomed to."
"Serving the Agnes Scott community as a whole and the existing Charis constituency is the most exciting and the most challenging part of this," Hackett added. "This is really innovative, and I'm very optimistic."
And if you're looking for a few books to add to your summer reading list, we asked leaders at both Agnes Scott and Charis for their best recommendations.
Elizabeth Hackett, professor and director of Women's Studies Program at Agnes Scott College
Ken England, vice president of business and finance at Agnes Scott College

Sara Luce Look, Charis Books co-owner
Angela Gabriel, Charis Books co-owner
E.R. Anderson, Charis Circle executive director
Lee Zak, Agnes Scott College president