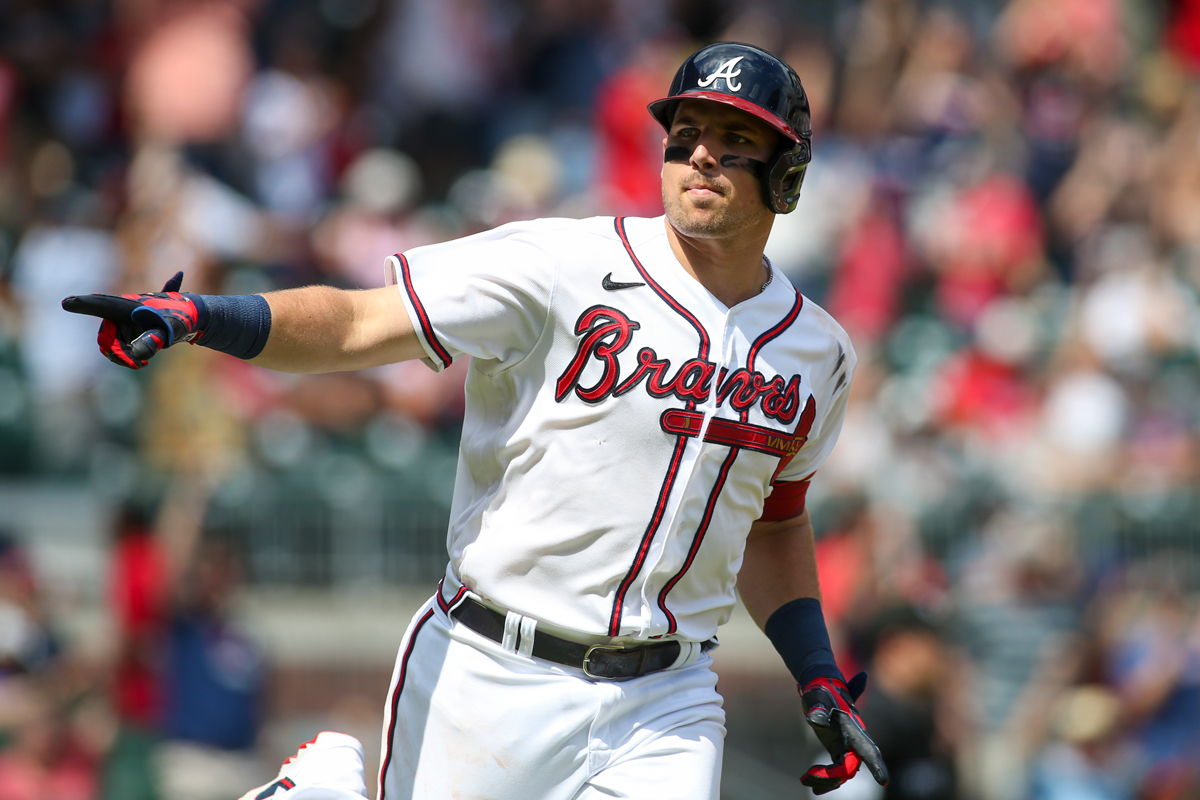 At first, the "Austin Riley for MVP" chants were mostly coming out of Marietta. The Atlanta Braves third baseman's 18 home runs and 43 RBI through June were good, but there were plenty of big leaguers putting up similar numbers.
Then July arrived, and Riley's hits kept coming. He'd earn his first All-Star Game invitation and be named National League Player of the Month. Those earlier whispers were starting to get louder.
Now, we're well into August, and the rockets haven't stopped coming off Riley's bat. At press time, in fact, he had 30 homers and a Majors-leading 65 extra-base hits. On August 11, VegasInsider.com was giving the young Atlanta star the second-best odds for winning the NL MVP. The whispers have become an absolute roar.
But that's not the most distinctive sound Riley is hearing these days. On April 20, Austin's wife, Anna, gave birth to their first child, Eason. And as you'll read in the following interview, the 2 a.m. cries may still take some getting used to. But Riley batted .320 in the World Series a year ago; he's certainly up for any challenge parenting throws his way.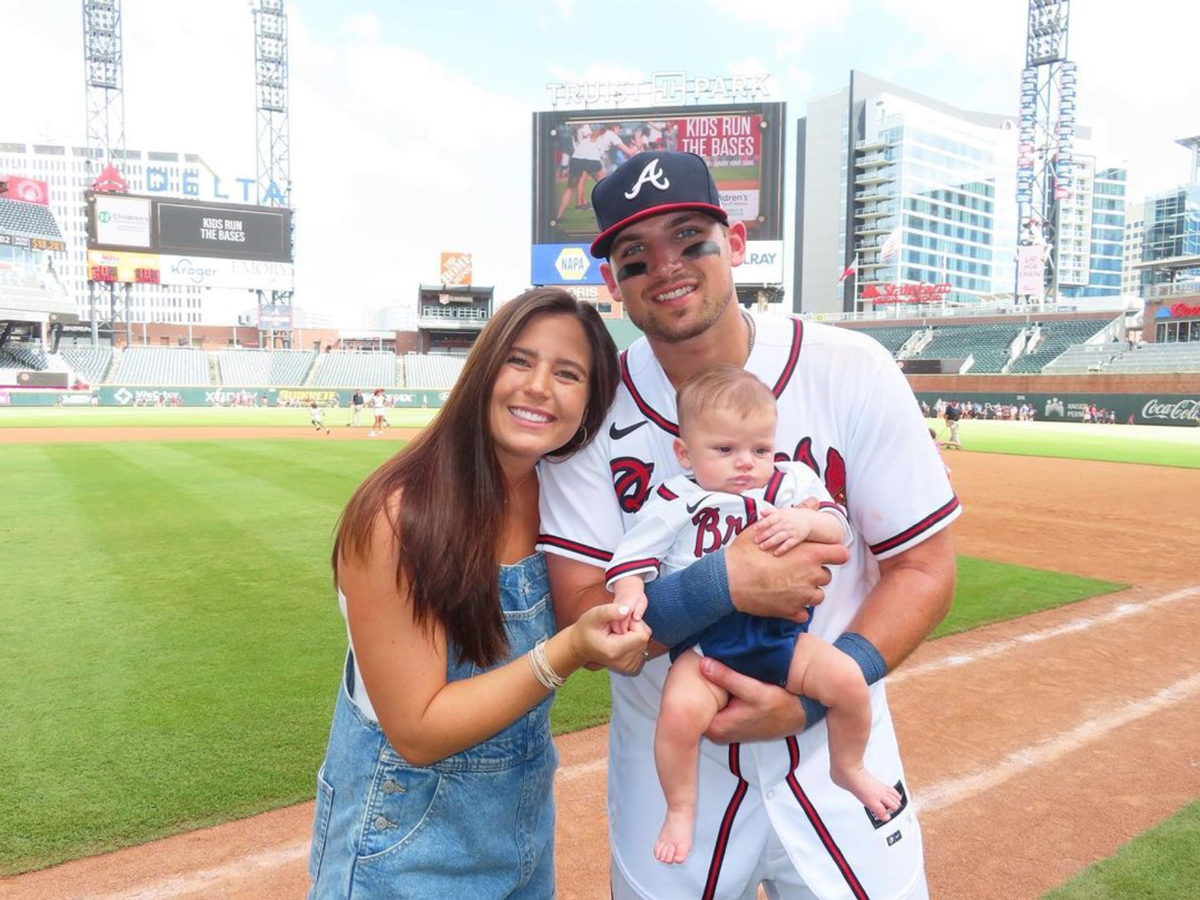 Let's go back a little bit. When you got word that you made the All-Star team, what were you doing?
I was in Washington [D.C.]. That's where we ended up before the break. [Atlanta manager Brian Snitker] gave me a call around 11:30 Saturday morning. He was like, "Late notice, but you're going." I was like, "Heck yeah!" I was super pumped. I was lucky enough to have time to get both my parents and wife out to California [for the game]. It was an incredible experience. Super thankful. I'm glad my parents and my wife were able to be there to experience it all.
Do you think your game is still under the radar on a national level?
You know, in a way, I don't think so. I just play the game. I'm not flashy. My biggest thing is that I let on-field play speak for itself. I think that's a big part of my game. My biggest goal, day in and day out, is to just to win ballgames. It really is. I feel like if I could put that as the number one priority, everything else is gonna take care of itself. I like where I'm at. I feel like I'm playing good.
Speaking of your play, it's been tremendous. You're on pace to eclipse all the good numbers you had last year. What improvements are you most happy about this season?
I think the biggest thing for me is just continuing to be consistent. I feel like that's the name of the game, and I feel like I'm able to do that right now. And I feel like I've developed a routine—that's taken me a while to come up with—that works for me.
Tell me a little bit about that game-day routine.
So, obviously, you've got Wash Drills [with Braves third base coach Ron Washington]. You can't miss those. He gets upset. And then there's cage work. I have a few drills. I start with the one-hand drill. And then, I know this is kind of weird, but I put a put a baseball glove on top of my head and do drills because I think that's a big thing for me—trying to keep my head as still as possible. So, that's one drill. And I do a drill we call "the Catch Drill." I don't know, but you may have seen [New York Mets first baseman] Pete Alonzo do it during batting practice. It's just right at contact, you're kinda just stopping your bat just to feel the contact. Those are three things that I've really kinda keyed on that have helped me, day in and day out, be pretty consistent.
You not only became an All-Star for the first time in 2022, but you became a dad, too. Tell me a little bit about that journey thus far.
It's been crazy. Me and my wife were actually at dinner last night [talking]. He turned three months like eight or nine days ago. I feel like it's flown by! I don't even remember the games that I played the first couple of weeks after he arrived. It was all a blur. But it's been the greatest thing ever. He's such a good baby. I'm learning a lot about myself and patience. Running on a couple of hours of sleep and being fine with it. I'm learning it all.
What are some things you're learning about yourself by becoming a father?
I think just the patience part of things. I'm ADD out the frame. I can't sit still. But I've learned to chill, watch TV, hang out with him, and enjoy the little things in life.
The Braves were on fire in July, but things have tapered off a little in August. Why is the team in this little lull right now?
You know, really, I just think it's the game of baseball. We've had a few injuries. Obviously, with Ozzy [Albies] and [Adam] Duvall here recently [going down with ailments, it hurts the team]. I think a big thing is just getting the group meshing together and playing every day with each other. I think that goes a long way in getting in that consistent grind together. You never want to see your teammates go down. But I think the biggest thing is that it's just the game of baseball. You're gonna go through these little skids every now and then. It's just a matter of keep playing and keep plugging. I like where we're at. And I think we still got a really good chance.
Fill in this blank for me. To get back to the World Series, the Braves need to do . . . ?
I think we just need to be consistent on a daily basis, play our game, and not try to do too much. I really think that's a big part of it. I think that's what we were doing early on when we were kind of skidding there. We got a really good lineup, good pitching. We just got to not try to do too much, and I think we give ourselves a chance.
With the baby, you don't have a lot of downtime for hobbies. I know you love the outdoors and hunting. But these days, how are you relaxing?
Honestly, hanging out with little man and my wife. It doesn't matter if I go 0-for-4 or 4-for-4, going back to the house with those guys has been a real treat. We get out and go on walks in the morning before it gets extremely hot. We have a miniature goldendoodle that we take for walks and stuff. We definitely do some stuff to get out of the house and change the scenery.
Are there any particular parks or restaurants that are your go-tos?
The restaurant that's my favorite here in Atlanta—I think they have one in Memphis, where I'm from, too—is Houston's. They have a Hawaiian ribeye that's to die for. We make it a point to go there once a month or so.