If there's an Atlantan with something interesting to say, there's a good chance they've said it to Rose Scott. Her radio program, Closer Look, which airs live every weekday afternoon on local NPR member station WABE, hosts a vibrant cross-section of the city's movers and shakers, interviewed by Scott herself. "I always say we're a curator of conversations," she told me. "Community conversations."
Both host and program represent a sea change at WABE, which celebrates its 75th anniversary this month. When Closer Look launched in 2015, the station had shifted from all-day classical music and was hoping to draw a wider audience with more locally produced news and culture programming. Closer Look quickly became one of WABE's most popular programs and a critical voice of public accountability in Atlanta media. And that voice, indelibly, is Scott's: the voice of a Black woman with a St. Louis accent, a dry sense of humor, and an encyclopedic knowledge of sports history and hip-hop. "I have nothing against [NPR host] Steve Inskeep," Scott told me. "But I don't want to have to sound like that."
Scott, who first cohosted the show with Denis O'Hayer and later Jim Burress before going solo in 2017, has taken Closer Look's conversational model and steered it straight into Atlanta's most contentious issues. In recent years, she's covered the Stop Cop City movement, transgender youth healthcare, Atlanta's affordable housing crisis, conditions in local jails, and public transit failures.
Her penchant for difficult questions has won her a string of awards, including a regional Emmy; it's also gotten her into some memorable clashes on the air. "We've had some feisty moments on here with guests," Scott admits. For example, when Congressman Doug Collins insisted the Republicans' plan to repeal the Affordable Care Act would benefit poor Georgians, a frustrated Scott finally asked him, "Congressman, have you ever been poor?"
She often returns to an issue over multiple shows, inviting stakeholders on all sides to share their perspectives. On different days, she talked with both Matt Westmoreland and Liliana Bakhtiari, City Council members on opposing sides of the debate over the Public Safety Training Center. "As long as I'm fair, then I'm doing my job," she says.
Scott was born in St. Louis, the second youngest of 10 siblings. From age two, she was raised by foster parents, though she remains close with most of her birth siblings (Scott isn't her real last name, but an on-air alias). Her foster parents—"the best parents I could have asked for," she said—encouraged her to follow her dreams, and it didn't take long for her to find one worth pursuing.
"I grew up listening to Cardinals baseball on the radio, and I heard this guy named Jack Buck who called the games," she told me. "I would pretend my transistor radio antenna was the mic, and I would call the game on the radio. I knew I wanted to be a broadcaster probably around six or seven."
After graduating from Indiana State University with a degree in radio, TV, and film, Scott looked for the best place to grow her sports journalism career. "CNN was in Atlanta," she recalled. "This is the Black mecca, and all my friends were coming down here." She arrived three weeks before the 1996 Olympics.
CNN turned her down—"The person I interviewed with said, 'I don't know if the whole sports-on-the-internet thing is going to work,'" she said—so she improvised. After a few temporary gigs at 790/The Zone and Georgia State, she got her first big break in radio at WCLK at Clark Atlanta University. "It was a public media show focusing on African American and rural communities," said Scott. "[Producer] Reggie Hicks took a shot on me, and it just grew from there."
She freelanced in the early 2000s, hosting Sports Rap with Rose Scott on the AM station WAOK. But work could be sporadic; she once took a job as a traffic announcer to make ends meet. "I worked under the name Reese Jackson because I didn't want anyone to know I was doing traffic!" she laughed.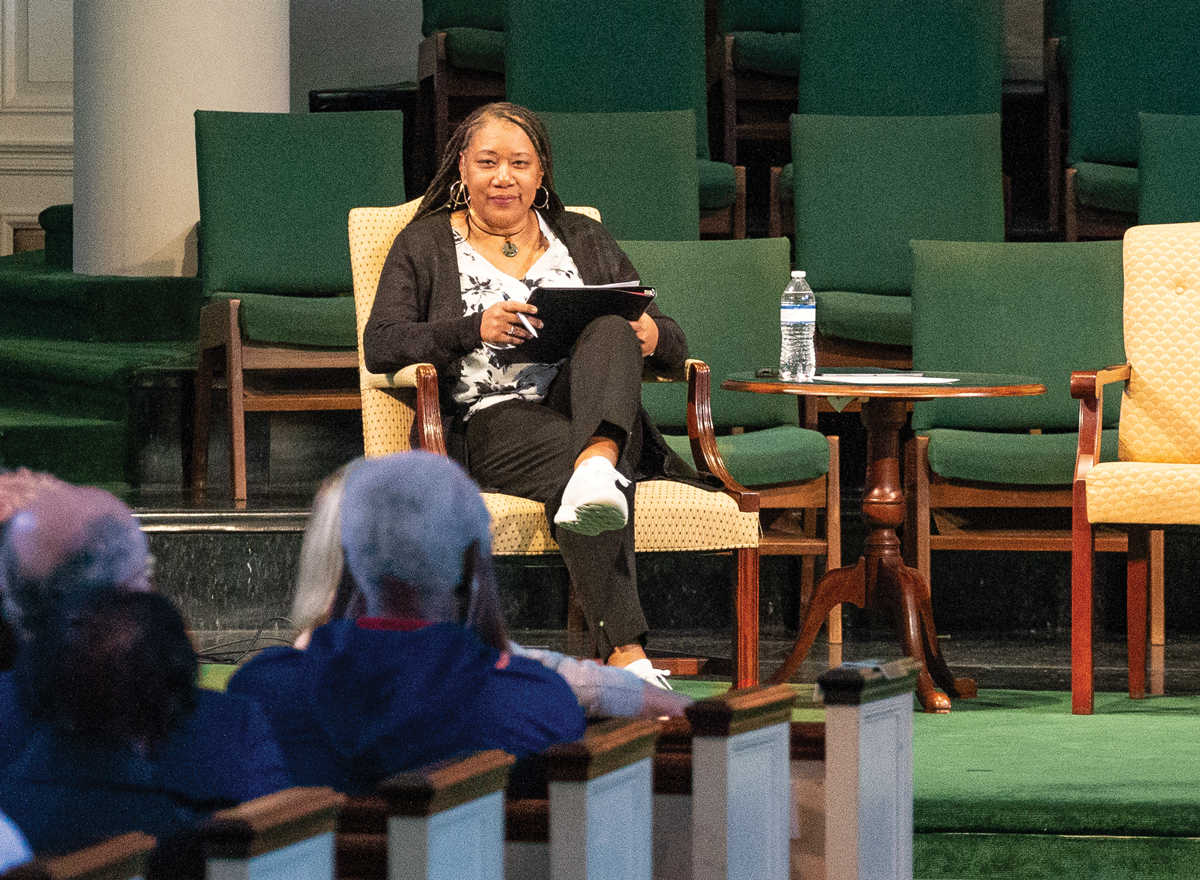 WABE hired Scott in 2007 as the all-classical station ventured into more local news. "When I first started, angry classical music fans would be outside picketing," she recalled. "They were the politest protesters you ever met!" She moved up to producing the local broadcast of All Things Considered, and when the station tapped legendary broadcaster Denis O'Hayer to anchor a daily news program in 2015, he insisted Scott come too. "Denis has been such a mentor to me," Scott said. "I've learned so much from him about being a host, being a listener."
Her foray into the rarefied air of public radio was eye-opening. "I learned quickly that there was an elitism with the public media audience," she said. One listener called in to ask if the "urban reporter" would be sticking to coverage of HBCUs. But rather than change her identity, Scott told the station they needed to change theirs. "I told them, 'Look, I want to do this,'" she recalled. "'But you have to expand your coverage. You have to cover the LGBTQ community, the rural community.'"
In the years since, WABE has done exactly that, influenced in no small part by Scott. "Thankfully for Atlanta, Rose set out immediately to focus on other communities in the city," said longtime WABE host Lois Reitzes, whose show City Lights launched the same year as Closer Look and who counts Scott as a dear friend. "Her vast range of interests benefits everyone." To Reitzes, Scott's great gift is that she approaches every interview with the same easy candor. "Whether she's talking to some high-profile public figure or a child, she has this complete absence of pretense," Reitzes told me.
For Scott, a good discussion sounds the same everywhere. "The conversation I have with my mail carrier, with the sister who does my pedicure, how I'm talking to you now—it's all the same conversation." Sounding like herself, she added, means she sounds like a lot of Atlanta. "I am the community," she said. "I know what it's like to get unemployment, what it's like to come home and have your lights turned off because you couldn't pay the bill."
That proximity has changed who's listening. "I was talking to some parents who had never even heard of WABE. Later, one reached out and said, 'I really liked how you interviewed us, how you made us sound. Now I'm listening to your station.'" As public radio finally begins to attract diverse audiences—after years of well-intentioned but anemic effort—Scott and Closer Look offer a road map for others. "You cannot have a newsroom that does not reflect the community it serves," she said. "I'm really proud of the talent we have at WABE now, because they all bring different lived experiences."
Scott has changed the conversation in Atlanta, and she knows it. But keeping that conversation going, she told me, means cultivating a new generation of journalists as diverse as the city they cover. "I ain't gonna do this forever!" she said. "I want one of them to take this wherever it's going and make it even better."
This article appears in our September 2023 issue.