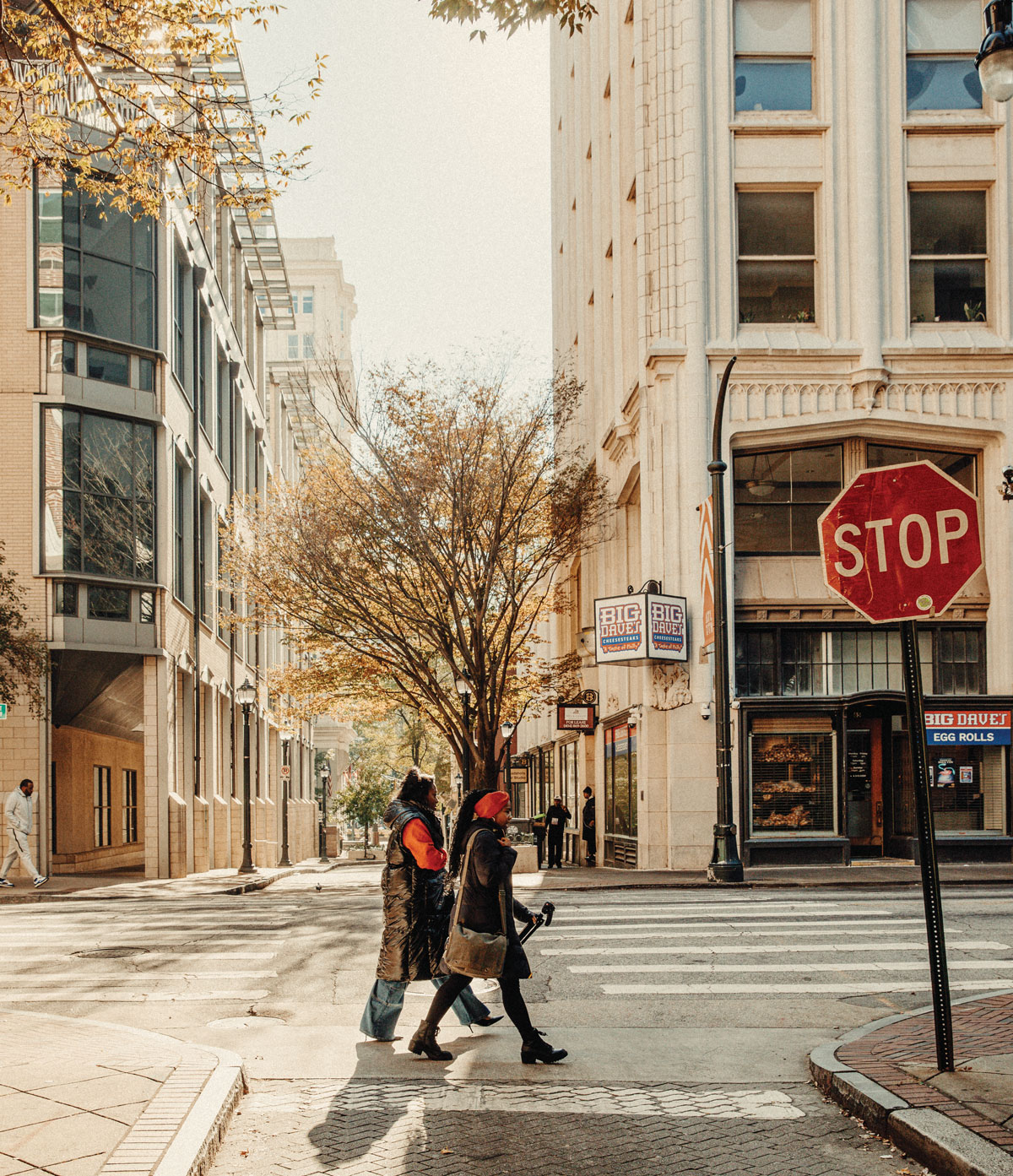 Just after his son was born, Darin Givens found himself temporarily without a car and struggling to safely push a stroller over the jagged terrain of a "walkable" intown neighborhood. Later, a health emergency resulted in nerve damage, which meant he had to walk slowly with a cane and was again unable to drive. These experiences led Givens—whose bread and butter is web development at Georgia Tech—to cofound ThreadATL, a nonprofit advocacy organization that aims to influence city planning and policy. He also shares insights and incisive critiques of urban design wins and misfires on social media as @ATLUrbanist. The battle against Atlanta's car culture is a perpetual one, he says, but in downtown, there are glimpses of a walkable, dense, and transit-leaning city.
Here, Darin Givens explains why this cross-section of Forsyth and Poplar streets in the Fairlie-Poplar District has it all. —Kamille D. Whittaker
1. Mix of uses, mix of people If you were to people-watch here all day, you'd see the diverse population of GSU's student body and staffers pass by, along with customers for the small businesses here, residents of the Healey Building, office workers from nearby 100 Peachtree tower, people going in and out of the Court of Appeals—and lots of film crews. This swath of downtown has doubled for New York, Los Angeles, Amsterdam, and Paris.
2. Prioritizing pedestrians When windows and doors sit against nice sidewalks, it's an inviting sight for people on foot. Builders are increasingly trying to create places that resemble this to meet the expectations people have for city living. At Forsyth and Poplar streets, you can see this century-old version of urban walkability, from long before the BeltLine popularized it.
3. Architectural interest Studies show that buildings with details on the facade are a boon for pedestrians, supplying a level of visual interest that makes walking more enjoyable. Compared to the bland structures and blank walls that sometimes fill our streets, the Healey Building (1913), Grant Building (1898), and U.S. Court of Appeals (1910) are stroll-stoppers.
4. A transit dream You can hear the ding of the streetcar bell every 15 minutes as it pulls into the Woodruff Park station, and the entrance to the Peachtree Center MARTA station is a couple of blocks away. During the 2014 Snowmageddon event when roads were jammed, my family lived in the Healey Building; we walked to the MARTA station and took a train to Decatur for dinner.
5. Connecting to the past Archival maps identify this tight street grid as the city's old Financial District, when early downtown "towers" housed offices, banks, and hotels. The focus of the land use here was on commerce. The fact that this grid now houses GSU students and staff, residences, theaters, and stores is a testament to the resilience and adaptability of this urban fabric.
6. The future One and a half blocks to the south, you can spot construction underway at 41 Marietta Street, where an old office building is being converted to residential apartments; it's a transition that's already happened to several office buildings nearby. Little by little, these adaptive reuse projects are increasing the number of people who call this place home.
Back to "Who is Downtown Atlanta For?"
This article appears in our January 2023 issue.