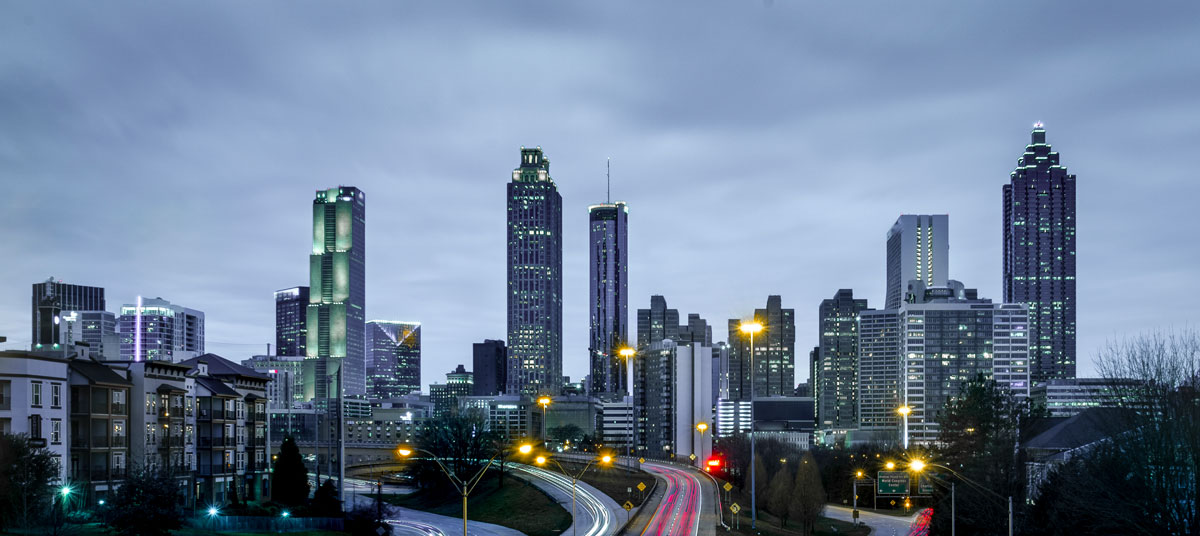 As cities and states across the U.S. have begun issuing "shelter in place" orders—or "stay at home" orders, as Mayor Keisha Lance Bottoms has called ours—a ton of questions immediately spring up. Can I still take my dog out for a walk? Is the grocery store off limits? Is MARTA still running? Below, we'll try to break down exactly what this all means.
The basics
If you live in the City of Atlanta and you are able to stay home, you must stay home. The official wording in the executive order is that Atlantans must "shelter in place at their place of residence." That paragraph also notes that the homeless are exempt but are encouraged to find shelter. Businesses are to halt nonessential operations. Nonessential gatherings are prohibited. If you live in an apartment, condo, or another area with shared spaces, you need to keep at least 6 feet away from other people while in common areas (the lobby, mailroom, courtyards, etc.). All businesses, unless defined as an essential business, must stop activities at their facilities except for minimum basic operations, but employees can continue working from home. And if you do leave your home, you are expected to stay 6 feet away from others as much as possible.
How long does this last?
The order will be enforced for the next 14 days, beginning Tuesday, March 24 and ending April 7.
Does this apply if I live outside the city limits?
Technically no, but it is good advice to follow right now because it is based on the CDC's recommendations. Other cities and counties are enforcing their own regulations and requirements, so please check your city or county's website for the latest updates.
What can I leave the house to do?
Go for a walk (with or without a dog)/run/bike/hike/any other outdoor activity where you are staying 6 feet away from other people at all times. Parks and the Atlanta BeltLine remain open.
Go to the grocery store (including stores such as Target and Wal-Mart), pharmacies, and hardware stores.
Take your pet to the vet.
Visit a healthcare provider. Assuming your doctor is still seeing patients, you can go to the doctor's office, dentist, urgent care, and therapist. "Pharmaceutical and biotechnology companies" are allowed to continue services. Healthcare suppliers and home healthcare workers can continue working.
Care for a relative or pet that is living in another household if you need to.
Go to work if you have an essential job at an essential business. (More on those below.)
Take MARTA if you need to.
Take an Uber, Lyft, or taxi if you need to.
Go to the gas station.
Get your car repaired or buy parts for it.
Go to the bank or ATM.
Pick up food from a restaurant.
Go to the laundromat or dry cleaner.
Take your child to and from daycare assuming the provider is still open.
"Obtain supplies you need to work from home"—which, in theory, could mean running by your office to get something or going to a store like Office Depot.
What services will keep operating?
"Essential infrastructure"—which the order defines as public works construction, airport operations, utilities (water, sewer, gas, electrical), oil refining, roads and highways, public transportation (MARTA), taxi and rideshare operations (Uber, Lyft), solid waste collection and removal, and internet and telecom services. All of these employees are expected to maintain social distancing—staying 6 feet apart from others when possible.
First responders, fire, police, emergency management personnel, emergency dispatchers, and court personnel.
All healthcare operations (including doctors and dentists)
Grocery stores, supermarkets, food banks, convenience stores, and farmers markets and produce stands.
Farming
Businesses that provide food, shelter, social services, and other necessities "for the economically disadvantaged or otherwise needy individuals"
Media—newspapers, television, radio, magazines
Hardware stores
Banks and credit unions
Hotels
Gas stations, along with auto supply and auto repair services
Plumbers, electricians, exterminators, and other similar essential service providers
Post offices and those that provide shipping and mailing services (FedEx, UPS)
Laundromats and dry cleaners
Restaurants, but for carry-out and delivery only. (Schools can continue providing food for delivery/take-away. Nursing home and hospital cafeterias will operate as usual.)
Businesses that ship supplies needed for working from home or other essential supplies
Food and grocery delivery services
Home-based care
Residential facilities and shelters for seniors, adults, and children
Legal, accounting, and other professional services
Childcare facilities
Schools and universities are allowed to operate for distance learning and "essential functions"
What can't I do?
Go to the gym.
Play group sports at the park, have a picnic, or other activities that put you in close contact with others.
Dine in at a restaurant.
Host a party.
Visit others socially (dinner with friends, relatives, etc.).
Go to a bar or club.
Go to a salon.
Get a massage (unless medically necessary).
Go shopping at the mall or other nonessential retail shop.
Go to a bowling alley, arcade, movie theater, or other entertainment venue.
Host or attend any public or private gathering (presumably including weddings and funerals)
Is this really any different from what I was doing before?
No, it shouldn't be that different. As businesses, schools, and attractions have voluntarily closed and the mayor previously ordered businesses such as bars and movie theaters to close, this is all likely what you've already been doing. The order just makes it official and further emphasizes the importance of social distancing and staying home unless it is necessary for you to leave.
Here's a graphic from the city that also helps explain the order:
Mayor @KeishaBottoms has issued a 14 day Stay at Home Order. Individuals may leave their place of residence only for essential activities, essential governmental functions or to operate essential businesses.
See the graphics for guidelines.
Learn more: https://t.co/GKvgwYWssW pic.twitter.com/QdMQYRbPDZ

— City of Atlanta, GA (@CityofAtlanta) March 24, 2020
And you can read the full order here.