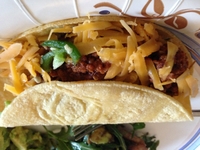 Chef: David Waller, chef at Sol Catering
Backstory: I recently hosted a gathering of several families with small kids, and wanted to serve something everyone would like. What came to mind was the Sloppy Jose, a taco that often appears as a special at Taqueria del Sol. Basically, it's a cross between a Sloppy Joe and a Frito pie; a chile-infused beef filling folded in a warm tortilla with grated cheddar, sliced jalapenos, and a sprinkling of crushed corn chips. I find the combination of flavors and textures near impossible to resist, and order it whenever it's on the menu. I called to ask for the recipe, and Sol Catering chef David Waller, who devised the recipe years ago, readily obliged. It's very easy to produce a tamer kids' version by transferring a portion of the meat mixture to a separate saucepan before adding the roasted chiles. The neighborhood Publix's chile selection was quite limited so I substituted poblanos for the New Mexico chiles. I laid out all the ingredients and allowed the guests to assemble the tacos themselves. It was a huge hit for all ages!
Ingredients
1 tablespoon vegetable oil
1/2 cup finely diced yellow onion
1 tablespoon fresh chopped garlic
2 1/2 pounds ground beef
4 tablespoons paprika
1 tablespoon onion powder
1 tablespoon granulated garlic
1/2 tablespoon black pepper
2 tablespoons granulated sugar
1 cup tomato paste
1 cup water (plus more, as needed)
1 teaspoon ground chile de arbol or cayenne
1 cup roasted, peeled, seeded and finely diced green New Mexico, Anaheim or poblano chilies (see note)
Salt to taste
Garnishes: Crushed Fritos, shredded sharp cheddar cheese, sliced fresh jalapenos
24 (4 1/2 to 6-inch) flour or corn tortillas
Instructions
1. In a large, heavy pot, heat the oil over medium heat. Add onions; saute 2-3 minutes, or until soft. Add garlic; saute 1 minute more. Add beef. Increase heat to medium-high; cook and stir until lightly browned. Stir in paprika, onion powder, granulated garlic, black pepper and sugar. Add tomato paste, water and chile de arbol or cayenne. Fold in roasted chiles. Season with 2 teaspoons salt. Reduce heat; let simmer for 20 minutes, stirring occasionally and adding more water if it gets too thick. Taste and add more salt as needed.
2. Warm tortillas by folding several at a time in a paper towel and zapping in the microwave for 15-20 seconds. (Or heat one at a time on both sides in a skillet until warm but still pliable.) Spoon some of the meat on one side of the open tortilla; garnish with crushed Fritos, cheese, and jalapenos. Wrap and eat.
To roast peppers: Move the oven rack to its highest position. Preheat the broiler. Place peppers on a baking sheet; prick each a few times with a fork and lightly brush with vegetable oil. Roast under the broiler, turning occasionally, until the skin is blistered and blackened. Transfer the peppers to a paper or plastic bag and close to allow the peppers to steam. When they are cool enough to handle, peel away the blackened skin.
Makes about 24 tacos.