In the year and a half that I've lived in Inman Park, I've watched restaurants pop up like mushrooms at the main entrance to the Atlanta BeltLine. Where there was Sotto Sotto, Fritti, and Barcelona Wine Bar, there's now Barcelona's yet-hipper sister, Bartaco, with its outdoor fireplace and sweeping terrace. There's MF Sushi and BeetleCat, all going for the same trendy crowds that flood the street nightly. A wine shop (VinoTeca) and a cocktail bar (Amer) have opened next door. What more could anyone want?
Billy Allin knew, as he usually does. When the area around Decatur Square seemed chockablock with restaurants, he relocated Cakes & Ale there from a few blocks west and included an all-day bakery-cafe next door as a hangout alternative to Starbucks. In May of last year, he opened Proof, a sandwich shop and bakery in another corner of Inman Park. Again he knew what the neighborhood needed—a place for a quick lunch on an otherwise empty block, save for the terrifically welcoming neighborhood bar and restaurant One Eared Stag.
It turns out that Bread & Butterfly is just what Restaurant Row in Inman Park needs. Not just because it looks like Paris for the French-deprived, with its marvelous mirrored bar, black-and-white Provençal-tiled floor, bronze stamped-metal ceiling, and gleaming chromed espresso machine. An all-too-tempting pastry display by the cash register and arty magazines hanging on poles inside the door make it clear that leisurely loafing is permitted. It's the all-day-and-night, something-for-everyone welcome that sets B&B apart and makes it settle in so snugly. I kept finding reasons to drop by, even if just to drink from the short and careful list of wines that's very French and unusually well priced (ask sommelier Jordan Smelt what's good from the Loire Valley). A few weeks after B&B opened, a fellow Flywheel spinner I'd seen at the restaurant the evening before admitted that he'd met someone for morning coffee and ended up working there the whole day. I wasn't surprised.
The food, under the guidance of executive chef Bryan Stoffelen, took longer to bring into focus than the space and the feel, but I soon enough surrendered to its simplicity. B&B, I would argue, is more fully realized than Cakes & Ale or Proof: the sunny design warmer and less stark than the former and less do-it-yourself rustic than the latter. The food is more cohesive and of a piece because of its clear inspiration from classic bistro menus. Restraint, freshness, and unfussy visual appeal have always been Allin's hallmarks—something lacking in B&B's neighbors, however fun and fine they may be. What B&B offers is food you can like not just any time of day but every day: clean, undemanding, not special occasion, and not exotic. No, the food isn't flawless, but who wants flawlessness? It's irritating.
So when the streamlined cafe classics at B&B are better than they need be, as is frequently the case, they're a particular delight. Shrimp remoulade might make you crave mayo as much as Allin says he does. He flecks the remoulade with parsley, and it coats without burying the simmered, cooled shrimp. The only way New Orleans might top it is with fresher shrimp. A chicken liver pâté (no longer on the menu) became wondrous through Allin's attention to ingredients: The liver is from poulet rouge; the baguette is the superior airy, slightly sweet one from Proof; and the chicories and sherry-pickled raisins are part of the sparkling, judiciously portioned salads he serves next to most appetizers.
Eggs are the most reliable strength, as they should be on a menu meant to carry you through the day or night. Buttery, pillowy eggs were particularly lush in a breakfast soft scramble with a folded slice of smoked salmon and crème fraîche laid over giant-sized squares of under-toasted brioche. An early omelet was dense, weighted with clumpy, melted cheese, but a later version dotted with emerald-green turnip-top pistou was shiny, soft, and just savory enough—far lighter on the cheese and sauteed with only enough butter to let it slide out of the pan.
Not everything is as surefooted. The burger isn't up to the standard of the Cakes & Ale version that took Atlanta by storm such that Allin tired of making it. It's a bit dry, much like the homemade bun. Fish in parchment might be so bland that only a very good breadcrumb and black olive relish rescues it. But then there are hits like a special of scallops with sauteed spinach that was bull's-eye precise, the warmed center of the scallops so sweet that I hope they come back to the menu. Homemade tomato soup, just thick enough and not the usual salty red sludge, was an ideal early-spring warmer under a crackling square of light puff pastry, far from the greasy, corrugated Pepperidge Farm cardboard that other restaurants bring out with a flourish.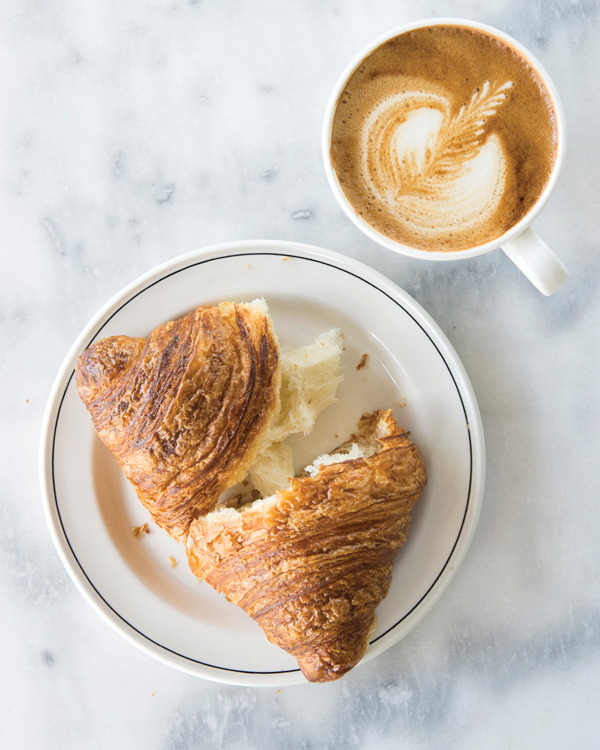 As with the homemade puff pastry, the breakfasts are as good as you'd expect from a place with its own sister bakery. Even in the first three months, the croissants became lighter, heading to the level of the Little Tart Bakeshop to vie for best in town. A simple plate of Many Fold Farm's sheep's-milk farmer's cheese with granola, jewel-toned apricot preserves, and more of that Proof baguette is as close to morning heaven as you'll find in Atlanta.
Desserts, though, aren't on the same level as the croissants, brioche, or, for that matter, the baguette. The baking forte is bread, not pastry. A bland Linzer torte had too few of the defining ground nuts in the crust. Spritz cookies were lovely to look at but a bit heavy and oversized. One standout: the Meyer lemon tart, which arrived in a flaky shell with a thick, marvelously grainy custard filling colored a wonderful sunny orange. Don't miss it.
But again, who wants flawlessness? Even with the occasional deflating, Bread & Butterfly is the reliable all-day restaurant the neighborhood needs. The servers and the yellow neon "Merci" in 1950s script radiate an easy warmth that's a fairly sharp contrast to the heat next door. Six months in, I already can't imagine Inman Park without it.
Rating
★ ★ ★ ★ (very good)
Good to know
B&B doesn't take reservations. Weekend brunch, which starts at 10:30 a.m., is wildly popular.
Vital Stats
290 Elizabeth Street
678-515-4536
bread-and-butterfly.com
This article originally appeared in our June 2016 issue.