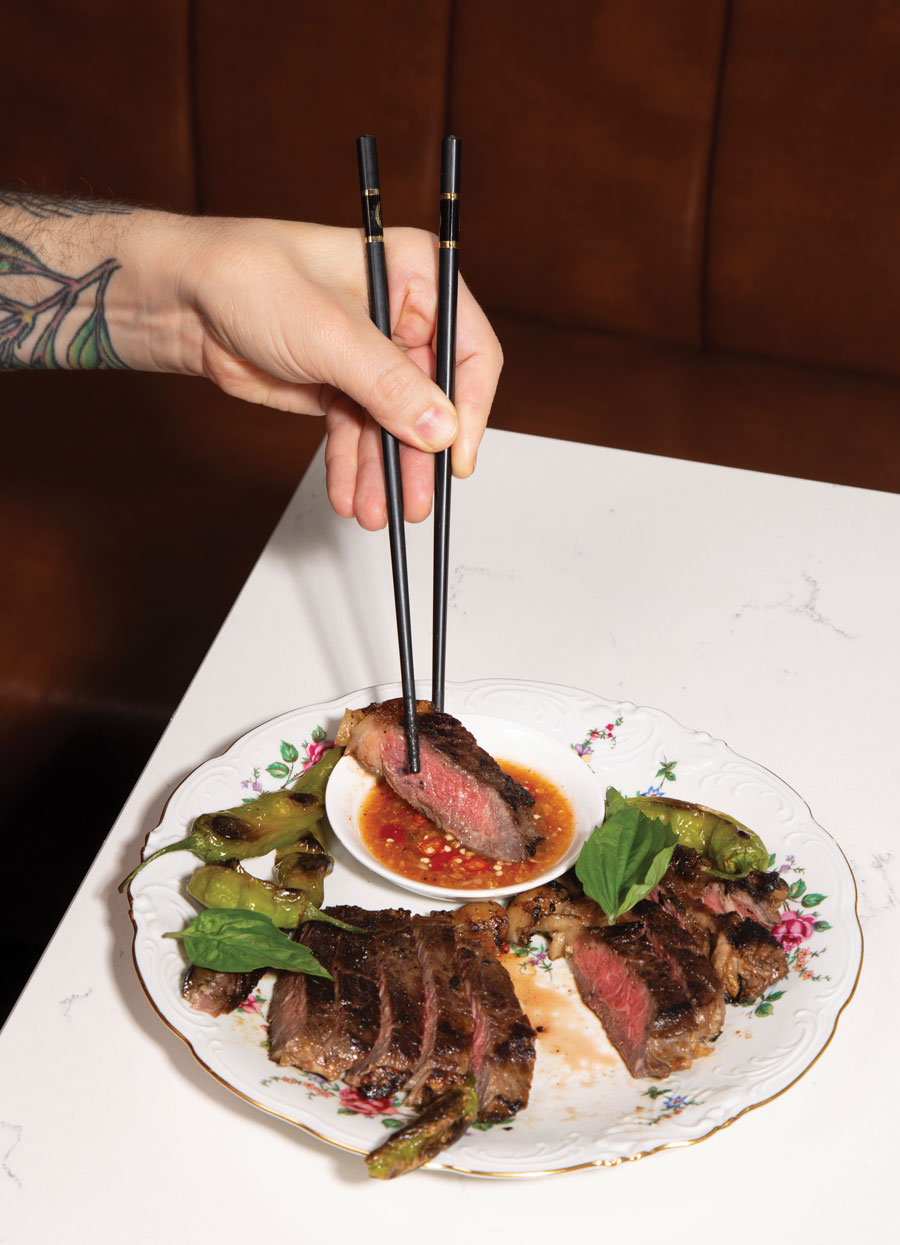 Related to Thai but not as hot, imbued with a unique funk derived from fermentation and the use of fish sauce, Lao food is typically eaten by hand with sticky rice rather than looser jasmine rice. Until recently, it may have seemed hard to find in Atlanta—but it's been hiding in plain sight. Little Bangkok, on Cheshire Bridge Road, serves standard Thai fare, but its Lao owners have been known to host the occasional Lao dinner. At yearly festivals at the Buddhist temple Wat Buddha Bucha in Decatur, you can find treats such as grilled sausages, spicy jerky, and bamboo stuffed with pandan-flavored sticky rice hawked all over the grounds.
In 2018, fans of the cuisine welcomed a more consistent outlet with the opening of the street food restaurant Snackboxe Bistro in Doraville; its owners, Thip Athakhanh and Vanh Sengaphone, have recently added another location in Duluth. But the most mindblowing Lao food I have had so far is now served by Molli Voraotsady of the pop-up So So Fed, which lately has taken up residence Sunday and Monday nights at the East Atlanta restaurant Ok Yaki.
Voraotsady dedicates her food to her grandma Nouphone, the unconventional matriarch who essentially raised her while her refugee parents worked. Though the menu changes weekly, Voraotsady maintains a fidelity to the foods of her childhood; outside of sourcing produce from the Grant Park Farmers Market when she can, she hasn't felt the need to mess around with tradition.
Perhaps the most luxurious and best dish on the menu is the Crying Tiger (sua long hai), consisting of sliced rare sirloin, spicy toasted rice, and blistered Crack in the Sidewalk Farmlet shishito peppers, and served with chili-flecked nam jim jeow sauce. I've adored everything I've had, from shatteringly crisp yaw cheun—veggie egg rolls with cabbage, wood-ear mushroom, glass noodles, and house sweet chili sauce—to Lao salad (a local haul of whatever's in season; when I visited, it included mixed greens, watermelon radish, alfalfa sprouts, hard-boiled eggs, peanuts, cilantro, and marigold petals). The spicy, minced-meat salad laab appears in various incarnations, including a meatless fried-mushroom version with galangal, cilantro, mint, toasted rice powder, fish sauce, and lime; I'm not sure how traditional it is, but it's a stunner.
I also love the caramelized pork (braised belly and shoulder, boiled egg, soy sauce, ginger, garlic, and bay leaf); the pliant, bright carmine jerky and its spicy sauce; and the several versions of papaya salad, including one so spicy it made me cry and a milder one topped with shrimp chips. I would never think of ending the evening without ordering the sugar toast (khao jee van), "grandma's favorite," with challah, European butter, sugar, and a cup of hot coffee for dunking.
Voraotsady runs an impeccably calm and professional kitchen with only two assistants. Her partnership with Joshua Fryer, the creative former bartender/manager at 8Arm, is one of well-matched talents: I call them the Lady Gaga and Bradley Cooper of the restaurant world. (The name of the restaurant, a play on Jermaine Dupri's Atlanta-born So So Def label, also brings to mind the genius of music.) Fryer's drinks are as romantic as they are flavorful. The Nashville native majored in international politics and Asian studies and meant to go into academia but pivoted to cooking. Now, he makes different shrubs every week (I had a mesmerizing ginger one with house-fermented persimmon and sparkling wine) and coaxes magic out of ingredients such as juiced butternut squash, passion fruit liqueur, pear and chestnut orgeat, arrack, and even Nescafé. Mekong sours (gin-based, with lime, fish sauce, Thai basil, and Thai chilis), jackfruit coconut daiquiris, and other creations will dispel any misgivings you may have about elaborate bartending.
So So Fed reminds me a bit of Talat Market—equally as poised, original, and bound for success. I want to shout hooray for Laos, the "land of a million elephants" and terrific, funky cuisine.
This article appears in our February 2023 issue.