Recently, after a particularly gloomy day of virtual school, my 11-year-old daughter and nine-year-old son were in tears. "I'm so sick of screens!" she said. "I'm sick of everything," he said.
It was all I needed to hear. I knew it was time for a serious change of scenery. Palm trees, sand…maybe even dolphins. So, along with my husband, we packed our bags and headed to Orlando's Discovery Cove, a beachy theme park I'd heard about for years but had never gotten around to visiting (more on that in point five below). According to Discovery Cove's website, every guest would have the opportunity to swim with dolphins, snorkel with stingrays, and float along lazy rivers. Lots of sun, zero screens. What else did I need to know?
As it turns out, plenty. During our trip to Discovery Cove, I learned five things worth sharing—especially if you've never been: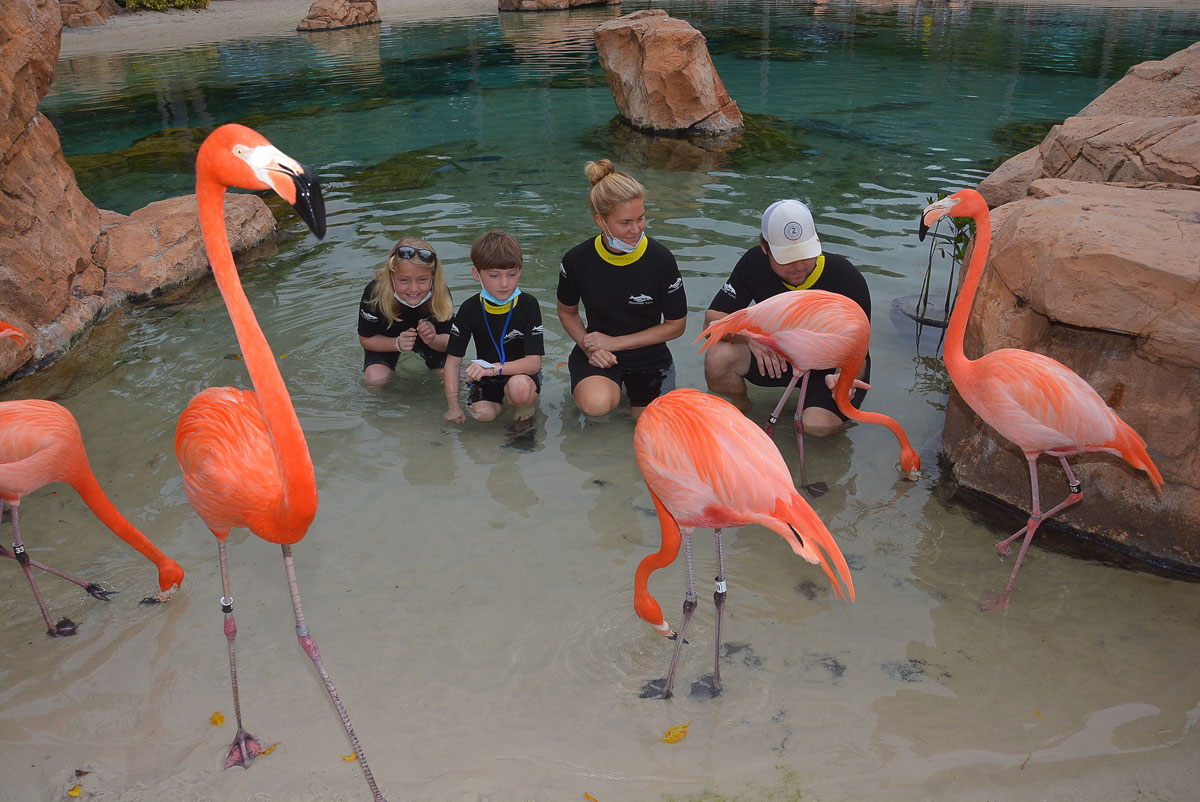 1. Flamingos are underrated. Dolphins tend to get all the hype, but the flamingos at Discovery Cove steal the show. During the park's Flamingo Mingle (a new add-on experience), we met a dozen or so of the giant pink birds as they strutted through the park. A group of flamingos is called a flamboyance, and flamboyant they were—popping open their wings like giant pink umbrellas, honking at each other, and hustling past us like they were late to a party. We followed them to the water, where we were instructed to kneel and hold bowls of slushy flamingo food. Suddenly, the flamboyance was upon us. They sucked up the food with their spiny tongues (which filter nutrients from the water), but they also sucked our hair, our arms, our bathing suits. They were loud, unapologetic, and entirely unbothered by our squeals and laughs. The experience was definitely worth the extra $60 a person.
2. A 10-year-old can scuba dive (sort of) without certification. While my husband and son snorkeled, my daughter and I tried SeaVenture ($59 a person). During a short orientation, we learned we were going to don air-supplied scuba helmets and descend 12 feet down a ladder to the bottom of a massive cold-water pool filled with sea creatures. As if mimicking what was to come, the color slowly descended from my daughter's face. "Do you want to do this?" I whispered in that embarrassingly loud mom way. "Yes," she hissed back. "Sort of." I went first, putting on the helmet and pausing several times as I climbed down the ladder to clear my ears when they felt clogged. It was awkward walking on the tank floor, but I could breathe just fine. The two minutes I spent waiting for my daughter at the bottom felt like two hours. I honestly didn't know if she would do it. But then I saw her feet step below the water's surface, followed by her torso and then her helmet-clad head. When she reached the bottom, her eyes were as big as I'd ever seen them, and her smile spanned the width of the helmet. We followed a guide along the floor, who wrote the names of the animals that passed us on a waterproof chalkboard. An angelfish, a zebra shark, a cownose ray. At one point, our guide threw chum around us, and a zillion fish rushed to our corner of the tank in a rainbow-colored blur. Days later, my daughter still calls the experience one of the most magical of her life.
3. Dolphins won't let you fail. Our dolphin swim experience began by meeting our Atlantic bottlenose dolphin, Thelma. Born at SeaWorld, she is the 29-year-old matriarch of her pod, a mother of four, and a straight-up boss. As we stood with her in waist-deep water, she charmed us with the requisite tricks (waving, whistling, leaping high into the air), and she even gave each of us kisses on the cheek. But then came the part we'd been waiting for: swimming through the water with her. This was also the part I was most unsure of: What if we didn't hold on correctly? What if we were too light or too heavy? What if we fell off? But here's the thing about Thelma, and the thing about every dolphin at Discovery Cove: They are pros. They will not let you fail. As I hung onto her mighty torso, Thelma expertly zoomed me through the water while I let out one of those open-mouthed laughs that makes your stomach hurt. It was the moment I'd needed since last spring and just didn't know it. Thelma, I owe you.
4. Productivity is overrated. One of my favorite things about Discovery Cove is that while it offers plenty of adventure, it also gives its guests permission to chill. We took advantage of our private cabana (a worthwhile $199), relaxing on its hammock and lounge chairs and sipping complimentary beverages from the mini fridge (Cokes for the kids, beer for my husband and me). Cabana or not, did I mention that every visitor gets unlimited food and drinks? It's like being on a cruise, minus the seasickness. Beverage in hand, it's lovely to float along the lazy river, passing trees filled with tropical birds and even a small island inhabited by marmoset monkeys. Zoom meetings, deadlines, and virtual school all fade from memory. It's idleness at its most glorious.
5. There's more to Orlando than Disney. I was born and raised in Central Florida, and I'm a huge Disney fan. But sometimes I forget that Orlando has far more attractions than Disney or even Universal. There are smaller, amazing parks like Discovery Cove (which is owned by SeaWorld), where the parking lots and crowds are manageable, the staff learns your name, and there are virtually no lines. (Oh, and it's sparkling clean—which is extra important when you're walking around barefoot in a bathing suit.) In between long days at theme parks, Discovery Cove is the perfect palate cleanser. It can even constitute a vacation in its own right.
Wondering where to stay?
For a worthy alternative to a Disney-area hotel, check out Reunion Resort. Choose from accommodations ranging from hotel suite to a private villa, and spend at least one of your vacation days enjoying the five-acre waterpark, mini-golf course, and championship golf (with courses designed by Jack Nicklaus, Arnold Palmer, and Tom Watson).