Before 2017, Laurel, Mississippi, was rarely, if ever, on the minds of people who didn't live there. It certainly didn't attract travelers from around the world. But thanks to Ben and Erin Napier, stars of HGTV's Home Town, it is now a popular destination, a town where people go to remind themselves that even the humblest of locales has something special to offer. All it takes are the eyes to see its potential.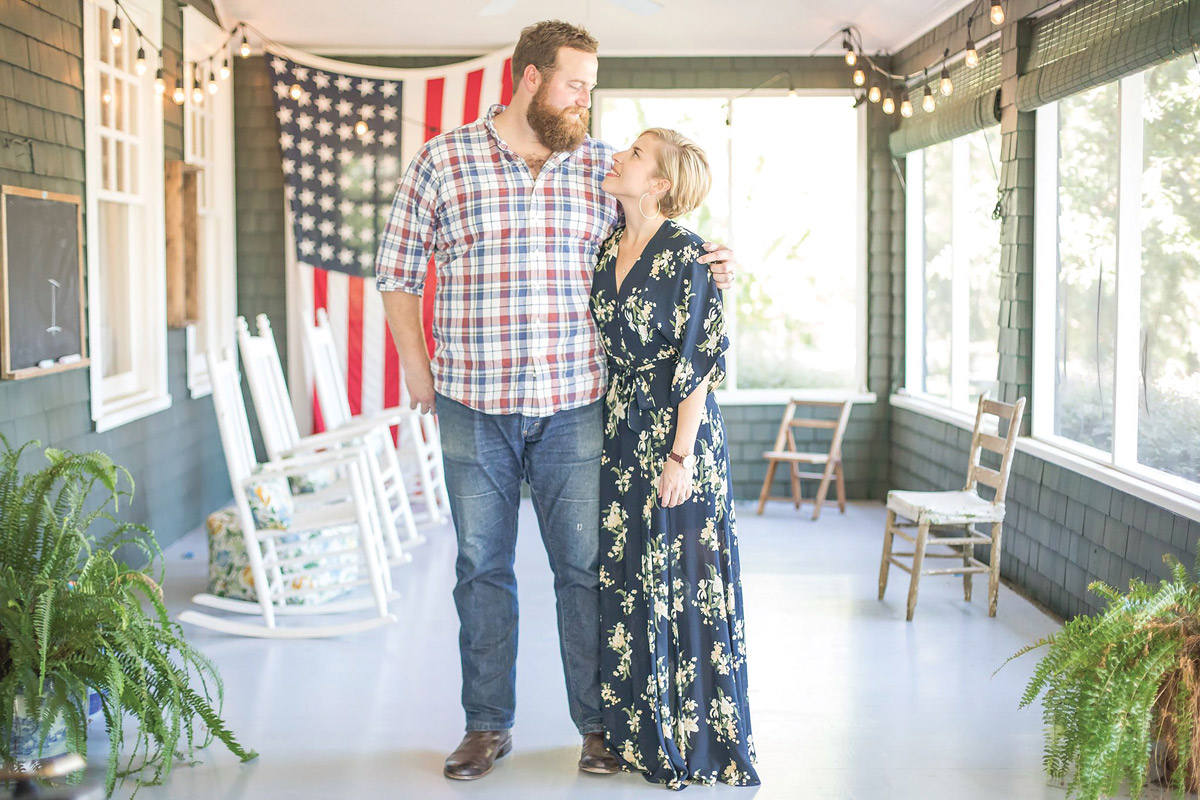 Ben and Erin Napier do not concern themselves with how things are. They are
interested in how things could be. In 2008, when the Ole Miss graduates moved into a downtown loft in Erin's hometown of Laurel, Mississippi, the community of 18,000 appeared to be going nowhere. Situated seventy-five miles southeast of Jackson in the state's Pine Belt region, it had scores of boarded-up buildings, a single restaurant downtown, and virtually no foot traffic.
Ben and Erin would take evening strolls along the deserted streets and dream. "We wanted to be able to walk to a date night," Ben, thirty-seven, recalls. "We wanted it to feel like Oxford. We really wished there was a bakery downtown where we could get up in the morning on a Saturday and walk and pick up breakfast. That was the end-all-be-all dream, actually."
Today, Laurel has thirty revitalized historic buildings, five downtown restaurants (plus a food truck), and pedestrians aplenty. It even has a bakery beloved for its sticky buns and banana bread. "We probably gained fifteen pounds the month they opened," Erin, thirty-five, says.
They have only themselves to blame. Since the Napiers's home-improvement show, Home Town, debuted on HGTV in 2017, it has become one of the network's most popular programs, luring 30 million viewers last season. Each one-hour episode follows the couple as they transform Laurel's aging abodes into stylish showplaces, typically within a tight timeframe and on an even tighter budget. Home Town spotlights Erin's artistic vision and Ben's woodworking skills, plus their innate ability to spy the glint of diamond long hidden in the rough.
Thanks to the show's success, the town in which it is set has become a place of pilgrimage for fans. Millennials have begun snapping Instagram photos in front of downtown murals. Fans from as far away as New Zealand have shown up to walk its streets. Seventeen new Airbnb properties have opened since Home Town premiered—a few of them homes once featured on the show. "We probably have 100 percent more tourism than we had five years ago," says Judi Holifield, executive director of Laurel Main Street, an economic development and preservation organization.
All of it thrills the Napiers. "This is all a God thing," Erin says. "We never planned any of this."
When Erin first spotted Ben their freshman year at Jones County Junior College (both transferred to the University of Mississippi in their third year), she was a shy art student from nearby Laurel, and he was the gregarious son of a traveling preacher. "He was the most popular person on campus," she says. "But he was kind to every person he encountered. He would sit at the table with whoever was eating alone at the student union. I remember watching him from a distance and wishing I could be his friend." But she was intimidated, not least by his size: He stood six-foot-six to her five-foot-five.
Ben, on the other hand, was intrigued. "Erin was very different from the typical girls I had dated most of my life," he says. "She had a pixie-style haircut, and she just carried herself differently." He tried talking to her a few times, but she always blew him off—or so he thought.
"I'd get so nervous that I'd act really cold and indifferent," Erin says. "It was really just self-preservation. I didn't want to blurt out, 'I think you're the best person I've ever seen and I'm in love with you.'"
She was forced to speak to Ben when the campus yearbook told her to interview him for a series on the college's most interesting people. Pen and paper in hand, she found herself asking him his favorite books, movies, pastimes. He, in turn, asked her on a date. Within one week, he had met her parents and told her he loved her. This was it, and they both knew it.
From that day on, the two were inseparable, walking hand in hand through the quad and holing up at bookstores to read novels they couldn't afford to buy. After graduation, they were married. And that's when they moved to the loft in Laurel.
"I was from out of town, but I've always been obsessed with little downtowns because I lived in a lot of them growing up," Ben says. "I was definitely obsessed with Laurel."
He and Erin began their careers: she as a designer for a technology company, he as a youth minister. In his spare time, Ben volunteered with Laurel Main Street, eventually becoming its president. The economic-development organization believed its town had something to offer tourists zipping by on I-59—a reason to exit, to explore. Problem was, most people had never heard of Laurel or what made it special.
At the turn of the twentieth century, Laurel was a thriving timber town with a streetcar system and a city park designed by Frederick Law Olmsted, the architect behind New York City's Central Park. Many of its grandest abodes from that era still stand; in fact, the town is home to Mississippi's largest collection of residential architecture from the early 1900s. It also lays claim to the Lauren Rogers Museum of Art, the first art museum in the state. "If you pay attention and look closely, you see all these things, and it becomes this really amazing place to visit," Ben says. "It's more than just another small town."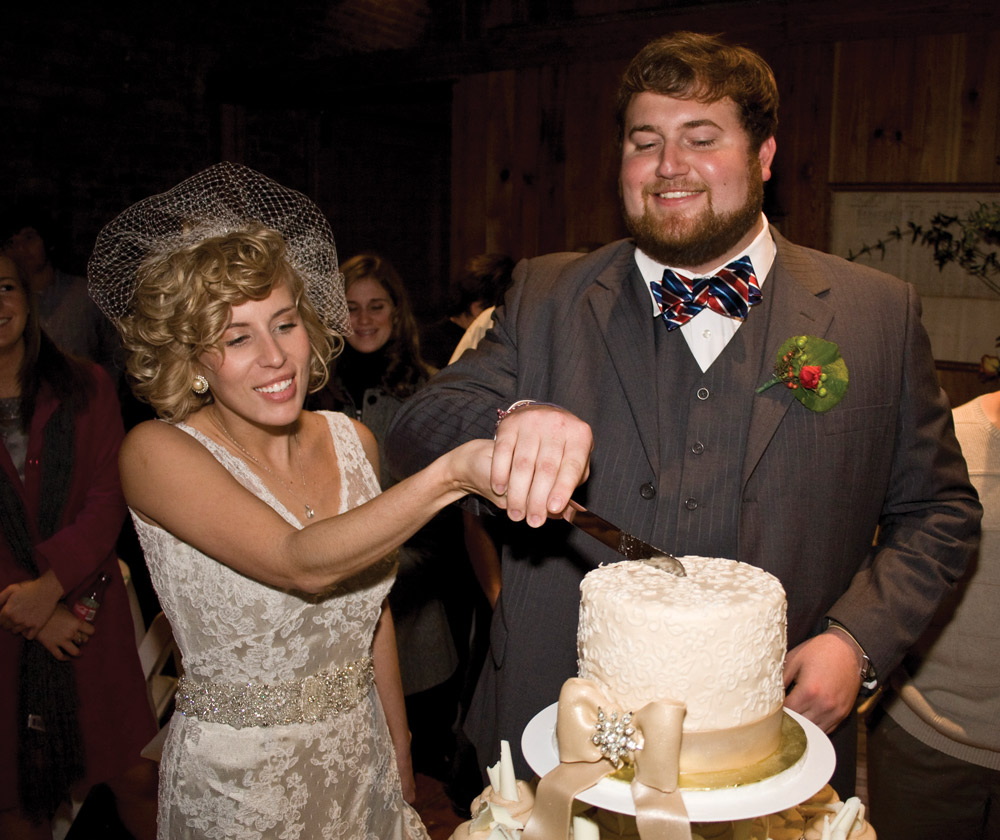 In 2011, Ben and Erin purchased a 1925 Craftsman cottage in the historic district. They had long admired it on their evening walks, falling in love with its deep front porch and cozy feel. But it needed some serious updates, including an entirely new kitchen. Despite their lack of professional training, Erin began to sketch ideas for each room, while Ben tried his hand at cabinetry. Each day, Erin would blog about their progress.
That blog, Make Something Good Today, and the clever ideas the couple shared on it (turning porch columns into a dining table, converting factory pulleys into light fixtures), caught the attention of HGTV's director of development in 2014. It wasn't long before a film crew flew in to shoot a sizzle reel of Laurel. Impressed by what they saw, the network invited the Napiers to travel to New York for a series of meetings. They warned the couple not to get their hopes up—there was a two percent chance their project would be greenlighted. But in 2017, Home Town made it onto HGTV's lineup.
News about the show zipped around town. "There was a lot of excitement and anticipation," says Amanda Roll, tourism director for Laurel's county chamber. When the premiere episode aired, the Napiers invited the whole town to set up lawn chairs and watch an outdoor screening of it. A loud whoop sounded when the opening credits rolled.
Erin recalls feeling "weird" seeing herself on TV for the first time—then convincing her inner shy girl to shrug the whole thing off. "It felt like, if we were a part of it, it couldn't be a bigger deal than the local news. You know what I mean?" Erin says. "Once you see yourself connected with it, it allows you to normalize a thing that is really not normal."
Also not normal were the ratings: Home Town's first episode was the second-highest-rated series premiere in HGTV history. Suddenly, the Napiers had a powerful platform, and they were ready to use it. "Our ultimate goal," Ben says, "is to show that small towns in America are more than what meets the eye. We want people to understand that they still matter."
The foundation of Home Town's success is Erin and Ben's relationship. The two just like each other. When Ben says he can make a buffet out of old porch windows, Erin believes him. When she turns rolling pins into wall art, he tells her she's brilliant. Though Erin stands on an apple box when she's filmed next to Ben, she must still crane her neck to look up at him while he speaks. As she does so, still grinning like that smitten freshman, he keeps his arm slung around her shoulders. "We just respect each other and enjoy each other's company," Ben says.
In 2018, the couple welcomed a daughter, Helen. Suddenly, their ideal work-life balance—filming a TV show together that showcased their individual talents—got a lot more complicated. A typical workday can last from sunup to sundown, with the Napiers racing between three or four job sites all over town—not to mention checking in on Laurel Mercantile and Scotsman General Store, two downtown shops they opened after signing on to the show.
They say they have good and not-good-at-all days, but they're doing their best to make it work. They get up extra early (read: 5 a.m.) so they're ready to spend time with Helen when she awakes. They employ a nanny—someone who once babysat Erin—and call on their parents when they need help. They also say no. A lot. "Work is never more important than Helen," Erin says.
Neither is pleasing their fans. "The worst part of fame is finding ways to keep Helen protected from it," Ben says. "When we go out as a family, making sure people don't try to take her photo is tricky. We're very grateful people love the show and are excited to see us, but we also have to remember Helen didn't sign up for this."
Amanda Roll says the chamber receives calls every day asking where the Napiers live. "They ask innocently; these aren't people who would normally trespass," she says. "They just feel like they know Ben and Erin. So there's an unspoken rule in our community: Don't tell where the show's homes are, including theirs."
The Napiers are grateful, but they understand there's only so much that can be done. The irony of exposing the world to Laurel is that Laurel is now exposed to the world. "We know we can't give Helen the childhood we had because of our careers and how our lives have changed," Ben says. "But regardless, we want to provide her with a loving set of parents who are present and protect her."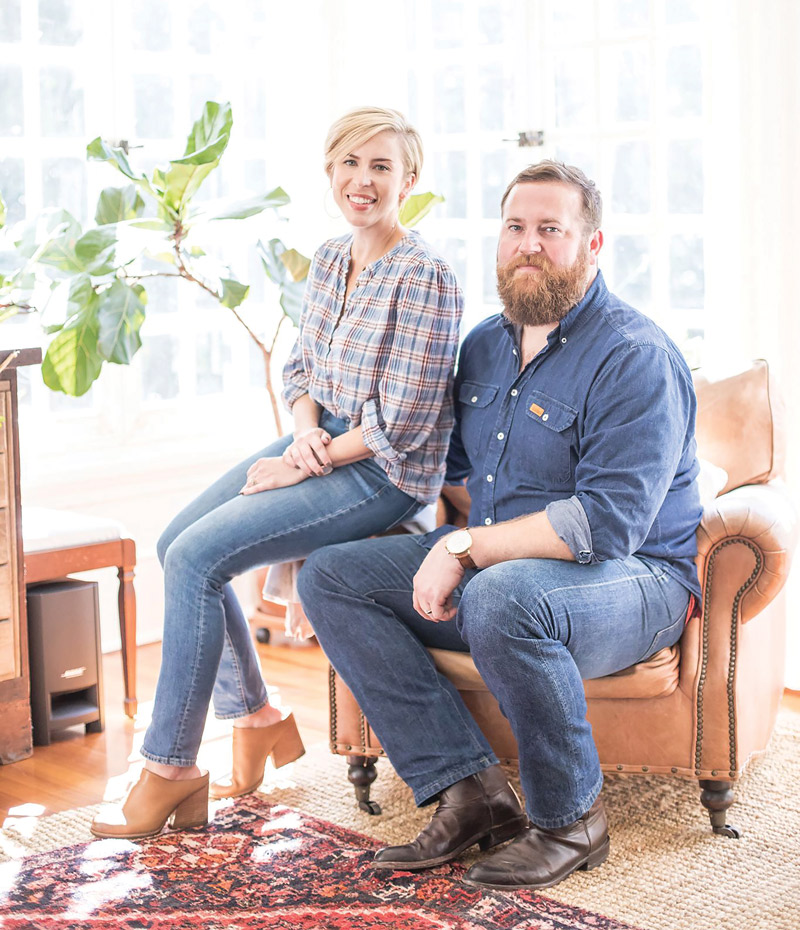 There are still a few things the Napiers dream about for Laurel. More downtown parking spaces, for one thing. Fewer tornadoes (they've filed a request with God on that one). And an independent bookshop. "If anyone is interested in moving to a small town and opening a bookstore, we'll be your first patrons," Ben says. (They might also be the first celebrities to hold a book signing there, as both have new home-design manuscripts in the works.)
Each day, when the two climb the stairs to their offices in the second-story loft they once called home, they marvel at how much Laurel has changed. "Even just the amount of foot traffic we pass, it's incredible," Ben says. "Downtown Laurel is bustling."
Still, the Napiers say they hope their hometown never "arrives." "I don't want to live somewhere that's perfect, and I wouldn't want to visit somewhere that was,"
Ben says. "When there's no grit or grime, you don't notice the things that shine."
"Erin and I both fell in love with St. Augustine before we met each other," Ben says. "We go every chance we get. It's like a home away from home for us." Erin, whose father received his doctorate through a long-distance program based in St. Augustine, says she's traveled there regularly since she was ten. "It's the oldest city in America, and it's the easiest way to go to Europe without going to Europe," she says. "It's just magical. I love that city. Ben went in college before we met. I couldn't believe he had been there—it's just not as common for people from south Mississippi to go there."
Ben & Erin's Favorite Laurel Spots
Burks' Barber Shop
Located inside Guild & Gentry, a dapper downtown men's clothier, this old-fashioned barber shop is the fulfillment of a dream for Ben's college buddy, Jeremy Williams, who lost his corporate job a few years ago. When Jeremy told Ben he was considering barber school, Ben saw the passion in his eyes. "I told him to do it—he'd always have at least one customer. He's actually had so many people come in, he had to set up an online appointment system. People were getting upset having to wait in line behind a dozen other people. He's just good at what he does."
Laurel Mercantile
Many of Erin's favorite things, from cake stands to floral prints to casserole dishes, can be found at this shop, often compared to HGTV stars Chip and Joanna Gaines's Magnolia Market. Every last item is made in the United States. "You can feel the love and the care that goes into making every product that's in our store, and also choosing it and curating it," Erin says. "It's not fluff; it's not filler. It's really good, heirloom-quality things."
Lauren Rogers Museum of Art
Open since 1923, this is the state's oldest art museum, named for the original owner of the grand Georgian Revival abode in which it is housed. It features a vast collection of American Indian baskets as well as works by Winslow Homer and John Singer Sargent. "People come from all over the world to see the collections," Erin says. "That's something I grew up knowing about my town: I'm from a place that's about making things, and it's about art and culture."
Scotsman General Store
This old-fashioned shop, whose name nods to Ben's Scottish heritage, is a place for glass-bottle sodas, candy cigarettes, and Ben's signature flannel shirts. Visitors may also sit by the fireplace and watch Ben and his team build furniture for the show in the adjoining woodshop. "It's a dream," Ben says. "We get really creative and build one-of-a-kind pieces. The woodshop is my favorite place to be when I'm not with my girls."
Sweet Somethings Bakery
Situated in a 1923 downtown building, this nostalgic bakery fed Ben a little too well for a while. "I built them some furniture, and when it came time for payment, I struck up a deal," Ben says. "I said, 'How about if I just have an unlimited tab?' They jumped at the opportunity. They owed me several thousand dollars' worth of furniture, and they figured I would never eat that much in flour and sugar—which I sort of took as a challenge." Alas, he couldn't rise to the challenge forever—he's a national TV host, after all—so he now limits his intake of the bakery's secret-recipe chocolate chip cookies. He says it isn't easy for him: "They're the best cookies in the world."
Downtown Restaurants
"Southerners don't need to be told to travel hungry," Ben says. According to him, no matter where you eat downtown, you're not going to have a bad meal. "PDI—Phillips Drive-In—is the oldest restaurant in town, and they make the best burger in Laurel," he says. "Pearl's Diner was featured on the show, and the food is phenomenal. I'm not going to lie to you, though: It's really hard to get in there and eat because it's so popular. But if you can't, right down the street is Cafe LaFleur. Don't come to Laurel expecting to have one particular experience, and if you can't have that, you're not going to be happy. If you look around, there is a lot going on in this little town." 
This article appears in the Fall/Winter 2020 issue of Southbound.