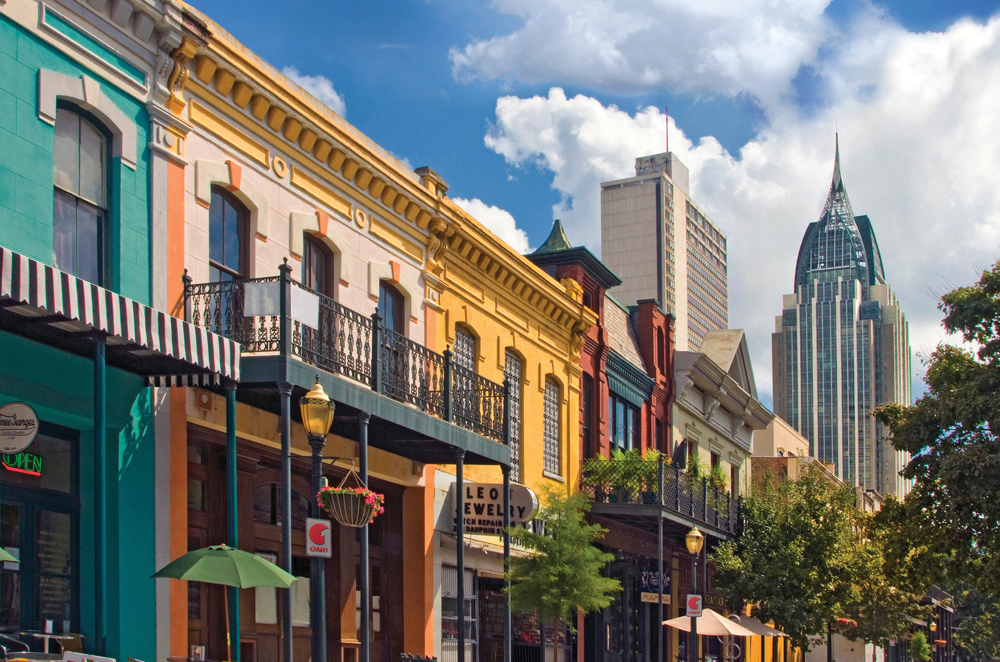 Back in 1701, a pair of brothers from the family Le Moyne journeyed from Quebec to settle a marshy edge of the Gulf of Mexico, founding the capital of colonial French Louisiana. Their wilderness outpost—Mobile, Alabama—braved epidemics and Indian attacks to become a coastal melting pot where Spanish, French, British, Caribbean, and African populations and customs commingled. There were moments of high drama (like the Civil War Battle of Mobile Bay, during which Admiral David Farragut is believed to have given the order, "Damn the torpedoes! Full speed ahead!"), but the city has largely avoided the spotlight.
Instead, this town of shaded city squares, palmetto-lined streets, and historic buildings fronted with lacy cast-iron balconies lives at its own pace. It still celebrates mass daily in a nearly 200-year-old cathedral basilica, the center of a diocese that once stretched from Montreal to Havana. Year-round, social life centers on Mardi Gras, which residents are quick to tell you they introduced to North America.
If all this reminds you of another Gulf Coast city, you're not alone. Three years after Mobile's founding, another port emerged 150 miles to the west, and Mobile has lived in New Orleans' shadow ever since. "New Orleans is like our younger sister who married well and got everything she wanted," says L. Craig Roberts, a local architect and author who also leads city tours. But Mobile, nicknamed the Little Easy, offers something more refined.
While the city has mandatory tourist stops (the famed Bellingrath Gardens, the battleship USS Alabama, and the new-and-spectacular GulfQuest museum), Roberts says to understand the city, you must visit its neighborhoods. "We have 600 blocks of historic districts with 6,000 homes," he says. Turn down a residential lane and you'll soon pass under a canopy of live oak trees, their snaking branches covered with resurrection ferns.
Visitors should begin at Oakleigh, an 1830s Greek Revival home with an iron spiral staircase leading to the second-floor living quarters. Offering one of the city's best historic house tours, Oakleigh provides a glimpse of life during the heyday of the cotton boom (the china alone, displayed on a rare pedestal dining room table, is valued at tens of thousands of dollars). Behind the main house, newly renovated servants quarters remind visitors that such gracious living was made possible by the labor of others.
A few blocks away, visitors will discover Washington Square park, centered on an iron fountain surrounded by lush greenery. Neighbors walk dogs past immaculately restored Victorian homes, and Lycra-clad cyclists stop to chat and sip from water bottles. It's enough to fuel a fantasy of buying a fixer-upper and moving to town.
The charm continues on Dauphin Street, a downtown open-container district, where you're free to wander from bar to bar with drink in hand. But similarities to Bourbon Street end there. Although Jell-O shots are readily available, you'll also find fine-dining establishments, such as the Noble South, an airy eatery serving dishes like rabbit fricassee and heirloom tomato ceviche, along with Champagne cocktails. Just down the street, Miss Ruby Moore welcomes guests to A Spot of Tea. While known for its Bananas Foster French toast, a concoction the state's tourism department named one of the 100 Best Things to Eat in Alabama, the chicken salad is just as compelling. The secret ingredient: cream cheese.
Another required stop, Callaghan's Irish Social Club, sits a few blocks from Oakleigh. The neighborhood bar, known for serving one of Mobile's best burgers, hosts performers such as the Alabama Shakes, Jason Isbell, and St. Paul and the Broken Bones in a space no larger than a suburban man cave. At sidewalk tables, you're likely to find a silver-haired attorney with loosened tie having a drink with friends and women in their twenties sharing pictures on their phones. "Everybody's welcome here," says Ron Johnson, a regular who doesn't even have to ask for his Miller Lite when he approaches the bar. When he sees a stranger, he introduces himself and soon mentions he's a member of two of the city's seventy-six Mardi Gras organizations.
The groups, called mystic societies, run parades and throw year-round parties that reach a crescendo as Fat Tuesday nears. The formal balls, which attract thousands, maintain a strict dress code: Women must wear floor-length gowns, and some guests have been turned away for revealing an ankle (although it must be said, plenty of skin usually shows elsewhere). Men must dress the part too; Mobile, it's said, rents more tailcoat tuxedos than any city other than Los Angeles.
Johnson finishes his beer and urges a visitor to return to see for himself. "We have a good time," he promises.
It's a long way from the Le Moyne brothers' swampy settlement on the edge of the New World. But it's easy to believe the adventurers would approve.
MORE TO EXPLORE
Bellingrath Gardens
One of the South's oldest public gardens, Bellingrath explodes with color during its fall mum display, strings miles of Christmas lights for the holidays, and pre-sents a Technicolor azalea display in early spring. Like so many of the South's cultural treasures, it was born of a Coca-Cola fortune: Walter Bellingrath was one of the nation's first bottlers. bellingrath.org
Battle House Renaissance Hotel
While this grand downtown hotel's roots reach back to the 1850s, its modern history begins in 2007 after Alabama's state pension fund invested millions to restore the relic that had stood empty for decades. Today, the Belle Époque beauty wows guests beginning with its lobby, which is crowned by a domed stained-glass skylight. With large guest rooms and a 10,000-square-foot spa, it's an excellent base from which to explore. marriott.com
Wintzell's Oyster House
Mobile owes its existence to the sea, and it knows its way around a bivalve. The original Wintzell's on Dauphin Street is a classic oyster bar, employing staffers like Willie Brown, who has been shucking for forty-five years. In your haste for half shells, don't overlook the equally fresh shrimp etouffee and gumbo. And if you're feeling adventurous, wash it down with the restaurant's signature Dragon Drink, inspired by Vernadean, a beloved fire-breathing Mardi Gras float. wintzellsoysterhouse.com