For most of my twenties and into my early thirties, I ran a lifestyle website called The Love List, where I featured interesting Southerners driving our culture in food, music, and the arts. Ten years ago, on the hunt for story inspiration, I stumbled across a vivd, painted riff of Audrey Hepburn's famous profile, butterflies fluttering around her iconic Givenchy sunglasses. The artist was Ashley Longshore, a New Orleans-based force of nature whose levity, power, and sheer clarity of vision was obvious even then, before Instagram came along and she amassed a following in the hundreds of thousands.
Fast forward to now: Ashley is a bona fide celebrity in the art world—her bawdy, tongue-in-cheek approach to pop art has fixed its filterless lens on icons such as Vogue editor Anna Wintour (painted in the reflection of her sunglasses: "No Fatties") and a grinning Lil Wayne to huge, rhinestone-bedecked messages, such as "I do not cook. I do not clean. I do not fly commercial." She has been embraced by everyone from Blake Lively (an early fan) to luxury department store Bergdorf Goodman. Also a darling of the fashion world, her first Atlanta show is at Jeffrey in Phipps Plaza, where her renderings of Birkins and bottles of Veuve Cliquot will mix amicably among the shop's glossy white displays of Gucci, YSL and Balenciaga. In tow will be 50 pieces of new work from the artist, as well as glittering pieces from her Liberace-worthy limited-edition Judith Lieber collaboration. Longshore will be signing bags with purchase in-store from 5-8 p.m. Thursday, October 18 and from 1-4 p.m. on Friday, October 19.
You've managed to become a huge success by being unconventional as an artist in just about every way, including circumventing galleries altogether. How do you think the lessons you've learned in business can translate and apply to any woman in the work force?
Once you figure out who you are and what you want, you go for it. When you figure out that formula—the one for being you—and be confident and fearless about that, you can really make it happen in any industry. So many people said I'd never make it. I can chose to let those emotions weigh me down or I can get in my studio and paint. My paintings are money I made. Money is power. And it allows me the freedom to lay in bed butt-naked, buying Gucci, watching Mean Girls for 10,000th time. This is a country of freedom, [and] during a time of so many incredible female entrepreneurs, the rules are there for you to invent. Just go do it, girl. Do you and don't apologize. It means I can roll into your luncheon, drop F-bombs the whole time, pull out my black Amex, pay for the whole thing, and then go back to work!
You speak often on social media about haters—naysayers, social climbers, trolls. How do you push through that negativity?
If someone has a negative option about what I do, it hurts, because wanting to be liked is human. But here's the deal: you can't make everyone happy, so chill out! I have to be very confident in who I am and what I'm putting out there. People on social media now channel their road rage to the internet—it's really no different. It's just anonymous noise. My best gift is to just to put positive shit out there, because [things are] so scary and depressing right now.
Social media has been a major player in your rise, and you didn't do it by abiding by algorithms, pretty grids, outfit selfies, or by enlisting an agency. What's the secret sauce?
My approach to social is that it's my daily journal. I am putting my optimism out into the world. Sometimes, I wake up and give myself a pep talk. People need to know that, too—the challenges [I encounter]. I'm very real. Social media is a great tool. It isn't the answer, but it's a tool. And its fun, man! It's my world! It's Ashley Longshore World!
Describe Ashley Longshore World; I think I want to move there.
Man, in Ashley World, it's fun. You gotta be silly, play, embrace perversion, and profanity—things a 15 year old would like. I don't ever want to be pretentious and turn my nose up at things that bring me joy. I want to keep learning and be a student. My clients respond to that—because people who buy art see themselves in it.
Fear doesn't seem to be in your vocabulary. How do you keep getting to that next level?
I want to be successful, so quitting will never be an option. True entrepreneurs don't quit. When things go wrong, that's when I learn, and I learn how to teach other people [those lessons]. If you know who you are, then you're never gonna give up on yourself. Giving up on yourself is the worst thing you could ever do.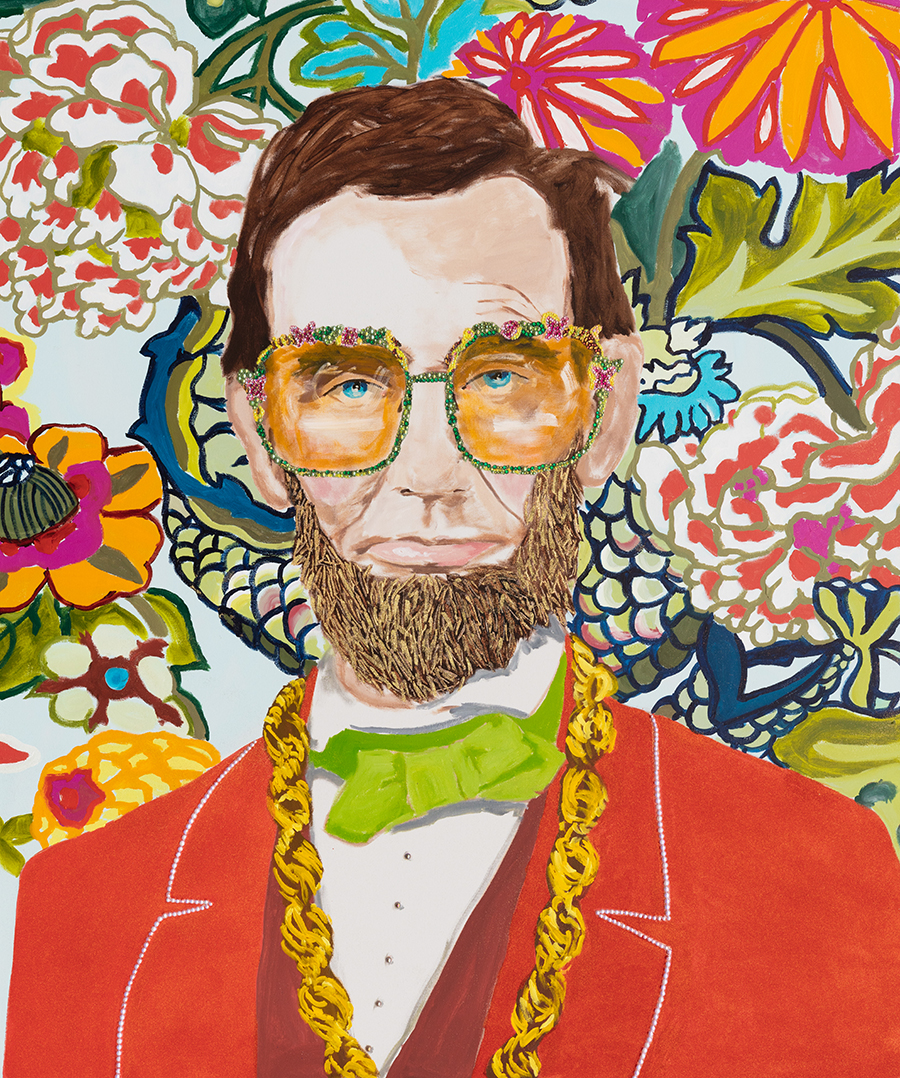 Have you ever paid a price professionally for being so outspoken?
It's hard for me to post things sometimes about how I feel politically, to be bullied about politics. For example, I posted that I didn't think children should be separated from their mothers and I got so many nasty, harassing emails and comments. I was just like, my god. I am still finding the confidence to say, "This is how I feel."
You've definitely become super involved in the fashion world: Bergdorfs! Judith Leiber! And now Jeffrey. Fashion is clearly one of your muses; tell me what the impetus for your humorous approach to fashion was and how you plan to keep evolving that.
Fashion to me is fun. It isn't stuffy. It's self-expression. For me, that is a black T-shirt every day, hands covered in jewelry, two Rolexes—one that says "time for business," one, "time to party"—and massive sunglasses. You know why? That's how I'm feeling. Fashion is just funny, so why not have a sense of humor about it? I think the fashion world has embraced me because I'm not a size zero and I love me some me. I love to take risks. This is my interpretation of my life! People are buying a piece of my soul.
Okay, you can't always have been this confident. When do you think you really grew into yourself as a person and hit your stride?
When I found painting, I was able to build a fort between myself and what was hurting me in the world. At some point, I realized I could put things that were upsetting me or making me feel insecure into my work—that I could let the painting say what I was thinking, and let people react. When I realized some people felt the same way I did about things, there was a connectivity that made me feel very brave. The people that support me make me brave.
What's the biggest mistake you've made in business? What is the smartest move you ever made on your own behalf?
I don't believe that entrepreneurs should focus on the mistakes they've made. I've been doing this for 24 years—anything that went wrong was a learning opportunity. The lessons I've learned have been more about trusting the wrong people, but even those have led me to be much smarter about handling my business. They've prepared me to do deals with global companies.
What question do you think you're always trying to answer with your work? Anything that worries you?
I'm always trying to answer the question of becoming the ideal American woman. What does that mean? Who is she? I am still searching for that. As far as fears, I don't have fears about the work I do—if anything, I worry about not having enough work. I work my ass off so I can be prepared when I get a call from Bergdorf Goodman and I say, "Okay, I can ship 500 paintings." My career is a series of events where preparation meets opportunity. You worry less when you're prepared. Your fears die down. You want to know what I do worry about? That Uber Eats won't be delivering the thing I want to eat today. I worry about that.