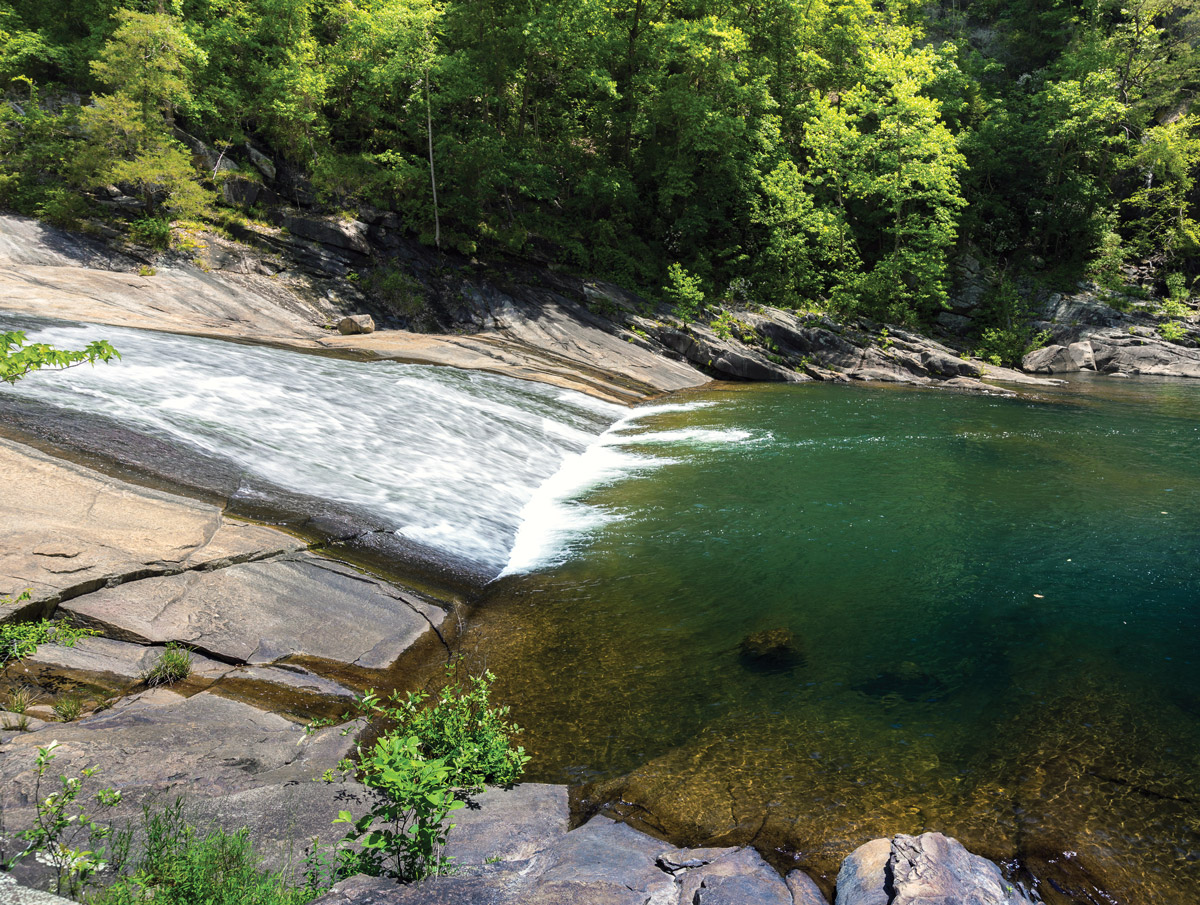 Conasauga Snorkel Hole
You might feel a bit odd packing your snorkel for a trip to the mountains, but hear us out: The Conasauga River watershed is home to more than 70 different species of native fish—more than in the entire western U.S. You may come face-to-face with salamanders, freshwater drum, crayfish, and turtles. Waters are calm here, and the pool is just a short walk from the parking lot. Getting there requires a confusing drive through gravel roads with spotty cell service, so have directions on hand.
Sliding Rock, Tallulah Gorge State Park
Tallulah Gorge State Park is one of the state's most breathtaking natural wonders (see our cover photo)—so no wonder it's also one of its most popular. To beat the rush, arrive first thing (8 a.m. on a weekday, if you can) and procure one of the 100 free day permits to hike to the gorge floor. You're there for the Sliding Rock Trail, accessed via the rim trails, stairs, and a heartstopping suspension bridge, ultimately a rugged 3.5-mile in-and-out that drops 1,000 feet. Your reward? The wide natural rock waterslide at Bridal Veil Falls that launches you into a cool, mountain pool. Note: At press time, the park was limiting capacity due to the pandemic, and gorge permits were temporarily paused. Parking $5
Upper Tallulah Gorge
Just north of Lake Burton, across the bridge of the Coleman River, is the lesser-known scenic "upper Tallulah." Albeit not as dramatic as its famous counterpart, this quiet stretch of the gorge is no less worth the visit but will have far fewer crowds. A gravel road (FS 70)—once a railroad bed—winds along and across the river, which rushes over boulders and creates countless waterfalls and plunge pools with designated entry points and pull-outs for parking. Cruise along until you find one that's available, and jump in.
The Pocket Recreation Area
For more relaxed wading, try the Pocket, a 1940s-era Civilian Conservation Corps Camp nestled in a forest of oak, beech, and maple trees next to the steep ridges of Horn and Mill Mountains. The abandoned CCC stonework channels a stream into a large shallow pool, its flat bottom covered in smooth stones that make it easy for children to navigate safely (possibly created for the Depression-era workers to soak their feet). $5 parking
Back to An Insider's Guide to the North Georgia Mountains
This article appears in our September 2020 issue.