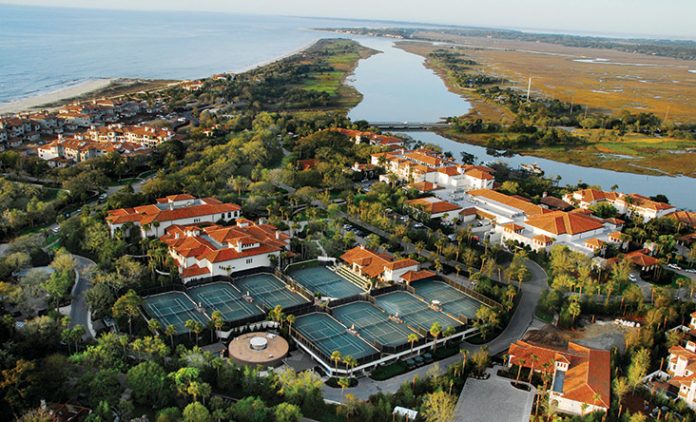 The official portrait of the 2004 G8 Summit shows the leaders of the world's top industrialized nations strolling down a Georgia beach at Sea Island. The prime minister of Japan, Junichiro Koizumi, is gesturing animatedly to an amused George W. Bush. Tony Blair stuffs his hands casually in his pockets like a GQ model. Putin scowls. They walk ten abreast along the flat, smooth beach.
Except the sand at this rough-hewn barrier island isn't smooth. The staff had raked it back, installed a plywood surface, and re-covered the beach—all so that no dignitary would stumble.
It's such hospitality that has made Sea Island the only resort in the world to win four Forbes five-star awards six years in a row. Hesitate as you walk down a hall or reach for a fork, and staffers materialize to address your needs. They notice the umbrella blocking your river view before you even think to get annoyed. Like all great hosts, they are clairvoyant.
That's part of why Sea Island still feels familiar, even though almost all of the facilities have been rebuilt in the past ten years, a couple of decades after my husband and I honeymooned here. We returned to check out the new Inn at Sea Island (100 Cloister Drive, Sea Island, 855-714-9201), an eighty-five-room hotel on the St. Simons end of the causeway—a "select service" facility (i.e., affordable, with summer rates starting at $209 versus $560 for the original inn, the Cloister) with access to Sea Island amenities. The inn was a bit businesslike, but its blue and white decor was serene and the staff gracious. It's closer to the golf courses than the Cloister. And it still bears the hunter green logo, as iconic to Georgians as a Tiffany blue box.
In our long absence, Sea Island proper has assumed a truly royal grandeur. For a time, in fact, it became too grand. Third-generation owner Bill Jones III aspired to be "number one in everything"—taking on a reported $600 million in debt to build a new riverfront Cloister, a 65,000-square-foot spa, and a beach club with three pools. Attendees remember the opening gala in 2006 like something out of The Great Gatsby. Every nook was furnished with custom Turkish carpets, hand-carved chests, tasseled draperies woven on eighteenth-century English looms, exotic hardwoods, and Italian crystal chandeliers. But when the recession hit, the expansion backfired. Bankruptcy and an unseemly auction ensued.
Four years later, all seems forgiven. Jones serves as an adviser to the new owners, four investment firms that partnered to purchase the resort for $212 million. If any jet-setters are present, they blend in with the multigenerational families in Lilly Pulitzer tunics and Braves T-shirts. The Cloister's new red tile roof has acquired a bit of patina, and vines blanket all but the quatrefoil windows on the painstakingly reassembled Spanish Lounge—true to the original 1928 Addison Mizner design down to its radiator grilles.
The new owners have preserved traditions: bird cages in the solarium, 9 p.m. bingo, crumbling leather albums of honeymoon photos in the lobby (we found ours). Sunburned families still gather to have their portraits taken before dining at the five-star Georgian Room from menus printed with their names. Yes, you can have a single glass of Château Lafite Rothschild ($300) thanks to a high-tech system that extracts wine without removing the cork. Or dine at the Italian-style Tavola or French brasserie River Bar—worth a visit just to ogle its coffered pecky cypress ceiling and, in the adjacent smoking lounge, an inner-tube-sized tulipwood vessel by famed Atlanta artist Ed Moulthrop.
The Seaside Golf Course remains pristine—almost no homes or roads mar the manicured links winding past wild marshes and centuries-old live oaks dripping with Spanish moss. Holes are marked by Scottish-style red wicker baskets instead of flags, making it hard to judge the ocean breezes. (Of course, you can ask your caddie for advice.) Bobby Jones declared the original nine among the best he'd ever played. Seaside, along with companion courses Plantation and Retreat, earned the club the number four spot on Golf Digest's 2011 list of the best golf resorts in North America.
No worries if you don't play golf. Sea Island offers a shooting school and sporting club, archery, a vintage yacht, water sports, turtle walks, and beachfront horseback riding. Tennis is directed by French Open doubles winner Murphy Jensen. Young guests dream of the candy shop, with its bins of colorful confections. Their parents dream of the five-star spa, where hot yoga takes place beside a roaring fire and a creek winds through the atrium. Scattered about are leather journals for recording your thoughts. Waiting for my white tea facial, I found one I liked:
Pooh: What day is it?
Piglet: Today
Pooh: My favorite!
This article originally appeared in our August 2014 issue.