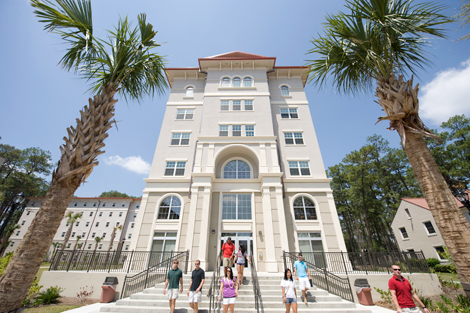 Located just fifteen miles shy of the Florida border, VSU is one of Georgia's fastest-growing universities. Its current enrollment is 12,334 students, up nearly 2,000 from just five years ago, and 92 percent are from Georgia.
Perhaps it's the allure of all that sunshine. The school's 168 acres are covered with palm trees and Spanish Mission–style architecture, and students take advantage of average high temperatures above seventy degrees for nine months of the year. Whether it's playing Frisbee on the front lawn, surfing the web under a tree, or grabbing a snack at one of more than a dozen on-campus dining spots (including Chick-fil-A, Moe's Southwest Grill, and Starbucks), there are plenty of excuses to get out of the dorm.
A wave of campus-wide updates has kept the century-old school from showing its age. Most recent was the 2010 opening of the new student union, a $43 million endeavor with a theater, game room, food court, and bookstore. In 2008 and 2009, two new suite-style residence halls opened, featuring plush quads and wood-planked floors. 2011 will welcome a new building for graduate studies and psychology, and plans are under way for a health sciences center.
VSU offers three associate's and fifty-two bachelor's degrees, as well as graduate studies. Biology is the most popular major, but offerings range from American Sign Language interpretation to music performance and environmental geosciences. Co-op opportunities, which provide concurrent industry-relevant work experience, are available for more than fourteen majors, including studies in art, communications, and marketing.
Students don black and red for football weekends, tailgating and cheering on the Division II Blazers, who were national champions in 2004 and 2007 and won a conference title in 2010. The men's tennis team has also proven to be a strong force, playing in four of the past seven national championships.
For those who like to do more than cheer from the sidelines, Valdosta offers fifteen club sports, including lacrosse, Quidditch, Ultimate, and fishing. For the less athletically inclined, there are more than 180 student groups and twenty-four Greek organizations, plus VSU's weekly newspaper, the Spectator, and the student radio station 90.9 FM.
Photograph courtesy of Valdosta State University