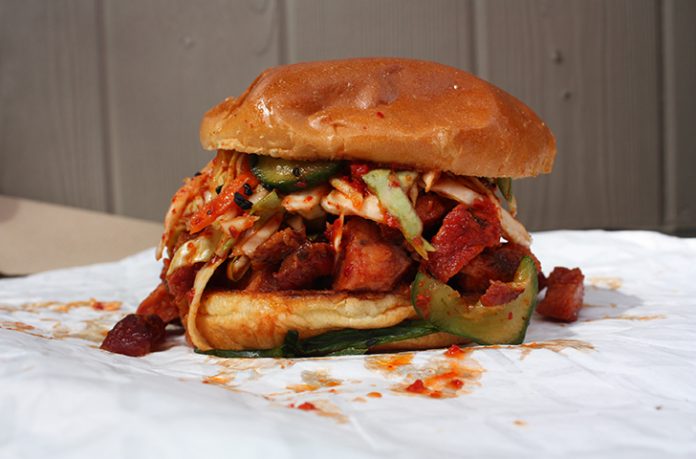 Photograph by Drew Podo
When Heirloom Market opened in 2010, owners Cody Taylor and Jiyeon Lee wanted to blend Southern barbecuing and Korean traditions. They created their spicy Korean pork sandwich as a way to incorporate Korean flavors with a classic diced rib sandwich. "It was pretty much the first collaborative thing we did at Heirloom," Taylor says.
Taylor and Lee came up with the idea for the sandwich after a cold-snap partially froze some of the cabbages in their walk-in freezer. Taylor didn't want to throw the cabbage away, but he didn't want to make a traditional coleslaw either. "I went to Jiyeon and said, 'What can we do with this?" he says. "'In Korea, when cabbage starts to get a bit of freeze on it, they mix it with a kimchi base and then bury it, so she came up with the kimchi coleslaw idea."
For the meat, Taylor decided to smoke leftover pork pieces marinated in gochujang. To ensure that the gochujang rub doesn't fade in the smoker, Taylor debones and slices them into thin strips before they go in. The sandwich, with its soft potato bun, tangy kimchi coleslaw, crunchy pickles, and smoky, fatty pork, was an instant hit. "I took it off for a week because I couldn't keep up with the demand, and people just flipped out," Taylor says. He started using pork butts instead of spare pieces, and now he goes through at least 600 pounds of pork every week.
Even though they use Korean ingredients in all of their menu items, Taylor says that the spicy pork best represents what Heirloom Market stands for. "At the beginning we weren't sure how much Jiyeon could incorporate her heritage into barbecue," Taylor says. "But that's what barbecue is—where you're from."