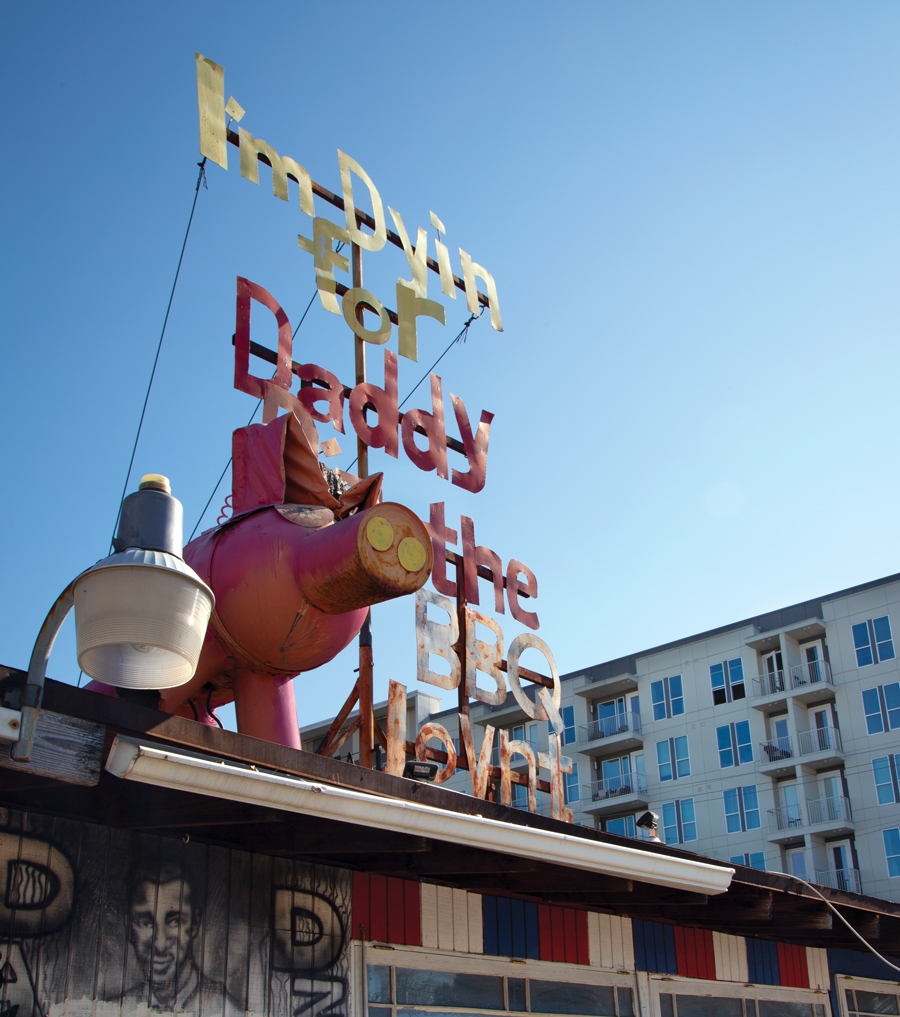 Like everything else around here, the local barbecue scene has sprawled. I tried to count the number of barbecue places, using Yelp and anything else I could think of, and ran out of energy and patience when I got to 350. That's right: The 28-country metro area has at least 350 barbecue eateries—not just stand-alone restaurants, but food trucks and pop-ups and kiosks and lots of places doing things that don't fit the standard definition of Southern barbecue. It isn't just chopped pork anymore.
Ribs past and present
Atlanta's most renowned rib joints are memories. Aleck's Barbecue Heaven in West End—Martin Luther King Jr.'s favorite—closed at least 20 years ago. And the Auburn Avenue Rib Shack downtown shuttered a few years before that, its gorgeous pink-pig neon sign surviving in the archives of the Atlanta History Center.
But ribs are actually more widely available now that people expect barbecue places to serve all kinds of smoked meats. Most of the places in our Top 12 cook good ribs. Other notable rib joints include Crazy Ron's BBQ in Stone Mountain and Herb's Rib Shack in Marietta.
Atlanta, Texas?
Smoked brisket used to be unheard of around here. Now it shows up on most menus in town, usually served on metal trays with pink butcher paper, the way they do it in Texas. Among the high-profile Atlanta barbecue places that stress their Lone Star pedigree: Fox Bros., DAS BBQ, Ford's BBQ, Hattie Marie's Texas BBQ, and Moonie's Texas BBQ. No wonder you hear so much ZZ Top in Atlanta barbecue joints these days.
Meatless barbecue
Terry Sargent serves vegan barbecue, and it's good. At Grass VBQ, he makes faux brisket from chickpea flour and wheat gluten, and faux pork from jackfruit. As far as I'm concerned, his food meets the basic definition of barbecue because he smokes all his proteins. Sargent published a cookbook this year and is one of the nation's leading authorities on vegan barbecue. While he has built a local following, his business has bounced around from pop-ups to a short-lived restaurant in Stone Mountain to three communal kitchens. People have asked me whether I know of meatless barbecue alternatives, and I've struggled for an answer. Now I have one, if only it could find a more permanent home.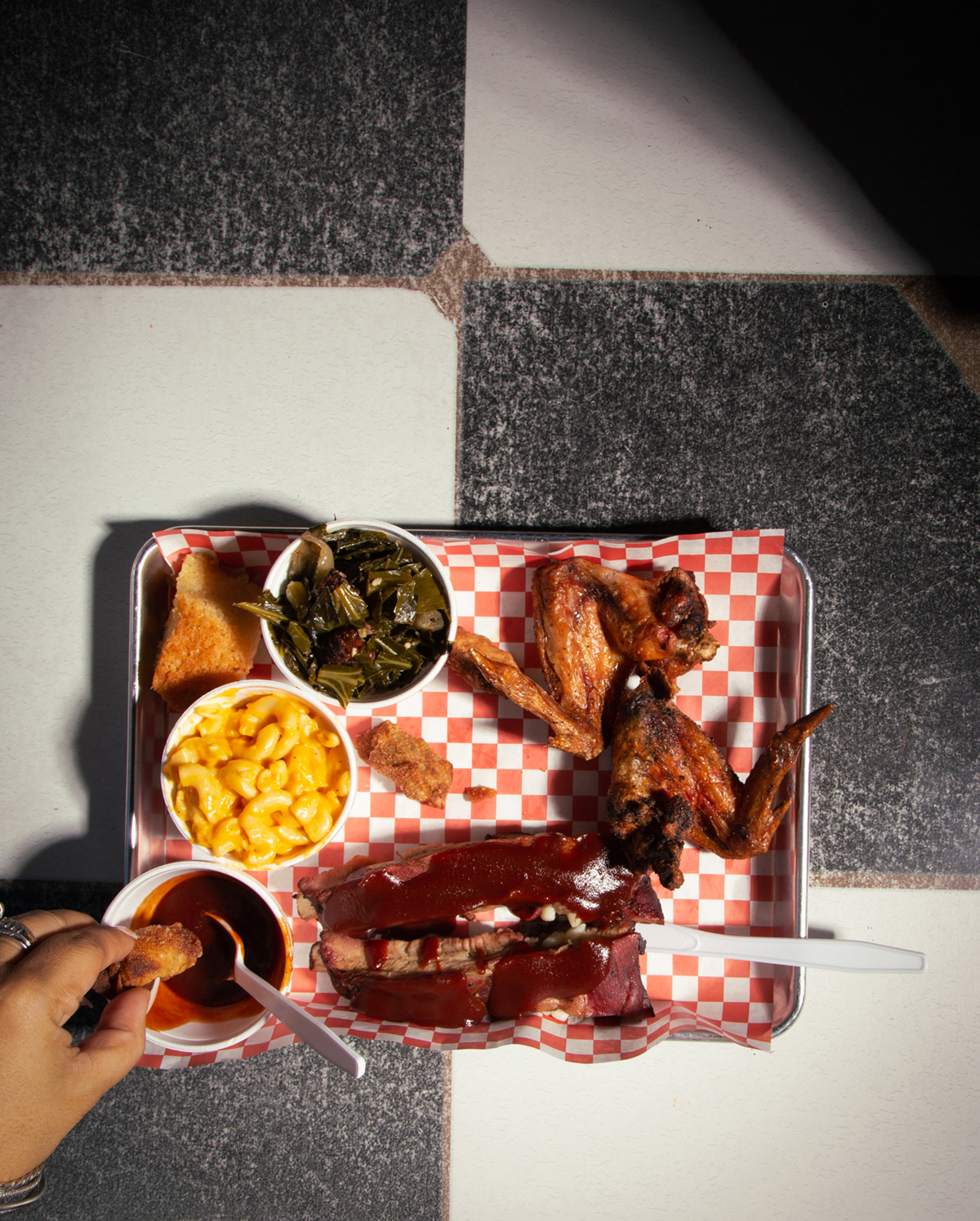 Chicago on the Chattahoochee
Barbecue places in other parts of the country have long advertised their authenticity by trying to seem Southern. In Atlanta, a couple have done the reverse, conjuring the atmosphere of Chicago.
Daddy D'z BBQ Joynt in Grant Park was founded by a former Chicagoan who wanted to create something like the South Side rib shacks he had known back home. Fat Matt's Rib Shack on Piedmont Avenue cultivates that vibe, presenting live music played out against a mural showing great blues musicians. Fat Matt's is one of the most divisive barbecue places in Atlanta. Its prominent location and multiple media touts have made it popular, but many people think it doesn't live up to its publicity. The late Anthony Bourdain took note of the controversy during a visit for one of his TV shows: "Okay, barbecue snobs, food nerds: I know it's not real barbecue . . . [but] it makes me happy."
Fill 'er up
Gas station barbecue isn't as big in Atlanta as it is in Texas, but we do have some good examples. Across town from TDT BBQ, the Top 12 place in a Mableton Shell station, there's the Tipsy Pig, which serves fine barbecue out of a gas station convenience store in Lilburn. And in Stone Mountain, Buy the Bone Bar-B-Q occupies a former filling station: You walk past vintage red gasoline pumps to go inside and order.
Farther afield, one of the top-ranked barbecue places in Georgia, Southern Soul on St. Simons, started in a former gas station. And you probably know about Buc-ee's, the Texas-based chain of travel centers/country stores with outposts north and south of Atlanta on I-75, in Calhoun and Warner Robins. Buc-ee's smokes authentic brisket and pork that's better than what you'll find in many regular barbecue joints.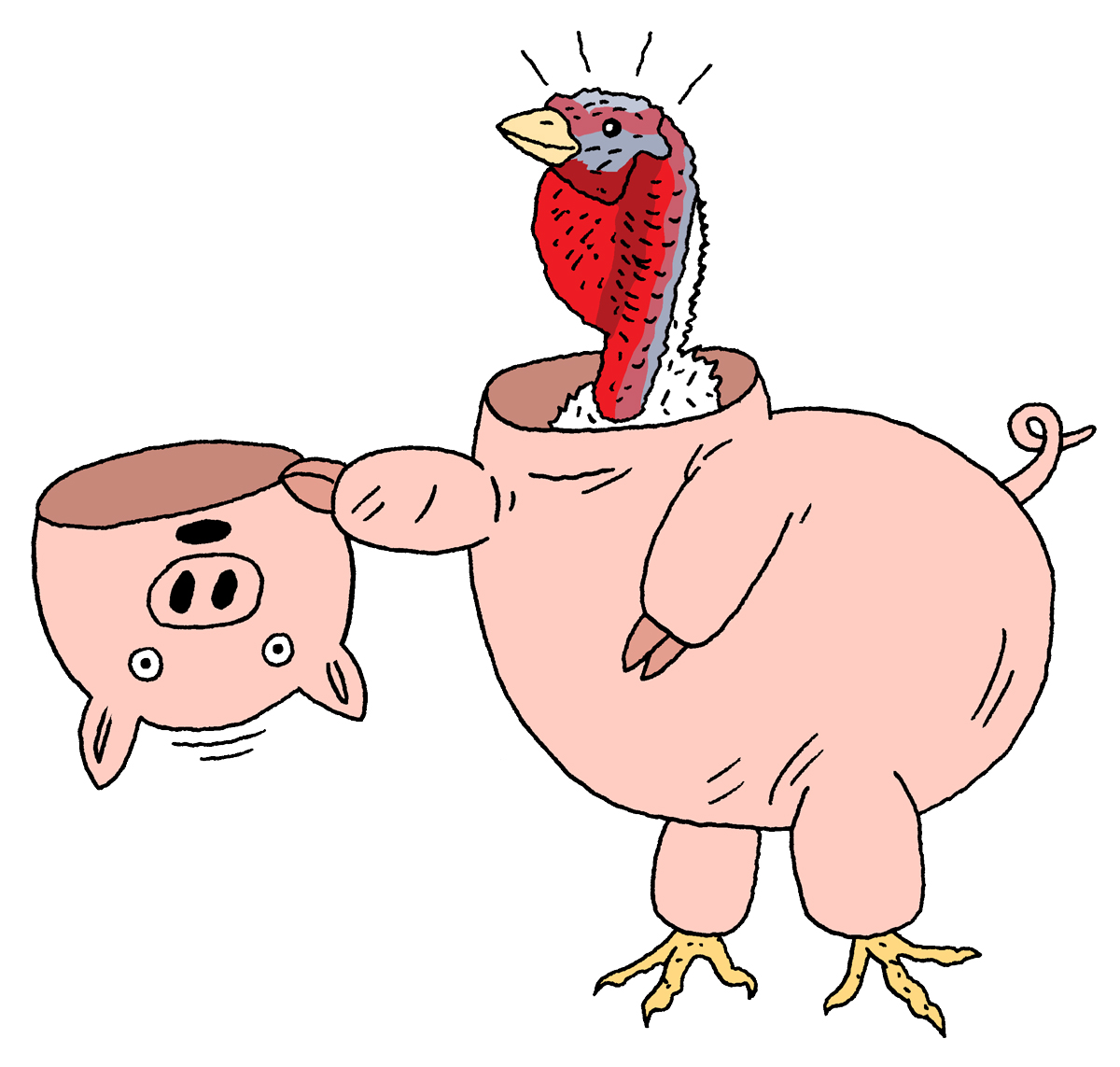 Living in the shadow
Consider the predicament of Doug's North Carolina BBQ. Doug Cogdell grew up in whole-hog country in eastern Carolina and moved to Atlanta recently to open a barbecue stand in Chattahoochee Food Works on the Westside. His background and business name lead you to expect pork, but his specialty is actually turkey—and it's good. Cogdell smokes whole turkeys over pecan and oak and offers poultry as a healthier alternative to pork and beef. But he admits that his menu came about in part because his landlords asked him not to conflict with a nearby tenant. Doug's has the unenviable position of being yards away from the Fox Bros. at the Works, their largest restaurant.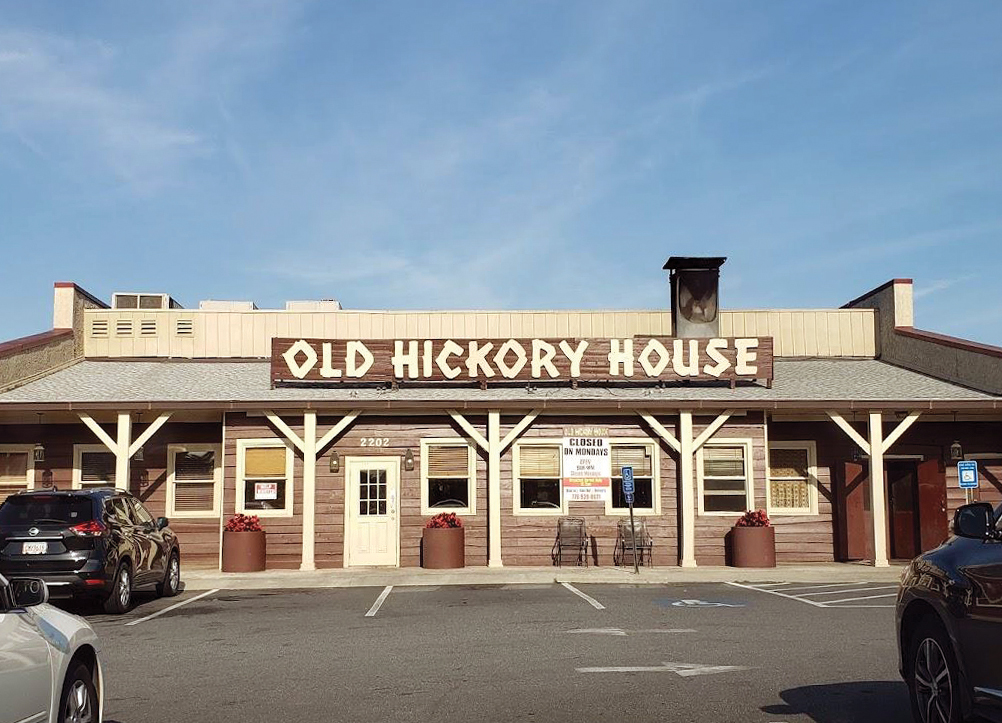 The Knotty-Pine Club
Many of the suburban barbecue restaurants of the mid-20th century had a certain look. Their dining rooms had knotty-pine paneling, like so many dens of that era, and red-checkered tablecloths that came to signal barbecue as surely as pink says Barbie.
The definitive example of the genre was the Old Hickory House chain, which once defined barbecue in Atlanta. Started by Alabama transplants in the mid-'50s, Old Hickory House grew to 20 locations by the 1980s. Older Atlantans (like me) still get hungry remembering their radio commercials that told us to "put some South in your mouth." There's only one Hickory House left, on Northlake Parkway in Tucker, and its 1974 interior feels like an old family photo.
Two 1960s barbecue places in Cobb County feel like first cousins: Wallace in Austell and Old South in Smyrna. Both use fireplace-style pits mounted into a wall, like Old Hickory House did. Two junior members of the club, Williamson Bros. in Marietta (1990) and J.R.'s Log House in Peachtree Corners (1983), have food and decor that attest to their knotty-pine roots.
Pop-up barbecue
Some of the best pitmasters in Georgia ply their craft through catering or pop-up dinners at private events or other people's restaurants, especially brewpubs. Notable examples include Secret Pint, Pink's Barbecue of Newnan, Keenan's Pit Bar-B-Que, Keebler's Kitchen BBQ & Bakery, and the Philips Barbeque Co. in Lawrenceville.
That last one is run by Rasheed Philips of Winder, who bills himself as "The Gentleman Smoker." He got the nickname because of his appearance in the first season of the Netflix series Barbecue Showdown, in which his polite demeanor contrasted with the bombast you find on most competitive barbecue TV shows. Philips comes from Jamaica and cooks barbecue with a Caribbean flair. He does most of his pop-ups at the Pontoon Brewing taprooms in Sandy Springs and Tucker, where he created his own barbecue brew by slow-smoking the grain. It's called Tall Dark & Smokey porter, and has an image of him on the can.
Philips doesn't have a restaurant because he's put off by the cost of real estate and enjoys touring around cooking. But he's thought about it. "There was this former Hardee's in Buford that would have been perfect," he says, "but I was outbid."
Asian barbecue
Barbecue is much bigger than the South. People grill and smoke meats around the world, so when they move to the States and open restaurants that specialize in dishes that went by other names back home—like char siu in China or bulgogi in Korea—they adopt the word Americans recognize: barbecue.
Probably a third of the restaurants that call themselves barbecue in metro Atlanta are Asian. Korean barbecue, known for tabletop grills where diners can cook marinated meats themselves, is by far the most prevalent. They're ubiquitous in Atlanta—in fact, there may be more Korean barbecue places in Gwinnett County than traditional Southern ones.
Other local Asian barbecue takes include Phở Cue (can we say that in a respectable publication?), a Vietnamese-fusion restaurant in Glenwood Park where they serve brisket pho and pulled pork banh mi sandwiches; Waikikie Hawaiian BBQ in Northeast Atlanta, where they offer teriyaki meats and grilled-Spam dishes inspired by the Aloha State's strange affection for potted meats; and Sweet Auburn in Poncey-Highland and McDonough, where owners Howard and Anita Hsu, of Malaysian heritage, experiment with Asian-inspired dishes like brisket egg rolls and barbecue-rubbed tofu.
World barbecue
Atlanta has abundant examples of other barbecue cultures. We've got African restaurants, like the African Grill in Duluth, that specialize in suya, the grilled meat skewers of Nigeria. We've got plenty of jerk places, like Scotch Bonnet Jamaican in Southwest Atlanta, that smoke pork and ribs like they do in the Caribbean, the birthplace of New World barbecue. We've got scores of Mexican restaurants that serve tacos with smoked meats aimed for American palates—not to mention barbacoa, which usually refers to braised beef and isn't exactly barbecue, although it shares an etymology with the word. Confusing, but delicious.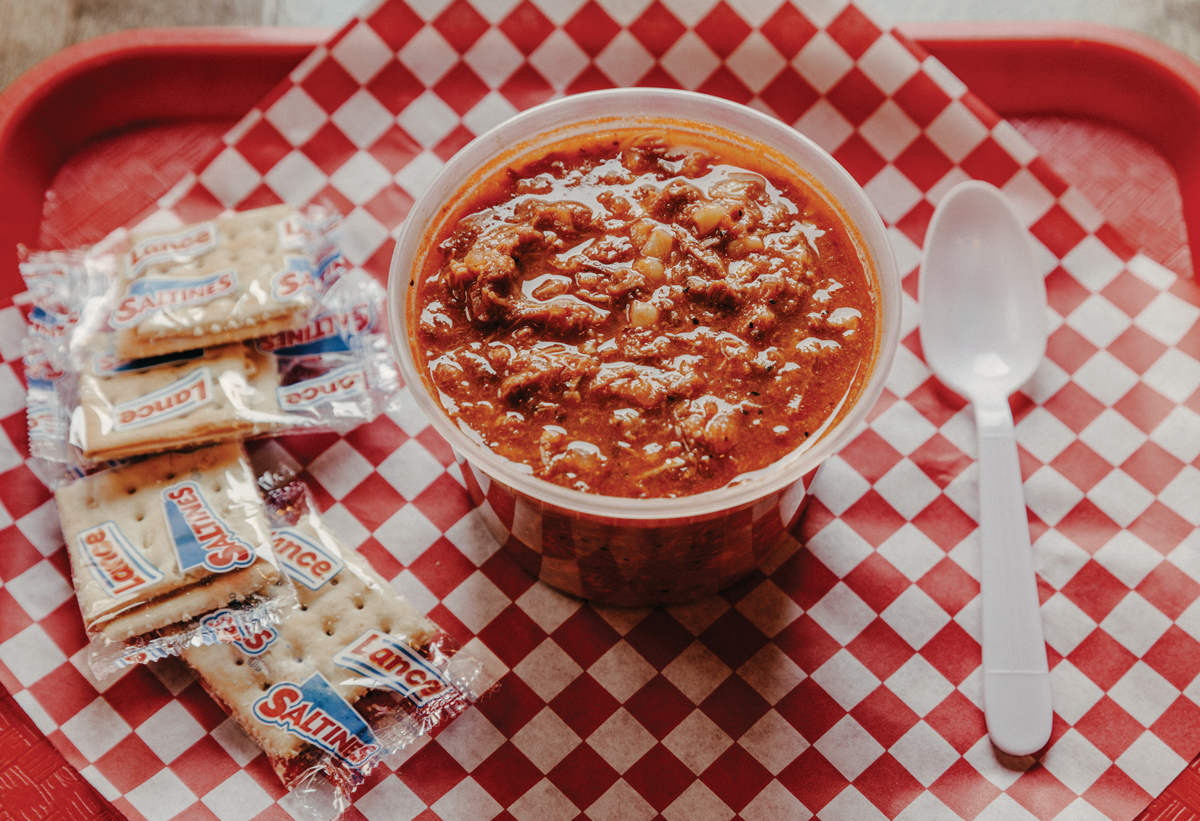 Streams of stew
Let's admit it: Georgia didn't invent Brunswick stew. Two historical markers in Brunswick claim that it did, one going so far as to say the first pot of stew was stirred on July 2, 1898, on St. Simons Island. But that doesn't hold up when you consider that they were making stew decades before in Virginia, where they also have a marker—in Brunswick County.
What we can say is that Georgia is undoubtedly the capital of Brunswick stew. Nowhere else is the dish as likely to appear on barbecue menus, especially in the Piedmont region that includes Atlanta. Brunswick stew might well be the most distinctive thing about Georgia barbecue.
Just about every barbecue place in metro Atlanta offers stew, even the ones that boast about their connections to Texas (where they do beans, not stew). While there's considerable variety in local versions—some with more vegetables, some a bit sweeter—the classic recipe stresses tomatoes and corn and can have a pronounced cider vinegar twang.
Harold's, the fondly remembered barbecue place near the federal pen, served a definitive stew from the 1940s until its closing in 2012. Similar renditions can be found at Old Brick Pit in Chamblee, the last Old Hickory House in Tucker, and Scott's Walk-Up Bar-B-Q in Cartersville.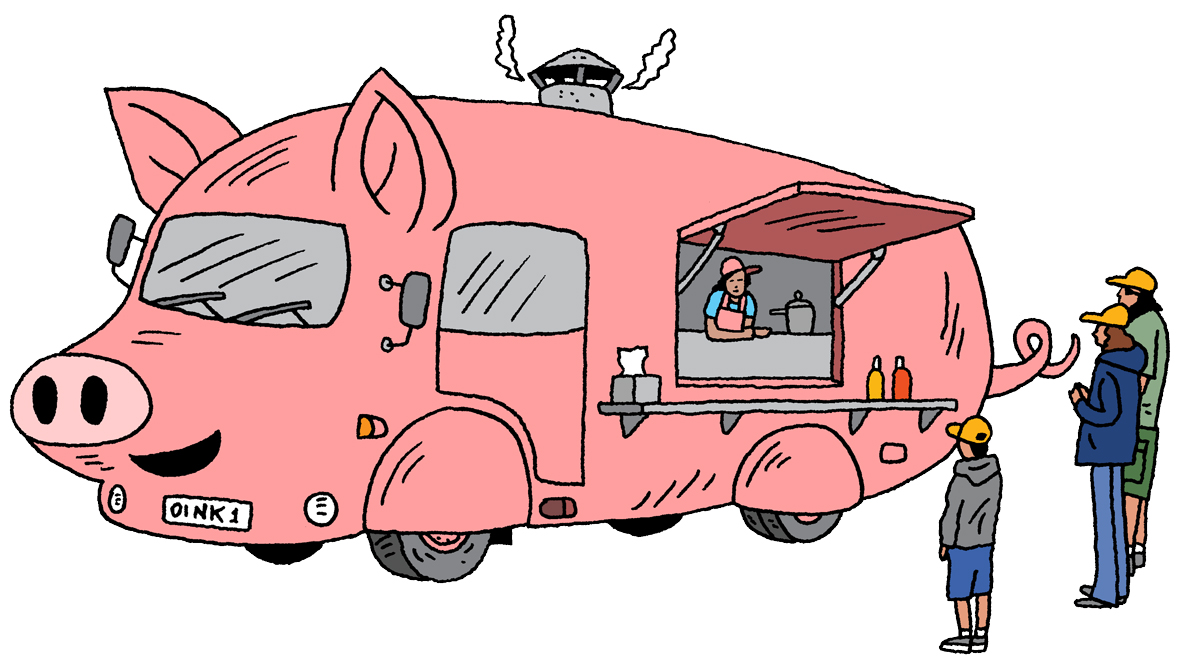 Barbecue on wheels
I know of at least 32 barbecue food trucks in Atlanta, a number that changes practically every weekend. Some grow into brick-and-mortar restaurants (Sweet Auburn BBQ, for instance), but most stay mobile. Some of the best-known food trucks include Magnolia BBQ & Fish, Babakabab (which specializes in Lebanese barbecue on skewers), and Stan's Smoke Signals. Owner Stan Andrews cooks great ribs and draws long lines to a parking lot in Northwest Atlanta, at 850 James Jackson Parkway, where he's more or less taken up residence. His smokers are in the rear of the truck, and depending on which way the wind is blowing, you can come away smelling like your meal.
Unusual barbecue dishes
Memphis is known as the birthplace of novelty barbecue dishes because restaurants there created barbecue spaghetti and barbecue pizza. Atlantans have been inventing stuff, too. Consider Jambalaya Que at Taylor'd in Avondale, BBQ Hash at DBA in Atlanta, Redneck Lasagna (Brunswick stew over mac and cheese) at Sam's BBQ-1 East and Dave Poe's in Marietta, Cajun Fried Ribs at Foggy Bottom in Lawrenceville and Loganville, and Que Wraps (smoked pork in bite-sized fried dough) at Daddy D'z in Atlanta.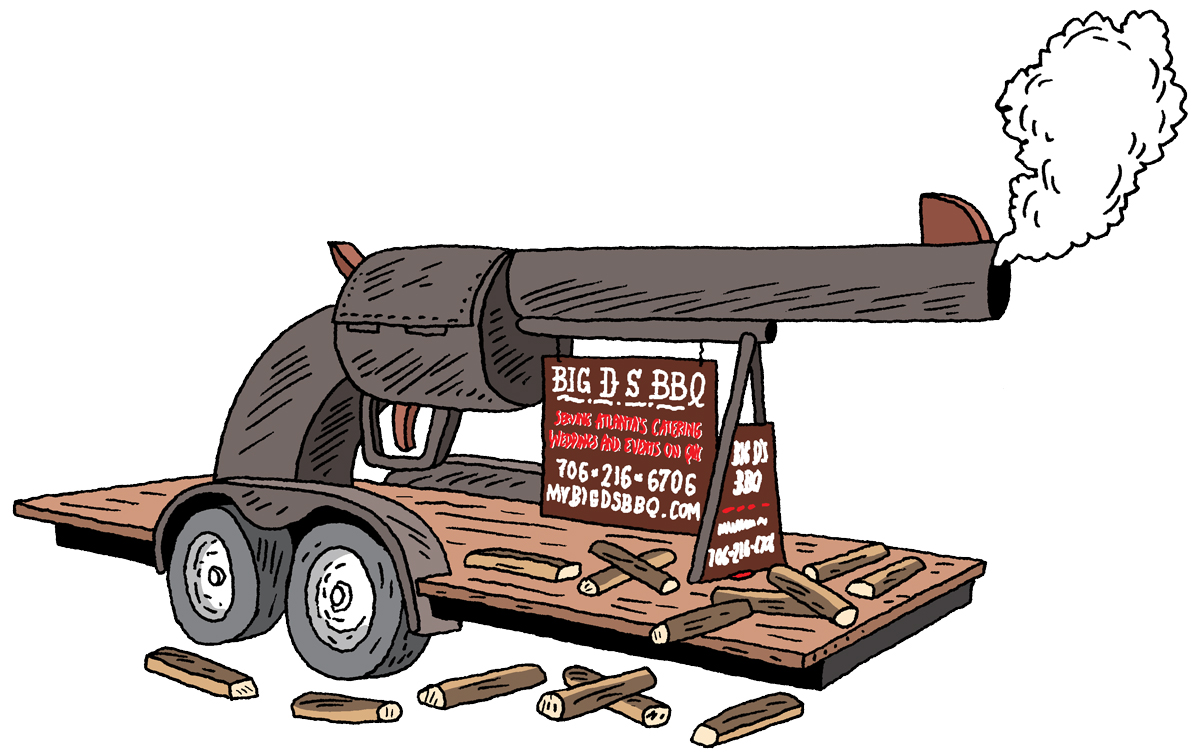 Purty smokers
Most barbecue places use gas–wood hybrid cookers these days because they're easy to operate. But some insist on doing it the old way, cooking on nothing but wood. (These stalwarts include several on our Top 12 list: Pit Boss, Rodney Scott's, Wood's Chapel, Heirloom Market, and Old Brick Pit.) Most barbecue cooking contraptions are black and sooty, but a few are so unusual or beautiful that people can't help but take pictures of them and post on social media. Unusual? The smoking gun at Big D's Barbecue in Dawsonville—an oversize six-shooter with a firebox in the bullet cylinder and smoke pouring out the barrel. Beautiful? The bright red J&R Oyler rotisserie cookers at Twin Smokers near the College Football Hall of Fame downtown. Named for two of one owner's children—Elizabeth and Matthew—they're as shiny as cars in a dealer's showroom.
Barbecue landmarks
The two oldest barbecue places in Georgia were way out in the country when they opened, but now they're part of the census-designated metro area. So, let's claim them and give them the respect they deserve.
Sprayberry's was a filling station in Newnan when it started selling barbecue sandwiches in 1926. Fresh Air was a rustic roadside stand in Jackson when it opened on the highway from Atlanta to Macon in 1929.
Both elders are nearing the century mark. If any eateries deserve state historical markers, these do.
The name game
I collect barbecue names. The best ones in Georgia are probably Zombie Pig in Columbus and the aforementioned Fresh Air. We have several good ones around Atlanta: Righteous 'Que in Marietta, Bub-Ba-Q in Woodstock, Speedi-Pig in Fayetteville, Blind Pig in Jackson, the Pig Da Cow & Da Chicken in Atlanta. Pig names outnumber cow names 13–1. We've got gangs of brisket around here now, but it's still Georgia.
The family tree
Sam Huff helped spark an Atlanta barbecue renaissance almost 20 years ago in Cobb County. A full-time attorney who liked to cook, he opened Sam and Dave's BBQ in 2004 with partner Dave Poe. They hired a manager, David Roberts, who had worked in haute kitchens like the Dining Room at the Ritz-Carlton, Buckhead. After a few years, the trio went their separate ways, with Huff staying put at Sam's BBQ-1 in East Cobb, Poe starting Dave Poe's in Marietta, and Roberts opening Community Q in Decatur. Another of Huff's employees, Robert Owens, went on to help launch Grand Champion BBQ in Milton and Mableton, and a member of Huff's competition barbecue team, Dale Thornton, operated the South 40 Smokehouse catering business for a decade before recently retiring. Now that's a fruitful tree.
Chain barbecue
Barbecue purists disparage franchise barbecue the way pizza lovers trash the delivery giants. Yet there are at least 75 chain barbecue places in metro Atlanta, accounting for maybe a fourth of the total. Why? Like pizza, even mediocre barbecue tastes pretty good.
Two of the biggest operations were born here: Shane's Rib Shack (20 outlets) and This Is It! Southern Kitchen & Bar-B-Q (10, with an 11th on the way). Shane Thompson started with a single restaurant in McDonough in 2002 and then sold out to a franchising company that grew the chain and marketed it as a clean, family-friendly alternative to shabby barbecue dives. Shane's does not heavily smoke its meats, leading to a reputation as "barbecue lite." Butch and Barbara Anthony started This Is It! with a restaurant in south Decatur in 1983 and built their family-owned business by expanding in neighborhoods mostly on the south side. They are known for their wings.
Other chains came from outside the state of Georgia: Jim 'N Nick's of Alabama (11 outlets in the metro), Dickey's of Texas (8), Sonny's of Florida (4), City Barbeque of Ohio (3), Smokey Bones of Florida (3), Moe's Original of Alabama (1), and Bar-B-Cutie of Tennessee (1). Some are much better than mediocre. My favorites: City Barbeque and Jim 'N Nick's.
Not just restaurants
Georgia has a big barbecue brand footprint. Among the nationally known barbecue concerns based here are Char-Broil grills of Columbus, Big Green Egg and Kamado Joe of Atlanta, Lang BBQ Smokers of Nahunta, Stump's Smokers of Centerville, Royal Oak Charcoal of Roswell, and Mrs. Griffin's barbecue sauce (one of America's oldest brands) of Macon. Oh, and Home Depot is one of the nation's largest grill retailers.
She smoke
Men tend to dominate the realm of fire and meat, but a growing number of Atlanta women run barbecue businesses. Three noteworthies: Jane Ann Jarvis of Old Brick Pit; Angie Harris, pitmaster at Rodney Scott's Whole Hog; and Jessica Brown, who, at age 30, just took over from her father at LowCountry Catering, one of Atlanta's oldest barbecue caterers.
Looking back
The pandemic was rough on restaurants. While barbecue places fared relatively well because they're geared for takeout, many places didn't make it. Among them: Lovies in Buckhead, Smoke Ring in Castleberry Hill, the Greater Good chain, King Barbecue in Alpharetta, Bone Lick in Atlanta, Lake & Oak in Atlanta, Holy Smoke in McDonough, Hodges in Decatur, and 4 Rivers Smokehouse in Atlanta.
Looking ahead
Avery Cottrell, who has attracted a following doing barbecue pop-ups at Kimball House in Decatur and elsewhere, is planning to open his own restaurant next spring in the East Lake space that formerly housed Salaryman. It'll be named Gene's, after his large, well-fed cat. Cottrell will be cooking Cajun- and Vietnamese-influenced barbecue on a custom-made offset smoker that should become an Instagram favorite, if only because of its color: hot pink.
Oh, Bryan, where art thou?
Five years ago, when we did our last barbecue issue, Bryan Furman was the toast of the town. Not only was his restaurant, B's Cracklin' BBQ, our choice for the best in Atlanta, but his hands were pictured on the cover slicing ribs. "No Atlanta barbecue restaurant in recent memory has created as much buzz," our write-up began.
A few months later, a pit fire put his restaurant out of commission. Then his kiosk location in the BeltLine Kroger closed during the pandemic.
Furman has spent most of the last five years traveling the country, cooking barbecue at special events and for corporate clients. He's also led cooking classes here and overseas, including one called "The Thermodynamics of Barbecue" in Harvard University's Science of Cooking lecture series. Through it all, he wanted to reopen his restaurant. Now, after many delays, he says it's on the way. Bryan Furman Barbecue is scheduled to open next spring at 2102 Bolton Road in the Riverside neighborhood of Northwest Atlanta, near his previous restaurant.
"I've got to have a flagship," he says.
That would be great news for Atlanta barbecue.
This article appears in our November 2023 issue.