Why 12? Because 10 wasn't enough. Barbecue is coming into its own in Atlanta. Here are our favorites, in no particular order.
Rodney Scott's Whole Hog BBQ
Scott is one of only two pitmasters to win a James Beard award for best chef in competition against high-end restaurants. He made his name in South Carolina, where he worked at his family's barbecue place and then went out on his own in Charleston. He opened here two years ago, in Met Atlanta, a warehouse complex refashioned for entrepreneurs and artisans. It's one of the nicest barbecue spaces in Atlanta, a former auto repair shop remodeled with floor-to-ceiling glass and smokers engineered to work inside an air-conditioned kitchen. The main attraction: whole-hog pork and ribs, of course. 668 Metropolitan Parkway Southwest, West End
DAS BBQ
Stephen Franklin and his partners drew on his family's roots in Georgia and Texas—which explains the name, a nod to the Lone Star State's German meat markets. DAS serves one of the best briskets in Atlanta: peppery, smoky, with a buttery mouthfeel. Everything else on the menu is good, too. DAS started in a former pizza place in Northwest Atlanta and expanded to a second location outside Oakland Cemetery. It recently opened DAS Cantina, a takeout stand on the Eastside BeltLine featuring barbecue tacos and nachos. More Cantinas are coming, probably starting with one in South Atlanta. 1203 Collier Road Northwest, Underwood Hills; 350 Memorial Drive Southeast, Grant Park
Taylor'd Bar-B-Q
What a fine little neighborhood barbecue place. Started during the pandemic by Josh McDowell, a veteran of the barbecue contest circuit, Taylor'd is located in a storefront near the Avondale MARTA station and the first-ever Waffle House. They smoke everything well. I'm particularly fond of their pulled pork and chicken wings. They also serve some of the best and most unusual Brunswick stew in Atlanta—less soup than hash, so stout you can eat it off a plate. Diced potatoes help give it that heft. My father, a sworn officer with the Brunswick stew police, would not approve . . . but my taste buds do. 2759 East College Avenue, Avondale Estates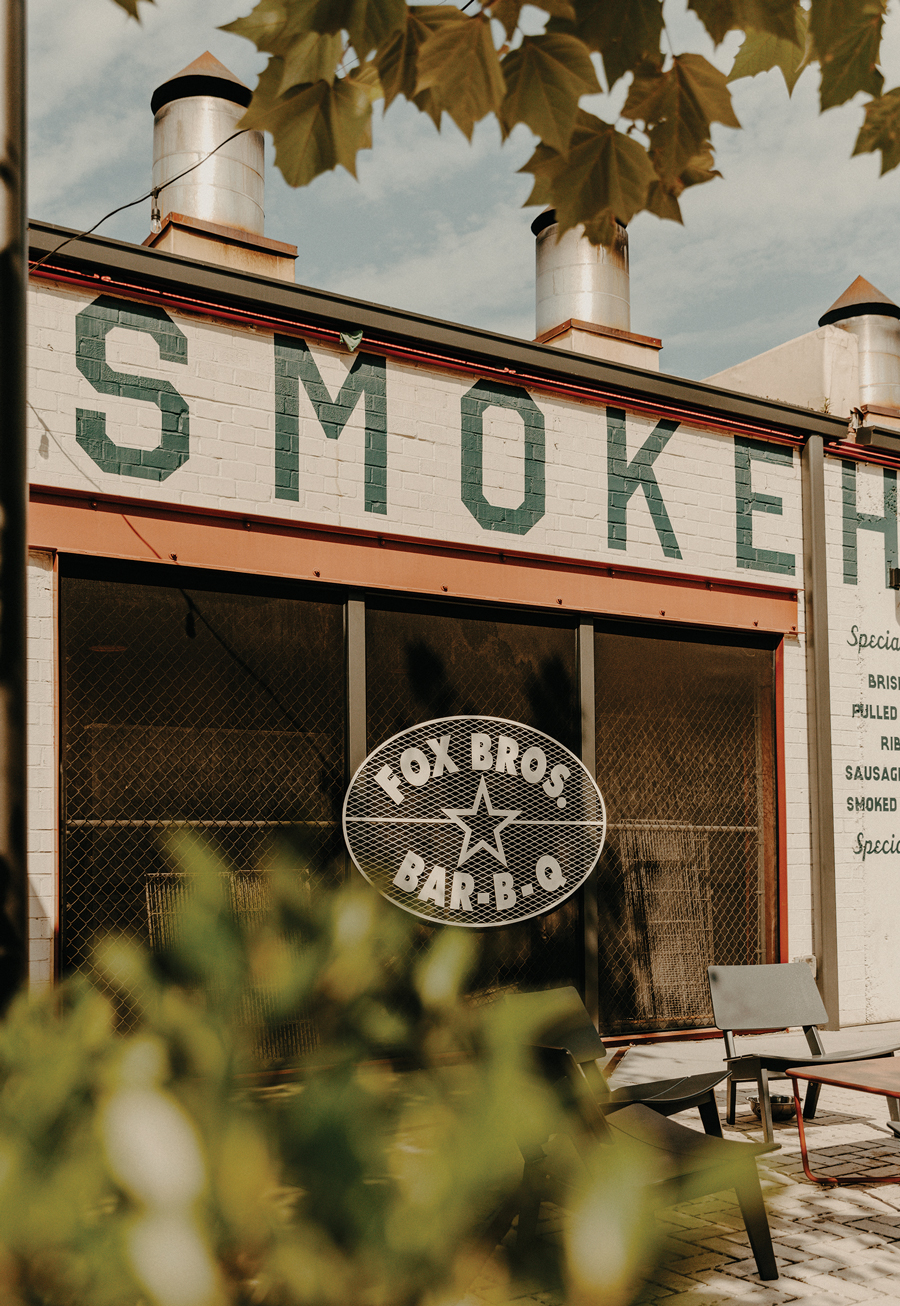 Fox Bros. Bar-B-Q
Since opening as a pop-up at Smith's Olde Bar in Midtown, Fox Bros. has grown to become the most recognizable barbecue brand in Atlanta. Justin and Jonathan Fox got there by sweating the details of smoked meats and offering a wider range of good barbecue than any other restaurant in town. Their brisket, ribs, and sausage are as good as any in Georgia. With a new Brookhaven location joining two existing restaurants, and the barbecue concession at Truist Park, Fox Bros. shows no signs of slowing down. 1238 DeKalb Avenue Northeast; 204 Chattahoochee Row, Westside; 4058 Peachtree Road Northeast, Brookhaven; Que-Osk: 120 Ottley Avenue, Armour Yards; Terrapin Taproom: 755 Battery Avenue Southeast, Truist Park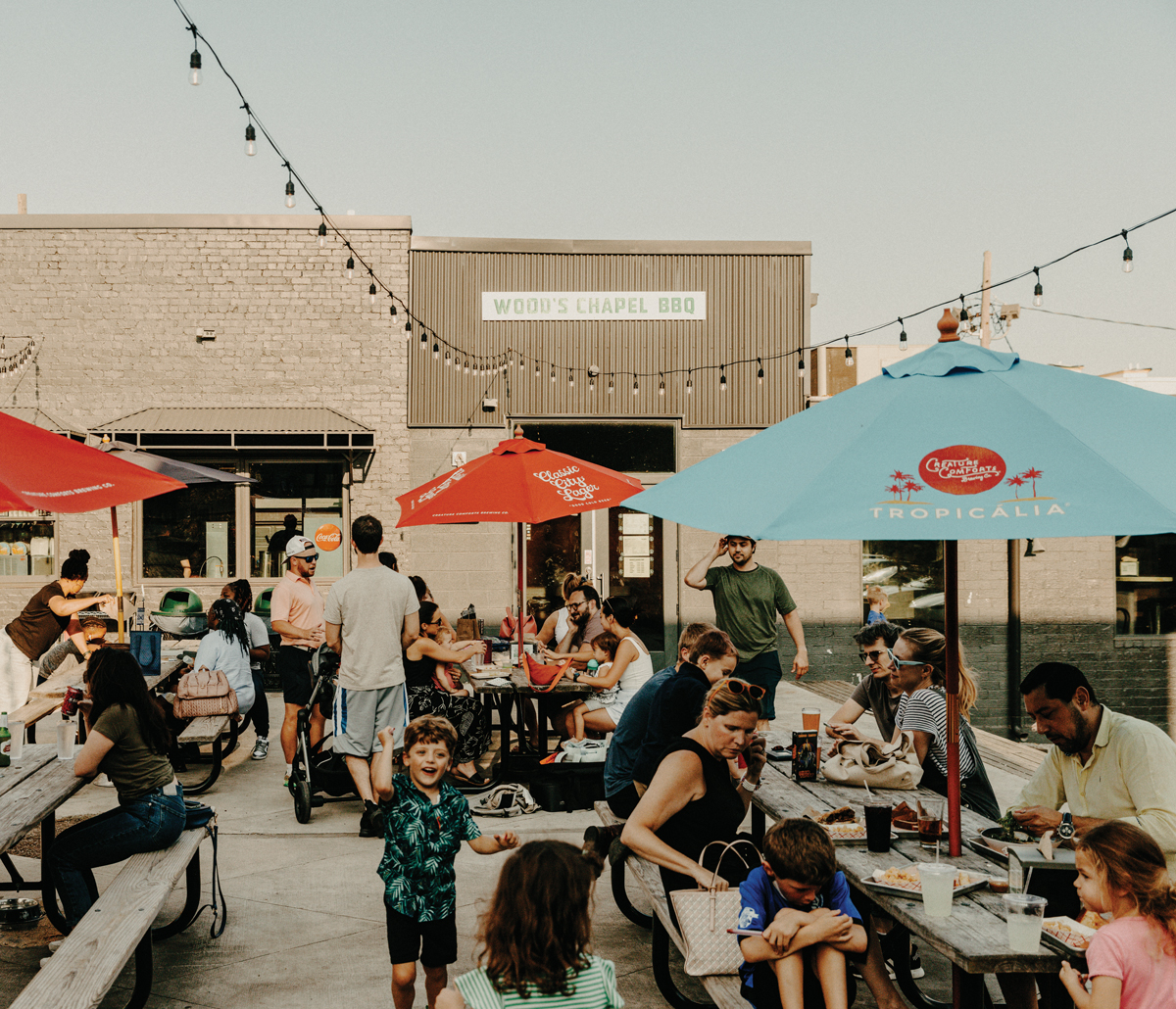 Wood's Chapel BBQ
Todd Ginsberg and partners from the General Muir, the deli deluxe that started at Emory Point, opened this place in 2019 and quickly made it one of Atlanta's top barbecue destinations. Named for a church that used to be in the neighborhood, Wood's Chapel is housed in a 1930s storefront that's part of the Summerhill redevelopment that began after the Braves left Turner Field. The restaurant serves a wider variety of meats than most—including one of my favorites, smoked salmon—all cooked in offset smokers in a detached smokehouse out back. The patio area, with its picnic tables and cornhole game, is one of Atlanta's most pleasant barbecue restaurant playgrounds. 85 Georgia Avenue, Summerhill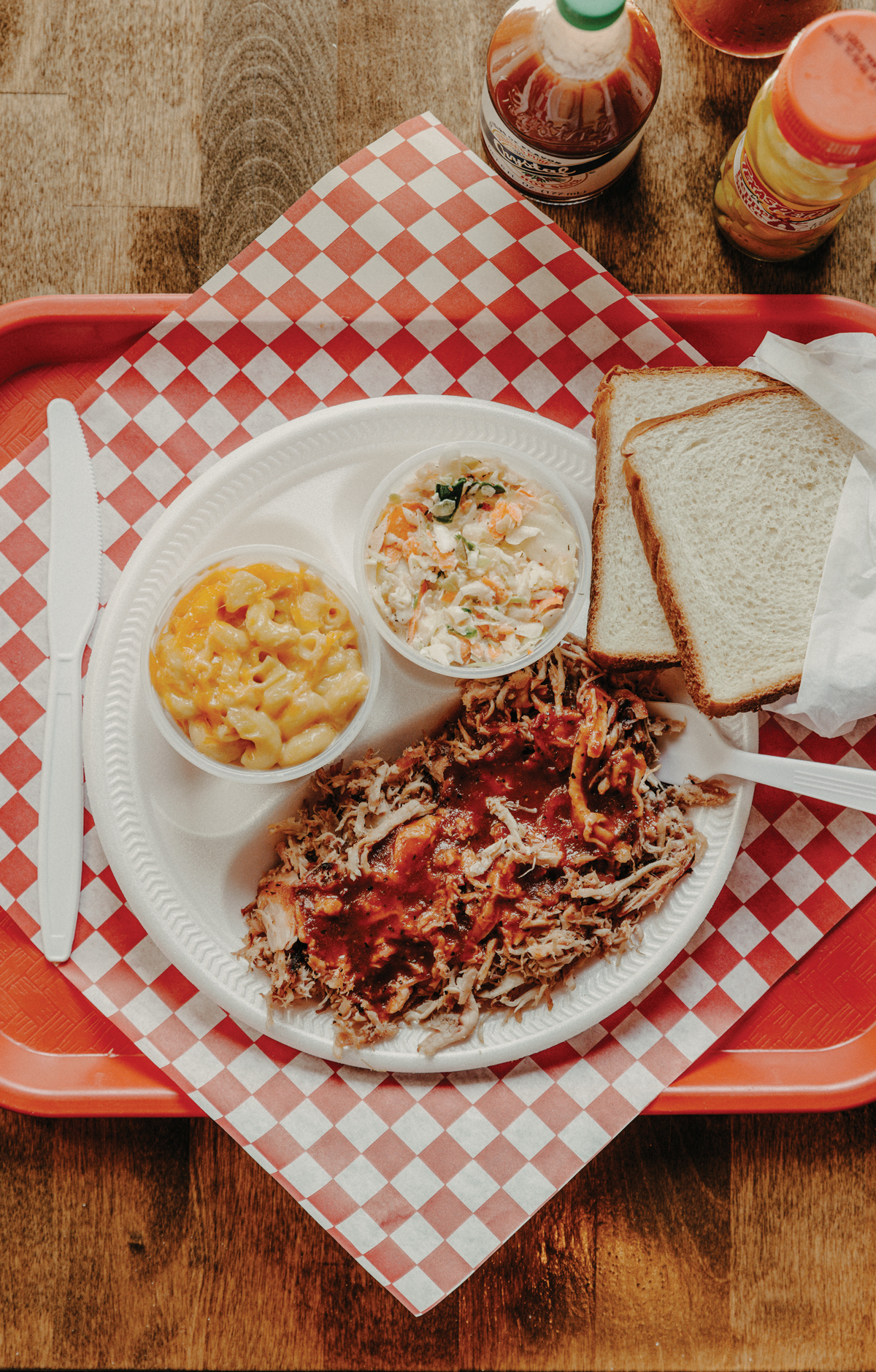 Old Brick Pit
Opened in 1976 in a converted Dairy Queen on Peachtree Road, Old Brick Pit—the oldest restaurant on this list—is a testament to classic Georgia barbecue. Its pit was modeled on one of the state's oldest, the L-shaped brick pit at Fresh Air Bar-B-Que in Jackson. Although OBP offers ribs and barbecued chicken, its signature dishes take their inspiration from Fresh Air and other archetypal places: chopped pork, coleslaw, brick-red stew. If you like that Georgia Piedmont style, no place inside the Perimeter does it better. But don't go to OBP expecting brisket, any more than you'd go to Texas joints expecting stew. It wouldn't be fitting. 4805 Peachtree Road, Chamblee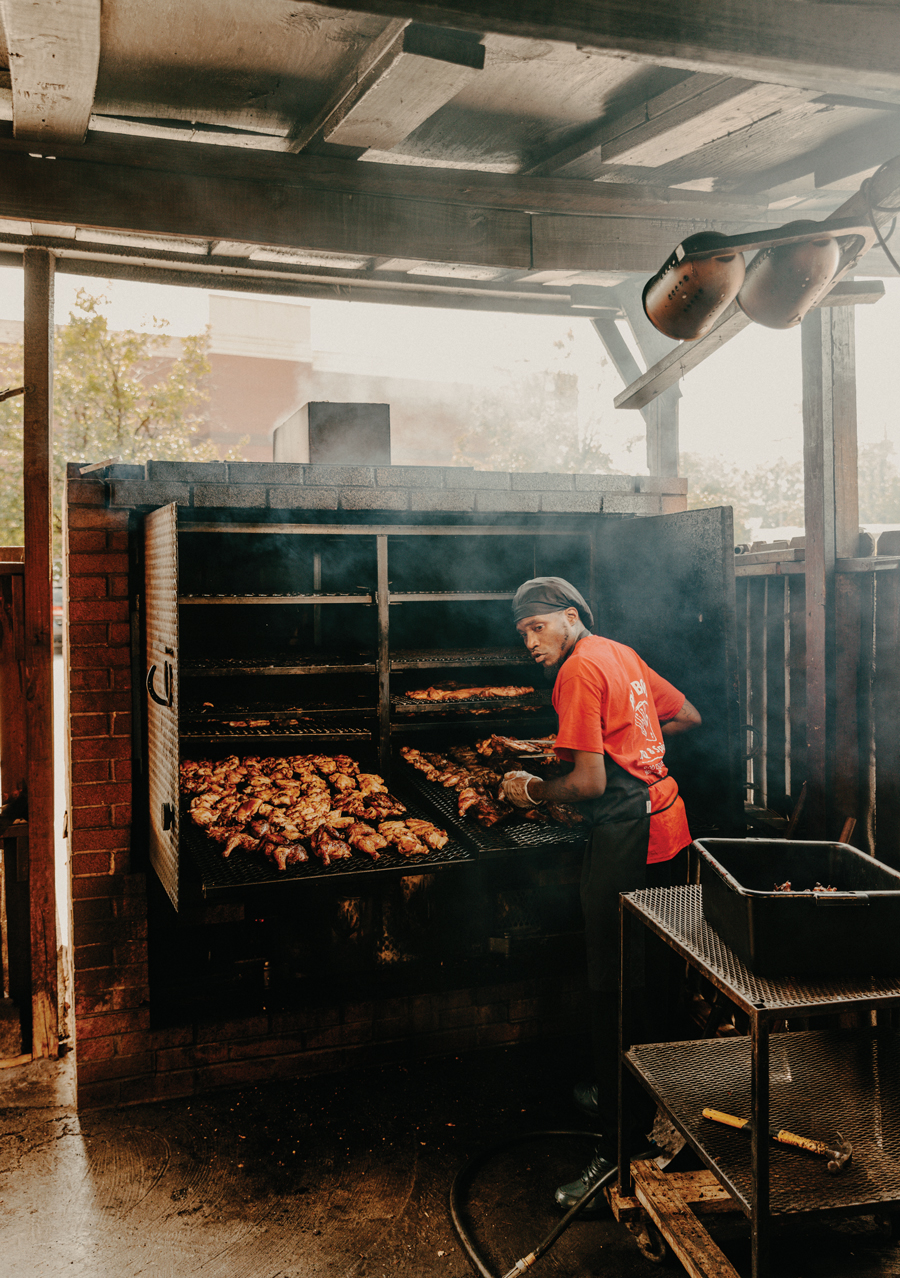 Pit Boss BBQ
Longtime Atlantans remember how Harold's Barbecue used to draw a mix of blue- and white-collar workers to the south side. Now that all-comers place is Pit Boss, down the street from Delta headquarters near the airport. Wade and Tracy McSwain, a husband-and-wife team from Alabama and Michigan, respectively, serve aggressively smoked chopped pork, ribs, and brisket, with a groaning table of soul food sides. Their best offering might be the sliced brisket sandwich. They do rib tips, too, a Chicago staple bursting with flavor and fat. Few places in Atlanta smell more of barbecue smoke than the Pit Boss parking lot. That's a good thing. 800 Doug Davis Drive, Hapeville
Ohio Hog Company
Ohio doesn't have the barbecue cred of Texas or the Carolinas, so I was dubious about this one. I shouldn't have been. Gary and Vivian Williams, a married couple from Cleveland, started Ohio Hog more than a decade ago in a Fayette County shopping center and have made it one of the best barbecue places in south metro. Their brisket and pork are moist and succulent, and their ribs are perfect pigsicles. Surprisingly, they make one of the better Brunswick stews I've had in Atlanta—something they didn't learn on the shores of Lake Erie. 1492 Highway 74 North, Tyrone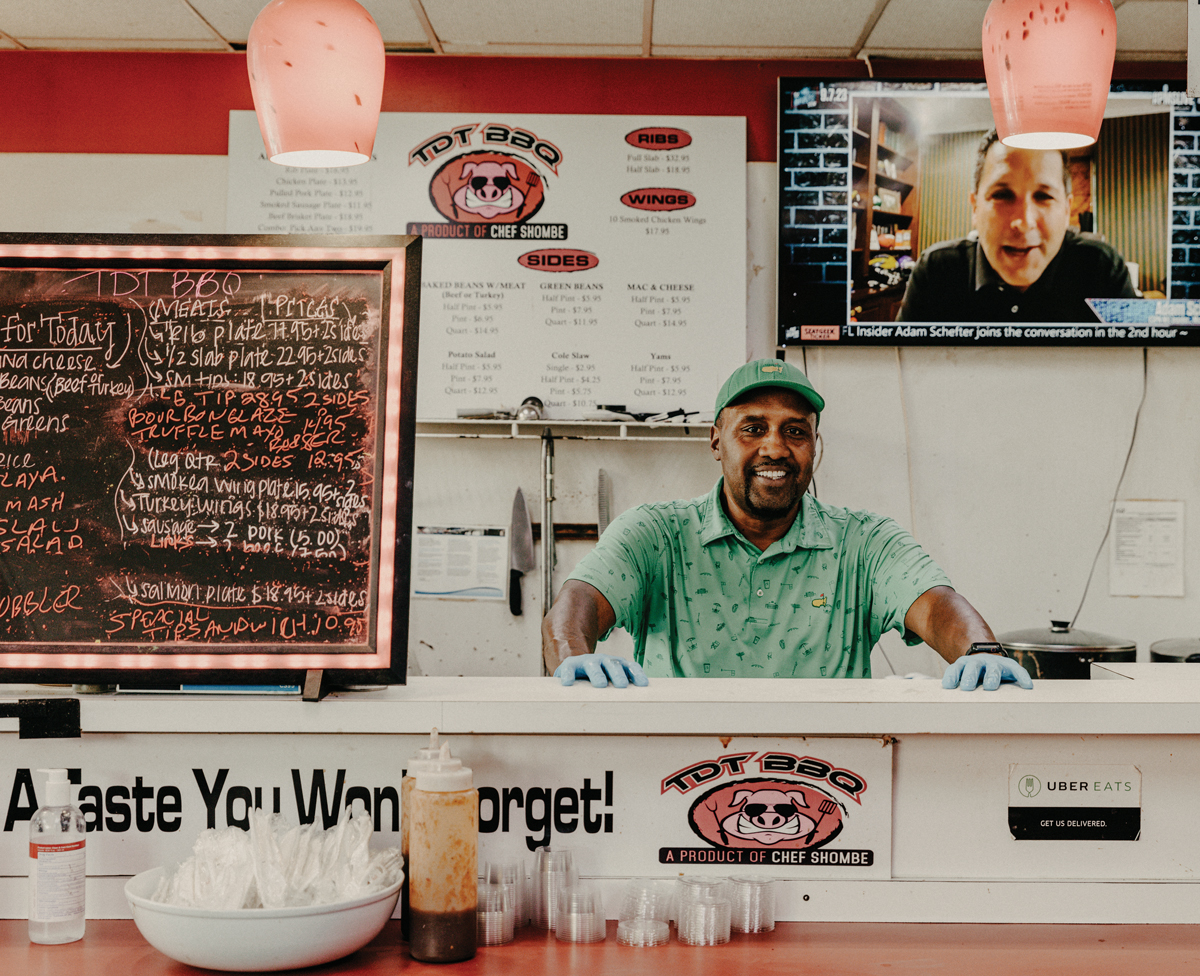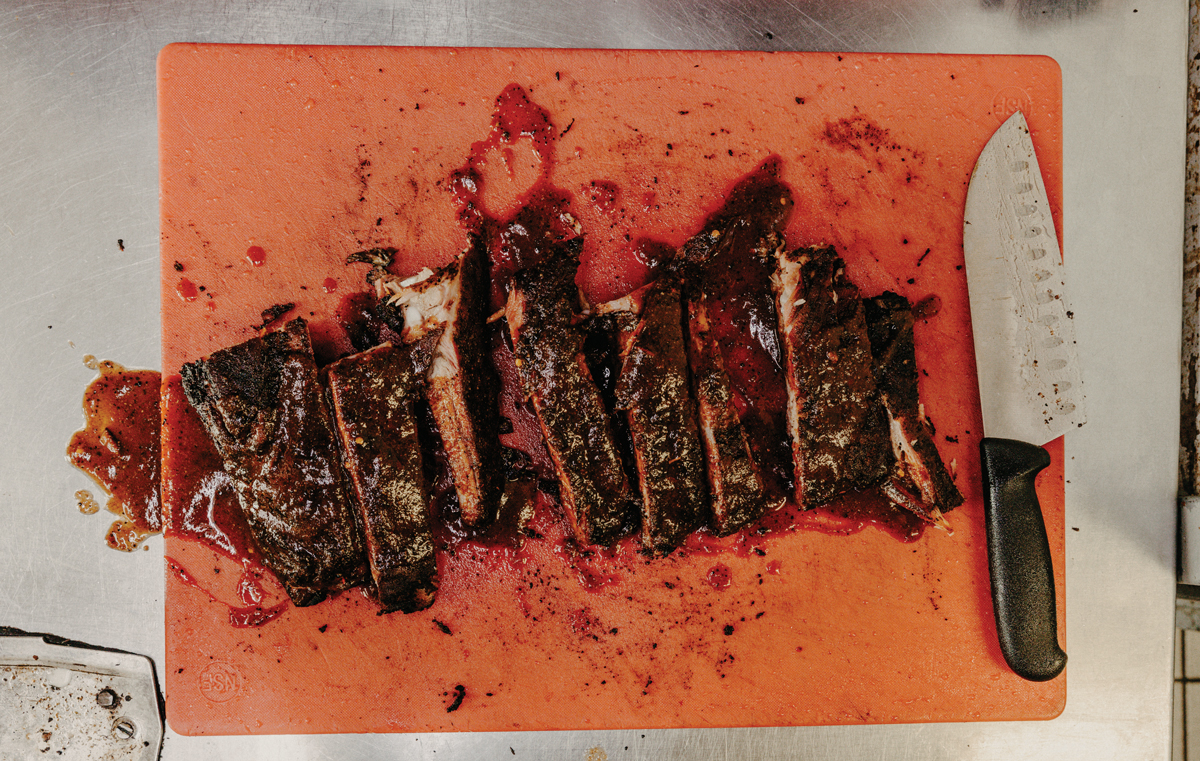 TDT BBQ
Some of the best barbecue in Atlanta comes from a convenience store in Cobb County. TDT BBQ works out of the deli counter in a Shell store near the Silver Comet Trail. Shombe Jones cooks over charcoal on two big black cylindrical smokers in the parking lot. His ribs are among the tastiest around, if a bit salty. As it says on his website: "If you ain't sneezing, you ain't seasoning." TDT has no seating (unless you count the stools at the Powerball machines). But you can always find a spot on the trail, or just eat in your car like I did. Bring paper towels. 4360 Floyd Road Southwest, Mableton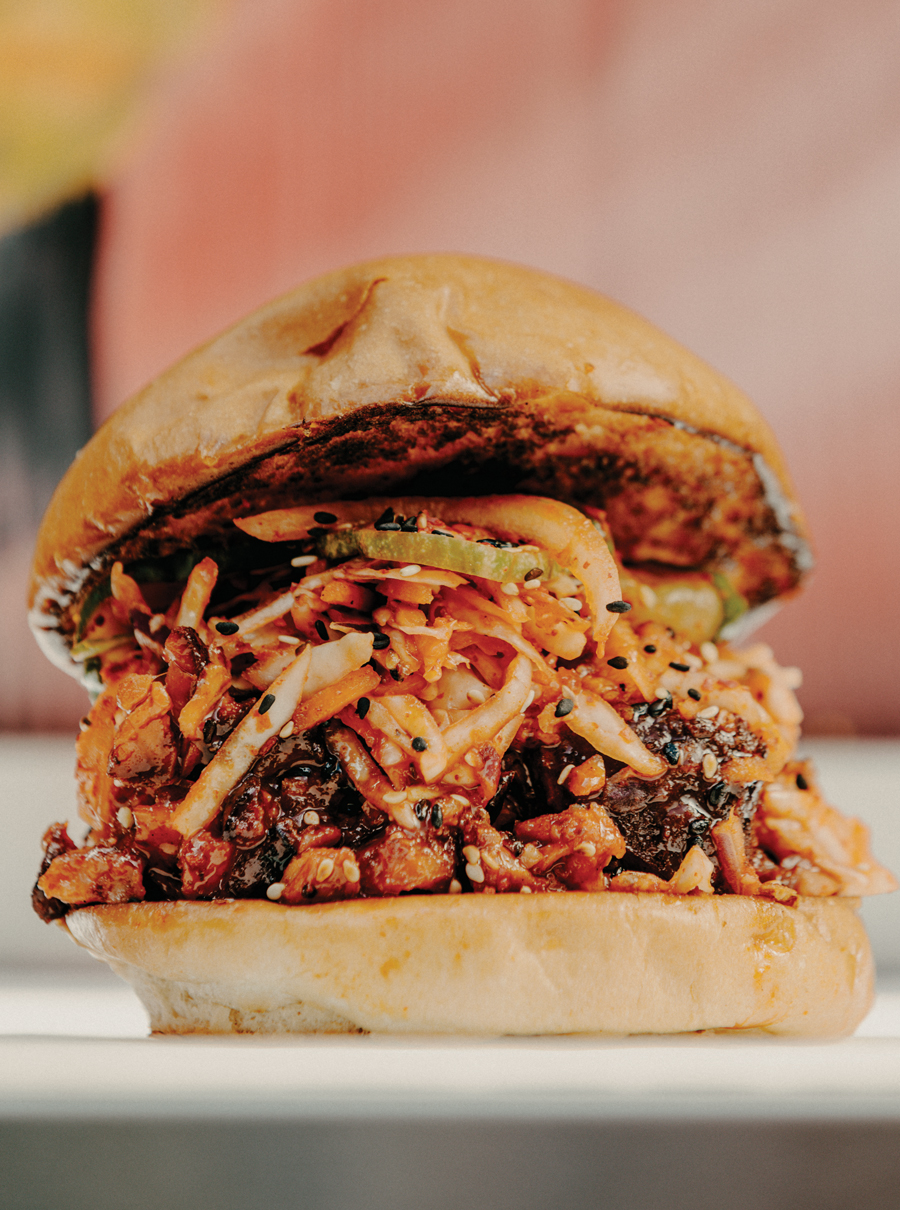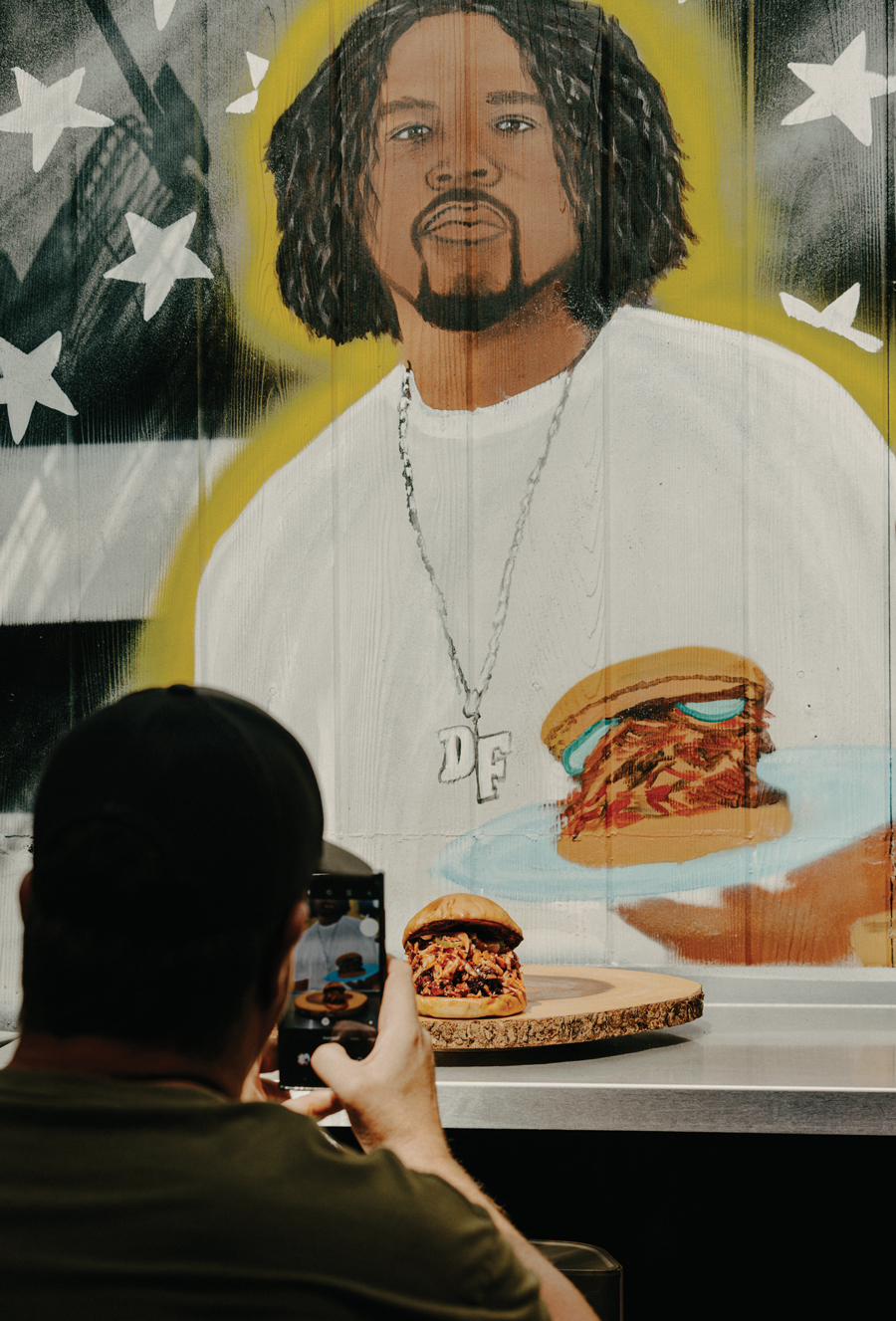 Heirloom Market BBQ
Is there a better barbecue dish in Atlanta than Heirloom's pulled pork sandwich with kimchi slaw? It's the perfect embodiment of the cross-cultural partnership behind this celebrated restaurant. Cody Taylor, raised with Southern barbecue, and Jiyeon Lee, a former K-pop star raised in Korean barbecue ways, met while working at a restaurant and blended their backgrounds at Heirloom. About the only thing not to like is its cramped quarters. Located in a diminutive storefront, Heirloom has no inside seating and only a few picnic tables outside. The best strategy, in pleasant weather, is to order takeout and find a place on the banks of the nearby Chattahoochee River. 2243 Akers Mill Road, Cumberland
Socks' Love BBQ
The name has nothing to do with stockings. Steven Hartsock started in the barbecue business by selling a spice blend he called Socks' Love Rub, after a family nickname. So when he later opened a restaurant, he riffed on that catchy name. Located in a strip shopping center off Georgia 400, Socks' Love serves flawless pork ribs and some of the smokiest brisket in metro Atlanta. Its side dishes—especially the meaty Cowboy Beans and OMG Mac & Cheese—are worth the drive. Socks' usually finishes high in customer and reader polls; it's earned the love. 1050 Buford Highway, Cumming
Evan's Barbecue Company
Your average small-town barbecue place doesn't display peace signs in the windows, but Evan's is far from average. It looks like a folk art environment, with half a dozen rustic buildings and sheds facing a shaded picnic area, all decorated in groovy tie-dye colors and paeans to peace, love, and bacon grease. Owners Michael and Alicia White—he's a culinary school–trained chef, she's a New York restaurant veteran who worked for Bobby Flay—have an eclectic menu that includes inventive dishes like barbecue egg rolls and smoked peach cobbler. The latter is cooked in a smoker, so the crust gets a barbecue flavor. Save room. 342 West Bankhead Highway, Villa Rica
The Next Dozen
Community Q, Decatur
Dave Poe's, Marietta
DBA, Buckhead and Virginia-Highland
Dixie Q, Brookhaven
Ford's BBQ, Tucker and Oakhurst
Four 41 South BBQ, Canton
Grand Champion, Milton and Mableton
Hattie Marie's, College Park
Sam's BBQ-1, East Cobb
Sweet Auburn, Poncey-Highland and McDonough
Tipsy Pig, Lilburn
Zeigler's, Acworth
This article appears in our November 2023 issue.