When Jonathan and Justin Fox started Fox Bros. Bar-B-Q in 2004 out of their tiny Brookhaven house, the Atlanta barbecue landscape was very different. Small batch craft barbecue wasn't as much of a thing as it is today. After the Fox Bros. opened their DeKalb Avenue restaurant on Labor Day weekend 2007, they became a neighborhood fixture and a destination. Accolades, national food show appearances, a partnership with the Atlanta Falcons, a booming catering business with a commissary kitchen, the Que-osk, and tons of giving back to the community followed.
With the popularity came growing pains and the need to expand. Fox Bros. only seats 140 diners, the parking is limited, and they now make all of their sides at the commissary because the restaurant kitchen can't keep up with the demand. After looking for a new space for four years, they've finally found the right spot for a second Fox Bros. in Selig Enterprises development The Works, which is on the Upper Westside. "The Works works," says Jonathan. "This one felt right. It's an Atlanta family-based development crew, and they're all about their family, just like we're all about our employees and family."
Expected to open in June 2020, the official second Fox Bros. location on Chattahoochee Avenue will be a big one—just under 10,000 square feet—enabling the brothers to do things they couldn't at the DeKalb Avenue restaurant, which is 3,800 square feet. The new location near "The Spur" (a new BeltLine-esque path) will seat 300 people, have a to-go counter, a prepared foods section, merchandise area, a large bar with an expanded bar menu, and an open-air covered patio. Unlike the DeKalb Avenue location, the new Fox Bros. will have ample parking with parking decks and surface parking, in addition to valet and ride-share locations. "DeKalb gets so busy that people eat and go," says Jonathan Fox. He hopes the new space will allow people to relax and vibe a little more, especially with Scofflaw Brewing and the food hall that Andrew Zimmern is set to curate located next door.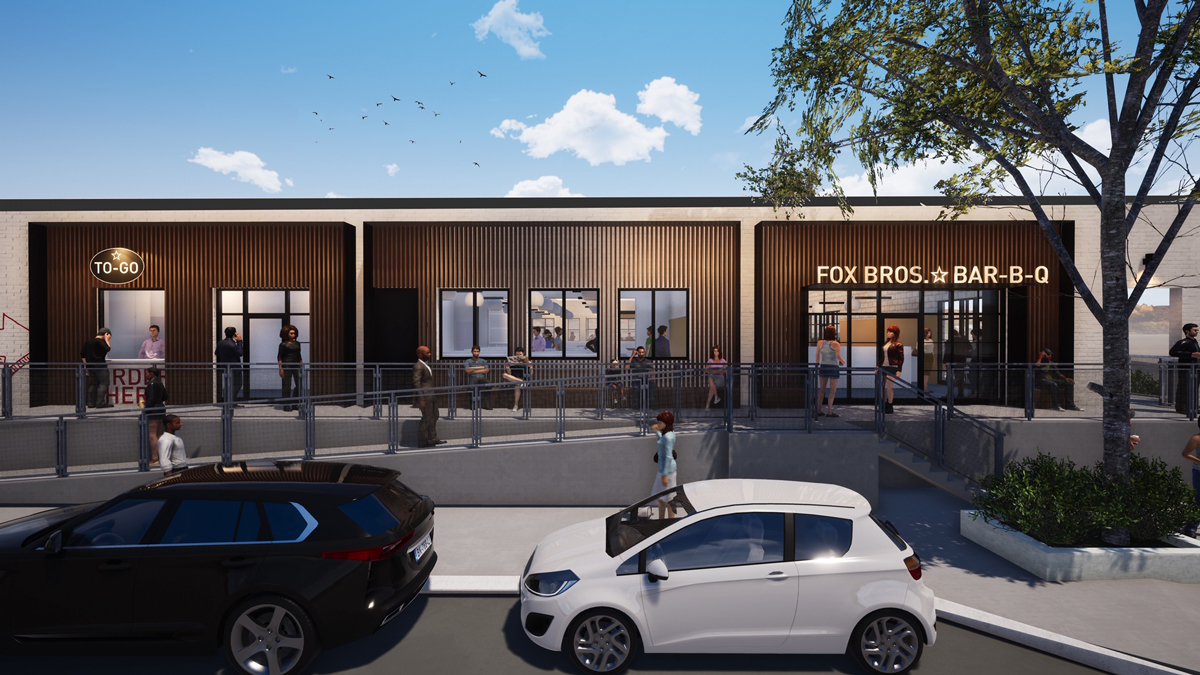 Most importantly, Fox Bros. 2.0 will have a larger kitchen, so they can roll out the dishes they've been working on in their commissary over the years. The heart of the menu, however, will be core barbecue items you know and love, which have remained unchanged for 12 years. The brothers maintain they are still Texas boys making Texas-style brisket and they are not changing a thing. "I don't want to step outside of the box and change who we are," Jonathan says. "We got here by offering the best products we can serve. As long as we don't get wrapped up in what's trending and check ourselves, we'll just go with what we know and be who we are."
Given all they've done, this new endeavor doesn't seem all that intimidating. "We've been gearing up for this moment for quite some time," says Jonathan. I know I can speak for Atlanta here and say, we have all been waiting, too.