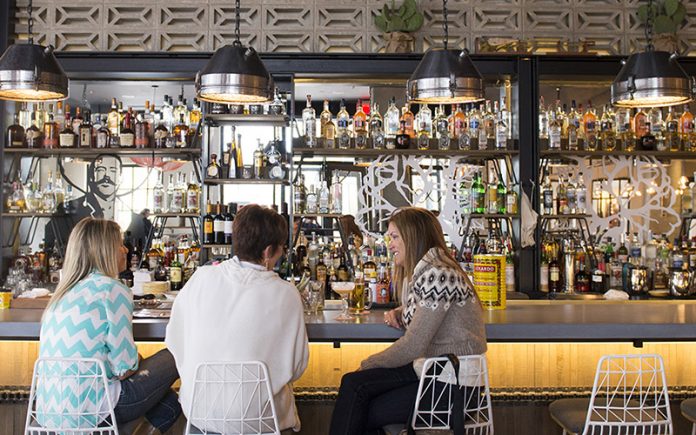 Photograph by Caroline C. Kilgore
The El Felix
Families are making a beeline for Ford Fry's casual but surprisingly expensive Tex-Mex restaurant in Alpharetta's city-within-a-city of Avalon. Given the margaritas, baskets of warm, thin chips, and expansive children's menu, they have every reason to. In a room that pulsates with the energy of an open kitchen, Kevin Maxey cooks with bravado. Order the impressively large slow-braised bone-in short rib that's chargrilled with a chipotle molasses. Green pozole garnished with pork skins and a butter-braised red snapper with tomatillo salsa don't disappoint, but the real stars are the shrimp tacos. 1130 Avalon Boulevard, Alpharetta, 678-248-5239
Oak Steakhouse
For a place that made its name in Charleston and orders its dry-aged prime steaks from the same purveyors as Peter Luger in Brooklyn, there's nothing extravagant about the presentation or seasoning of the expected hunks of meat. (We're partial to the dense New York strip.) The classic lobster cocktail or a wedge made with stacks of Bibb lettuce, Georgia blue, chopped egg, and bacon are better investments than the dull cocktails. Sides like the rich bone marrow bread pudding and razor-thin truffled fries gratify immensely. 950 Third Street, Alpharetta, 678-722-8333
Paces and Vine
After more than three decades as Virginia-Highland's biggest booster, Tom Murphy of Murphy's Restaurant is attempting to do the same for Vinings. Chef Ian Winslade's potted salmon rillettes with fingerling potato chips, steamed mussels in tomato basil broth, creamy seafood bisque, and superb roasted chicken have the allure of instant classics, worthy of his English heritage and long Atlanta tenure. 4300 Paces Ferry Road, 404-205-8255
The Real Fix Pizzeria
The latest restaurant by the owners of Little Alley Steak and Salt Factory Pub suits those in a hurry but still looking for quality pies. Their version of a Neapolitan pizza, the Fuggedaboutit, is a strong effort of thin dough layered with bacon, pepperoni, San Marzano tomatoes, ricotta, and a creamy mozzarella. The "famous original fried" resembles a double-crust pie stuffed with figs, caramelized onions, goat cheese, and mushrooms. 14 Elizabeth Way, Roswell, 770-299-1657
—Christiane Lauterbach
Small plates
For those still sticking to their New Year's resolutions to be healthier, check out Souper Jenny or Juicy Jenny for quality sandwiches and drinks that will make, not break, your diet.
It's official: Sean Brock, a James Beard Award–winning chef from Charleston, is opening a Mexican restaurant called Minero in Ponce City Market this spring.
—Evan Mah

This article originally appeared in our January 2015 issue.