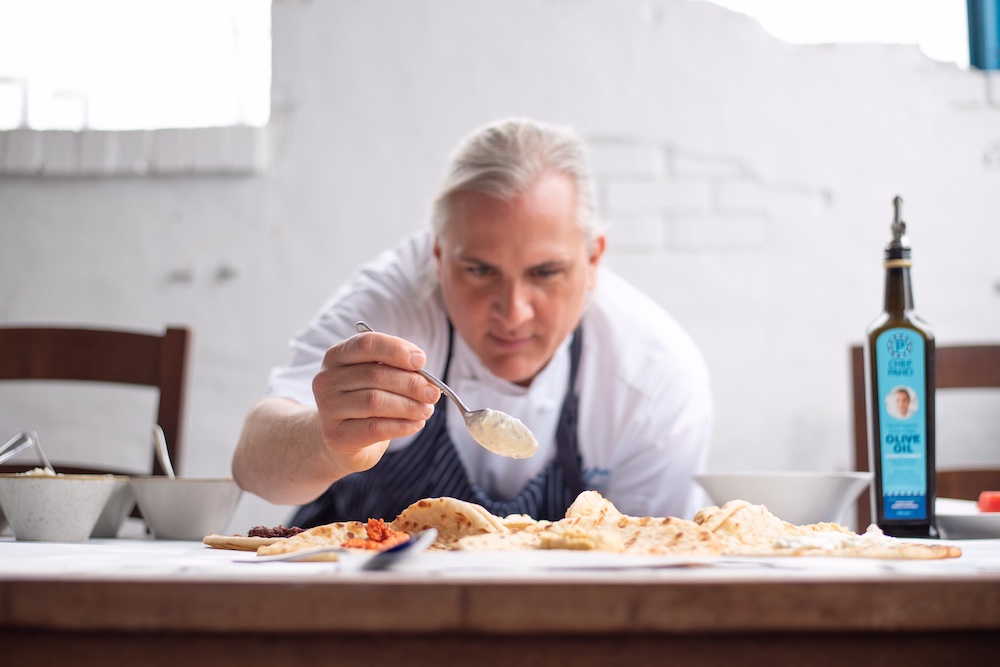 The year was 2019. Buckhead Life Restaurant Group's Pano I. Karatassos had just defeated celebrity chef Bobby Flay on his Food Network show Beat Bobby Flay with Kyma's signature lamb pie. Noting the growing popularity of the pie at Kyma, Karatassos trademarked the name "Lamb Shack," deciding that if he was ever to create a fast-casual concept, it would be lamb-based.
Fast forward to 2021, well into the Covid-19 pandemic: Karatassos secures the Instagram handle @mylambshack and prepares to launch a ghost kitchen, serving—what else—the lamb pie that cemented his fame. Based out of the Kyma's kitchen, Lamb Shack will make lamb, pork, salmon, tofu, chicken, and octopus pitas and Greek salads, plus spanakopita, grape leaves, and an assortment of mezze spreads from Kyma's menu.
"We've already built this great program for to-go business out of Kyma. This is adding to that," Karatassos says. "It creates another opportunity for the staff and the restaurant—it's good for everyone on the team."
The pitas and salads will cost $10 to $18 and include a protein, choice of spread (red pepper and feta, chickpea, olive, eggplant, or tzatziki), and toppings like arugula, Roma tomatoes, marinated red onions, coin-shaped Greek fries, and Mytilene Island feta. Select ingredients Karatassos uses, such as Cretian olive oil and Aegean wild thyme honey, will be available by the bottle, too. Save room for dessert, because Karatassos is selling his family's Greek donuts.
When it opens July 6, Lamb Shack will be available for delivery via Uber Eats, DoorDash, and mylambshack.com, and picked up from Kyma directly.
Meanwhile, Kyma is open and serving its normal menu both inside and on the covered patio. Mixologist Andrej Pop now offers interactive drink-making classes Tuesday through Thursday, and half-price Greek sparkling wines are available on the front patio. Karatassos is also working to double the restaurant's garden dining out back. It should be ready by next spring.