Perhaps I haven't been around enough big-time college basketball programs. But the most striking thing to me about the 2023–2024 Georgia Tech men's team, when I pay them a visit during a late-summer morning workout session inside the Zelnak Center, their renovated practice facility tucked into a highway-adjacent corner of the university's intown campus, is how many of the players and grad-level support staff have terrific manners. The young men, seeing me, a stranger, sitting on the sidelines, go out of their way to walk over, shake my hand, and introduce themselves.
"Hi. I'm Baye."
"Naithan."
"Miles. Nice to meet you."
There's a shy, soft-spoken quality to these interactions, and it's worth remembering that many of the athletes are still teenagers—most still too young to buy a hard seltzer, at least legally. Despite their size and professional promise, the acne scars and insecurities of high school remain close to the surface. Damon Stoudamire, the former NBA guard and Tech's new head basketball coach, who would turn 50 the following weekend, is soft-spoken as well. There's molasses in his quiet, raspy voice. His handshake is surprisingly loose. But the overall effect is not one of weakness. When he speaks, it's as if he's beckoning others to lean in. There's a gravity to his presence that goes beyond his university-appointed authority as coach—a simmering intensity of purpose that becomes increasingly evident as he runs his guards and wings through a defensive movement drill.
Dressed in a gold moisture-wicking hoodie and gray mesh shorts, Stoudamire crouches near the baseline, demonstrating on Kyle Sturdivant, a fifth-year senior who also happens to be his godson, how he wants his players to guard a ball handler and talk while doing so: "Ball, ball, ball!" A few minutes later, the drill expands to include two defensive players, who are meant to rotate across half the width of the court, based on where the ball is, playing the angles. "Sprint! You gotta sprint," Stoudamire calls to one of the rotating players, who's moving quickly but not quickly enough. "It's a sprint, not a slide."
This is the first day the team is doing on-court workouts together since Stoudamire took over the program this past March, when he was hired amid a whirlwind weekend courtship facilitated by a serendipitous road trip—Stoudamire had come to Atlanta with the Boston Celtics, for whom he worked as an assistant coach at the time.
Today, he doesn't like what he's seeing. Mid-drill, Stoudamire calls his players back to the baseline. "I hate the way we're moving," he says. "I hate this shit. I f*ing hate it!" His voice is raised, but he's not yelling exactly. He doesn't need to yell. The whole gym is at attention. Stoudamire shoos the ball handlers off the floor and begins running point on the drill himself, passing the ball back and forth with his new assistant coach and former NBA teammate Bonzi Wells. Beyond the walls of the practice facility, most Tech students are probably still asleep at this hour—or sitting groggily through some Monday 8 a.m. course they couldn't avoid. Inside, a pulse of excitement shoots across the hardwood as the former pros collide with the student-athletes.
Sneakers shriek against the waxed floor, and defenders call, "Ball, ball, ball!" Motivational clapping bursts from the sidelines.
"This is a pretty high level of enthusiasm, from what I've experienced," whispers associate PR director Mike Stamus, who's been with Georgia Tech Athletics for almost 40 years.
The man who hired Stoudamire, athletic director J Batt, would surely be pleased with this display, too. It's exactly the kind of renewed energy that he—and so many others—are expecting Stoudamire to inject into the roster, while accomplishing what his recent predecessors could not: the revitalization of a once-storied yet recently dormant program, and a return to national prominence. Really, Stoudamire's charge couldn't be clearer: He needs to make Tech basketball matter again.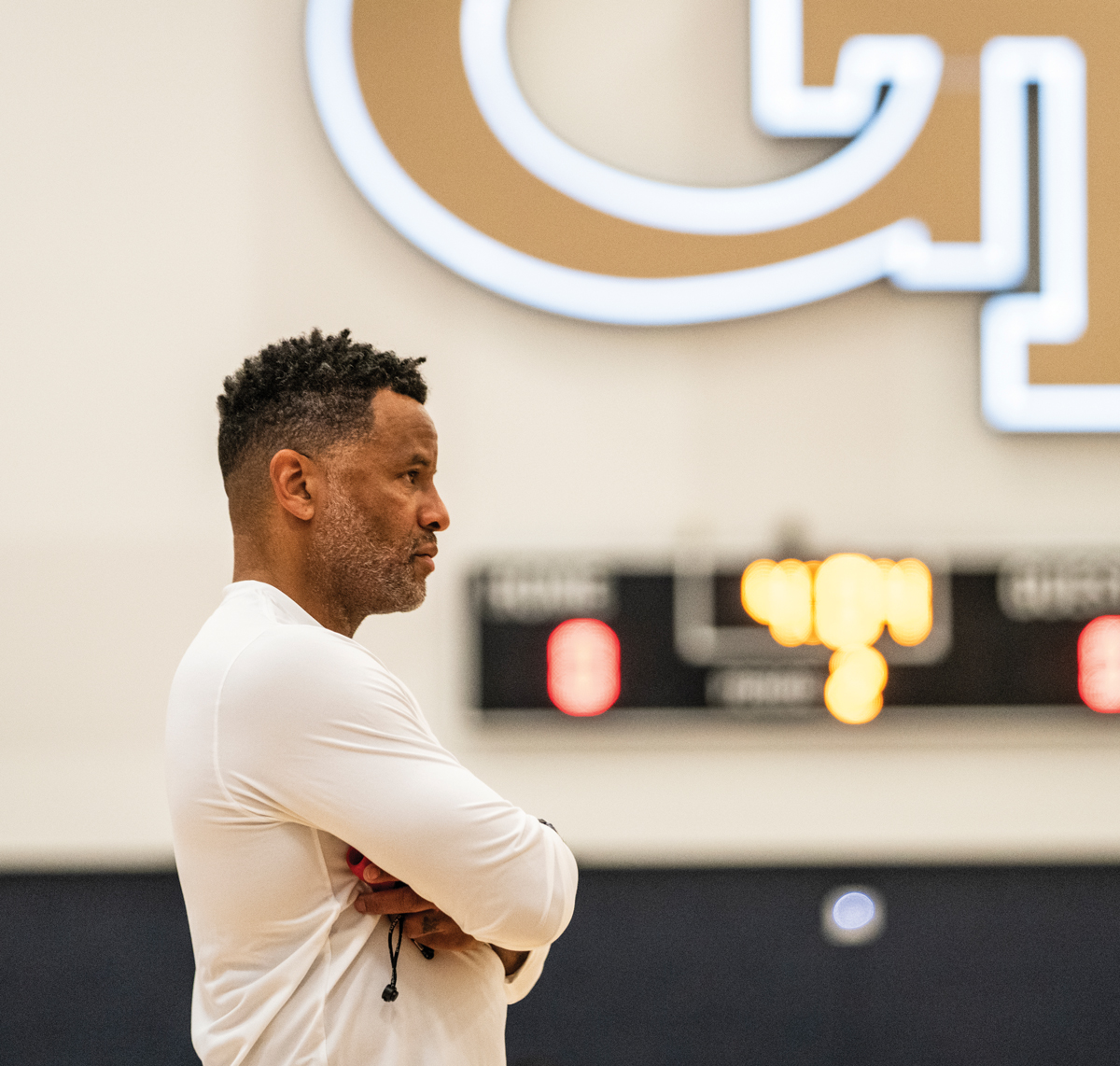 It used to be that Georgia Tech basketball meant something. In the 1980s and '90s especially, under coach Bobby Cremins, the Yellow Jackets were regarded as one of the top teams in the country, a perennial contender that played an electric brand of basketball, led by star point guards like Mark Price, Kenny Anderson, and Stephon Marbury. Under Cremins, the team made nine straight NCAA tournament appearances, from 1985 to 1993, including a 1990 Final Four run, when Georgia Tech lost to eventual champion University of Nevada, Las Vegas. That same year, the school's football team won a share of the national championship. It was a good time to be a Tech fan.
"Sports was on a boom," says Anderson, who left for the NBA in 1991, after his sophomore season. A native New Yorker, Anderson still remembers the excitement that surrounded the program when he arrived, especially on game days. McCamish Pavilion, then officially known as Alexander Memorial Coliseum but affectionately referred to as the Thrillerdome, would come alive, buzzing like a hive of insects. "The energy was crazy. The fans, the support we got in Atlanta—it was just nuts, man," he says. The mayor would show up for games, as would Braves players including Deion Sanders, who sat alongside celebrities like Kevin Costner and Spike Lee.
The Thrillerdome was a place to see and be seen, and those teams, with their cool-kid vibes and NYC street-game cred, developed a cultural cachet that transcended basketball. Hip-hop legend Phife Dawg wore Tech gear while rapping in A Tribe Called Quest music videos. For a time, Tech's pull became almost self-perpetuating, as Marbury, who was from Coney Island, committed to Tech largely because of Kenny Anderson—and as others, like Chris Bosh and Jarrett Jack, followed suit.
Stoudamire understands he's inheriting this cultural legacy as much as the program's recent track record of mediocrity. Though he played college ball for hall-of-fame coach Lute Olson at Arizona, he remembers Tech's glory days, when "the school and the name recruited itself." He says, "All I know is that when Tech basketball is winning, it's about as popular as any team in this city. The players become celebrities."
Stoudamire also understands that his own celebrity status was likely a factor in his hiring. The university is clearly pleased to have Stoudamire in-house—the roadside billboards with his face on them testify to that—and believes his higher Q rating will reinvigorate their recruiting efforts and attract a higher caliber of student-athlete. In a few short months, Stoudamire has already demonstrated his drawing power by convincing leading scorer Miles Kelly to stay another season, and by reeling in a solid crop of freshmen, as well as an exciting transfer class, ranked 19th in the country, according to 247Sports.
Don't get the wrong idea, though. Stoudamire isn't just trading on his name. He's earned this opportunity the same way he's earned everything in life: the hard way.
At 5 feet 10 inches, Stoudamire is undersized for an NBA player—or a college player, for that matter. He's basically been the little dude on every court he's ever competed on. And yet, Stoudamire has always done more than hold his own; he's routinely surpassed expectations. Hence his nickname: Mighty Mouse.
From the beginning, Stoudamire knew he'd need to be tougher than other kids. Raised in northeast Portland, Oregon, by a loving mother with help from extended family, he was often left to fend for himself; Mom had to work, after all. "I had whole days to myself sometimes. My mother was a disciplinarian, but she wasn't around all the time. And that allowed me to grow up to be my own man," he told ESPN The Magazine in a 1998 profile. "It made me tough."
Stoudamire needed to be tough on the court, too. As a smaller player, he was easily overlooked—both literally and figuratively—and felt he always had "something to prove." He never minded that people underestimated him and used that underdog posture as motivational grist, even as a pro. "Back then, there wasn't no cellphones. Barely was computers," he says, leaning back on a folding chair after practice. "I was trying to find a different motivation each and every day. Trying to find some reason or some article of somebody saying I couldn't do it. That's all I did." He didn't always have to look very far. On the night of the 1995 NBA draft, Stoudamire was booed when the Toronto Raptors selected him as the seventh overall pick.
For Stoudamire, proving it was never just about performing well on game days. It was about how he prepared every day. It was paying meticulous attention to the smallest details of his training. It was sprinting to the spot, not sliding. He understood it was the unglamorous, behind-the-scenes work that really mattered. "All the things I talk about that I want my team to be," he says, "that's what I was. The little things. Consistency. Process-driven. You can't skip steps along the way."
That same dedication to not skipping steps has informed Stoudamire's career on the bench, too. While some former NBA players step straight into high-profile coaching gigs, Stoudamire wanted to climb the ladder from a lower rung. Before receiving his first head coaching job in 2016, at University of the Pacific, he served as the director of player development at Rice University and as an assistant with the Memphis Grizzlies, as well as at the University of Memphis and the University of Arizona.
Stoudamire spent five seasons at Pacific, where he won multiple coaching awards, before agreeing to join the Celtics as an assistant coach to Ime Udoka, one of his best friends. When he did, he never expected to return to the college ranks. Not even when Udoka was suspended for a year before the start of the 2022–2023 season, and 34-year-old Joe Mazzulla was named interim head coach. It would have been understandable if Stoudamire wanted out. His friend was gone, and petty jealousies could have led him to resent Mazzulla's new position. But Stoudamire never doubted that he was right where he was meant to be—and went out of his way to tell the interim head coach exactly that. He said, "I'm going to support you in every single way I can."
"It said a lot about who Damon is as a person," says Mazzulla, now head coach­—describing Stoudamire as "others-centric" and "a servant leader." "He really was able to put anything else aside, and I'm forever grateful for him taking me under his wing and saying, 'It's all about the Celtics. Everything else will take care of itself.' You just can't stress how big that was for him to do that."
In words and actions, Stoudamire made clear he was committed to the success of the Celtics, a championship contender coming off an NBA Finals appearance. He certainly wasn't job-hunting. "I've always gotten calls, like, would I be interested in coming back to college? But this whole thing just literally came out of left field, man," he says of the Georgia Tech role. "It happened so quick."
The first call came on a Friday, with Stoudamire on his way to the airport, packed for an 11-day road trip. First stop: Atlanta. He accepted that call almost as a courtesy, as he had others before it, and ended up agreeing to meet with university representatives early the next day, before the Celtics shootaround. "We met at, like, 7 in the morning," says Stoudamire. "Quite frankly, I didn't put a lot of [stock] into it from the standpoint of, 'Man, you've got a good job, and we're in the thick of things.' And again, I felt like I might be up for some NBA things."
Stoudamire had no choice but to take things more seriously when he was boarding the team bus to head to State Farm Arena later that day and his phone rang again. "Getting on the bus, I get a call, like, 'They're turning in your direction and possibly want to start talking about negotiating the contract,'" he says. "Like, that's how quick it came together. That was on Saturday." After the game, a Celtics win, Stoudamire returned to his hotel room. The next morning, "they essentially offered me the job."
• • •
According to Mazzulla, accepting Tech's $2.1 million first-year offer was a no-brainer for Stoudamire. "I was ecstatic for him," he says. "There is not a more deserving person." But the truth is that Stoudamire might still be a Celtic if it hadn't been for a two-game stretch in late December 2022, when he was asked to serve as interim head coach in place of Mazzulla, who suffered a freak eye injury during a pickup game.
"I've never said this in an interview," says Stoudamire. "Had Joe not got injured, and I not had to step in and take those interim games, I might have been all right with staying one more year." As it happened, when Stoudamire picked up the clipboard and saw the players and other coaches turning to him for in-game leadership and decision-making, he felt a familiar rush he hadn't realized quite how much he missed. "I got the itch back," he says. "If you haven't been a head coach before, you don't know what that itch is. It's a high that people don't understand."
Even so, the decision to leave the Celtics midseason wasn't painless. "It was emotional, man," says Stoudamire. "We were a close group. I had relationships with guys across the organization, from the front office to the players, our coaching staff. It was hard." After beating the Hawks, the Celtics traveled to Houston, and that's where Stoudamire broke the news to the team. "When he announced it, the day of the Houston game, everybody got emotional," remembers Mazzulla. "We cried."
Back in Atlanta the next day, Stoudamire sat for his introductory press conference, flanked by Batt and Tech president Ángel Cabrera, and struggled at first to get a word out. Media described him as "choking back tears" and "speechless with emotion." The reporters applauded, and Batt patted him on the back.
While others may have felt it was an awkward moment, Stoudamire has never been afraid to cry. As a player, he'd cry after every game his team lost—either that or hit the gym, or both. "I started crying in third grade," he says. "That started early and didn't end for a long time." After playoff losses in the 1999 and 2000 NBA Western Conference Finals, he "cried like a baby."
As a coach, Stoudamire concedes his emotions can run just as hot—"There have been moments in coaching where I wanted to cry, where I wanted to break down," he says—and he hopes he never loses that fire, which he eventually did as a player. That's when he knew it was time to retire. But he also knows leadership calls for a steadier emotional presence. In fact, that's one of the things Mazzulla most appreciated about Stoudamire. Per Mazzulla, "There were times where he had to talk a couple of assistants [out of] being so upset. Especially after losses, not getting too down. After wins, not getting too high."
This may be Stoudamire's greatest gift, he adds: the ability to take the correct temperature of any situation. "There were times where he told you that you should be pissed off."
When Tech's season tips off this month, though, Stoudamire will have more than watery eyes on the line. Second chances don't always come quickly for head coaches at big-time college programs, and he recognizes the immense pressure he's under to win. According to Kenny Anderson, now head coach at Fisk University, a historically Black college in Nashville, there's going to be serious pressure on Stoudamire for other reasons, too. "I'm gonna be real," he says. "He's Black. There's only Paul Hewitt and Damon Stoudamire in Georgia Tech history. Only two Black coaches." Stoudamire doesn't shy away from any of this. He knows what's expected of him. "I understand what I represent for a lot of people watching. I know there will be a lot of eyes on me," he says. "But nobody can put more pressure on me than I put on myself."
Much has changed in the decades since Stoudamire played college ball. Hell, much has changed since he stalked the sidelines at Pacific—and that was only two years ago. There's been the rise of one-and-done players, the inception of the transfer portal, the tectonic shifts of conference realignments, and the new, sanctioned moneymaking opportunities for student-athletes thanks to NIL (name, image, and likeness) rights. Still, Stoudamire believes the recipe for winning at the collegiate level is much as it ever was.
"You have to have good players. You gotta have leadership within the team. And you gotta try to the best of your ability to have high-character guys," he says. In other words, guys who buy into what he's trying to do because it's not going to be easy. As Baye Ndongo, a freshman forward from Senegal—by way of New York, Colorado, and Connecticut—says when asked how practice is going, "Good. Hard. Hard as hell."
When practice ends, a few players stay behind to put up shots. Stoudamire sits next to me on the sideline. He presses his elbows into his thighs and hunches forward, seemingly as exhausted as his players. "It's so hard," he says. "It's hard for grown people to be consistent. Sustained consistency. I'm trying to teach these guys how to do that. The habit of it."
The new coach knows he won't be able to shape this roster in his image overnight. Stoudamire tells me that today, with its inaugural on-court workouts, feels like the first day he "really took over the program." It's nonetheless evident that he'll be as detail-oriented as a coach as he was as a player—and that he's willing to be patient with that process. He knows these things take time. Even Bobby Cremins, now regarded as an all-time-great program-builder, didn't secure a winning record until his third season, or earn an NCAA tournament berth until his fourth. But that was 40 years ago, and it's fair to wonder how patient people will be in 2023.
Ultimately, Stoudamire knows he needs to win to get the Georgia Tech faithful, and the city more broadly, to reinvest in this team—and to get the Tech brand back on the cultural radar. "The biggest selling point—this is cliche; obviously it's winning. But in this situation, it is winning," he says, "because I think people are ready to love Tech again."
More than anything, Stoudamire hopes folks will see the fruits of his team's habit-forming efforts in everything they do this first season, from how they play on the court to the way they carry themselves off of it. "Who we are, from an attention-to-detail and discipline standpoint, that to me will define us—win, lose, or draw," he says. "I want people to leave the gym and say, 'Man, they play hard. They play together. I see where this is going. I see what they're trying to do.'"
He also wants to win a few games. More than a few. Let the other coaches choke back tears for a change. Stoudamire believes his team is up for the challenge. In the end, today was a good day, a good start. The players seem hungry, willing to learn. And, of course, extremely well-mannered.
This article appears in our November 2023 issue.