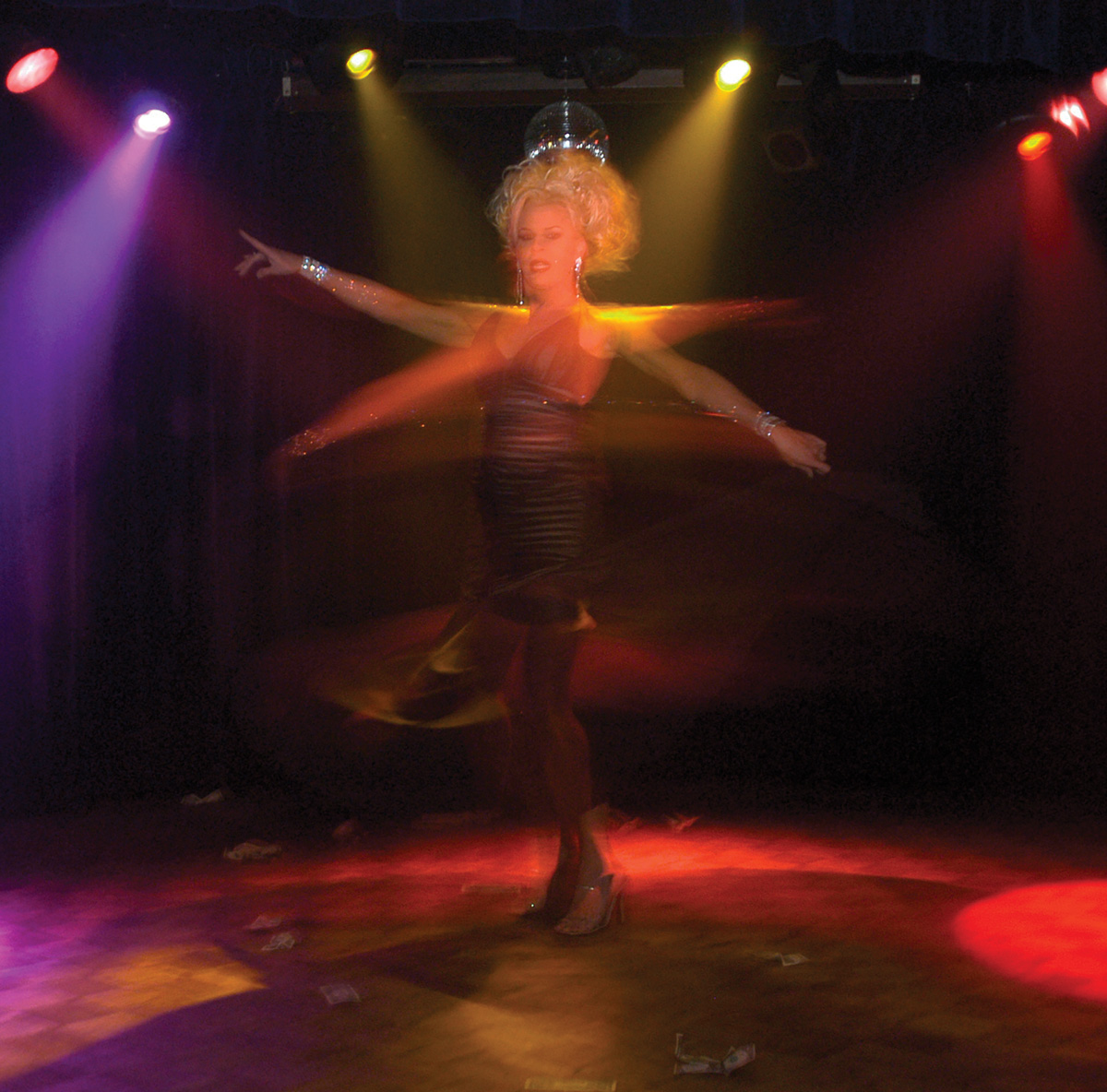 It was the Studio 54 of the South even before the infamous New York club opened its doors in 1977 and, miraculously, it endured nearly 10 times as long. In 1975, at the dawn of disco, Backstreet officially opened for business at 845 Peachtree Street in the heart of Midtown.
In the beginning, the massive, three-level, 10,000-square-foot space (it had housed Lang's Interiors in the 1950s), catered almost exclusively to the city's burgeoning white gay male population. But by the time it closed in July 2004, Backstreet had become a 24-hours-a-day, seven-days-a-week playground for the entire city.
Or, as the Backstreet staff T-shirts more succinctly stated, "Always Open & Pouring."
As other nightclubs, including the Limelight, Club Anytime, the Velvet Room, Club Kaya, Esso, and Club Rio, opened and shuttered around them, Backstreet remained party central for nocturnal revelers for nearly 30 years. But as the century drew to a close, Midtown, once a haven for hippies, slowly reinvented itself into a swanky live-work-play district, with million-dollar penthouses near the club's main entrance—condos owned by working professionals who wanted to sleep at night.
Over the decades, the club was featured in the HBO documentary Dragtime, Comedy Central's Insomniac, and MTV's ElimiDate. In 1981, the space even served as the set for the NBC TV movie For Ladies Only, starring Gregory Harrison and Marc Singer, a peek inside the Velcro-fastened, police-uniformed world of a male strip club.
In 2003, after years of battling neighbors and city hall, Atlanta officials declined to renew the club's 24-hour liquor license, the sole remaining one in the city.
On July 17, 2004, the club closed for good and is now the site of the 36-floor Viewpoint luxury condos, built in 2008.
Here, we chronicle Backstreet's infamous 10,000-plus nights of dancing, drag, drugs, and debauchery, spanning the years from 1975 to 2004—recounted by the people who owned the club, worked there, documented its life span, and, of course, partied inside the legendary Atlanta nightspot.
VICKI VARA: Backstreet was owned and operated by the Vara family, first by founders Carmine and Janice, then by their children Vicki and Henry. The siblings managed and owned the club from the early '80s to 2004. Now 65 and retired, Vicki lives on Lake Lanier. Back in the 1960s, in Boston, our grandfather [Henry D. Vara,] my dad's dad, owned the Punch Bowl, one of the most prominent gay bars in Boston. People went to the basement to dance. Lights and a bell would go off if the cops showed up. My grandfather knew gay clubs were big money. My father and mother came down from Boston first, and Henry and I followed a few years later.
HENRY VARA: Now 63 and retired, Henry lives in Sarasota with his wife, Nancy, and owns a farm. Our dad, Carmine Vara, ran gay nightclubs in Boston and Provincetown. Back when I was a child, my dad's clubs were located in Boston's Combat Zone—basically, it was the red-light district. He also owned a place in Provincetown called the Crown & Anchor, which was a hotel, gay bar, and cabaret for female impersonators. He was always looking for investment opportunities in different cities. Gay clubs made good business sense. Gay people played hard, they drank hard, and they danced hard and had more money to spend than the straight crowd. It was definitely a lucrative business.
VICKI: At first, the doorman would go up and down the line like they did at Studio 54 in New York and decide who got in the door. They were looking for the well-dressed pretty boys and their companions. It was that way for a short period of time.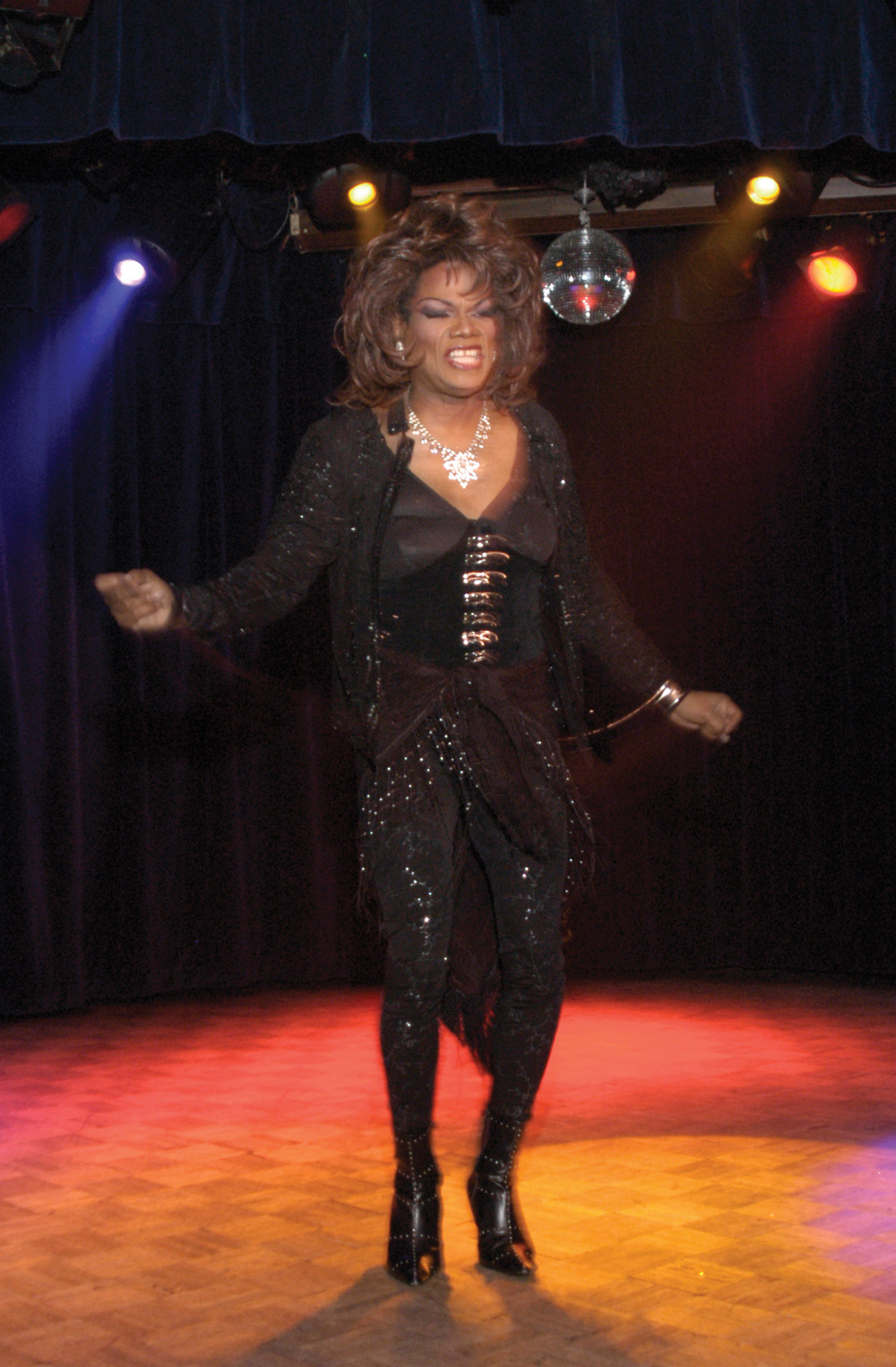 LENA LUST: From 1993 to 2004, Lena Lust (aka Lester West), a Black singer who came here from St. Louis, became a drag performer at Charlie Brown's Cabaret, which opened upstairs in 1990. Now 69, Lust has continued entertaining fans at Blake's on the Park and plans to return after the pandemic. The first bar I went to as soon as I got off the plane was Backstreet. People in Atlanta didn't know me, so I had some problems getting in. And there was some prejudice at the time. They were charging people different rates. They wanted to charge me $30 because that's how Carmine wanted it at the time. He wanted it to be a white male gay club. I didn't think too much of it at first. Then, I saw that other minorities who were trying to get in were experiencing the same thing. This was the South, and I was used to how things were in the North. It was one of many incidents I had to endure when I first came to Atlanta. I learned, living through the civil rights and the gay rights eras, how to deal with it. I knew one day it would pass, and it did.
HENRY: In the early years of the club, there were a lot of door policies in place you certainly couldn't do today. For example, women couldn't come in unless they were escorted by men. The club wanted to maintain a gay, male-dominated bar. We also had a dress policy designed to keep out drug dealers. Over the years, the times changed, and we changed with them.
LUST: All that stopped when Carmine stepped down and Henry and Vicki took over.
VANESSA VARA: Henry's daughter Vanessa, now 40, worked for her parents. Post-Backstreet, she went to work in the food industry, attending culinary school and training in Italy. She now works for the food-distribution company, U.S. Foods. Married to Sean O'Shea and residing in Lawrenceville, she is mom to Rowen, six, and Veda, four. I loved hanging out at the door with my dad. A lot of action happened at the door. When people were digging through their purses looking for their ID, all sorts of weird shit would inevitably come falling out—dildos, coke, pills, you name it.
ANDREA VARA ERWIN: Henry's other daughter, Andrea, also worked at the club. Now 38, Andrea studied business administration at Georgia Southern. She and her husband, Reid Erwin, reside in Johnson City, Tennessee, and she's currently staying at home with her son Mickey, age four, during the pandemic. Checking IDs could get tricky because there were a lot of transgender people who still had their biological appearance on their IDs, but they would be dressed as the opposite sex. So, that could be a challenge. Everybody was always really polite about it.
CHARLIE BROWN: The emcee of Charlie Brown's Cabaret, which ran upstairs at Backstreet from 1990 to 2004, Brown was married to technical director Fred Wise on December 29, 2019, on Brown's 70th birthday. They've been a couple for 43 years. Brown was still entertaining fans at Lips, an Atlanta drag restaurant, until the start of the COVID-19 pandemic. Now 70, he plans to return to work postpandemic. Fred Wise and I met in Knoxville in 1977, and by Christmas 1978, we had moved to Atlanta. Everyone in Knoxville and Nashville had heard of Backstreet.
FRED WISE: Wise is now 64 and retired. The club kept these intentionally long lines to get in. They would cherry-pick who they wanted inside. At the time, Backstreet was not very drag queen–friendly.
BROWN: They didn't want to let us in.
WISE: It was the hottest club in town, and Charlie wasn't going to be denied.
BROWN: When we finally got inside, I was blown away. I was from Tennessee—with all those tiny gay bars—and, suddenly, I'm standing inside a three-story club.
RUSSELL BOWEN-YOUNGBLOOD: Atlanta gay nightlife photographer Bowen-Youngblood was a Backstreet customer from 1994 to 2004. Beginning in 1999, he captured Atlanta's club scene for David magazine, Eclipse, and Southern Voice until Backstreet closed in 2004. Now 61, he is a marketing consultant and shoots for Q ATLus magazine and Project Q Atlanta. The first time I walked into Backstreet was in 1984. It was around 8 p.m. and the place was empty. I went back in 1994 to see Charlie Brown's Cabaret. A friend took me. Backstreet became my destination after that.
AVEDON ELLIOTT: A Backstreet customer from 1998 to 2003, Elliott was then a flight attendant. Now 45, Elliott is based in Frisco, Texas. She currently works as a licensed counselor. When I moved to Atlanta in 1997, I was all into hip-hop. It was Club 112, Kya, Esso. I was all over those places. One night, friends convinced me to go to this cool club. They told me it was a gay club, but that didn't matter to me. It was a club. That's what mattered to me. I couldn't believe the size of the place. It was my first experience inside a gay club. I saw all these men without their shirts on, gorgeous men. Different flavors—vanilla, chocolate, caramel. It wasn't like I was attracted to gay men. It was more about the beauty of these men dancing together. I even remember the song that was playing—[Barry Harris'] "Dive in the Pool (Let's Get Soaking Wet)." I was just mesmerized.
BILL BERDEAUX: Backstreet DJ from 1997 to 2004, Berdeaux is now 50 and currently works with his former Backstreet colleagues Lena Lust and Shawnna Brooks as a DJ at Blake's on the Park. I was from Montgomery, Alabama. I felt like the tiniest fish in an ocean of people. At the bar I had come from, Hojons in Montgomery, everybody knew everybody. In comparison, Backstreet was a small city. I couldn't get near the DJ booth. It was like this fortress in the sky. I knew I needed to get inside that DJ booth. My whole plan in moving to Atlanta was to become a DJ at the biggest club in the Southeast—Backstreet.
LUST: The walls were covered in red carpet. The stainless-steel DJ booth was built into the wall. I loved it.
VICKI: I walked into Backstreet for the first time in 1980. I had never seen such plush carpet. The upstairs bar had a huge fishbowl and a bird aviary.
HENRY: When I got there in 1980, the rooftop bar had lots of couches, lots of mirrors, and nooks and crannies for people to hang out and be, well, intimate with each other.
BROWN: In 1990, I had a show in Buckhead at a lesbian bar named Tallulah's, and I had just been served my notice. Bev Cook was the manager at Backstreet at the time, and she had been coming in to see the dinner show. She said, Don't sweat it, bitch. You'll be opening at Backstreet in two weeks. Henry was out of town at the time, and he wasn't too happy that Bev booked a drag show on the third floor of his club. But he got over it real quick when we started packing that room and bringing in money.
VICKI: The cabaret changed everything. It was our crowd starter. The show got so popular, it went all night.
BROWN: Before the cabaret opened upstairs in 1990, they had tried everything up there. People would just go up there to cool off from dancing and to do some drugs, and then, they'd go back downstairs. They couldn't get anything to work. Charlie Brown's Cabaret worked. It stuck. People were standing on the shrubs on the island so they could see the show. I got them to tear that out. Then, the fountain went. We knew we were a hit when they finally took out that goddamn barbecue pit.
LUST: At its peak, we had nine cast members in the cabaret show. The show ran continuously all night. We started before 11 p.m., and it was daylight when we got out of the bar. You would see folks all dressed up, on their way to church.
ERWIN: One of my jobs was restocking the vending machines. That was unique. They were filled with things like rolling papers, condoms, snacks, lube, and video head cleaner people sniffed to get high—basically, anything you needed to stay for the entire weekend.
BERDEAUX: I was originally hired to work the floor, which meant taking out the trash about 20 or 30 times a shift. You couldn't get through the crowd because there were so many people dancing. The DJs wouldn't let us sweep the floor or even take the trash cans from around the dance floor. That would interrupt the party. Sometimes, I wouldn't get to sweep up until 1 or even 2 p.m. People were still dancing. It was truly a 24-hour metroplex.
ELLIOTT: I was a flight attendant at the time. I would come back on a "nap" from my last leg of flying at 7 o'clock in the morning, go home, change, and go to Backstreet. Or I would tell my friends to let me get some sleep and to wake me up by 7 or 8 a.m. so I could go to Backstreet. That's how addicting that place was.
VANESSA: We had our family birthday parties there. I was 10 and Andrea was eight, and our brother, Carmine, was about age six. We had a '50s dance party. Dad brought in a DJ, they had the lights going, and our friends got to go behind the bar and use the fountain drink guns. Even today, sometimes, when I walk into a bar, I can smell my childhood.
ELLIOTT: You generated friendships there. Even if you didn't communicate with these people on the outside, you looked forward to seeing these same folks at the club. They were always there on Fridays, Saturdays, and Sundays.
HENRY: I would get the call from the managers of celebrities asking if I could discreetly get them in. It was our job to do it quietly.
BROWN: Elton John would come in incognito in a hat and without the wig. The first time he came in, I discreetly went over to his table, introduced myself, and said, You're here to have fun. No one in my cast will ever mention your name from that stage.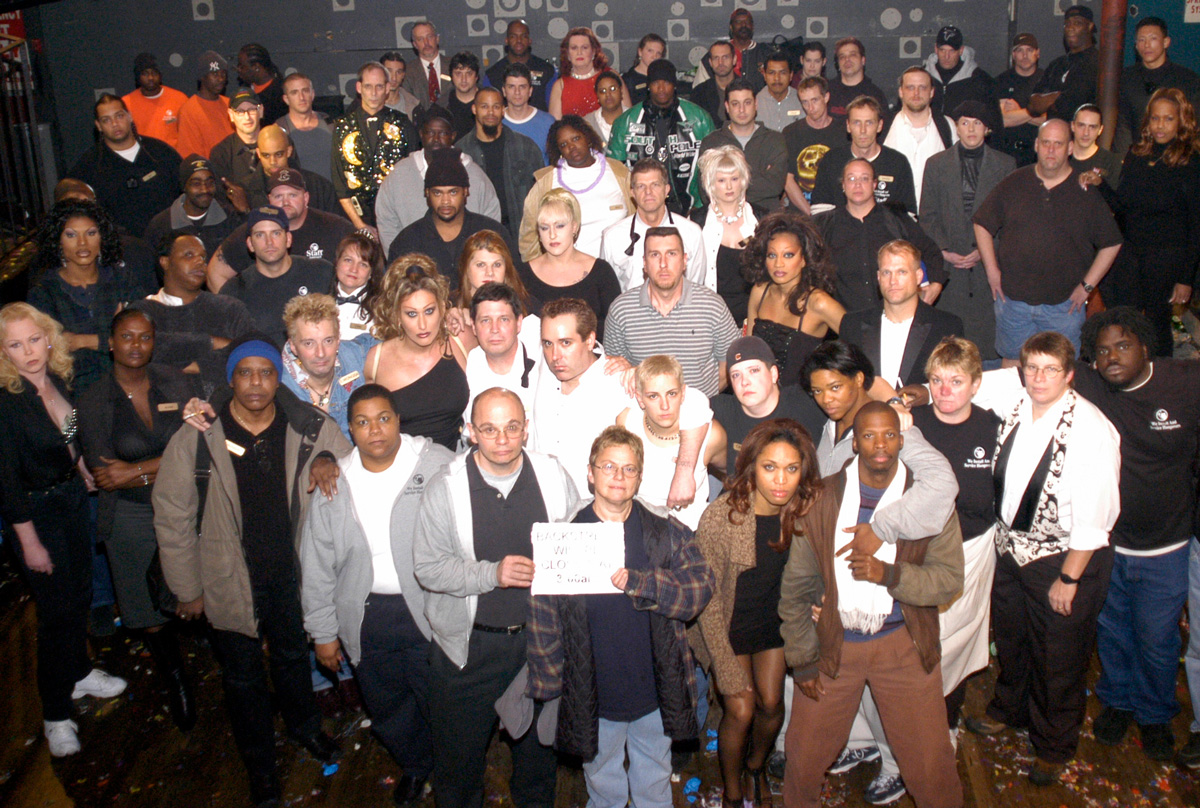 HENRY: Word got around that celebrities could be anonymous inside Backstreet. I got to escort Madonna into the club one night in disguise, the Baldwin brothers, Lenny Kravitz. Janet Jackson and Jermaine Dupri had a whole entourage. There were black SUVs and, traveling behind, was a Bentley.
BROWN: Their people had called ahead and wanted reservations. This was on a Saturday night at midnight. The place was packed to the rafters. I just walked out on stage and pointed. I need this table, this table, and this table to move. They said, Why? I said, Cause Janet Jackson's ass is gonna be sittin' there! Then, I told the room, Listen up, when she comes in, I don't want y'all asking for autographs or bothering her. She's here to enjoy the show. That's how I handled it whenever somebody famous was on the way.
LUST: Janet Jackson tipped me $50 for performing my Tina Turner medley. She had the tip sent up to the stage. I never saw her personally. It was nice to know she appreciated what I did. Queen Latifah came in a couple of times too. This was before she was out of the closet, but we all knew—her posse was all girls! She stayed to watch me do Eartha Kitt's "Champagne Taste."
"Bitch, if you're Cathy Rigby, do a backflip for us." She stood up in that chair and did a backflip all the way across the motherf**king stage.
BERDEAUX: After I'd been working the floor for maybe a year, Stuart "Sweet Daddy" Gardner, the big downstairs DJ, needed the night off and asked me if I would open for him. Talk about nervous! Playing those first records was one of the most electrifying moments that I've ever had in my whole life. It was magical. Then, 1 a.m. rolled around and no DJ. It's Saturday night, and the dance floor is packed. Then, I get the phone call in the booth from the office: Bill, do you think you can carry the whole night? I almost dropped my chin on the floor. The rest is history. That's how I got what turned out to be the primetime shifts on Friday and Saturday.
HENRY: In the '80s, when they were looking for a nightclub location for For Ladies Only, we agreed to let them shoot inside Backstreet. The only rule was they had to shoot during the day, break everything down, and be out before our crowd came in at night. I watched a lot of the scenes being filmed. We were paid very well for that. They hired extras to come in to play the crowd for the stripping scenes. They had these big generator trucks that showed up. They had their own power system.
VICKI: It was a scramble on some nights, but they had enough crew to break everything down. Honestly? I just wish the movie had been a little bit better. They even brought in their own dance floor. They left it for us. We never used it. Nobody liked it. I mean, it lit up like Saturday Night Fever, and this was in the early 1980s when those Disco Sucks stickers were on everything.
BROWN: Cathy Rigby, the Olympic gymnast, was doing a show at the Fox Theatre and she turned up one night sitting at the edge of the stage. Someone yelled, That's Cathy Rigby! I walked over to her and said, Naw, you ain't Cathy Rigby. Bitch, if you're Cathy Rigby, do a backflip for us. She stood up in that chair and did a backflip all the way across the motherf**king stage. The response in the room was so loud, security came running up the stairs.
VICKI: DJs like Bill Berdeaux made us. Everyone who came in knew these DJs were the best. Any new music that came out, they had it on the turntables. Our DJs were Billboard reporters, so they were hooked into everything new. Plus, we hired big names to perform the Sunday Tea Dance: Gloria Gaynor, Bonnie Pointer. Gladys Knight came as a visitor, but we got her on stage. Sylvester was a regular performer for us.
LUST: Sylvester and I used to party a lot together. Grace Jones and I partied many nights together. She was a trip. She loved her party favors, let's just say.
BROWN: Celebrities never really got me tongue tied. I never really got fazed unless there was a redneck in the room. I'd always know because Fred would come back to the dressing room and say, You'd better get out here. I didn't even care what I had on. I'd hit that stage, man, and grab many a redneck, spin his arm around his back, and march him out those double doors. One night, this guy was really putting me through it, and I grabbed him and took him to the door. He turned around and spat in my face. Just like that, 400 people shut completely up. He took off running, so I took off my wig and my heels and went after him. He went down those steps so fast he rolled down the last flight and right under the feet of Henry.
WISE: As that redneck went down the steps face first, everybody in the upstairs cabaret jumped up, and 400 people had their faces pressed to the glass of those French doors across the entire back of the room.
BROWN: When I walked back inside that room, there was no sound, no music, nothing. A customer handed me a napkin and said, Charlie, you've still got spit on your face. I said, Don't you f**king hate when that happens? I wiped it off and got back up on that stage. I paid my rent with the tips that night.
HENRY: For years, it was mostly a gay crowd. But after we got the 24-hour liquor license [in 1987], it was a gay bar until all the other bars in town closed and then, everyone piled into Backstreet. The later it got, the straighter it got.
VICKI: I had been working at Backstreet, a gay club, for years but I didn't officially come out until I was 32. I was just afraid. I knew that my dad didn't want his daughter to be gay. It really hit him hard. But it was such a relief off of me. I didn't have to hide it anymore. Once Dad got over the shock of it, he came around. He was a good dad.
HENRY: My father was a manly man. He had this rugged exterior. He wasn't thrilled at first, but he accepted it. I mean, it wasn't like we were going to start discriminating against gay people. It was our family business. I hope that working in the environment of the club made it easier for Vicki to come out.
LUST: One night in 1997, my equilibrium was off. I just thought I was working too much. Fred told Charlie, Lena looks green. Charlie told me to take my ass to the doctor. Thank God, my health insurance had kicked in two months before that so I could actually go.
BROWN: We had 401(k)s, and they made sure we had health insurance.
WISE: Backstreet had nearly 100 employees on payroll.
Backstreet represented the good old days of gay life in Atlanta. We had the best clubs, the best bars, the best discos, and when they all shut down at night, they came home to mama, Backstreet.
BROWN: We lost a lot of people over the years, some of them cast members. We would work a number into the show each night and do a collection for the ones we could help.
HENRY: I started at the club in 1980 as the AIDS epidemic was starting. It was probably the most frightening time of my life. I had young children, and, back then, we didn't yet know how it was spread. I was scared. I didn't know what to do, what to touch, what not to touch. Eventually, I got educated. We started handing out free condoms. Our customers and our employees were dropping dead. They had Kaposi sarcoma. It was a horrible thing to watch. As they would pass on, I would meet their families. We would try and put them up in hotels, give them traveling expenses, and help with burials. It was a nightmare. We did what we could to help.
VICKI: I would get so upset when a staffer or a customer would tell me, Well, I just can't use a condom, sorry. And then, they would end up dead. I got so angry. I remember saying, You guys aren't paying attention here. We put out condoms, but we couldn't make anyone use them.
VANESSA: We held many, many memorial services at the club up in the cabaret.
LUST: I'm a longtime survivor. I was officially diagnosed with AIDS in '97. The doctors told me I likely contracted it 10 years before that. I shouldn't be alive. I was in denial for a long time. I had lost so many friends and boyfriends over the years. When I finally got diagnosed, my T-cells were at six, and my viral load was over two million. They immediately put me on the cocktail. I was lucky.
ELLIOTT: The weirdest thing I ever saw at Backstreet? Weird is subjective. A lot of stuff went on in the parking lot, okay? I went out to get into my truck one night, and I looked in the car parked next to me and saw two guys involved. I had never seen that before. I didn't want to be rude, so I watched for a while.
VANESSA: One night, I begged my dad to take me with him to the club. I was maybe 13. He told me, We're not coming home if you get tired. You'll have to stay the whole night. I ended up sleeping on some boxes on the floor of the liquor room. In the morning when we left, the sun was out as we walked to the car. This was before the Dakota condos were built across the street. There in the field, we saw two dudes just going at it. My dad and I both kept our eyes straight ahead. We never spoke of it again.
HENRY: [laughs] Their mother was in charge of having those kinds of conversations with them.
VANESSA: Growing up at Backstreet, you kind of got desensitized to things like that after a while.
ERWIN: Because we were exposed to gay people at such an early age, it made us more open-minded. People became members of our family. They came over on Christmas, and we went on vacations together. I think it made us better people.
VANESSA: James Brooker, who was known as Jim or Peaches, worked as the head bartender downstairs. He took me to buy dresses for homecoming and prom. The cabaret's tallest drag queen, Ziggy Stardust (Chester Phelps), was my dad's right-hand man. Ziggy took me into the cabaret dressing room and taught me how to put on false eyelashes.
ELLIOTT: Everybody was just kind. Your skin color, gender, your sexuality, socioeconomic status—none of that stuff played a role at Backstreet. You could just be yourself.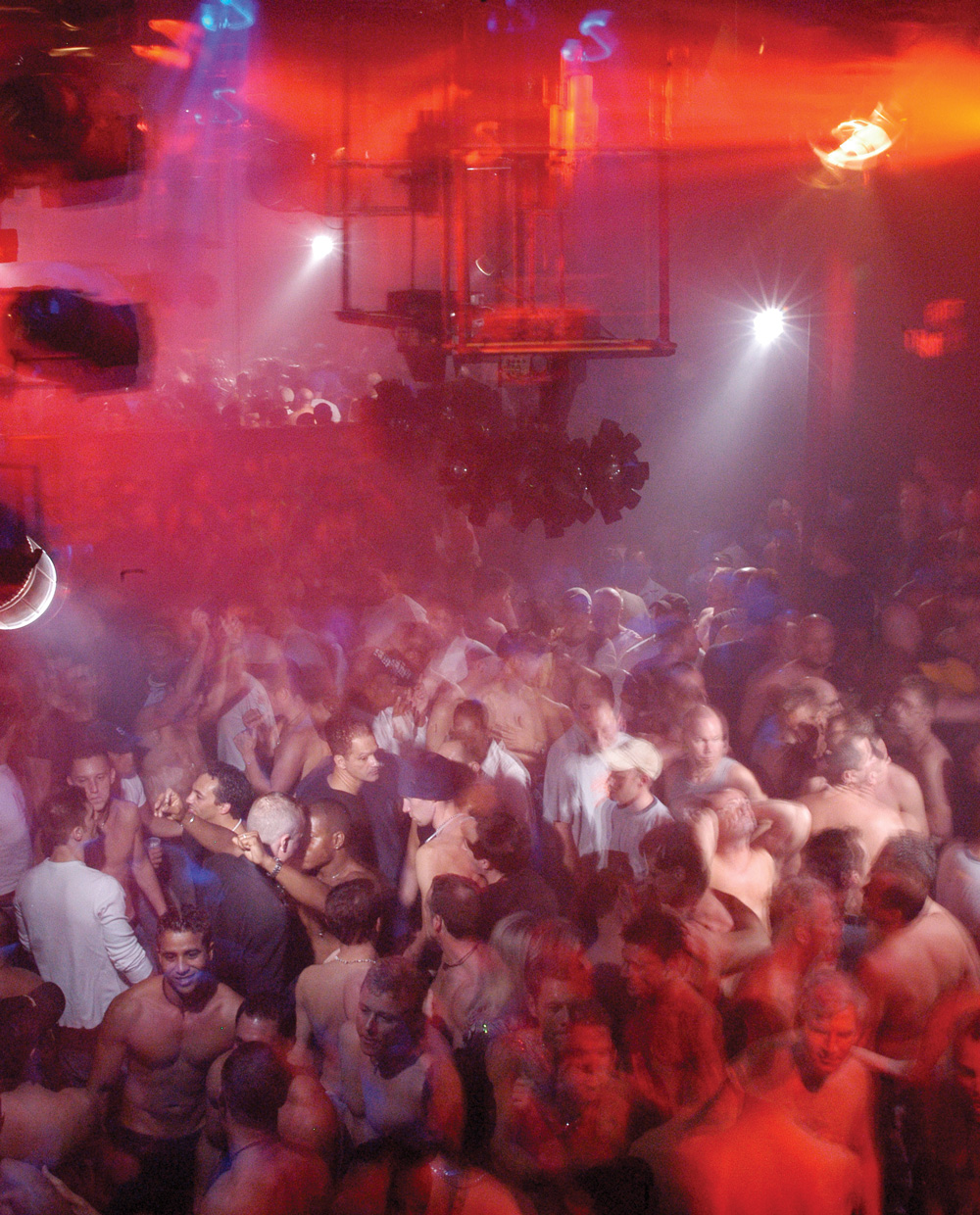 BOWEN-YOUNGBLOOD: My favorite photo I ever took inside Backstreet was shot from the balcony overlooking the dance floor. It was the same vantage point where I had stood the first time I went there and realized I wasn't the only gay person in the state. Coming from a small North Georgia town, that was how I felt for so long. It was at Backstreet that I realized for the first time it was okay to be me.
VANESSA: It was a place where black, white, Asian, Latin, gay, straight, business people, nerds, everybody could come together and party. When you walked through the door at Backstreet, the lines that existed elsewhere in your life, those lines were erased. Everybody was welcome.
BERDEAUX: Getting a key to the Backstreet DJ booth was like getting the keys to the kingdom. On big weekends like Hotlanta River Expo, no one on the dance floor had a shirt on or, sometimes, no clothes, period—if security hadn't gotten to them yet. It would get so hot from all the lights and all the body heat, the condensation from the ceiling would rain onto the people dancing below.
HENRY: Going into 2004, the city had refused to renew our liquor license. On New Year's Eve, we were packed at midnight when the cops showed up.
LUST: The music stopped, and there was dead silence.
VANESSA: The liquor license had expired at midnight.
LUST: Henry and Vicki tried to get a dance hall license, and we hobbled along pouring Coca-Colas and water. Nobody was coming in. The club finally closed down for good [on July 17, 2004].
VICKI: It was a home for so many gay people. So many customers would come up to me and say, Thank you, thank you, thank you for what you've done here. It's been 16 years, and I still miss it. How much money? [laughs] C'mon, don't ask me that. I'll say this—one night, one of the bouncers remarked, We make more money than God. And I remember thinking, He's actually close.
BROWN: When we lost Backstreet, it was like the city's gay community losing its grandmama. That's what it felt like. When you walk into a gay bar today, everybody's on their phone. They're staring at some app, looking for a hookup a few feet away from them. Backstreet represented the good old days of gay life in Atlanta. We had the best clubs, the best bars, the best discos, and when they all shut down at night, they came home to mama, Backstreet.
This article appears in our October 2020 issue.