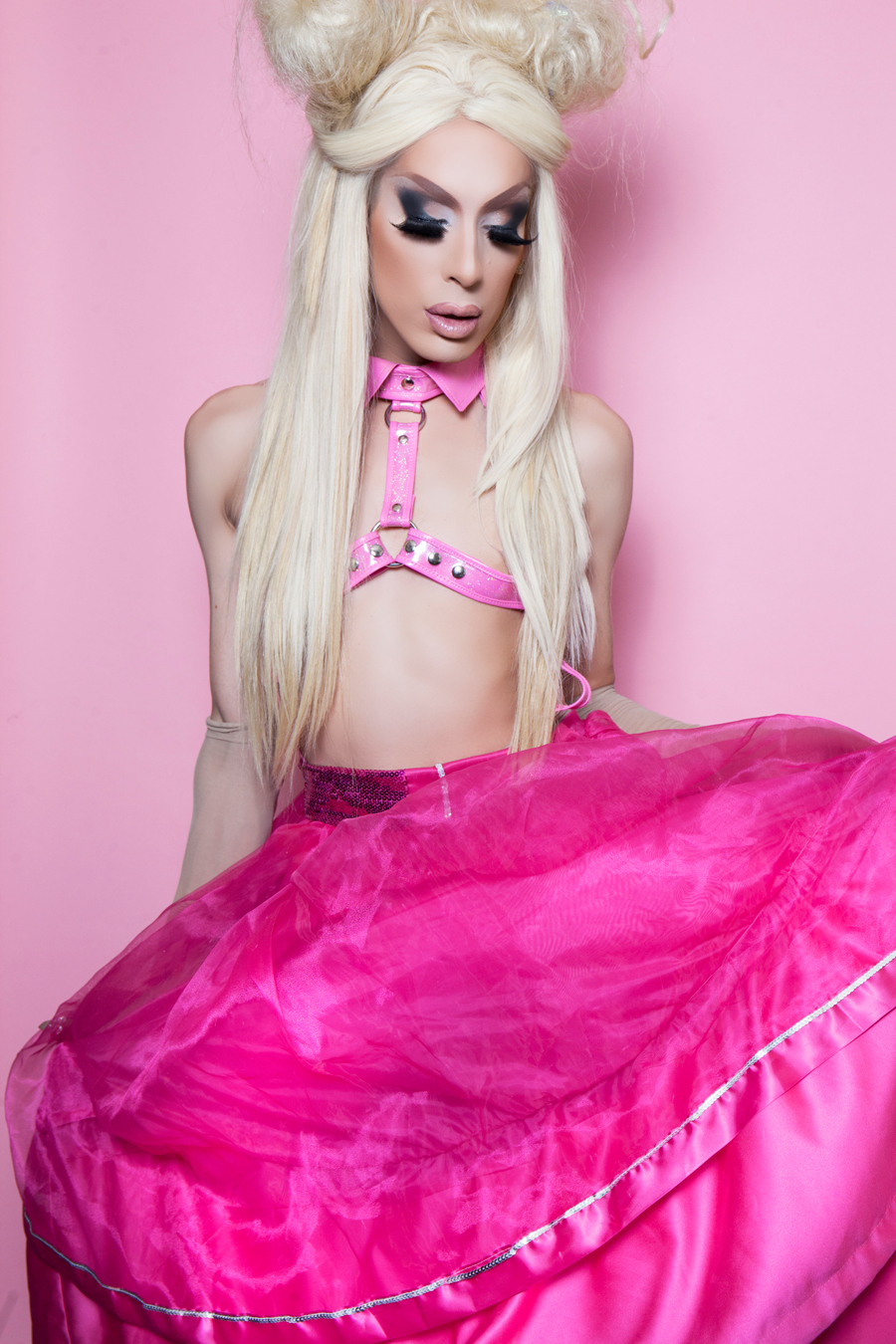 It's hard out there for a drag queen. Dancing in sky-high stilettos, flopping to the floor for a "death drop," performing night after night? It all takes a toll on the body. So what's a drag queen to do? We asked Alaska Thunderfuck—runner-up on season five of RuPaul's Drag Race and winner of the second season of RuPaul's Drag Race All Stars—about her fitness regimen, nutrition, and thoughts on body image. The performer and recording artist otherwise known as Justin Andrew Honard will be the headlining performer at Saturday's Peep Show, hosted by Wussy Mag for Pride weekend at Deep End.
Can you describe for me the physical parts of your performances?
I'm not a huge dancer onstage. In fact, I like not moving at all if I don't have to. But even just standing up for any given amount of time in 6-inch heels ends up leaving me feeling like I've been cracked in half like a rag doll after a few shows.
How do you start your day? Can you share with me what a typical morning (or afternoon) looks like for you, when you start your day?
My perfect day starts with putting on the teapot. Then I have tea in my favorite Golden Girls mug and watch The Daily Show. Meditation is essential. I try to start each morning with a focus on the breath and three things I'm grateful for.
Your performance calendar looks really busy. How do you prepare, physically, for your shows? What kind of workouts do you do?
I just try to rest a lot. I try to lay flat whenever I possibly can when I'm on tour. Also I heard once that stretching is the fountain of youth, so stretching has always been a part of my life. As far as working out, I hate gyms so I work out at home. I have a few 25- and 35-pound dumbbells, and I just got 45-pound kettlebells I use for various light weight-lifts at home.
Why do you do those particular workouts? Are you trying to achieve a particular look? Is it also about stamina so that you can make it through all of these shows?
I like eating, and tearing down my muscles periodically lets me eat a lot to supplement the workouts. Plus it makes me feel better mentally. Working out grounds you in your body and in the moment so if I'm ever feeling fuzzy headed a workout always helps check in with the moment.
How often do you work out?
If I'm home, two to three times per week. If I'm on the road, not nearly enough.
Any workouts or fitness trends you avoid or hate?
I don't like gyms. I like privacy and alone time. Also, I don't care for cardio.
What do you do for self-care, otherwise, post-shows?
I have a great facial care specialist—Brandon at 360 Skin in San Francisco—and he makes my skin look and feel great. I also like massages to counteract the crooked positions I find myself in on airplanes.
What kind of nutrition plan do you follow, if any? How important is nutrition to the way you look, feel, and perform?
I don't eat meat or fish and I avoid gluten. I went vegetarian as an experiment nearly 15 years ago. My body felt so good and healthy, I never looked back.
Do you find that the standards for beauty are very high for you? Is there a particular body type that performers strive to achieve? Or is there more openness to different body types in drag?
I feel very fortunate that the [ideal] body in drag is pretty much fake. Everything you see is manipulated in some artificial way. Also I don't think the drag community is extremely hung up on mainstream ideas of beauty or aesthetics. We find beauty in everything and in everyone. I'm glad to be a part of this community.
Is fitness a big part of the drag community? Is the gym a big part of the culture?
It differs from queen to queen. I think some queens' main form of fitness is dancing and bucking and twirling onstage, and that's a type of fitness I fully support.