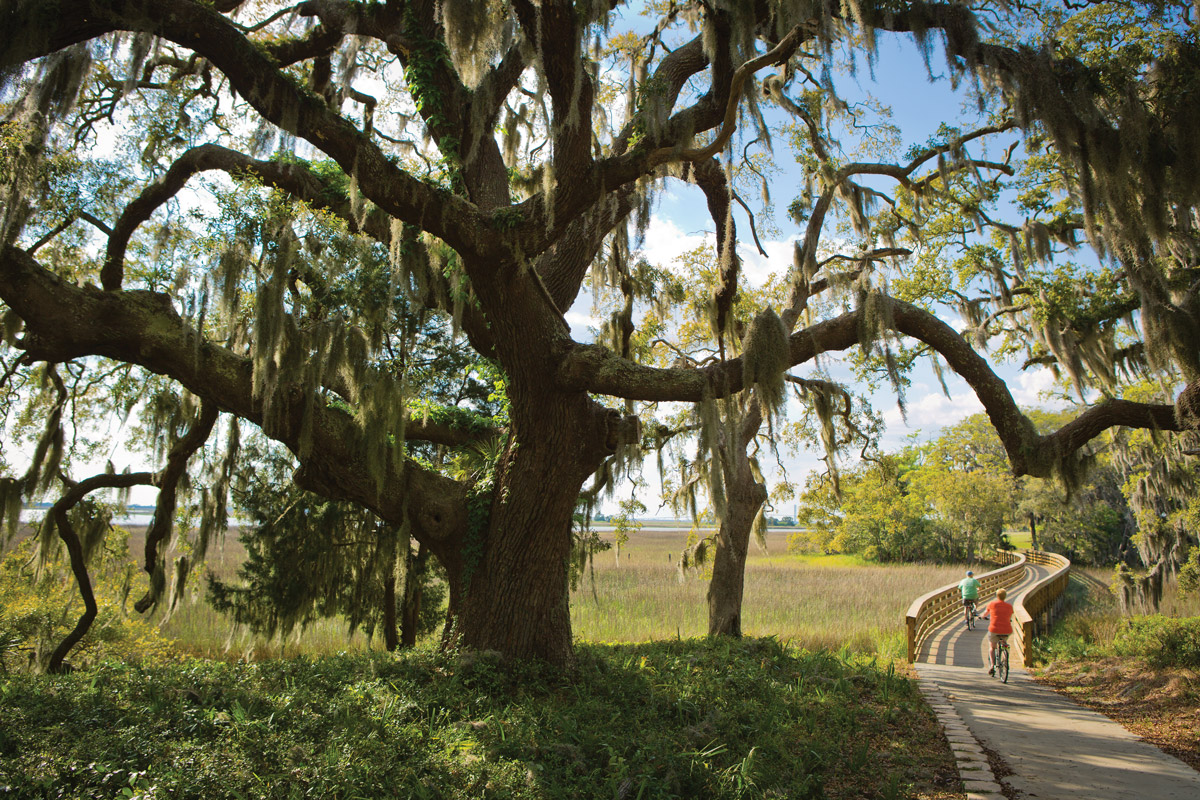 Beginner
You enjoy the occasional bike ride on off-street paved paths, but you aren't pedaling long distances.
Mellow: The PATH Foundation has you covered, but check out Alpharetta Greenway and the Carrollton GreenBelt for some longer flat rides. If you're debating whether to buy a bike at all, do a test ride using a bike-share program offered by the Town Center and Cumberland CIDs.
Workout: The 34-mile Arabia Mountain PATH follows the hilly terrain of the 40,000-acre national heritage area. Expect plenty of climbing. For more ideas, consult the Atlanta Cycling Festival's website.
Getaway: St. Simons's and Jekyll Island's more than 40 miles of paved trails allow you to see more of the barrier islands' beauty—and work off that extra serving of crab legs.
Wild Card: Take a history tour. Civil Bikes offers scheduled private and corporate tours of historic civil rights spots in Atlanta. For a longer experience, Bike Race Across Georgia hosts supported tours.
Mountain
You enjoy riding on dirt trails through the woods and the thrill of hopping over roots and carving curves.
Mellow: Sope Creek in Cobb County, Cochran Mill Park near Serenbe, and Olde Rope Mill Park in Woodstock offer an excellent variety of beginner and intermediate trails, plus some more advanced options that don't require driving to North Georgia.
Workout: A joint effort by the mountain biking advocacy group SORBA, the Atlanta Bicycle Coalition, and other groups, Southside Park is the city's first designated mountain-biking trail and offers several miles of trails for all skill levels, including kids.
Getaway: Craft beer, hot tubs, and shuttles transporting you, your bike, and gear to North Georgia's ridge trails and challenging climbs await at Mulberry Gap, a no-frills and no-nonsense mountain hostel for mountain bikers.
Wild Card: Trans North Georgia, a 300-mile ride through the North Georgia mountains over three days (and a climb of 55,000 feet). Not everyone makes it to the finish line. Plus, there are plenty of quasiofficial and hush-hush trails throughout the city. Link up with SORBA to meet fellow riders for more.
Gravel
Want to ride longer distances and have the freedom to tackle country backroads and not-too-wild off-road trails? Here you go.
Mellow: Dirty Sheets in South Fulton doesn't involve much climbing and offers a rural escape closer to the city. Cabbagetown through Kirkwood to Legacy Park (or Seminary Woods) in Decatur features a pleasant mix of neighborhood streets and gravel. Or make your own route; that's the beauty of a gravel bike.
Workout: The BeltGrind is an unsanctioned and informal ride around the entire BeltLine, unfinished muddy segments and all. Spin the District is a multiday cycling event centered around Hapeville, East Point, College Park, and Union City that includes gravel options. If both are postponed because of the pandemic, consider their routes and events for inspiration.
Getaway: Get a hotel room at Valhalla or the Amicalola Lodge and find a Forest Services Road for hard climbs and hair-raising downhills, or wildlife-management area roads for straightaways stretching deep into the woods. Murder Creek Road in Jasper, Pine Log in White, or check out other North Georgia routes at gravelhappens.com.
Wild Card: Use Asheville, North Carolina as a base to enjoy some of the South's best gravel biking. Another fun weekend trip: plan a 70-mile figure-8 loop from Tellico Plains, Tennessee and into North Carolina to the Smoky Mountains.
Road
Your bike weighs less than a feather and is designed for speed and distance. You don't fear riding in traffic, and you likely own tights—and that's okay.
Mellow: Much like gravel bikes, you can build your own route. If you want to go ride today, head to Silk Sheets near Serenbe. Like the name implies, the on-road route is a smooth and enjoyable ride that's a favorite of intermediate and experienced riders.
Workout: Sign up for the Three Gaps Fifty, an organized 50-mile race in Lumpkin County weaving through mountain valleys. Or pedal for 50 miles on the Silver Comet—and then 50 miles back.
Getaway: Hotel Domestique in Travelers Rest, South Carolina, is a luxury boutique resort co-owned by a former professional cyclist and designed by cyclists. Show us another hotel with a cycling director.
Wild Card: Link up with Audux Atlanta Randonneuring, an Atlanta group that organizes
200-, 400-, and 800-kilometer marathon rides.
This article appears in our March 2021 issue.