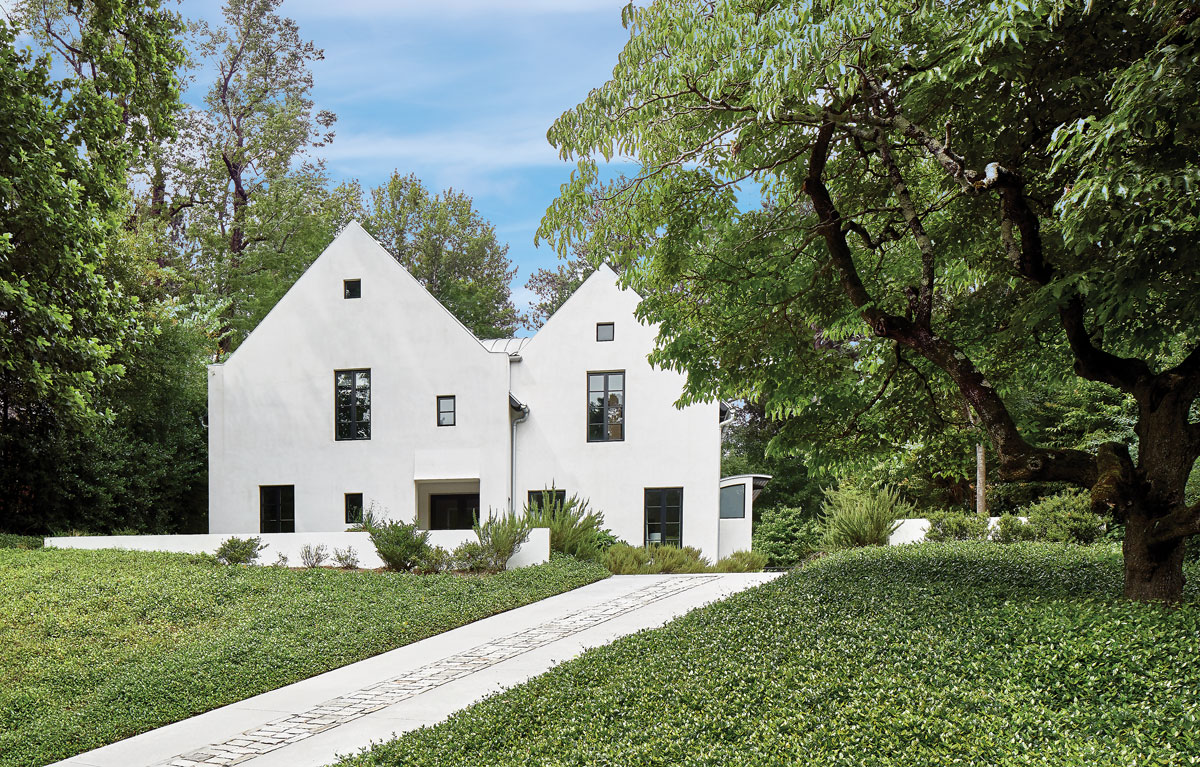 Johanna and Jonas Reisinger describe their style as "a blend of European simplicity with Southern comfort." After all, Johanna is a native Atlantan, and Jonas grew up in Stuttgart, Germany. A modern home in Morningside, originally designed by architect Brad Heppner, provided a polished setting for distilling the best of both their worlds.
Interior designers Bill Musso and Jessica Park of Musso Design Group incorporated family antiques and rich colors while keeping the clean lines intact. The residence was built in 2008, but its open floorplan, eye-catching staircase, and large-scale windows still feel up to date and striking, says Bill. "The house almost feels like something on the West Coast—modern and classic," he adds.
The designers and homeowners mixed European-made furniture with custom and sentimental items. A music room is filled with inherited pieces of a timeless style from Johanna's late mother: a vintage Eames chair, a reupholstered chaise, and framed album covers.
The home's vintage spirit, sleek lines, and clever engineering are fitting for the owners, who both long worked in the auto industry. "Our years working with Mercedes-Benz have certainly influenced our style," says Johanna. Cases in point: a cantilevered, "draw-bridge" entry door into the basement and loft-style, floating metal-and-wood stairs. "The materials feel organic and luxurious at the same time, much like a luxury vehicle," adds Johanna. "With a car or a home, you certainly want comfort and style. Those details matter."
RESOURCES | Interior design: Bill Musso and Jessica Park, Musso Design Group,
mussodesigngroup.com Architecture: Bradley E. Heppner Architecture, bradleyeheppner.com Landscaping: Pengelly's Landscape & Garden, pengellyslandscape.com Entryway Wallpaper: Phillip Jeffries, phillipjeffries.com. Chair: Agrippa America, Agrippa-america.com. Rug: Designer Carpets, designercarpets.com. Mirror: Arteriors, arteriors.com. Living room Console: Switch Modern, 670 14th Street, switchmodern.com. Sofa: Rolf Benz, rolf-benz.com. Swivel chair and fabric, side table: Donghia, donghia.com. Rug: Designer Carpets. Table: Context Gallery, contextgallery.com. Art glass: SkLO, sklo.com. Dining area Dining table: Switch Modern. Custom banquette: Bjork Studio, 1200 Old Chattahoochee Avenue, bjorkstudio.com. Banquette leather: Holly Hunt, hollyhunt.com. Chairs: Phase Design, phasedesignonline.com. Chair fabric: Romo, romo.com. Music room Rug: Moattar, moattar.com. Barrel chair fabric: Armani, Armani.com. Master bedroom Nightstands: Mr. Brown London, mrbrownhome.com. Throw: Missoni, missoni.com. Console: Pricinsky Custom, Inc., pricinskycustom.com. Back yard Lounge chairs and sectional: RH Modern, rhmodern.com. Table and chairs: Tritter Feefer, tritterfeefer.com.
This article appears in our Fall 2020 issue of Atlanta Magazine's HOME.