Family-friendly
Boo at the Zoo
When: October 20, 21, 27, 28, 9:30 a.m.-3 p.m.
Where: Zoo Atlanta
Cost: $17 to $23
Details: One of Atlanta's favorite family-friendly Halloween events is back for another year. All costumes are welcome to Zoo Atlanta as it hosts a costume parade, carnival games, crafts, a "Monster Mash Disco" with a live DJ, pumpkin carving, trick-or-treating, and special characters—including plenty of Star Wars characters—roaming the zoo.
Haunted Hall of Fame
When: October 27 and 28
Where: College Football Hall of Fame
Cost: $18-$22, free for kids aged 3-12 in costume
Details: Make sure your tiny football fans are decked out in their Halloween costume finery to get free access to this downtown attraction. In addition to the museum's fare, there will also be trick-or-treating, face painting, and more.
Pumpkin Patch/Haunted House at Yule Forest
When: Through October 31
Where: 3565 North Highway 155, Stockbridge
Cost: Pumpkin Patch: $10; Fear the Woods: Adults: $19-$33, Kids: $16-$26
Details: It's admittedly a bit of a hike to Stockbridge, but this farm offers the best of both worlds. By day, visit for a kid-friendly pumpkin patch experience complete with a hay ride, petting zoo, country store, and more. By night, Fear the Woods promises to terrify you with a haunted house, haunted farm tour, and laser tag.
Haunted Halloween at Atlanta History Center
When: October 19, 6:30-9:30p.m.
Where: Atlanta History Center
Cost: Adults: $20; Kids: $10
Details: This evening event boasts fun for plenty of different ages. Younger kids will enjoy sing-alongs, a haunted refrigerator box maze, a reptile meet-and-greet, and plenty of games. Older kids will appreciate the zombie escape at Smith Farm, and everyone can enjoy the Swan House, which will be transformed into a Hogwarts-esque school of wizardry.
Festivals and parades
Little 5 Points Halloween Parade
When: October 20, 4 p.m.
Where: Little 5 Points
Cost: Free
Details: If you're looking for a giant Halloween parade, this is definitely your best bet. More than 35,000 people are expected to visit Little 5 Points to check out the artist market, food vendors, live music on two stages, and, of course, the 2-hour parade. Arrive early, especially if you want a prime parade spot.
Pumpkin Festival at Stone Mountain
When: Through October 28
Where: Stone Mountain Park
Cost: $30-$35
Details: Stone Mountain is transforming from day to night. When it's light out, kids will be able to enjoy pie eating contests, dance parties, and storytellings. Come night, the park will be lit up with lights, glowing pumpkins, flashlight tours, glow-in-the-dark mini golf, and parades.
Owl-O-Ween Hot Air Balloon Festival
When: October 19-20
Where: Kennesaw State Sports + Entertainment Park
Cost: Adults: $19 (VIP: $79); Kids: $9 (VIP: $49)
Details: The activities are endless at this two-day suburban festival, including magic shows, live music, aerial arts, fire shows, DJs, costume contests, a kids zone, and, of course, hot air balloons.
Ghost tours
Lawrenceville Ghost Tours
When: Through October 31
Where: Aurora Theatre
Cost: Adults: $12-$15; Kids: $9-$12
Details: Take a 90-minute walk around historic Lawrenceville while the guides regale you with tales of paranormal activity. But perhaps most cool, this year the group is offering a Spanish-speaking tour—Equentro Fantasmal de Lawrenceville—on October 20 at 7:30 p.m.
Roswell Ghost Tour
When: Daily in October
Where: Roswell Town Square
Cost: Adults: $15; Kids: $10 (Cash only)
Details: This easy-going, two and a half hour tour in downtown Roswell tells the stories of who's haunting the historic homes and buildings and even takes you inside an old cemetery.
Haunted houses
Netherworld Haunted House
When: Through November 4
Where: 2076 West Park Place Boulevard, Stone Mountain
Cost: $23-$55
Details: Netherworld is one of the best haunted houses in the country for a reason. For 20 years it has had incredible attention to creepy details on their costumes, a facility filled with horrors, and even a museum of movie props and monsters. Now, it's in a new facility in Stone Mountain featuring three escape rooms and two new haunted attractions.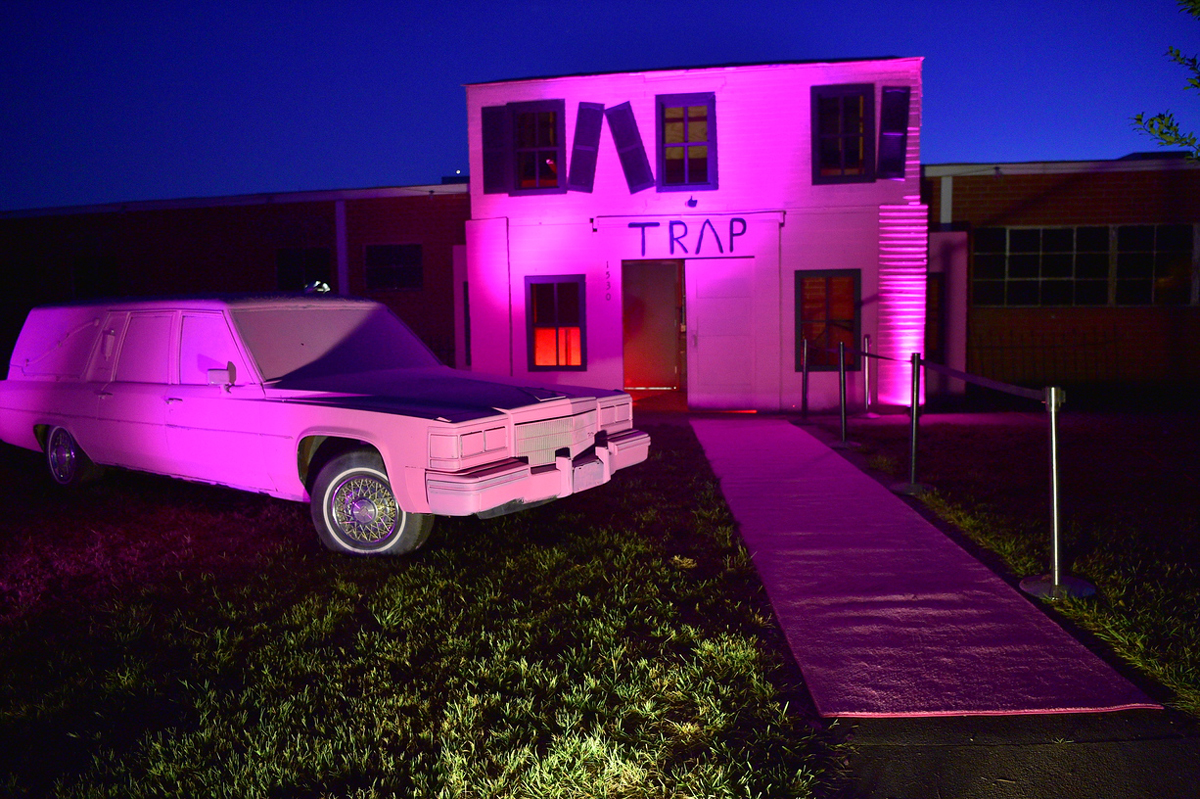 Haunted Pink Trap House
When: Through November 11
Where: 13 Stories Haunted House, Newnan
Cost: $22-$78
Details: This three-stage iteration of 2 Chainz's famous Pink Trap House takes you through a literal haunted trap house. The second stage has you taking down zombies with fake assault weapons, and stage three blindfolds you as you try to escape the cops. Check out our full story on the experience here.
Containment Haunted House
When: Select days through November 3
Where: 1320 Blairs Bridge Road, Lithia Springs
Cost: $22-$25
Details: This haunted house located not far from Six Flags Over Georgia, so if the roller coasters weren't enough to spook you, keep going down I-20 to scream at this recommended 13 and up nightmare fest.
Folklore Haunted House
When: Select nights through November 3
Where: 5389 North Main Street, Acworth
Cost: $28-$45
Details: Three different spooky scenarios await at this Acworth attraction—"The Manor" is a decrepit, ruined house; "Tremulous" features Egyptian mummies; and "Chromophobia" is a Mardi Gras-themed "3-D" scare.
Shows and experiences

The Ghastly Dreadfuls
When: Through October 27
Where: Center for Puppetry Arts
Cost: $25-$35
Details: The cult-favorite, Vaudevillian variety show returns for another year with plenty of puppetry, music, dancing, and folklore. Tickets include museum admission, so arrive early to party with Kermit, Miss Piggy, and the creatures of The Dark Crystal special exhibition.
Woodland Spirits at Fernbank
When: Through November 11
Where: Fernbank Museum of Natural History
Cost: Included with museum admission
Details: Explore a haunted version of the WildWoods at night, which will be haunted by ghostly sculptures from Atlanta artist Laura Lewis. There are also a few additional celebrations, including the 21+ Fright Night party on October 26.
Edgar Allan Poe Experience
When: October 17-31
Where: The Wren's Nest
Cost: $45-$50
Details: The historic house stages live interpretations of "The Tell-Tale Heart," "The Red Masque of Death," and "The Fall of the House of Usher" from the mind of Serenbe Playhouse founder Brian Clowdus.
The Sleepy Hollow Experience
When: Through November 4
Where: Serenbe Playhouse
Cost: $25-$53
Details: Speaking of Serenbe, the outdoor playhouse is staging its sleepy Headless Horseman tale. The prime Saturday night shows are already sold out, but there are plenty of others, including daytime performances for those afraid of the dark (or who just don't see well driving at night).
ATL DEAD
When: Through November 3
Where: 3731 Main Street, College Park
Cost: $30-$35
Details: Described as "one part haunted house, one part immersive theater, and one part live action video game," this interactive experience puts you in Atlanta during the zombie apocalypse, and armed with a Nerf gun, you have to survive long enough to find a cure.
Six Flags Fright Fest
When: Select nights through October 31
Where: Six Flags Over Georgia
Cost: Admission, $42-$70
Details: Six Flags is usually a family-friendly day off, but Fright Fest takes things up a notch. With zombies roaming the park, attractions being transformed into terror machines, and plenty of haunted attractions—from scare zones filled with ghouls to haunted houses crawling with aliens and beasts—this version of Six Flags may not be for kids under the age of 13. A tip on the Fright Fest website: "If you get lost we will eat you."
Boos and booze
Freakshow Funhouse
When: Through October 31
Where: Joystick Gamebar
Cost: Free
Details: A Halloween pop-up bar in the back of Edgewood Avenue game bar Joystick, this take on a hall of mirrors brings a more modern-day take on "freaks"—a developer obsessed with gentrification; a girl who can't stop duck-lipping all over Instagram; a "faceless Grindr profile." Drink specials include a "boozy hot cider" and Jell-O shots, and there will be food from 95th Street Tacos.
SweetWater Scream
When: October 25-31
Where: SweetWater Brewing Company
Cost: $30
Details: Brian Clowdus strikes again at this unique interactive brewery tour/haunted house/theatrical performance. The haunted fisherman might spook you, but SweetWater 420 "refueling stations" should help revitalize you.

Haunted Heights at Skyline Park
When: October 27, 5-11 p.m.
Where: Skyline Park at Ponce City Market
Cost: $40 advance; $50 at door
Details: If you're looking for a Halloween party with great views, this rooftop bash at Ponce City Market might be the ticket. Expect drinks (including sangria served in "blood bags"), food, a costume contest, and free rides on the Heege Tower and giant slide. The boardwalk games also promise to be "stocked with spooky prizes."
Crawl-oween ATL
When: October 26, 8 p.m.-12 a.m.
Where: Check-in at Neighbor's Pub
Cost: $15-$40
Details: Grab your best costume (there's a $1,000 cash prize) and prepare to crawl through some of Virginia-Highland's bars, including Neighbor's Pub, Dark Horse Tavern, and Limerick Junction.

Halloween in the Highlands
When: October 27, 6-11 p.m.
Where: Check-in at Neighbor's Pub
Cost: $20-$30
Details: If you'd rather party in VaHi on Saturday night, this crawl boasts more than 2,000 attendees and includes Neighbor's, Dark Horse, Diesel, Moe's & Joe's, and more.

Midtown Halloween Block Party
When: October 26, 7 p.m.
Where: Check-in behind Foxtrot and Lava Lounge
Cost: $20-$30
Details: If a Friday before Halloween in Midtown sounds more exciting, this crawl features a ton of favorites including the Nook, Joe's on Juniper, Zocalo, Henry's, Fado Irish Pub, and more.
Buckhead Creepy Crawl
When: October 31, 7 p.m.-2 a.m.
Where: Check-in at Moondogs
Cost: $15-$30
Details: Or if you simply must go out on Halloween night, head to Buckhead for this crawl that includes Moondogs, Red Martini Bar, Hole in the Wall, Cabo Cantina, and Elbow Room.