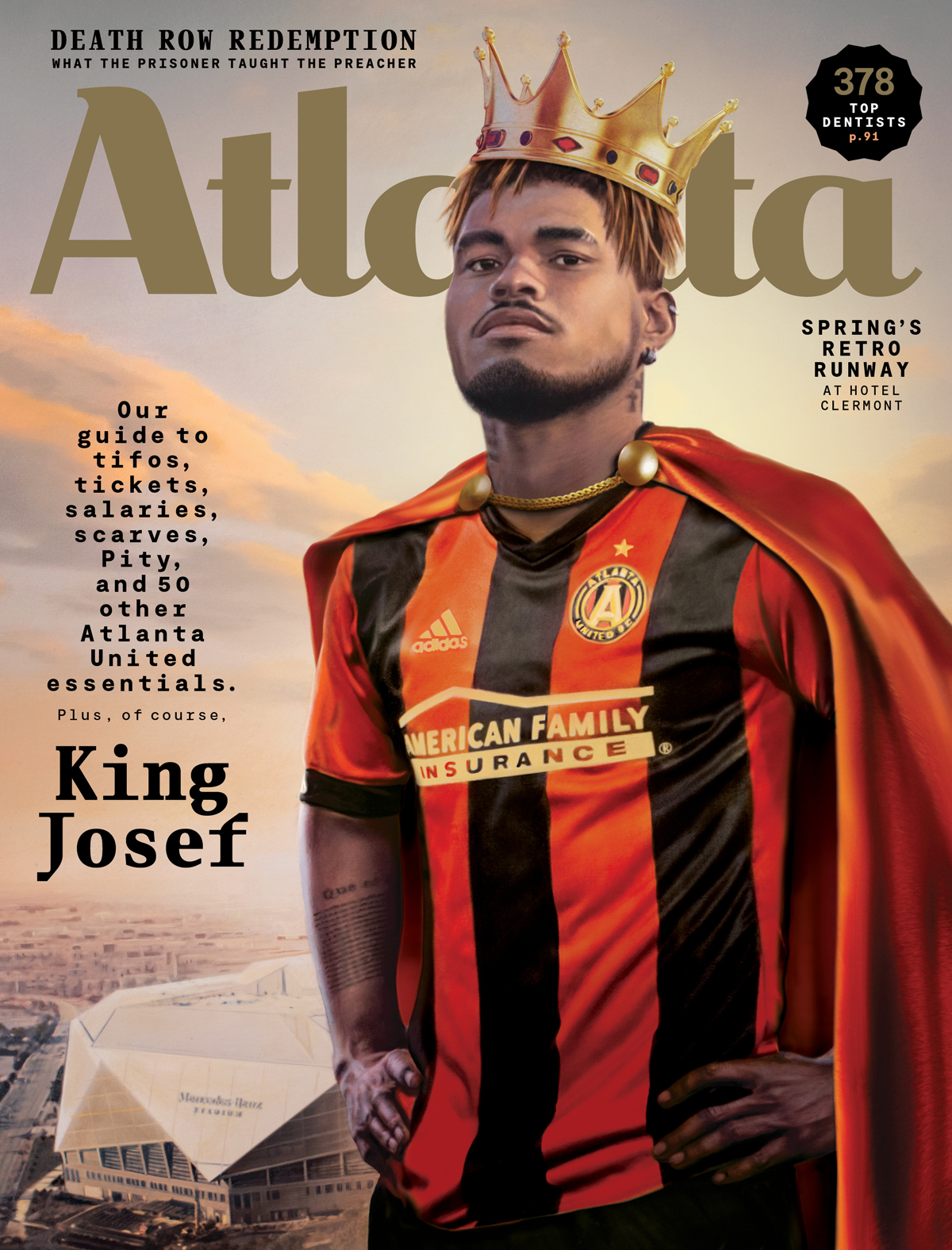 For our January 2021 issue, in honor of our 60th anniversary year, we dug through our archives to present a snapshot of the magazine during each of our six decades. We discovered groundbreaking work, inspiring stories, and, yes, some errors in judgement. Here's what we found:
The '10s in 6 Quotes

The city booms after the bust, the South more powerfully confronts its past, and Stacey Abrams plans a progressive revolution
"Blurred Lines: What Defines Graffiti as Art or Vandalism?"
August 2015
Neighbors embrace graffiti at Krog Street Tunnel but organize teams to paint over tags a few blocks west at the Boulevard Tunnel. The city has employed a police officer to infiltrate graffiti circles and make arrests but welcomes artists from around the world to paint murals on facades.
"The Lost Communities"
April 2016
"Our African American neighborhoods have been displaced by park spaces and transportation infrastructure. That's not just a Buckhead story; it's an Atlanta story and beyond." — Erica Danylchak, Buckhead Heritage Society executive director, on Harmony Grove Cemetery in Buckhead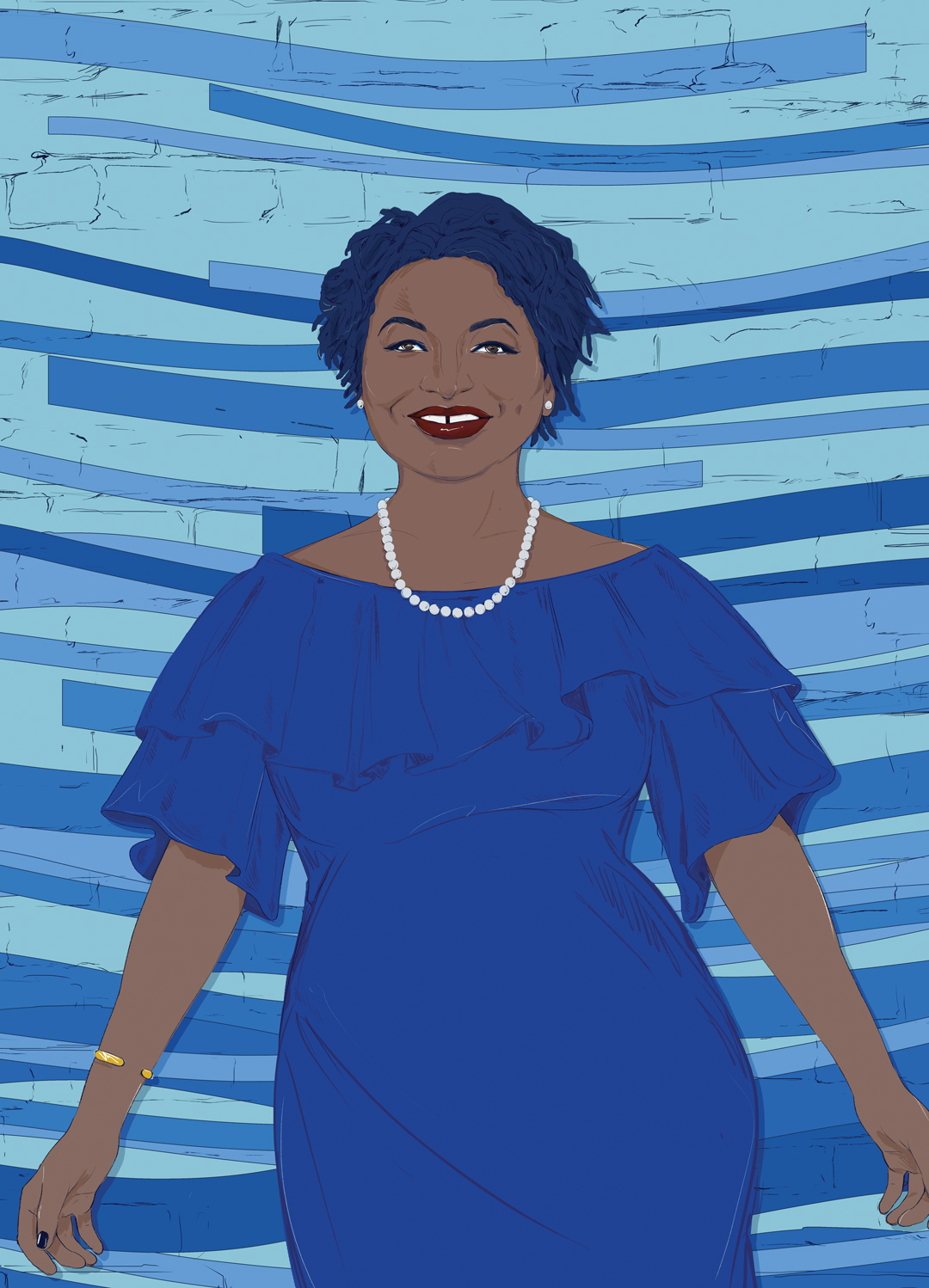 "Hoping to Catch a Blue Wave"
October 2018
In an echo of the 2008 Obama campaign, Stacey Abrams and supporters have launched a multiracial coalition of progressive advocates, plus volunteers new to politics, to make inroads with newer, first-time, or marginalized voters in the form of roundtable talks with the candidate, meet and greets, and door knocking. Volunteers like Dr. Opal Ware, a 76-year-old get-out-the-vote expert who trained with Congresswoman Maxine Waters (D-California), hand out voter registration applications to strangers they meet.
"You in the Beige!"
November 2015
A writer knows that no story has a plot without change. My South is full of change. The books we nine Southern authors wrote told stories of family wreckage, of leaving home and finding it, of childhood and growing old, of sexuality and racism. I know that in my writing I try to give voice to those who have lost theirs. But the Southern women our photo implied were caricatures of a long-ago era. With my rigid smile and flowing skirt, I let my voice be silenced as well. — Jessica Handler, writing about a Vanity Fair photo shoot of regional female authors, including herself, wearing ball gowns at the Swan House
"What is It? An Oral History of Izzy, the Mascot Marketing Snafu of Olympic Proportions"
July 2016
"This was our 'hey, world, we're Atlanta' moment. It's almost like [a] parody of every other mascot that came before it—a generic mascot that's not anything but everything at the same time. . . . Atlanta tries so hard to be what we think the world wants to view us as. Izzy was so squeaky clean and so safe for a soulful and funky metropolis in the down and dirty South." — Artist Ronnie Land
"Groundbreakers: Avalon"
September 2015
"People do accuse this of being a Disney-ized version of urbanism, and I think it's guilty as charged, but there are obviously a lot of people willing to pay $110 to get into Disney. It's not for everybody. But it will become a much more environmentally sustainable way of living in the suburbs." —Urbanism advocate Christopher Leinberger
---
Wealth, Waffles, and Walking Dead
Our archives reminded us that Atlanta keeps evolving, for better or worse­­—but our hometown 24-hour diner remains the same.
"Will Buckhead Be Back?"
May 2010
With a four-page photo spread as an opener, staff writer Thomas Lake chronicled developer Ben Carter's big gambit—spending $200 million to transform nine acres of the old Buckhead Village (which some locals vilified as a "rainbow coalition of criminals") into "Atlanta's version of Rodeo Drive." Carter had the misfortune to purchase and scrape the land just as the nation headed into recession. By the time our story ran, he was on the brink of attracting another $200 million and finishing his dream, which had sat, per Lake, like "a wound in the soft pink saprolite, two blocks long and up to 40 feet deep." Of course, no one ever guessed that Atlanta might not want Rodeo Drive. The struggling Streets of Buckhead was later rebranded as the confusing Buckhead Atlanta and then the Shops Buckhead Atlanta—which was purchased last year by Jamestown of Ponce City Market fame and named, naturally, Buckhead Village.
Waffle House
December 2014
Waffle House landed on the cover of our annual Best of Atlanta issue in 2007, marking the chain's 50th anniversary. But our fixation was just getting started. With a redesign that launched in December 2014, we introduced a monthly short called "Meanwhile, at Waffle House," which chronicled life at the beloved Georgia institution. The first piece described a couple of late-night robberies, including a successful heist by a man wearing a Scream mask in Conyers. We found enough material for monthly items until May 2016.
Hollywood of the South
September 2011
The cover story of our "Hollywood Comes to Atlanta" issue began thusly: "Georgia does not want to be a Lindsay Lohan, a starlet who skyrockets to fame, makes bad decisions, then fizzles out like some long-tailed, bleach-blond comet. Georgia wants to be Meryl Streep, whom filmmakers clamor to work with and who enjoys a long, respected career." Governor Nathan Deal signed the Georgia Entertainment Industry Investment Act in May 2008, providing a 20 percent tax credit for productions that spent more than $500,000 in the state, laying the foundation for an economic powerhouse that now brings some $9.5 billion to the state, according to the Georgia Department of Economic Development. That September issue documented how Peter and Bobby Farrelly's The Three Stooges benefitted local businesses—down to Highland Pet Supply and Bennie's Shoes. We traced the history of film in Georgia and included a feature "Zombies Are So Hot Right Now" by Justin Heckert on the making of season two of The Walking Dead. TWD became an obsession in itself, landing on our November 2013 cover and inspiring weekly online updates that ran for six years. The 2013 issue included a guide to the Hollywood of the South, designed to look like a supermarket tabloid. Over the decade, we stalked film sets, interviewed stars and studio executives, offered tips on being an extra, and, most recently, agonized over how the heartbeat bill could chase crews away. Tyler Perry, we still want to write your profile.
---
By Errin Haines and Rebecca Burns | Originally published March 2015 and excerpted here
Chapter I. The Innocent Origins
It all started in the spring of 1983 with a picnic organized by students attending the Atlanta University Center. As at other historically black colleges and universities, AUC was home to "state clubs" made up of students with common home states. The clubs held social events during the school year and served as pre-Facebook clearinghouses for shared rides home. That spring, members of the DC Metro club threw a picnic in Piedmont Park for students who found themselves stuck on campus over spring break. It was a simple event—sandwiches, coolers, boom boxes, that sort of thing, recalls Sharon Toomer, then a Spelman College freshman and one of the organizers. "A lot of us came by bus; no one had cars back then," she says of the gathering in the field at the corner of 10th Street and Monroe Drive. In those days, Piedmont Park was shabby, the picnic area little more than a vacant lot.
Marcellus Barksdale came to Morehouse as a history professor in 1977 and still teaches history and African American studies. At that time, the "state clubs" were real popular. The DC Metro Club was made up of students from Spelman and Morehouse who were from Washington, Virginia, and Maryland.
Sharon Toomer now lives in Brooklyn and is the publisher of BlackandBrownNews.com. That year, we had a theme called "the Freak." We had the "Freak Dance," which was close to the holidays. It was really around the dance at the time, which was "Le Freak," the Chic song. Rick James and all that just became our theme.
Barksdale: There was that song, "Superfreak." And [the event name] was like, "This is where we were going to be able to get freaky."
Toomer: It was a student called Rico Brown who suggested, "Let's call it Freaknic," putting together picnic and freak.
Over the years, the spelling morphed into Freaknik and the event's timing shifted from spring break—usually in early March—to the "reading week" period before final exams (generally the third weekend in April). As talk of Freaknik spread, it drew students from far beyond the AUC—and a fair share of non-students. For several years, the party hopscotched from park to park on the west side.
Barksdale: They had a big picnic at John White Park on Cascade Road. Nobody was counting heads, but it was a large turnout; I'd say a good 5,000. People brought their boom boxes. They brought their grills, their blankets, and, of course, their coolers. It was a beautiful occasion.
Kasim Reed is mayor of Atlanta. He grew up here and attended Howard University, where, as a college freshman in 1988, he came home to attend Freaknik (though he'd also attended while in high school). When Freaknik started, my brothers were in college. Everyone who's honest of our generation had some experience with it. When I went, it was still cool—and primarily students.
Edward Simpson graduated from Creekside High School in 1995. He works as a technical writer and lives in Atlanta. Let's be very clear: No, my mother did not know where I was going or what I was up to! She would've had a heart attack. I would tell her I was going out to a party or hanging out with friends. My older brother was with me, so it was never a big deal as long as I was with him. The West End was somewhere close by that we could get to and still make it home in time for our curfew.
Kwanza Hall has served on Atlanta City Council since 2006. He first attended Freaknik while attending Benjamin E. Mays High School, where he graduated in 1989. Later, as a student at the Massachusetts Institute of Technology, Hall returned to Atlanta to attend Freaknik. I only caught wind of it because I was in Mr. Butler's art class. I was a freshman, but the art class, it was all seniors. If you were around them, you knew what they were doing. When I heard they were going places, I would go, too. You had teachers whose children were there. It was the chatter of the big brothers and big sisters of my classmates. Someone who might've just graduated tells the seniors, "Look at what we're doing! We go to this thing called Freaknik!"
Jermaine Dupri is a producer and the founder of So So Def. Club 112 was so crowded that I couldn't even go through the front of the club; I had to go through the kitchen. That's when I knew Freaknik had taken over the city. Read the full article
---
Handle With Care

A celebration of—and a call to protect—Georgia's precious coast
Secrets of the Georgia Coast
May 2015
Atlanta has a long tradition of travel stories that help readers discover the Southeast region. One of our most popular was "Secrets of the Georgia Coast." It included a poignant essay by environmental journalist and longtime AJC contributor Charles Seabrook about the area's fragile and endangered ecosystem. An excerpt:
"Among ecosystems, Georgia's coast ranks near tropical rainforests in fertility and productivity. Its nine major estuaries (or sounds), 14 barrier islands, and some 400,000 acres of salt marsh—a third of all salt marsh along the entire Atlantic coast—connect to the ocean and each other, like a great, benevolent being that gives sustenance and refuge to untold numbers of creatures: shrimp, blue crabs, clams, oysters, all manner of finfish, birds, and other species. . . . In a sense, Georgia's coast is lucky, perhaps unique. All but three of its barrier islands—Tybee, St. Simons, and Sea Island—are preserved through public and private initiatives. . . . But though the law remains strong, it faces legal challenges and other threats to accommodate growing numbers of residents and developers. A 2006 Georgia Tech study calculated that the population of Georgia's 10-county coastal region leaped by 62 percent to more than 558,000 residents between 1970 and 2000; it projected another 51 percent increase to about 844,000 by 2030. Environmental experts say the forecast is right on target. "There's a tidal wave of growth headed straight for Georgia's coast," warns David Pope, director of the Southern Environmental Law Center's Atlanta office. Read the full article
---
Staplehouse
By Corby Kummer | April 2016
This was the magazine's only four-star review in the entire decade. Staplehouse has pivoted during the pandemic from a prix-fixe, tasting-menu restaurant to a market selling meticulously crafted pantry items and prepared food to-go. Read the review
This article appears in our January 2021 issue.