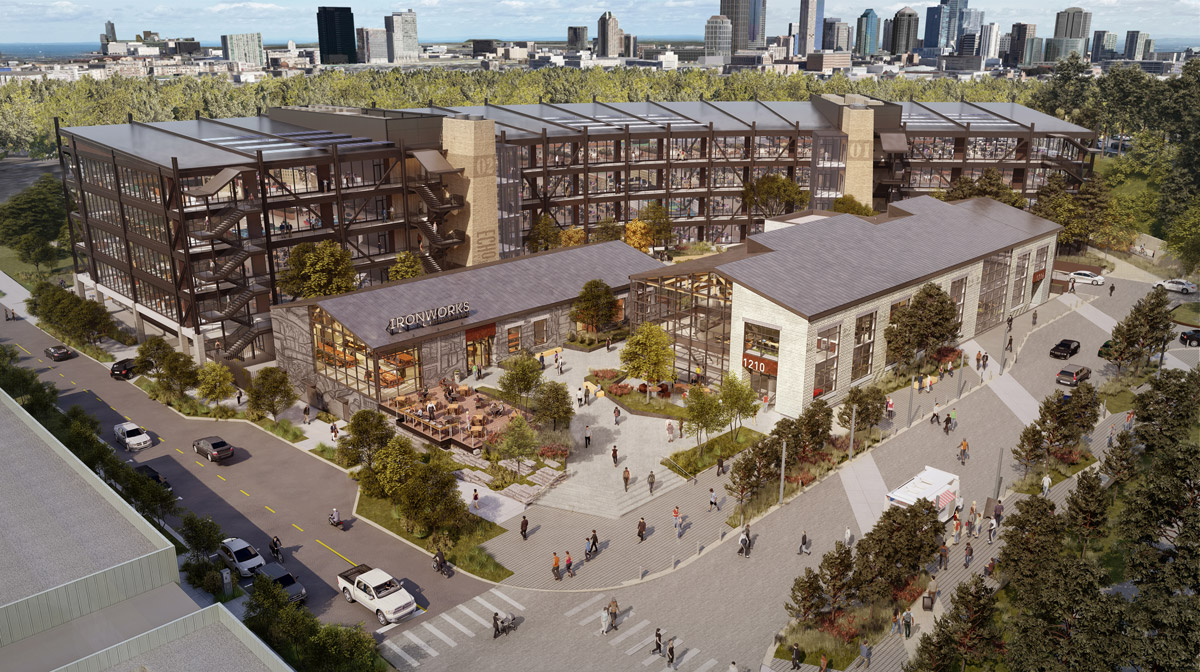 Tony Bartlett says Echo Street West won't bring a carbon-copy of the pricey apartments, million-dollar townhomes, and chain brands that have snuggled up to the Atlanta BeltLine's Eastside Trail in recent years.
Bartlett, Lincoln Property Company executive vice president, foresees the 19-acre mixed-use project becoming the largest investment in the English Avenue neighborhood in generations, an eventual hub of offices, retail, multifamily homes, and hotel rooms with enough space—2.4 million square feet—to eclipse Ponce City Market. That could take five to 10 years to materialize across several phases, he estimates, depending on market conditions. But the near-term objective is more a quick injection of economic activity and greenspace, all straddling a new BeltLine trail segment.
English Avenue "has historically been disconnected from Midtown and other Atlanta neighborhoods, creating a divide in opportunity, resources, and growth for the neighborhood," Bartlett wrote via email this week. "Echo Street West will spur investment in the area, and we're dedicated to collaborating with the local community to do this in a way that will benefit both existing residents and future generations."
But first, the dirty work.
Lincoln, a nearly 9,000-person company with a commercial footprint in 450 U.S. cities, announced this week that preliminary work has begun on Echo Street West, following the project's unveiling just before the pandemic lockdown. The site's a few blocks west of Georgia Tech, bordering blocks that have long grappled with blight and crime—and more recent gentrification concerns. With designs meant to echo the area's industrial and railroad past, various Echo Street buildings are planned to rise over a highly visible intersection bordered by Northside Drive (to the east), Donald Lee Hollowell Parkway (south), Jefferson Street (north), and James P. Brawley Drive NW (west), with local rapper T.I.'s Trap Music Museum just down the street. Atlanta development watchers may recall the site was previously owned by homebuilder Brock Built, whose plans for some 700 apartments, 40 townhomes, and a lot more were met with pushback from neighbors, who lambasted so much density as inappropriate.
Lincoln appears to be taking a measured approach. The $17-million first step that's underway now will be mainly infrastructural, replacing outdated utilities, improving stormwater retention, paving miles of roads, meeting environmental standards, and installing what developers described as a "fiber backbone." The site, for now, is home to a few low-rise buildings. "We're preserving the most salvageable structures," says Bartlett, "and we're drawing inspiration from their history to inform their adaptive-reuse."
All that will set the stage for years of vertical construction—and a place Lincoln officials say people will want to visit within a few months. By next spring, expect one building to be converted into an artist and makers colony, and another an event venue with live music capabilities. Several buildings along Donald Lee Hollowell Parkway will be redone as an open-air bar with dining from local chefs, outdoor games, and gathering areas. More than 30 percent of the initial phase will be reserved for greenspaces such as passive gathering spots and communities gardens.
"We plan to highlight the character and culture of the surrounding communities by working with local artists, makers, chefs, and entrepreneurs to activate the spaces," notes Bartlett. "Expansive outdoor community spaces were already a key part of our plan prior to the pandemic, and looking ahead, we understand the value and need for these open-air environments more than ever."
Lincoln is seeking construction financing now for all vertical pieces of the first phase, as design and permitting work moves ahead on several fronts. Beyond what's planned to open in the spring, the initial phase calls for 285,000 square feet of offices, 30,000 square feet of retail, and 300 apartments—with 20 percent of those qualifying as "affordable" for households earning 80 percent of the area median income, Bartlett says.
Officials with Lincoln and DPR Construction, the general contractor, hope to source Westside talent via forthcoming job fairs and to engage minority and veteran-owned businesses by partnering with nonprofit Westside Works. Bartlett says the project's expected to generate 600 temporary construction jobs, with more than 2,220 permanent employees working at the district when complete, according to an economic impact analysis conducted by an outside advisory group.
Along with Mercedes-Benz Stadium, State Farm Arena, and the closely watched, 70-acre Quarry Yards site recently bought by Microsoft, Lincoln officials cite unbeatable proximity to the Westside Connector Trail—it cuts right through the property—as a selling point.
That spur trail on the former CSX railroad "Kudzu Line," a team effort by the PATH Foundation and BeltLine, will span about three miles between Centennial Olympic Park and Marietta Boulevard at Huff Road. The trail and first redone section of nearby Westside Park at Bellwood Quarry—planned to eventually be Atlanta's largest greenspace—are both expected to open before year's end.