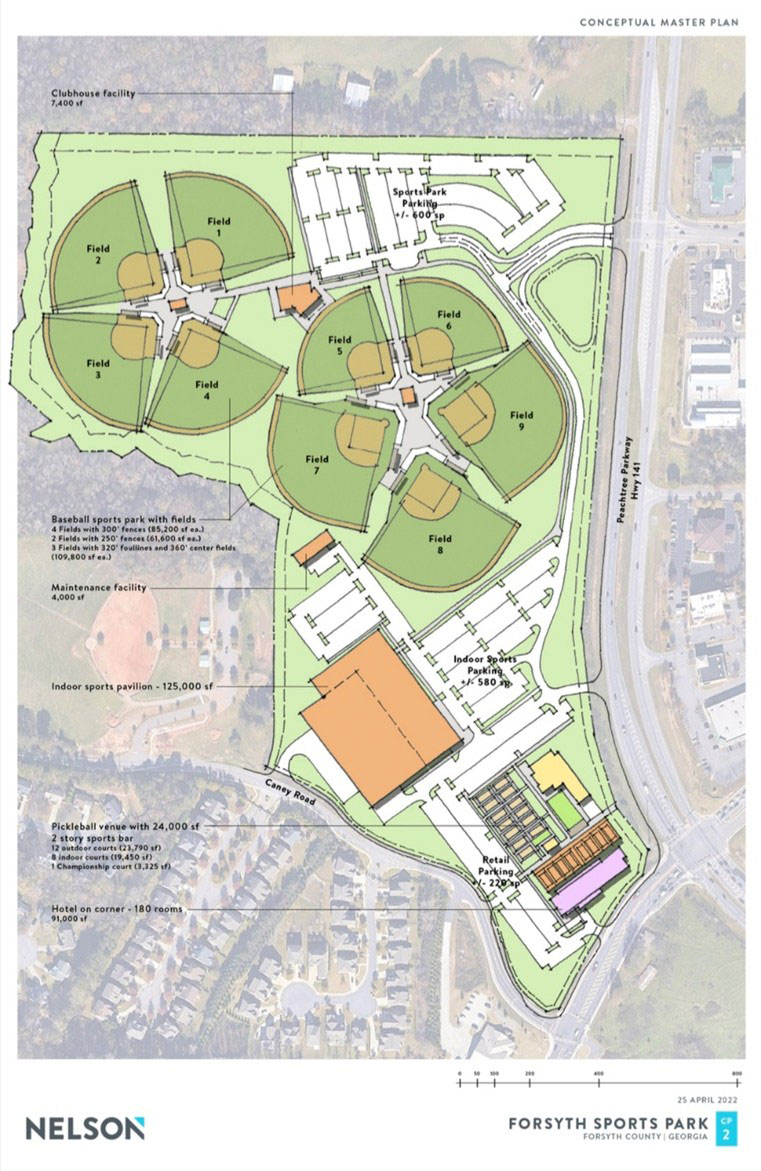 Raised outside of Augusta, Todd Greene racked up a memorable 12-year career as a Major League Baseball catcher, playing for the Angels, Blue Jays, Rockies, Rangers, Giants, and Yankees. (Remember President George W. Bush's emotional, ceremonial World Series first pitch at Yankee Stadium in the wake of 9/11? Greene caught that ball.) After hanging up the cleats in 2007 and coaching in the majors for a while, Greene realized he missed his kids too much and headed back for a quieter life in Johns Creek, his home of 22 years. He founded a baseball academy but itched for more. It wasn't long before the dream of creating a sporting complex like no other in the northern suburbs—if not the Southeastern U.S.—began formulating in his head.
Greene, still employed by the Arizona Diamondbacks as a special assistant to the team's general manager, is cofounder of a recently announced concept called Winners Circle Park. It's expected to break ground in Forsyth County by late summer, "as long as all the stars align," Greene says. A fusion of dining and basically every sport outside of auto racing and boxing, the project is expected to cost upwards of $150 million. Big-name backers from the sports world include Braves legend Tom Glavine and Brooklyn Nets point guard Seth Curry, along with entertainer DJ Skee—and smaller partners that Greene and his cofounder, Rick Nielsen, aren't at liberty to name. They're hopeful Winners Circle Park's unique combination of attractions beyond ballfields and basketball courts makes it a national destination. Leaders of Georgia's fastest growing county, meanwhile, foresee the complex in South Forsyth—or "SoFo," for short—being further proof there's more to the county than quiet subdivisions and the scenic shores of Lake Lanier.
"The right mix of young families focused on the well-being and development of their children, as well as a healthy and active adult population, makes this a great location for a sports facility that caters to young and old alike," Alfred John, Forsyth County Commission chairman, wrote in an email. "There's also the right amount of population and discretionary wealth in the area."
John had been quietly working for months with the county's Chamber of Commerce to help make the initiative, code-named "Project Homerun," a reality. The site in question, as he described for metro Atlantans not familiar with the area, is set amid "leafy suburbs" 20 miles north of the Interstate 285 Perimeter, one Ga. Highway 400 exit north of the growing Halcyon mixed-use district. Winners Circle Park will consume 62 acres of raw land (save for one dilapidated house) where Peachtree Parkway meets Brookwood Road, or what Greene calls South Forsyth's "Main and Main." Next door is Caney Creek Preserve, a woodsy recreation area that project leaders are "taking extraordinary care to protect," says John, noting: "The developers have already had multiple meetings with the director of parks and rec and his staff."
As designed by Lamar Wakefield at the Nelson architecture firm, the Winners Circle Park concept calls for nine baseball (or softball) fields and a 120,000-square-foot indoor sports academy. Another section will oblige the pickleball craze sweeping the nation, installing 21 courts, including a championship court for important matches. Two restaurant buildings are planned, including a two-story "eatertainment" bar near a social greenspace and a 12,000-square-foot dining space, both led by Richard Tang, the restaurateur behind intown hotspots Char Korean Bar & Grill in Inman Park and Girl Diver in Reynoldstown. What exactly Tang will bring to SoFo is TBD, Nielsen says.
The facilities will also be designed to handle cheerleading, e-gaming, volleyball, and other sports, with doctors on staff to help emphasize nutrition, recovery, and physical therapy. The cofounders say the involvement of another partner, Sports Academy's Chad Faulkner (former head of Kobe Bryant's Mamba Sports Academy), will immediately legitimize the complex and help set it apart. They expect more than 750,000 annual visitors, a local economic jolt of many millions of dollars, and 500 full-time jobs created onsite. It could open, they say, as early as next year.
"This will be one of the most unique facilities throughout the country, just the variety of things we're going to have, the opportunities we're going to have for all athletes to train," says Greene.
One potential competitor that leaps to mind is the Lakepoint Sporting Complex, a comparatively massive spread of 13,000 acres near Cartersville that filed for bankruptcy in 2018, though its leadership has played that filing down. Nielsen said the Forsyth venture will differ from Lakepoint by focusing on players of all ages—as opposed to mainly high school kids—in addition to bringing in softball and e-sports enthusiasts.
As of now, Winners Circle Park is all privately funded, although, "we're going through the motions, and listening to see what incentives [county leaders are] willing to part with, of course," says Nielsen. "There's a lot from the state level and the county level for a large tourism site like ours."
John, the county commission head, foresees the sports complex adding to county attractions as varied as Halcyon's shopping, Sawnee Mountain hikes, bike rides on the Big Creek Greenway, and pontooning around Lanier. Despite Forsyth's growth—the most recent Census estimates show a population of about 260,000, up nearly 49 percent from 2010—hospitality remains an attribute, as John sees it. "We're a very welcoming and safe community," he says.
An added perk for Greene, the MLB vet, is that while three of his four kids have grown up and fled the nest, his 13-year-old son should be a frequent Winners Circle Park patron.
"He'll be able to benefit and train," says Greene, "with all three sports he plays."