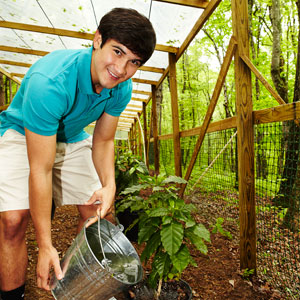 Photograph by Neda Abghari
Like any farmer, Kevin Candelario Arita keeps an anxious eye on the weather. "In Georgia, it's just so weird and unpredictable," he says, fingering the waxy leaf of a coffee plant. Arita, a Norcross High School graduate, and his former teacher, Dick Stafford, are cultivating a crop they hope will follow wine and olives in perking up Georgia agribusiness. In August 2011, they began planting Central American seeds for Arabica coffee plants in Stafford's Habersham County backyard, with the goal of harvesting 200 plants next year for an enterprise dubbed Yonah Coffee.
"So far, so good, aside from a mild fungal infection a few had over the winter," Arita says, noting that the elevation of this stretch of the Blue Ridge—1,630 feet—is considered optimal for flavorful beans. Yonah, Cherokee for "bear," is the name of the mountain in view of this microplantation in northeast Georgia, where the greenhouse radio plays salsa music around the clock, as if to remind the plants—and their caretaker—of home.
Arita, nineteen, spent his earliest years in the Copán area of Honduras, where his ancestors grew coffee for 150 years. When he was four and living with his grandparents, Hurricane Mitch disrupted the family's livelihood. At nine, Arita was sent with strangers in search of his mother in the U.S., which he entered by crossing the Rio Grande. He ended up in a Texas detention center before eventually finding a permanent home with a family in Norcross and reconnecting with his mother.
Yonah Coffee started as a way for Arita to acquire legal status. "Dr. Stafford wanted to employ me so I could get my papers, and I naturally thought of coffee," he says. Arita, who belongs to the National Honor Society, has since acquired a work authorization permit, and plans to use the profits to pay for college. "One of my dreams is to develop this business and then return to Honduras to offer higher wages and strengthen education," he says, noting many children drop out to labor, ironically, in the coffee industry.
In the U.S. only Hawaii is successful in commercial coffee farming. Habersham County extension agent Steven Patrick was guardedly optimistic about Yonah's progress: "Greenhouse cultivation is time-consuming and labor-intensive. There are a lot of obstacles, but they just might do it." Arita shrugs. "They said no one could make wine here, either," he says.
This article originally appeared in our July 2013 issue.