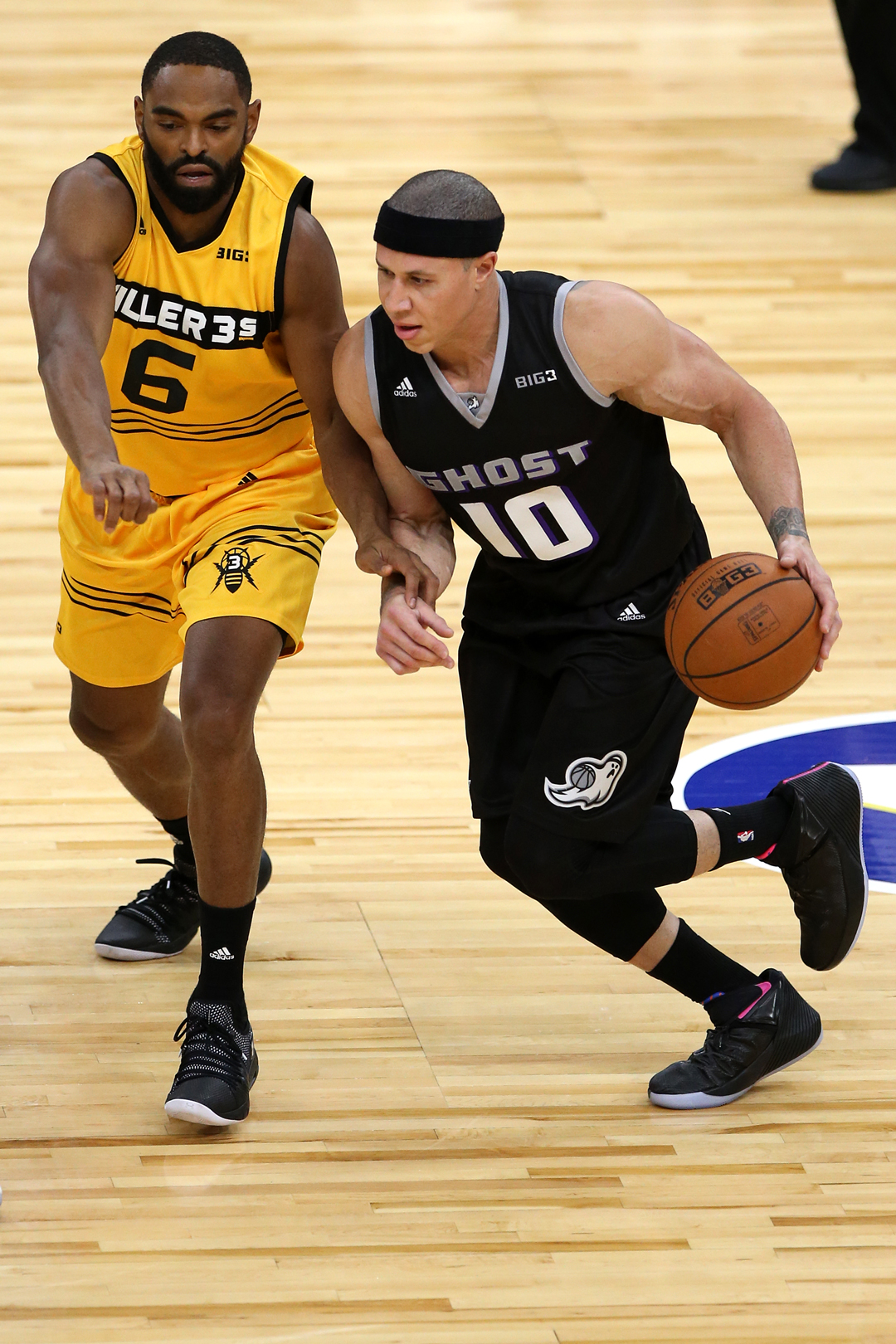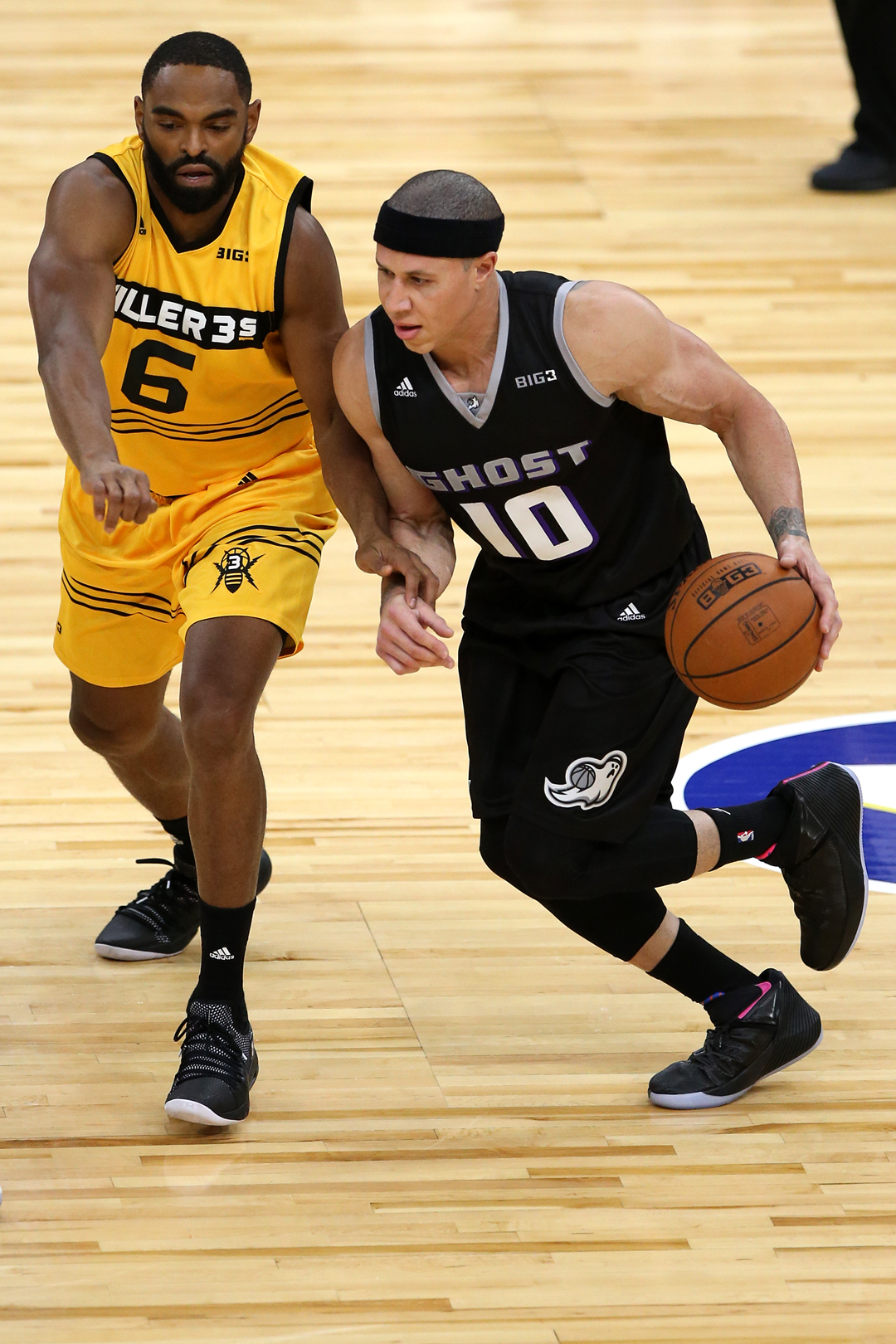 Rapper Ice Cube wanted a way to bring retired NBA veterans back onto a competitive stage in front of fans. So last year, he founded the BIG3, a professional 3-on-3 league that's starting to pick up notoriety among basketball fans. Now in its second season, BIG3 is coming to Atlanta for the first time on Friday at Infinite Energy Center.
But don't expect these players to take it easy now that they're off the NBA court.
"It's a lot more physical," says Mike Bibby of the Ghost Ballers, a 14 year NBA veteran who played four seasons as starting point guard with the Atlanta Hawks. "That's what Ice Cube and them want to do—bring it back to old school basketball, play physical, hand check, and have a little bit rougher play than the NBA today."
Every player in the league is a recently retired NBA vet, with many big names filling the eight teams' rosters: Chauncey Billups, Jermaine O'Neal, Amar'e Stoudemire, Nate Robinson, Corey Maggette, Ricky Davis, Carlos Boozer, Baron Davis, and Rashard Lewis, to name a few. Even coaching staffs are star-studded with former WNBA coach Nancy Lieberman and Hall of Famer Julius "Dr. J" Erving.
BIG3 keeps things interesting with different rules that lend to faster, more intense games. With professional basketball's first four-point shot, the 3-on-3 games are played up to 50 points where a team must win by two. Although there is no game clock, there is a 14-second shot clock to ensure there are no slow possessions. And fouls, although they exist, aren't going to be called quite as easily as the NBA.
NO SOFTNESS ALLOWED 💪🏽💪🏽💪🏽 pic.twitter.com/OjTv3pDzFv

— BIG3 (@thebig3) July 28, 2018
"It's backyard basketball," says Josh Childress of the Ball Hogs, an eight-year NBA vet who played four seasons with the Hawks. "It's the exact opposite [of the NBA]. It's about as physical as it gets. We take pride in allowing the players to play—sometimes almost too much. We're getting after it."
Although many players are in their late 30s or early 40s, the competitive drive hasn't waned in the slightest—with ESPN highlight-worthy blocks, dunks, and buzzer-beaters every game.
"It's competitive basketball," Bibby says. "We still have that drive in us—people don't like to lose. We go out there and sometimes we act how we would in a regular game. It's the same thing to us and we take it very seriously."
Full House @tdgarden 🍀🍀🍀 #BIG3Basketball #BIG3Boston pic.twitter.com/OoMCUCUaBm

— BIG3 (@thebig3) August 4, 2018
With the league starting days after the NBA crowns its champions in the finals and finishing just before the NBA preseason starts, it gives fans a way to watch professional basketball year-round. And fans are buying into it: only in its second season, the league has been filling stadiums across the country and recently landed a three-year Adidas sponsorship.
Friday's Atlanta match-ups mark the final day of the BIG3 regular season before the top four teams face in the playoffs.
Where to watch
Killer 3s and 3's Company will face off at 7 p.m. on Facebook Live. The night's other three matchups will be live on FS1 starting 8 p.m.
To watch the live action at Infinite Energy Center, you can buy tickets, starting at $17, here.