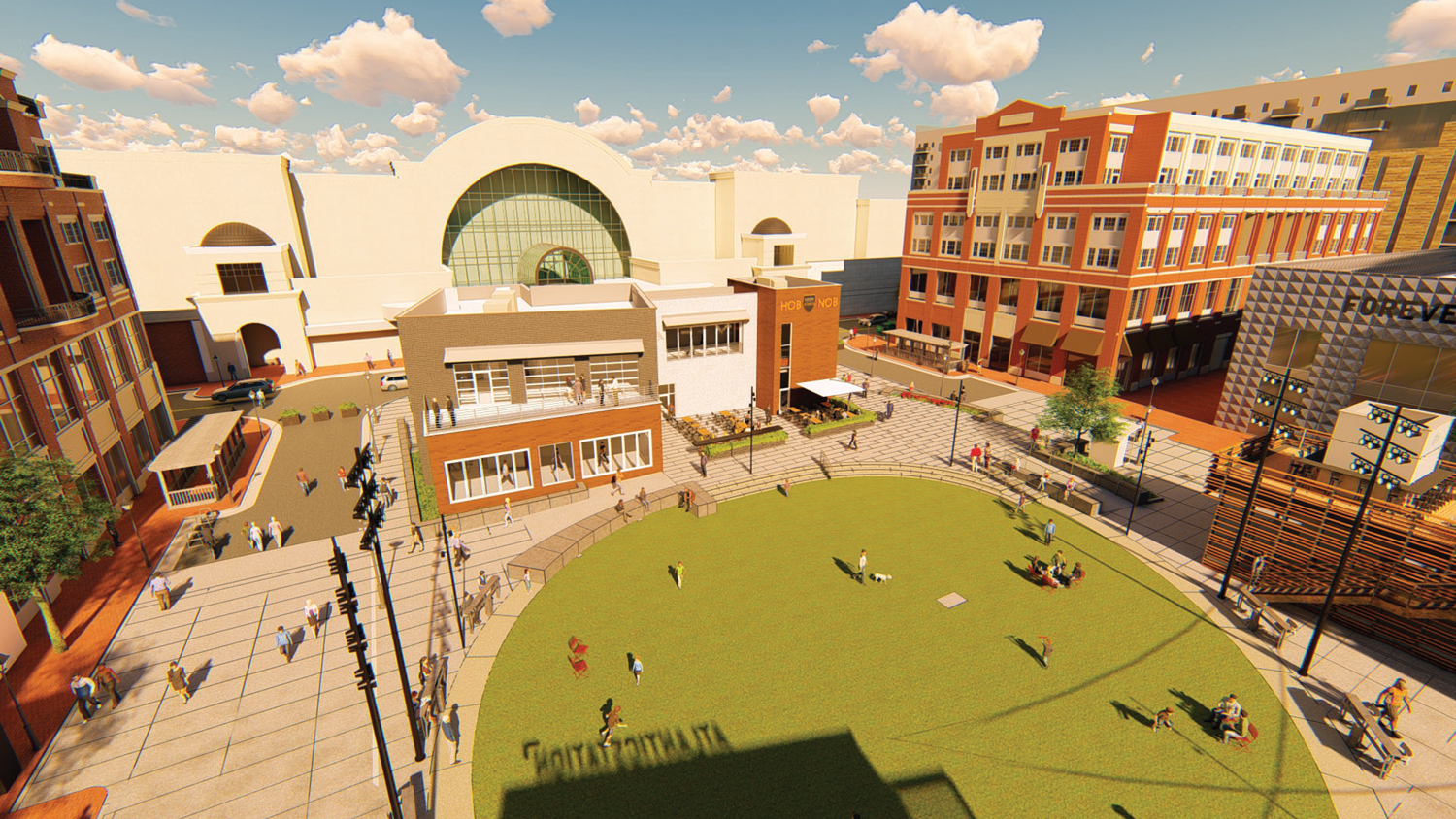 The industrial workers of yesteryear would never be able to recognize the site where they once milled metal for the old Atlantic Steel Company. In fact, even a century after the Atlantic Steel mill first opened, many of the early patrons of what's now known as Atlantic Station might have trouble distinguishing the mixed-use mini-city of the early- and mid-2000s from the one we have today.
And Atlantic Station is far from done evolving. So says Nick Garzia, director of retail leasing for the Southeast for Hines, the real estate investment firm that purchased Atlantic Station's retail core in 2015.
Construction activity abounds at the Midtown development, promising a reimagined landscape that, developers hope, will better cater to its residents and visitors alike. The centerpiece is an overhaul of Atlantic Station's Central Park, which is now wrapped in construction fencing while crews replace former restaurant buildings with new ones and expand the community's focal green space nearly two-fold.
Central Park's successor, which is to be renamed "Atlantic Green," is poised to open in April, Garzia says, noting that the updated design is expected to make the park more "human-scaled" or "demassified." The two restaurant buildings that originally flanked the park just felt imposing, he says. "When you would drive in off of 17th Street up District Avenue, you'd be looking at the backside of Rosa Mexicano. That's not really the welcome mat you want to offer to the world."
Essentially, once construction wraps, expect a space that breathes easier, where folks can see practically from the busy 17th Street corridor to the Regal Cinemas. The greenspace is also expected to feature three new food options, including a HOBNOB Neighborhood Tavern and two other to-be-announced businesses. "They're well-known local names here in Atlanta," Garzia teases.
Atlantic Green is also going to have a new, $1 million-plus water fountain that Garzia said will be one of "the signature elements" of the park. "It can steam; it can bubble; it can shoot jets of water. It's really cool." Plus, he says, it can be turned off and topped with a stage for concerts. A new LED video board is projected to adorn the back of one of the new restaurant buildings, giving Atlantic Station new advertising space and a place to hold movie screenings or watch parties for sporting events.
Also on the entertainment front, the Regal Cinemas is undergoing a potentially $13 million renovation that aims to make the theater a bit more of a pinky-up-type establishment. Expect three of its auditoriums to be converted to VIP cinemas—think call-ahead seating, big lounge chairs, the works—and the ticket booth to be upgraded to a high-end concierge. "It's really designed to get people away from Netflix, and get them out and start socializing with human beings again," says Garzia.
Another auditorium will offer what's called a 4DX experience: Imagine seats that shake during car crash scenes, artificial wind during an on-screen hurricane, and the smell of roses pumped into the theater as a character strolls into a garden.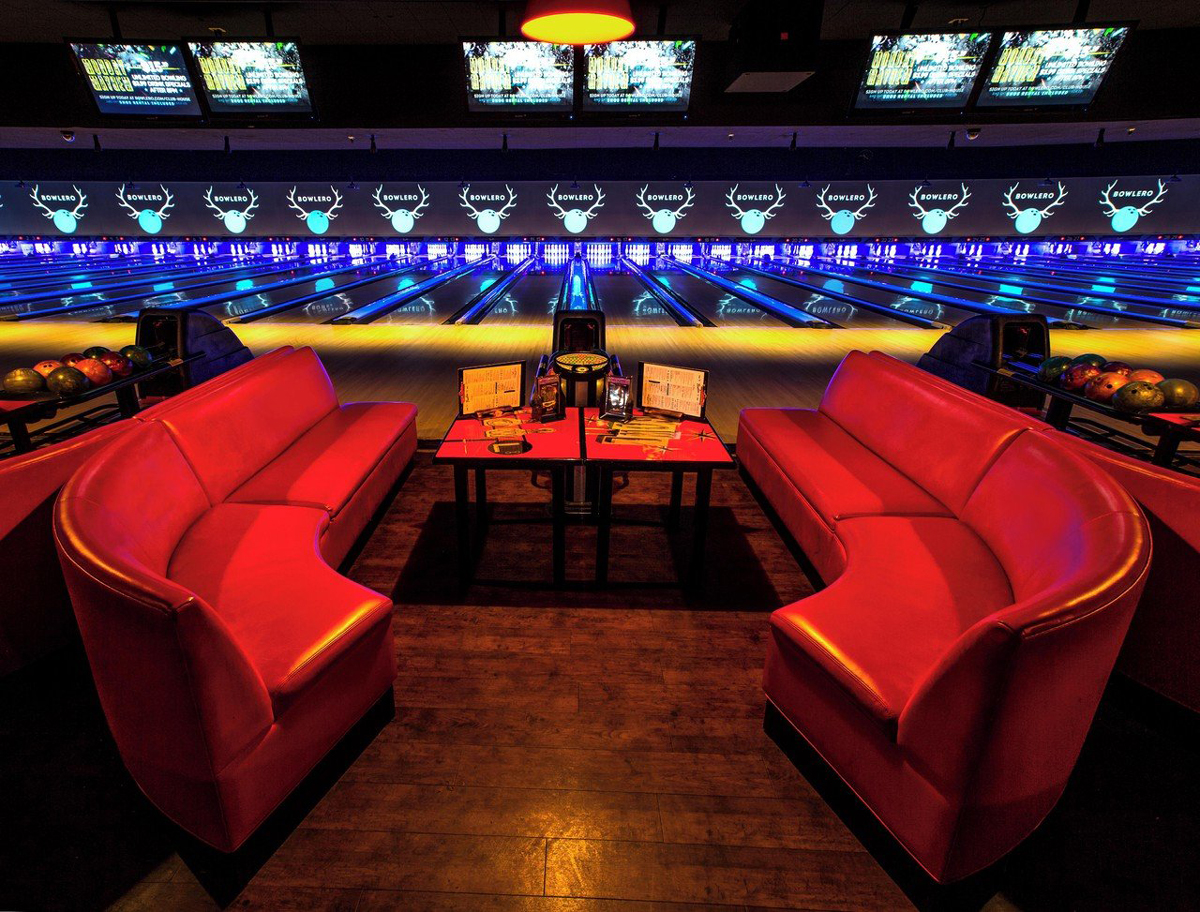 Near the cinema, at the corner of 19th and Market streets, an AMF bowling and gastropub concept called Bowlero is under construction, primed for a late spring debut.
There's also a smattering of retail and restaurant news coming out of Atlantic Station—a two-floor, 21,000-square-foot Forever 21 opened in December, for example—but the most visible changes lately have been the massive office developments and hotel construction.
The 230,000-square-foot T3 West Midtown office stack—one of the first around to utilize timber-frame construction methods—finished construction recently, and Hines officials say "leasing activity has remained strong" since they inked their first, 7,000-square-foot agreement with Interior Architects. Even Facebook has inquired at T3, although Hines reps did not address questions about the social media giant's prospects. "We expect several big tenants to be announced at T3 soon," officials said in an emailed statement.
Then there's the Atlantic Yards office complex, which broke ground last April and will overlook the Downtown Connector from 17th Street. With the help of construction partners New South Construction, Hines hopes to deliver the 500,000-square-foot development later this year, boasting green-topped rooftop decks, balconies and more. The two-tower project is set to top out this spring.
And, as if all that wasn't enough growth for Atlantic Station, the development is on track to boost its offering of hotel rooms from 120 to more than 500 over the next couple years. On the south side of 17th Street, an Embassy Suites is coming out of the ground, shooting for an early 2021 opening. And on 17th ½ Street, a dual-branded hotel—part Springhill Suites by Marriott, part Hilton Tapestry—set to kick off construction in April or May, and is looking at a late 2021 debut.
Last, but not least, at the corner of 19th and Market streets, where Atlantic Station has traditionally set up an ice rink, multifamily developer AMLI is planning to build a 371-unit rental building that promises 25,000 square feet of retail space fronting Market Street. It's projected to start construction this spring and be tenant-ready by late 2021.
Asked if Atlantic Station is almost done growing, Garzia says, "Not even close." There are still acres of undeveloped land at two parcels on the property. "Per the existing zoning, we can build approximately 2 million square feet on each of those sites."