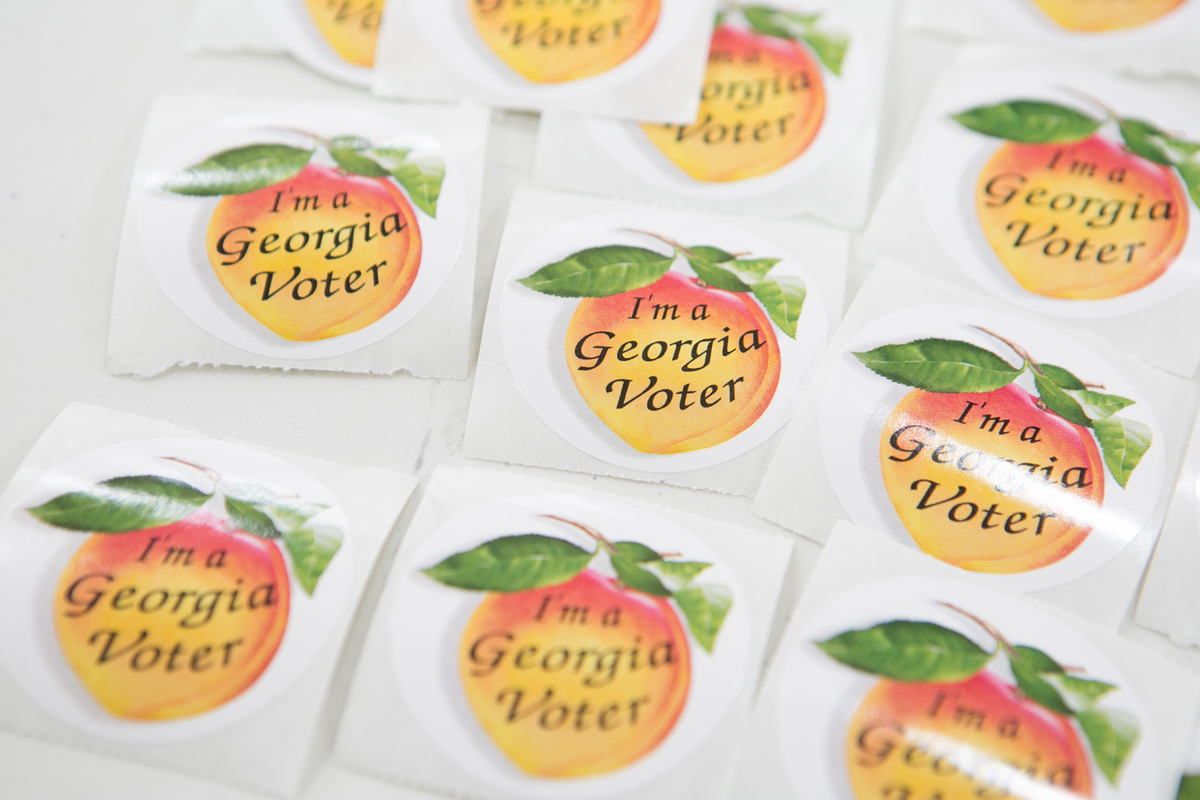 Nearly 7 million Georgia voters should have received applications for absentee ballots via snail mail recently—a move by the secretary of state's office that was prompted by the coronavirus pandemic that's forced us indoors. In an additional effort to reduce the number of people congregating at the polls come Election Day, officials also bumped the date of Georgia's upcoming primary vote from May 19 to June 9.
The situation is certainly unique and unprecedented, but casting an absentee ballot—or voting by mail—has long been a method utilized by people who might have recently moved or who work far from their place of residence, such as members of the military overseas, along with those who have disabilities and the elderly. People also vote by absentee ballot to avoid the lines at polling places—lines which, this election season, could stretch on longer than usual, due to public health officials' guidelines regarding social distancing.
In theory, voting by mail is simple. So how does it work? We break it down below.
I received my absentee ballot application in the mail. Now what?
Just like with any government paperwork, you need to tell them who you are and where you live. Then, select what type of ballot you'd like to receive—Republican, Democrat, or non-partisan, which means candidates that are part of a political party won't appear.
Next, you need to send the application to your respective county's elections division. That can be accomplished by mail (you will need a stamp) or you can scan or take a picture of your application and email it to your local elections office (elections.voterregistration@fultoncountyga.gov for Fulton County voters). Assuming your registration is up-to-date, your absentee ballot should be headed your way soon after.
My absentee ballot is here, but the postage isn't paid. Do I have to buy a stamp to vote?
Although the ballot appears to demand a stamp—an activist group has filed a lawsuit saying the cost of postage is an unconstitutional poll tax—postal service workers should send your ballot sans charge. But including a stamp won't hurt. You can also drop off ballots at your county's election office, and some counties may set up drop boxes for ballots. (Gwinnett County, for example, has approved drop boxes.) Check with your county election office for more information.
Do I have to use an absentee ballot to vote?
No. If you're comfortable braving the lines at your respective polling station, you're still welcome to vote in person on June 9. There will also be three weeks of in-person early voting, beginning on May 18. Remember: To be eligible to vote in the June 9 election, you must be registered to vote by May 11. Here's how to do that.
What if I voted early for the presidential primary in March? Can I still cast an absentee ballot or head to the polls on June 9 for the races that weren't on that ballot?
If you voted in the presidential primary early, you can still vote for the other races in the upcoming election, Richard Barron, Fulton County's director of registration and elections told Atlanta magazine. "They will receive a ballot without [presidential candidates] on it, and their earlier vote will be tabulated in June," he said.
What are the big-ticket items on the primary ballot?
Aside from the presidential race, there are a handful of major contests that could determine who leads state and local governments for years to come. In Fulton County, for instance, you can vote on who's to be sheriff, tax commissioner, and superior court judge, among other posts. The June ballot will also offer a chance to vote on who gets—or keeps—the U.S. Senate seat held by Republican David Perdue or the 5th Congressional District seat held by John Lewis, among others.