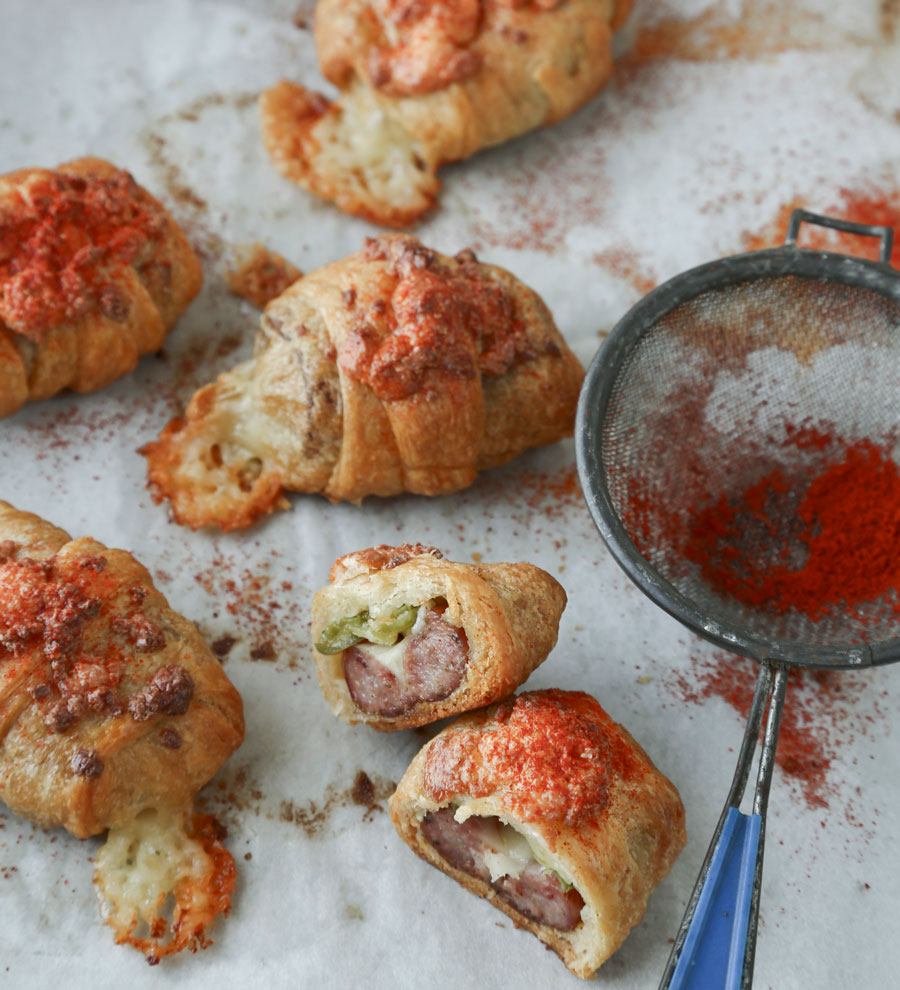 "The chonchos are a fun spin on something everyone loves," says chef Kevin Gillespie, who owns Gunshow and Revival. "I make them every Saturday during college football season, and they are my most requested party food among my friends."
This take on pigs in a blanket ("choncho" means "chubby" in Spanish, Gillespie says) has a humble base—Pillsbury crescent roll dough. "You know it's classy when you start with that," Gillespie jokes. Then, "Just slit some smoked sausages, stuff them with Jack cheese and jalapenos, and then wrap them in the dough. Brush with garlic butter and bake the little piggies. A final sprinkling of cheese and smoked paprika is the gourmet touch."
"During times like this, it's nice to have a little fun when you can," Gillespie says.
Ingredients
3 tbsp butter
1 tsp chopped garlic, about 1 small clove
8 oz spicy smoked Cajun sausage or kielbasa, casing removed
4 oz Monterey Jack cheese, cut into ¼ by 1 ½-inch slices
1 long jalapeno pepper, sliced into thin rings
1 (8-oz) tube refrigerated crescent roll dough
1/3 cup crumbled cotija cheese or other mild cheese
1/4 tsp smoked paprika
Instructions
Preheat the oven to 350°F. Line a baking sheet with parchment paper. In a small pan over medium heat, melt the butter and stir in the garlic.
Cut the sausage into 2-inch lengths. Split each piece of sausage lengthwise down the middle, stopping just before you cut all the way through. Hold the sausage open and stuff with 1 slice of Monterey Jack and 2 slices of jalapeno.
Remove the crescent rolls from the tube and separate into triangles. Place 1 piece of sausage lengthwise on the wide end of each piece of dough. Fold the ends toward the center, burrito style, and roll to completely cover the sausage. Pinch the edges of the dough closed. Place on the baking sheet, brush each roll with the garlic butter, and sprinkle with the cotija. You'll need to press the cheese into the dough using your fingers.
Bake for 12 to 15 minutes, until golden brown. Remove from the oven, sprinkle with the smoked paprika, and serve warm.
Notes from Chef Gillespie

Use Conecuh sausage if you can. It's a high-quality pork sausage sold all over the United States. Or use any good-quality, coarsely ground smoked pork sausage the size of a fat hot dog.
These snacks are perfect for eating during a football game or at a cookout. You can prep them ahead, refrigerate them, and cook them just before serving. If you have leftovers, heat them on a baking sheet in a 400°F oven. But don't wrap or cover them while heating or they will get soggy.
For bite-size portions, cut the crescent roll triangles in half. Split the 2-inch lengths of sausage completely in half lengthwise, and then split the halves just down to the skin so they'll open up. Stuff with a smaller piece of Monterey Jack, some jalapenos, wrap, and bake as directed.