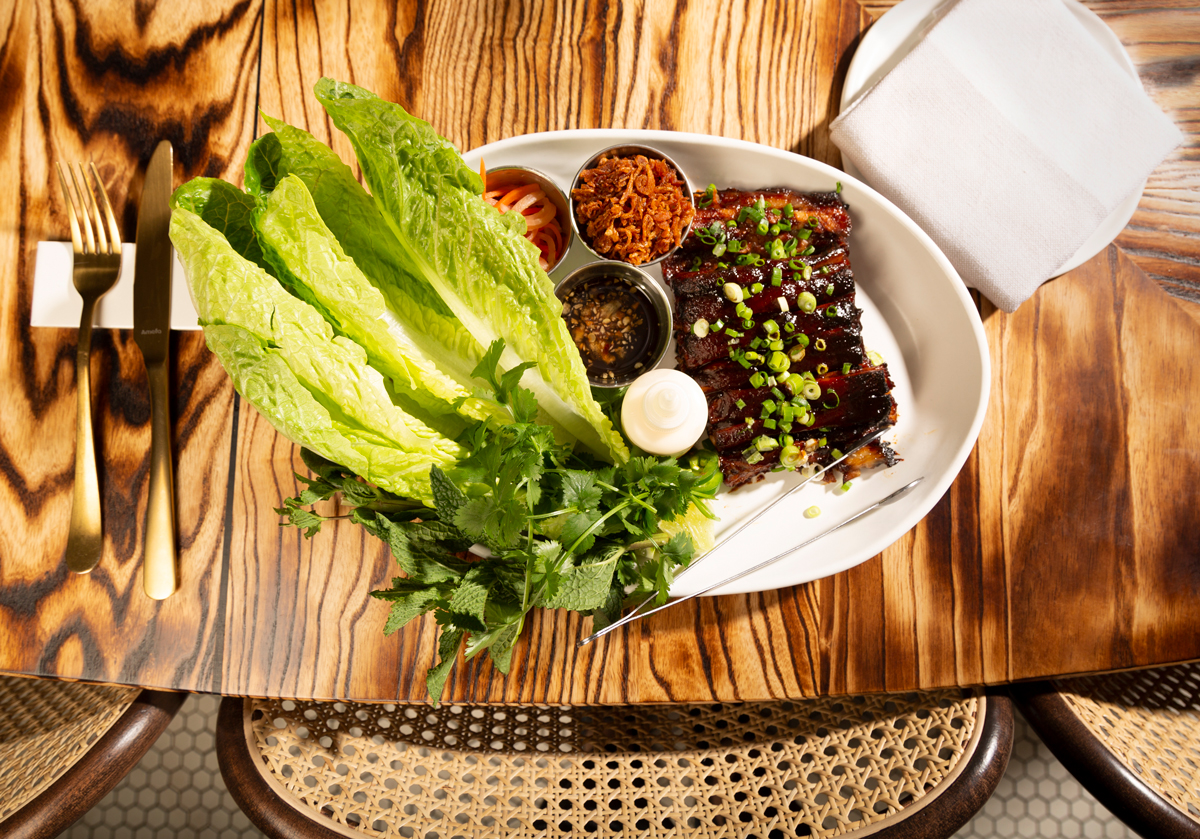 The name of Chef Joey Ward's new restaurant, two doors down from the Plaza Theatre, may lead you to expect something swankier and more traditional than what you'll actually find. Southern Belle, more serious than a bar but less formal than a typical restaurant, is a fun, cocktail-forward hangout with smart but playful small plates. (Ward's other restaurant, Georgia Boy—the prix-fixe, chef-table/speakeasy affair in the back of Southern Belle—is another beast; more about that here.) The names of these sibling (er, spousal?) restaurants might seem ironic, but they're not. They allude to the identities of Ward, who was born in suburban Atlanta, and his wife, a former Miss Georgia and now attorney. Being in their early 30s, the Wards have only experienced the South as a modernizing region with a diverse population, a place where grits, fried chicken, and biscuits are no longer center stage—and that shows in Southern Belle's menu.
Originally planned as a bar—until Emily Ward informed her husband that people would be more interested in eating his food than drinking his drinks—Southern Belle is ideally located to attract the next-generation clientele flocking to Ponce de Leon Avenue. Speaking of next-generation, initiatives such as running one of the first zero-food-waste kitchens in Atlanta are integral to the restaurant's ethos.
There's a connection between Southern Belle and Georgia Boy (some of the same prep and line cooks rotate between the two, keeping the energy fresh), but the fussiness of the latter's 10- to 16-course menu feels like too much hoopla and arty technical virtuosity. I'm more attracted to the joyous informality of the more relaxed anteroom restaurant.
THE TEAM
Ward, an only child who started watching cooking shows because they came on just after Saturday morning cartoons, only ever wanted to be a chef. After a stint cooking at the Cherokee Town and Country Club, he attended the Culinary Institute of America and honed his skills at places as varied as the St. Regis and Woodfire Grill, where he became Kevin Gillespie's sous-chef. He followed his then boss to the bold, innovative Gunshow, where many folks, myself included, considered him the best member of Gillespie's unusual, egalitarian team of chefs.
THE FOOD
Start your meal with the marvelous Crispy Chicharrones from the Farm (fried pork and chicken skins, thinly sliced beef tendons, and an amalgam of pureed vegetable odds and ends that Ward turns into chips, bound with tapioca). The various "skins" are served in a cute glass "sack" along with saltshakers filled with Doritos-inspired spices and are a fitting introduction to the chef's whimsy. The blue crab Beau Monde, a gorgeous dip that comes with grilled bread and housemade benne crackers, is a proper ode to fresh seafood. The same can be said of the a la minute ceviche, inspired by versions Ward tried in Lima and crafted from line-caught flounder, microdiced sweet potato, avocado pearls, fermented chilies, and a coconut and lime leche de tigre poured tableside, topped with an almost weightless sweet-potato lattice.
A memorably fragrant, warm pumpkin bread with whipped feta and pumpkin seed-and-skin agrodolce is easily the most unusual "bread and cheese" presentation I can think of. That and many of the other intriguing small plates—spicy Sichuan sweet potatoes with tofu mayo, mellow chestnut gnocchi with shaved green apples, earthy sunchoke risotto with local mushrooms—will rotate off the menu with the seasons, but I have high hopes for whatever plant-based dishes succeed them.
In contrast, a classic French pâté en croute with dried cherry mostarda and truffled apple butter is clunky in this informal setting. More fitting is a linear arrangement of short ribs braised in Dr. Pepper and interspersed with layers of winter squash. Visually stunning and with a rich, caramelized taste of fermented black beans, it comes close to being an entree—but the only truly full-sized dish on the menu is the Vietnamese Grilled Pork Belly for Two, which comes with lettuce leaves, herbs, jalapeños, fried shallots, and a squeeze bottle of Kewpie mayo to assemble your own wraps.
There's only one dessert, and it's a masterpiece of ingenuity. The waiter will roll up to your table a Delta beverage cart with a hand-cranked KitchenAid mixer. For this far-from-stodgy sticky toffee pudding, you get to watch a show involving crushed Biscoff cookies, East Pole coffee, and bourbon sauce whisked by hand with liquid nitrogen. The result is a magically crumbly substance topped with ice cream and with a flavor reminiscent of the beloved cookie available on Delta flights.
THE DRINKS
Bartenders extraordinaire Greg Best, Paul Calvert, and Evan Millman from Ticonderoga Club have created for Southern Belle a cocktail menu as engaging and lighthearted as Ward's food. A shimmery tequila Negroni called Now Starring occupies one end of the potency spectrum and the crazy seductive, zero-proof Smoke + a Pancake—served under a glass cloche filled with smoke—is at the other. Because they work behind a service bar instead of having to hold conversations with guests, the bar staff concentrates fiercely on their art.
THE VIBE
The Art Deco storefront, formerly a flower shop, is resplendent with authentic details (check out the penny-tile floor and the pressed-tin ceiling), and madcap Southern art hangs on exposed brick and deep maroon walls with robin's egg baseboards. It feels like a modern yet vintage salon. The service bar sports a soffit on which "Bless Your Heart" is spelled in neon against a background of luminous magnolia wallpaper. The lighting is lovely, with signature touches such as vanity-looking mirrors with bulbs screwed directly in, and there are enough rugs and velvet-upholstered pieces to muffle the usual din of a busy restaurant. A hidden patio boasting a communal picnic table, a Big Green Egg, and live music is the centerpiece of what the restaurant calls "Sunday Funday." It can be a grand time, especially when the weather cooperates.
THE VERDICT
This effortlessly fun cocktail salon and small-plates restaurant is a worthy destination for a few drinks and a meal of creative grazing—especially if you're in search of a modern, youthful vision of the South.
Rating
★ ★ ★ ★
Very Good
1043 Ponce de Leon Avenue, Poncey-Highland
470-851-2752
What to drink
Now Starring
An even stiffer riff on a Negroni casts tequila in the lead role.
The Golden Child
This pineapple-y tiki drink that mixes rum, mezcal, and sherry is on fire—literally (for a brief moment).
Smoke + A Pancake
Who says a zero-proof cocktail can't take center stage? No one puts Smoke + A Pancake in the corner.
This article appears in our April 2020 issue.