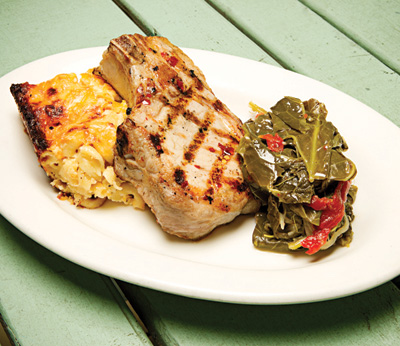 Note: This location is now closed and has reopened in Buckhead as Watershed on Peachtree.
If we were to play a restaurant version of word association, what would come to mind if someone shouted "Decatur"? My instant response is "Watershed." It has stood solid for twelve years, becoming an anchor of the community as condo buildings materialized along West Ponce de Leon Avenue and Decatur's dining scene found its burger-and-craft-beer-loving soul.
You can imagine Watershed's converted gas station location, in its original form, as a setting for a Carson McCullers story. The crowd in the sea-green dining room is vintage Decatur: Emory professors, a well-behaved child with her two moms, cackling women who ordered identical plates of white truffle chicken salad for lunch, and tourists drawn by the kudos amassed over the last decade.
Watershed is a restaurant born of stardom that begets more celebrity. Emily Saliers, the redheaded half of the Indigo Girls, opened the restaurant with three other women in 1998 and still remains a principal partner. Scott Peacock had earned respect as chef at the governor's mansion and Buckhead's Horseradish Grill, but his tenure at Watershed catapulted his career. He won the James Beard award for Best Chef in the Southeast in 2007. He started a sensation with his Tuesday night fried chicken, an homage to buttermilk and lard he developed with his late mentor Edna Lewis, the peerless African American chef and cookbook author. Peacock and Lewis's collaboration, 
The Gift of Southern Cooking
, includes many of the recipes that remain on Watershed's menu.
Unlike the hackneyed, isn't-another-stick-of-butter-fun interpretation of Southern food too often peddled on TV, these dishes are the culinary equivalent of one-act plays: Each tells a moving story about our region. They made Watershed famous. On Peacock's watch, the kitchen also fostered some of the finest talent among the next wave of star chefs, including Billy Allin of Cakes & Ale and Steven Satterfield of Miller Union.
Peacock was already drifting toward other non-restaurant projects (he's currently making a documentary about Alabama foodways and writing a memoir) when Watershed officially announced his departure a year ago this month. In May, the owners announced his successor: Joe Truex, who operated the now defunct Repast in the Old Fourth Ward with his wife, Mihoko Obunai.
The choice made sense. Truex knew the owners, lived in Decatur, and hailed from Louisiana. He would deliver his own brand of Southern finesse. And Watershed was no stranger to evolution. It started life as a salmagundi of concepts: a boutique selling cards, soaps, and soy-based candles; a wine shop–wine bar hybrid; and a delicatessen that doled out small, expensive, ambrosial sandwiches. The Southern motif came later. Decatur would adapt again to whatever changes Truex brought.
Eight months in, I'm still waiting for the transition to gel. At Repast, Truex was a brainy, offbeat chef. He would put disparate ingredients on a plate and then orchestrate harmonies: Lean sea scallops and fatty pork belly would duet brilliantly against a backdrop of spring pea puree and the funky tones of black (fermented) garlic.
Not enough of this acumen shows up at Watershed. His new menu items taste like he's striving to fit his cooking into a form he doesn't really enjoy. A fried seafood basket appetizer was one of the strangest mishmashes I've ever seen. It featured flounder, shrimp, and french fries but also included mushrooms, lemon slices, bell peppers, jalapeños, and celery—all battered and deep-fried. Yes, even the celery sticks. To compound the odd choice of ingredients, the dish came in a bowl with high sides that insulated the heat and steamed all those fried morsels into wilted brown nubs.
A beef brisket entree arrived with silky braised cabbage and a pleasantly rough puree of yellow turnips; both belong on Watershed's esteemed vegetable plate. But the brisket, though tender, bathed in a salty, ketchupy sauce that seemed inspired by a 1970s microwave cookbook. Is this really the food Truex thinks the Watershed audience—or any discerning
diner—craves?
Not all his efforts are out of kilter. When Truex looks to his home state, the flavors ring with honesty. His crawfish pies resemble empanadas stuffed with a filling as smooth and satisfying as étouffée. Crawfish appeared again one evening in a special, combined with andouille sausage and rice and stuffed in a roast poussin. It was comfort food with a dash of gutsiness. Too bad it never reappeared. We don't have nearly enough Cajun- or Creole-inspired cooking done eloquently around here.
Speaking of defining dishes, the Peacock standbys are still here, now labeled as Signature Classics. It's astonishing how faithful they remain to the originals: I could bury my head in the shrimp grits, pimento cheese with celery sticks, salmon croquettes with grits and sauteed spinach, and grilled pork chop with ethereal mac and cheese and greens and barely know major changes had shaken up the kitchen. I love that the standards remain so beautifully preserved, but I'm also ready for the rest of the food to express the mind and heart of another charismatic cook.
Truex might start with brunch. Sundays were once a phenomenon at Watershed, and I was among the devoted who came weekly for country ham steak, breakfast shrimp on rice, and corn griddle cakes. (As a past regular, the staff knows me on sight, so it's difficult for me to comment on the quality of the restaurant's service.) Honestly, brunch has been declining for the past couple years, and the poached eggs with hardened yolks next to flabby corn griddle cakes on a recent visit won't inspire me to rush back soon.
The dictionary offers the second definition of watershed as "a crucial dividing point." I'd say the restaurant's name has never been more apt. Its sense of community abides, but the kitchen's split personality confuses, particularly when one identity seems half-formed. Peacock's recipes endure because they reflect who he truly is as a cook. Truex needs to decide on his own path and commit if he doesn't want his cooking—and Watershed's reputation—to remain in the shadows of his predecessor. —Bill Addison

Watershed

RATING *
406 West Ponce de Leon Avenue, Decatur
404-378-4900
HOURS Monday–Saturday 11 a.m.–10 p.m., Sunday brunch 10 a.m.–2 p.m.
Photograph by Alex Martinez. This review originally appeared in our February 2011 issue.