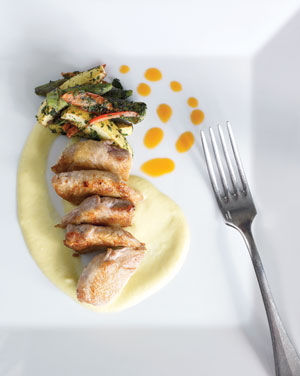 Woodfire Grill on Cheshire Bridge Road has undergone many changes in the last year, but its most essential trademark endures. The sweet, smoky aromas drifting from the open kitchen at the dining room's entrance still tranquilize as if a lullaby had dissolved into fragrance. Borrowed from the playbook of California cuisine, the layout places the focal point of cooking directly in the path of newly arrived guests, who inhale scents evocative of campfire and barbecue en route to their table. Those first wafts anchor the meal. They communicate the tone and ambitions of the restaurant more effectively than words on a menu ever could. And now they act as an aromatic through-line that connects the restaurant's past with its recent and remarkable reinvention.
Michael Tuohy, who first dazzled the city when he moved from San Francisco in the eighties to run Chef's Cafe on Piedmont Road, launched Woodfire in 2002 to showcase his devotion to simply prepared seasonal ingredients. Tuohy was one of the city's original advocates of "farm-to-table" dining, before that phrase began to corrode from overexposure. I remember the frenzy when Woodfire opened—folks three deep at the long bar, no reservations available until 9:45 on a Tuesday night. The crowds eventually thinned, and the restaurant could be inconsistent, but business remained steady over the years.
Last July, Tuohy announced that he was moving back to California. Less than a month later, he sold the restaurant to Bernard Moussa and Nicolas Quinones, two veterans of Midtown's Loca Luna. They partnered with Kevin Gillespie, previously Woodfire's chef de cuisine, who now helms the kitchen. As Gillespie tells it, the night the new owners took over, Tuohy's loyal customers vanished. The trio struggled with a slow, disquieting first year.
Credit reality television with averting what could have been an untimely end to Woodfire Grill. This spring, Gillespie was cast on Bravo's current season of Top Chef, along with Hector Santiago of Pura Vida and Eli Kirshtein of Eno. Of the three Atlanta chefs, Gillespie is proving himself the most promising frontrunner to win the title. His cherubic face, tattooed arms, and red lumberjack beard belie the competitiveness and the sharp-witted, slyly Southern sense of composition he brings to the dishes he creates under pressure. (Escargot with bacon jam? The judges loved it.)
The boon for Atlantans is that much of Gillespie's food is actually way more thrilling to eat than to watch on TV. The show has attracted a new generation of regulars to Woodfire Grill, and Gillespie displays bolder confidence than when I first tried his cooking six months ago. You can taste his bravado and affection for the South in plates such as boneless circles of wood-grilled local quail arranged over sweet potato puree glossed with brown butter. Braised greens add contrast, as does a juicy crown of pears spiced with piquant ground coriander.
Expect similar dishes wrought with equal parts intelligence and soulfulness, but don't hope for that exact entree: Gillespie constantly rotates his menu to reflect the ingredients he procures from nearby farms, though a couple of produce-rich first courses were the only disappointments during recent stellar experiences. Cream of lady pea soup included tiny orbs of roasted Sungold tomatoes, droplets of curry oil, and scallion, but the seasoning was oddly awry and the flavors all fell flat. A salad of local arugula with figs, blackberries, hazelnuts, and brown butter–sherry vinaigrette sounded like a summer-to-fall extravaganza. The dressing, however, had been dotted on the plate rather than tossed into the leaves, requiring awkward swiping for every bite. I'll chalk that one up as an anomaly: From a meal in March, I recall a watermelon radish salad with orange, goat cheese, and almonds where each element was skillfully lacquered with understated vinaigrette.
 Chef Kevin Gillespie
Items from the more substantial appetizer and main course categories show Gillespie at his creative heights. The man thrives on the push-pull of different textures, temperatures, and colors: Crisp, lightly battered sweetbreads sit atop smooth roasted vegetable mascarpone, accented with mostarda—a savory condiment of preserved fruit—made from dark beer and apricots. A combination of fried shrimp and shrimp sauteed in cream tumbles over a chive biscuit, splotched with tomato jam for a bit of acidic jolt. Columbia River salmon is paired with Madeira-mushroom butter, a treatment that brings to mind high-society cooking from Charleston. An honest hunk of beef strip loin, grilled exactingly to medium-rare, is surrounded with silky, smoky roasted cabbage, hummus made from butter beans, and a tuft of salad starring an heirloom fruit called "vine peach" that more closely resembles melon.
Did I mention that Gillespie is only twenty-seven years old? These are mightily attuned flavors for such a young chef.
And he isn't reserved about his goal: to eventually elevate Woodfire Grill to Bacchanalia-stature fine dining. Though the impulse against affordable dining sounds unnerving in this economy, we're facing a dearth of high-end options in Atlanta, so I support Gillespie's ambition. The $65 five-course chef's tasting menu gives you a glimpse into the restaurant's possible evolution: We started with shrimp arranged with celery, cucumber, shallot, lemon, and herb aioli beside warm shrimp toast, then segued to one precisely seared scallop with lady peas, mushroom jus, and bacon; quail over butter bean hummus with chermoula aioli (chermoula is a Moroccan spice blend) and a salad of beets and carrot chips; and boneless smoked pork sparerib over corn grits and a smear of smoked pepper sauce that tasted like a collage of flavors on their way to becoming a mole. Co-owner Nicolas Quinones is also the restaurant's wine program director, and for $50 per person he matches elegant wines to each course from his worldly list.
Pastry chef Brittany Emerson has skillfully adapted to the new Woodfire aesthetic. One wow-after-wow dessert entailed gloriously gushy banana fritters alongside a square of dense chocolate mousse, banana Bavarian cream, a slick of salted caramel, and, teetering atop all of this, one thin, crunchy slice of candied bacon. I know Gillespie is resistant to consider any creation as a permanent addition to the menu, but this luscious, off-the-wall finale may need to be an exception. —Bill Addison
Woodfire Grill
 RATING ***
1782 Cheshire Bridge Road
404-347-9055
Tuesday–Thursday, 5:30–10 p.m.; Friday–Saturday, 5:30–11 p.m
woodfiregrill.com
Food photograph by John Autry and Charlotte Fekete; Kevin Gillespie photograph by Fredrik Brauer. This review originally appeared in our November 2009 issue.