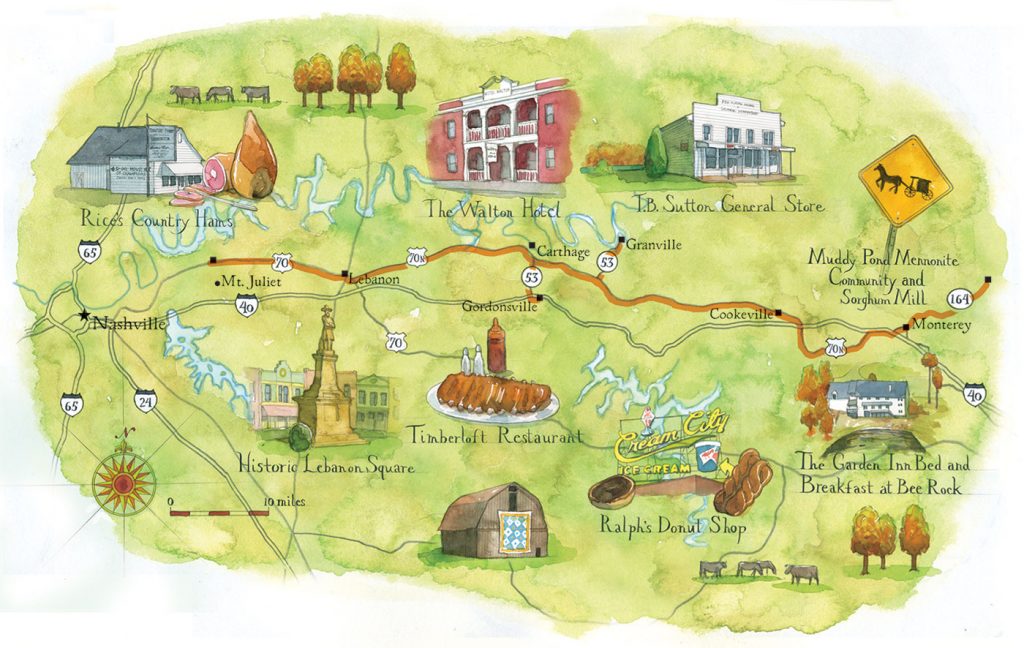 Fall brings a quickening to the pace of life in the small towns of middle Tennessee. In Mt. Juliet, Rice's Country Hams opens its doors for ham's high season, which runs from October through Christmas Eve. In Granville, scarecrows dressed as historic characters depict the story of the former riverboat town. In the Mennonite community of Muddy Pond, the tang of sorghum fills the air as the Guenther family begins boiling down the thick, dark syrup. Share in the region's bounty on a trip from the eastern outskirts of Nashville into the rolling hills of the Upper Cumberland. An early American frontier, the foothills of the Cumberland Plateau were settled by pioneers who began crossing over the mountains of Appalachia in the early 1800s. The land was beautiful—thick with stands of oak, hickory, pine, and poplar and cut through with fast-moving rivers—but it was also rugged. Settlers worked hard to grow or make almost everything they needed, and they passed their agricultural know-how and rich craft traditions down through the generations. Among the most treasured of those traditions is quilt making, and you'll find beautiful heirloom quilts for sale in antique shops and specialty stores throughout the region. Many of the patterns are also preserved on quilt squares painted on historic barns, businesses, and homes throughout the countryside. Download maps of square sites and spend an afternoon quilt spotting as you load up on fall staples along the region's back roads and byways.
Rice's Country Hams
Situated in a small, tin-roofed building that once served as Mt. Juliet's country store, Rice's has been curing country hams the old-fashioned way for more than sixty years. The hams, which the Rice family ages ten months, have won countless trophies and ribbons at county and state fairs, as well as raves from Martha Stewart. Stop in and stock up on salt-cured hams, thick-cut bacon, hickory-smoked sausage, and homemade jams and jellies.
Historic Lebanon Square
Founded in 1801 among glades and groves of red cedar, Lebanon was named for the biblical home of the celebrated tree. Long regarded as one of Tennessee's prettiest country towns, today it's known as the Antique City of the South. Begin your treasure hunt at the Downtown Antique Mall, the 10,000-square-foot granddaddy of the square's antiques shops, then check out some of its smart new neighbors, such as Posh, LuLu's Clothing Company, and the Paper Mill.
The Walton Hotel
The historic hotel, built in 1904, once hosted guests passing through Carthage on riverboat and rail or visiting the popular health resorts in Red Boiling Springs north of town. After the town's favorite son Al Gore launched his 2000 presidential campaign, the hotel's owner, C.D. "Digger" Poindexter, bet on a resurgence in the town's tourist appeal and began extensive renovations of the property. While Gore's plans didn't pan out, the beautifully restored eleven-room hotel continues to welcome guests with antique-furnished suites and a large front balcony ideal for enjoying a steaming cup of coffee and taking in views of Main Street on a chilly fall morning.
Timberloft Restaurant
This warm and woodsy Gordonsville restaurant, renowned for its Memphis-style barbecue and smoked prime rib, claims some big-name patrons, from Diane Sawyer to the Dixie Chicks. Arrive early on Friday or Saturday for the prime rib (it always sells out), then linger over a slice of the six-layer carrot cake, made from scratch by the in-house pastry chef, or a margarita featuring fresh, locally grown fruit (try the strawberry or blackberry).
T.B. Sutton General Store
From the mid-1800s to the 1970s, this store catered to the needs of the small farming community and riverboat town of Granville, set on the banks of the Cumberland River. Today, the space serves as a gift shop, art gallery, and living-history museum of sorts, stocking everything from tools and toys to shoelaces and soap. Stop by on a Saturday evening for the family-style dinner and the Sutton Ole Time Music Hour, which showcases some of Tennessee's best live bluegrass music.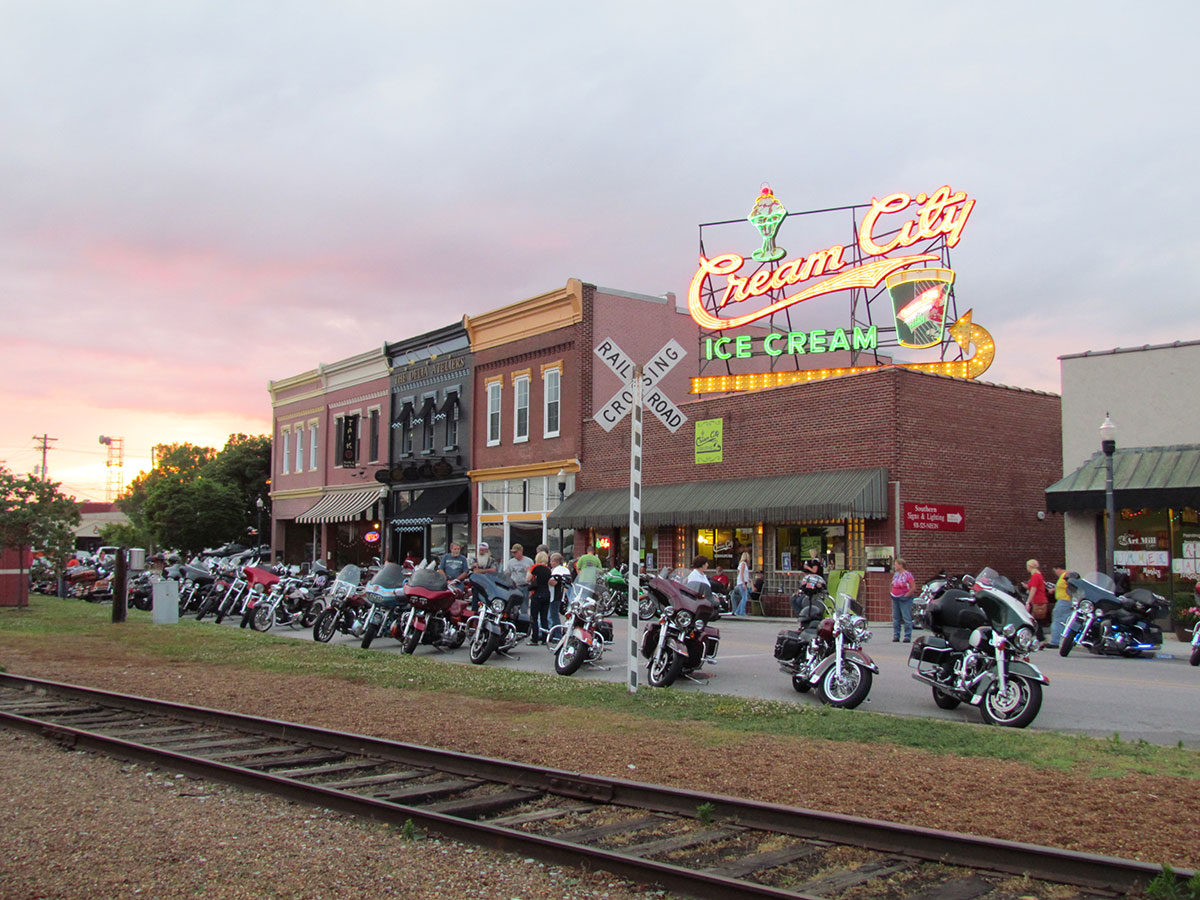 Ralph's Donut Shop
For more than fifty years, residents of Cookeville have started their days—or capped their nights—with a stop at Ralph's to catch up with their neighbors over old-fashioned cake donuts, apple fritters, cinnamon rolls, and the shop's most popular confection: butter twist yeast donuts. Grab a sackful of the glazed treats and stroll over to the town's Westside Cultural District. Shop the boutiques, check out vintage photos of the town on storefront plaques along Broad Street, and snap a selfie in the nostalgic neon glow of the Cream City Ice Cream sign.
The Garden Inn Bed and Breakfast at Bee Rock
Secluded on fifteen wooded acres just outside the tiny town of Monterey, this outstanding establishment offers eleven spacious—and impressively well-kept—guest rooms featuring handcrafted cherry and walnut furniture and large windows. Innkeepers Mike and Mirtha Kopec spoil guests with homemade desserts, such as apple pie with latticework crust, and full breakfasts that feature items like oven-baked custard French toast and four-cheese egg soufflé. An added bonus: Guests are afforded access to the nearby Bee Rock overlook, which offers some of Middle Tennessee's most spectacular views, especially as fall color blazes across Calfkiller Valley below.
Muddy Pond Mennonite Community
Step back in time on a visit to this charming community, where residents come together to worship and work. Stop in at Troyer's Bakery for fresh-baked bread and cookies, and load up on Amish crafts and Mennonite quilts at Muddy Pond General Store. A couple of leather goods stores carry saddles, belts, wallets, and even cell phone holders, and several families sell handcrafted cedar porch and lawn furniture. On Tuesdays and Saturdays through October, the Guenther family makes their award-winning sorghum syrup. Visit the mill for a taste, and buy a few jars to take home.