In his 1969 poem "To the Sea," Philip Larkin praised "the miniature gaiety of seasides," remembering the annual beach trips of his childhood and pondering their timeless appeal. "Still going on, all of it, still going on!" he marveled. And indeed, half a century later, these seaside trips are still going on. We return to the beach, again and again, for reasons that defy reason—a pull that's almost primal—and here we find our weary souls renewed, our frayed relationships restored. In the South, there's plenty of shoreline to satisfy that deep yearning, but some Southern beaches are more tucked-away than others. In fact, that's part of their charm. We've tracked down some of these hidden gems, and we think you'll agree they were well worth the search.
The Beach at Sebastian Inlet State Park

Melbourne Beach, Florida
Six miles north of bustling Vero Beach, Sebastian Inlet State Park is a best-kept secret of surfers from across the globe. Serious wave riders travel from as far away as Australia to contend with Monster Hole, a legendary surf spot formed by an offshore sandbar where, according to floridasurfmuseum.com, "reality and hype come together." But despite its insider reputation as an East Coast surfing mecca, Sebastian Inlet remains blessedly uncrowded. Visitors have plenty of space to enjoy all the old-fashioned pleasures: strolling three miles of unspoiled shoreline, gathering shells, building sandcastles. The park is home to several distinct ecosystems, including dunes, tidal swamps, and maritime forests. It's also part of the Great Florida Birding and Wildlife Trail, making for plenty of spectacle, even when the surf's not up. Keep an eye out for willets, ruddy turnstones, and sanderlings.  
Don't forget to pack
Binoculars. Watch world-class surfers defy gravity from the comfort of your lounge chair, or count how many species of migratory shorebirds you can spot. (Pick up a bird list at the entrance station.)
Insider tip
Novice surfers, check out the beach's north end. The waves are slightly gentler and the crowds even thinner. Practice in private until you get the hang (ten) of it.
Where to stay
Captain Hiram's Resort in Sebastian offers Old Florida charm right on the Indian River. Visitors and locals alike rave about its Sand Bar restaurant—especially the live music, friendly servers, and fried green tomatoes. 
Frisco Beach

Hatteras Island, North Carolina
It should come as no surprise that the Outer Banks has some of the best kite-flying conditions in the country. After all, the Wright Brothers chose Kitty Hawk for the flight experiment that changed the world. The consistent winds that lifted the first airplane are still lifting kites in the Outer Banks today. And if flying a kite seems wonderfully old school, so does Frisco Beach on Hatteras Island. Unlike some of its tonier neighbors, the little town of Frisco has not a single franchise—all of its eateries and accommodations are strictly Mom and Pop. A trip to Frisco Beach is all about the beach: fishing from the shoreline, horseback riding on the sand, camping beneath the stars, and—yes—flying kites high into the air.
Where to stay
Rent a beach house or drive six miles to The Inn on Pamlico Sound, a boutique hotel nestled between one of North America's largest estuaries and the Buxton Woods coastal preserve. 
Where to eat
The Frisco Sandwich Co. is a favorite lunch spot. Popular sandwiches include the Tree Hugger (made with roasted summer vegetables, sprouts, and pepper-jack cheese), the Cuban, and the grilled brie and bacon with fig jam. 252-995-3354
Insider tip
Check the wind report. Ideal winds for kite flying are between 6 and 18 mph. When the gusts are blowing at 20 mph or more, this exhilarating pastime becomes an exhausting workout!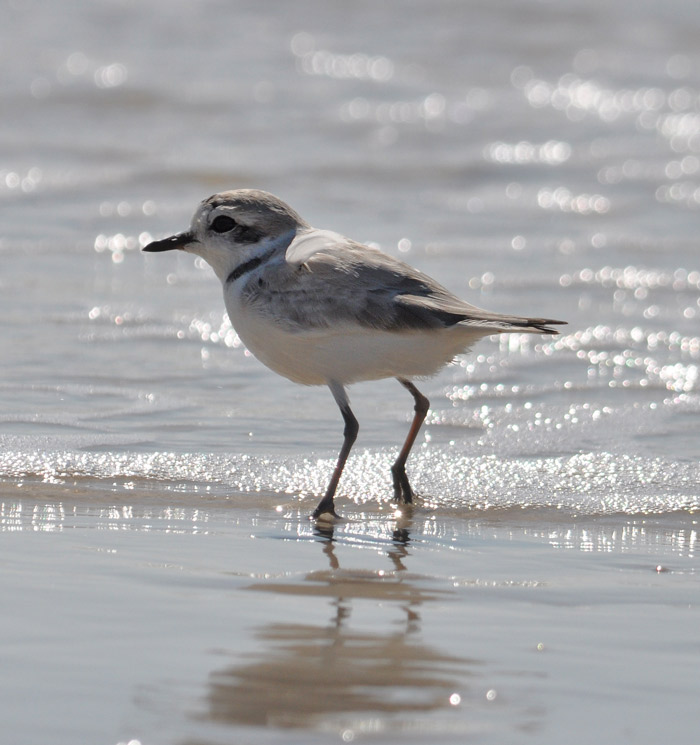 Audubon Bird Sanctuary Beach

Dauphin Island, Alabama
Just off the coast of Alabama, Dauphin Island is plenty well known for its gorgeous white beaches. But the little strip of shoreline at one edge of the Audubon Bird Sanctuary is a virtual secret to anyone but birders. Two of the sanctuary's five paths wind through a variety of habitats—lake, swamp, forest—and end at this lovely swath of beach where sandpipers abound and even the rare piping plover may be spotted. The National Audubon Society has deemed the sanctuary a spot of "global importance," as it is the first landfall for myriad neo-tropical birds after their long, arduous migration from Central and South America each spring. It's also their last rest stop before they fly home in the fall. At this jewel box of a beach, an observation deck awaits, complete with benches and magnificent views of an osprey nesting platform and the Gulf of Mexico.
Best times to go
Dauphin Island has been named one of the top four birding locations in North America. You'll see the most action during spring migration (mid-March through early May) and fall migration (mid-September through October).
Where to pick up dinner
Skinner's Seafood is a Dauphin Island institution. Take home frozen crawfish pies, gumbo, and raw or steamed shrimp to create a Cajun-themed feast. 
Don't miss
After a day spent beach birding, treat yourself to a Belgian waffle sundae at Foxy's Waffle Bar and Sugar Den. Only three years old, this quirky newbie is quickly becoming the island's go-to sweet spot. 
Turtle Beach

Daufuskie Island, South Carolina
The passenger ferry that travels to Daufuskie Island from nearby Hilton Head might as well be a time machine. Daufuskie is largely untouched by modernity, with no grocery store, no gas station, not even a bridge to the mainland. But what it lacks in modern conveniences it more than makes up for in character and natural beauty—especially at Turtle Beach, a serene spot on the eastern shores where many visitors arrive by horseback. Led by a guide, they follow the shoreline at low tide, spotting birds such as red knots and ruddy turnstones as they go. Beach riding is best from October through March. The rest of the year, you can bring your horse near the beach—you'll have wonderful ocean views—but riding on the sand is limited because of nesting sea turtles.
Where to eat
Laid-back, local, and located under a spreading oak, Lucy Bell's Cafe specializes in shrimp tacos, redfish sandwiches, and what some call the best onion rings on the planet. 843-341-6477
Don't forget to pack
A copy of The Water Is Wide, Pat Conroy's memoir of his year spent teaching impoverished Gullah children on Daufuskie in the late sixties.
Where to stay
There are no hotels on Daufuskie, but the Lighthouse at Haig Point has recently been transformed into an inn. Situated on the island's northern edge, the 1873 structure can accommodate up to four guests. 
Driftwood Beach

Jekyll Island, Georgia
Jekyll Island's otherworldly Driftwood Beach is a magnet for photographers and families seeking a stunning background for a portrait. Once a maritime forest, this enchanting mile-long expanse of sand on the barrier island's north end is a graveyard for trees uprooted by decades of slow, steady erosion. Its collection of twisted, weathered denizens is a sight to behold—a natural sculpture garden that appears almost, well, supernatural. Visitors can climb on these gnarled, sun-bleached giants, walk among them, even hang hammocks and rest in their branches. Seasoned shutterbugs swear by the beach's light at sunrise, but sunset makes for gorgeous pictures, too, especially if it's low tide. While the dramatic panorama sometimes serves as a backdrop for a wedding, the beach typically feels quiet and secluded, whispering mainly to artists, poets, and pilgrims of all persuasions.
Insider tip
Driftwood Beach has limited parking, so it's easy to drive right past it. Pull off the road just beyond Villas by the Sea. Multiple paths lead to the oceanfront.
Where to eat
Minutes from its namesake beach, Driftwood Bistro specializes in local Wild Georgia Shrimp and house favorites like fried okra, squash casserole, and bread pudding. 
Did you know?
Fans of The Walking Dead may recognize Driftwood Beach, as parts of seasons seven and ten of the hit series were filmed here.
East Beach

Bald Head Island, North Carolina
Accessible only by boat or ferry, Bald Head Island is nothing if not private. Its fourteen miles of pristine shoreline divide into three main beaches, each facing the Atlantic from a different direction. The smallest of the three, East Beach, tends to be the least crowded, perhaps because its water temperature is consistently five degrees cooler than the others' and its surf is usually too strong for young children. But those who love it are glad for its winds, which make it the best beach on the island for surfing and kiting. It's also an ideal spot for surf fishing, as East Beach extends the farthest into the Atlantic, all the way out toward Frying Pan Shoals, where bluefish flash and shimmer through the rough white surf.
Insider tip
When strolling or fishing on the point where East Beach meets South Beach at the shoals, watch out for the incoming tide. People get caught here quite a bit.
Where to stay
Bald Head Island has no hotels, but there are plenty of beautiful rental homes with enticing names like Carolina Dreaming, Loggerhead Lady, and Sophisticated Sunsets. baldheadisland.com
Where to eat
Jules' Salty Grub & Island Pub offers the island's only waterfront dining. Under new ownership, the restaurant has enhanced its menu with even more seafood. Try the beer-battered codfish sandwich with melted cheese and North Carolina craft beers, such as the Mother Earth Long Weekend IPA. 
Deer Island

Near Biloxi, Mississippi
Some of the very best beaches are hidden in plain sight. The northwest tip of Deer Island, once part of the Mississippi mainland, is only about 200 yards off the coast of Biloxi, but it might as well be another world. Completely undeveloped and uninhabited, there's nothing on this narrow, 400-acre island but lush foliage, indigenous wildlife (rabbits, otters), a sturdy pier, and a long stretch of beautiful beach. Camping enthusiasts sometimes pull overnighters here, but it's mostly a day-trip destination (paddlers love that they can arrive in ten minutes by canoe, kayak, or paddleboard). Though many have sought to develop the island, the state recently purchased it, and there's been talk of turning it into a park. But for now, Deer Island is as primitive a hideaway as you're likely to find this close to civilization. Indulge your Robinson Crusoe fantasy, and be back in Biloxi by happy hour.
Legend has it
A couple of creepy ghost stories have long been associated with the island—one featuring a headless skeleton, the other an eerie blue light known as the Firewater Ghost. Overnighters, beware!
Where to eat
Back on the mainland, enjoy dinner at Taranto's Crawfish, a no-frills Biloxi joint specializing in Cajun- and Creole-style seafood. 228-392-0990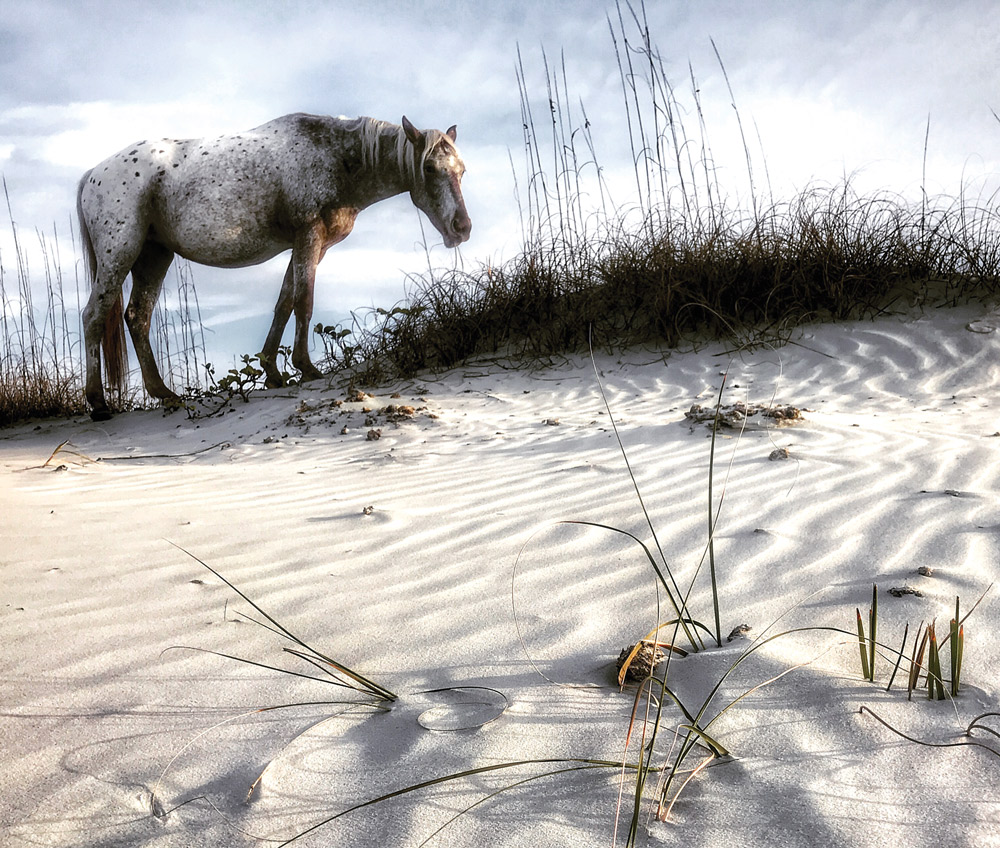 Sea Camp Beach

Cumberland Island, Georgia
For the nature lover in search of a secluded getaway, Cumberland Island might be as good as it gets. The largest wilderness island on the Atlantic coast (one-third larger than Manhattan), it's home to seventeen sprawling miles of national seashore. Sea Camp Beach borders the island's only designated seaside campground: Pitch your tent in a maritime forest, cross a boardwalk, and you're on the sand. You'll enjoy marvelous peace and privacy, as only 300 people are allowed onto the island every day via ferry. You'll share your space mostly with horseshoe crabs, sea turtles, and hundreds of shorebirds. You might even spot some of Cumberland's famous wild horses wandering in the dunes. Relish your day on this magical beach, then drift off to sleep under the stars, the gentle music of the surf serving as a lullaby.
Be prepared
Camping requires a reservation; dates are available six months in advance. Sea Camp has toilets, cold showers, drinkable water, and designated fire areas. Bring everything else, including bug spray. 
Another lodging option
Not the rustic type? Stay at historic Greyfield Inn, built by the Carnegies in 1900, where you'll enjoy luxurious rooms, farm-to-table meals, guided tours of the island, and access to kayaks, bicycles, and fishing gear. 
Why wild horses?
When the Carnegie family moved to Cumberland in the 1880s, they brought horses for riding, hunting, and pulling carriages. By the 1970s, the horses had multiplied and become feral. Today, as many as 150 roam the island.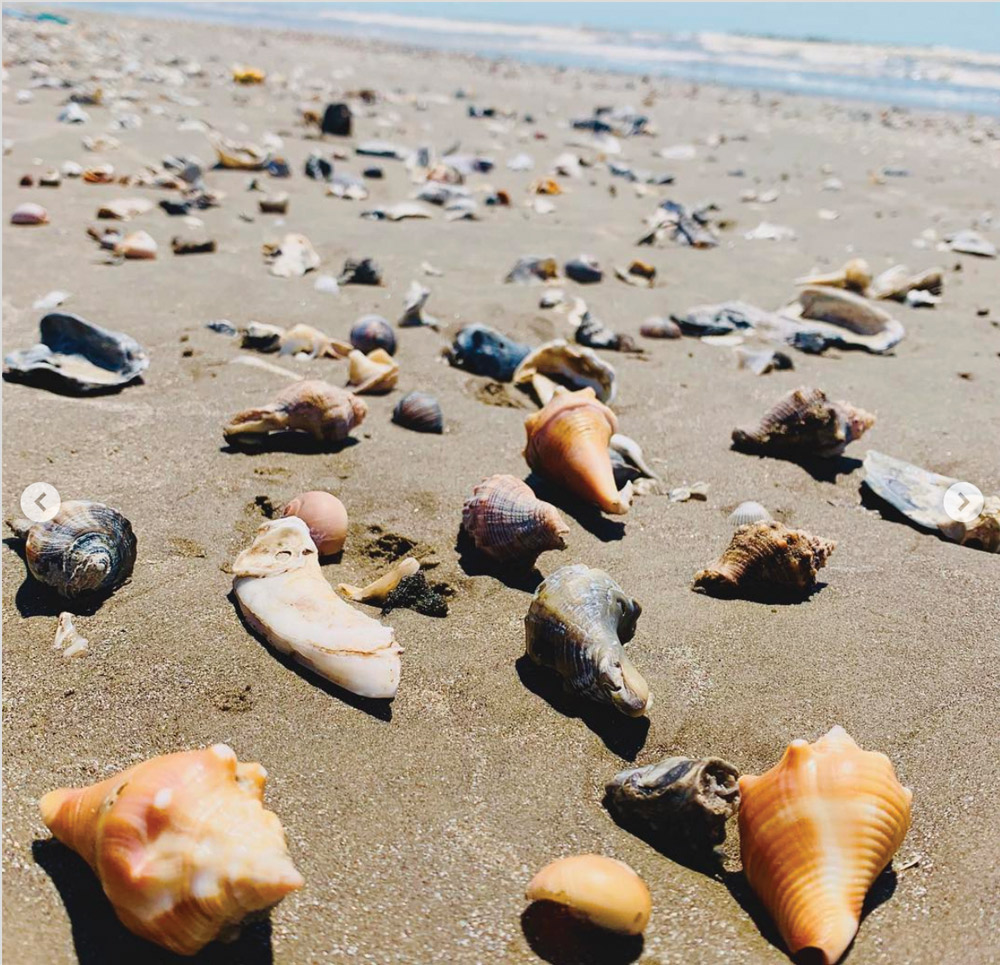 Holly Beach

Near Cameron, Louisiana
Nicknamed the Cajun Riviera, this mostly undeveloped beach and the small community that shares its name are located in southwest Louisiana on the Gulf of Mexico, along the Creole Nature Trail All-American Road. Despite its low profile, Holly Beach was named one of the country's top ten beach-combing beaches by USA Today, and Readers Digest includes it among the "Beaches with the Best Seashells in the World." Why? Holly Beach is continually replenished by the Mississippi River's southeast tidal flow, which carries rich deposits of driftwood, sea glass, and shells, shells, shells. Visitors to Holly Beach have been known to find cockles, cat's eyes, coquinas, periwinkles, whelks, and even the highly prized wentletrap. 
Day trip tip
There are clean portable toilets along the beach, but that's about it for civilization—you won't find any gas stations or restaurants in the immediate vicinity. Fill up your tank in Cameron, and bring snacks.
Don't forget to pack
A bucket for shells. At low tide, look where the waves are licking the shore, but also at the "trash line," where shells hit and settle at high tide.
Where to eat
Drive ten miles to Cameron—or take a $1 car ferry—and enjoy a meal at Anchors Up Grill, home of the fiery Kickin' Shrimp Po'boy. The seafood is fresh, and there's covered outdoor seating. 
Calusa Beach, Bahia Honda State Park

Big Pine Key, Florida
Traveling down A1A to Key West, it's easy to blow right past Bahia Honda State Park. Word to the wise: Don't. The 524-acre paradise has two beaches facing the Atlantic—Sandspur and Loggerhead—and a smaller beach, Calusa, on the bay. All three have unusually clear water, but Calusa's interior location means the surf is also quite calm, making it a favorite spot for snorkelers and divers. Don a mask and fins and get started right off the beach—you might glimpse queen conch or spiny lobster—or take a snorkeling tour to Looe Key Marine Sanctuary, featuring one of the most biodiverse coral reefs in the Florida Keys. Tour boats leave Calusa Beach twice daily, giving snorkelers an hour and a half to explore this magnificent reef. Book your tour and rent equipment right on the beach at park concessions. If snorkeling's not your thing, Calusa also makes a clear and calm swimming spot.
Don't forget to pack
A camera. Considered the most photogenic beach at Bahia Honda State Park, Calusa's visual impact is enhanced by its backdrop: the iconic, abandoned Bahia Honda Rail Bridge, built in 1912 to connect the area to Spanish Harbor Key and, ultimately, Key West.
Where to stay
Parmer's Resort on Little Torch Key offers a taste of easy Keys-y living with its collection of cottages, studios, suites, and rooms spread over five sun-soaked acres. From no-frills to upscale, you choose. 
Where to eat
All fried-shrimp-and-hushpuppy'd out? Locally owned Good Food Conspiracy in Big Pine Key is the beach vacationer's healthy alternative. Enjoy avocado melts, veggie burgers, homemade soup, and fresh fruit smoothies. 
This article appears in our Spring/Summer 2020 issue of Southbound magazine.