SAVANNAH BANANAS
Grayson Stadium, Georgia
Governed by the maxim "we make baseball fun," the Savannah Bananas have sold out every game since their founding in 2016. Following their own eccentric brand of play, dubbed "Banana Ball," the team eschews anything that could make the sport feel sluggish: Games are capped at two hours; bunting is not allowed; and a veritable circus of wacky contests, dancing players (flipping, cartwheeling, pirouetting), and on-field antics (sometimes on stilts or horseback) keeps every inning moving at an exhilarating pace.
ASHEVILLE TOURISTS
McCormick Field, North Carolina
Thanks to the mountain panorama wrapping around the outfield, McCormick Field near downtown Asheville is unique among Minor League stadiums. Visitors may recognize parts of the stadium from Bull Durham, which filmed several scenes inside the ballpark. The Tourists know how to celebrate Asheville's "Beer City USA" moniker: Every Thursday, fans can enjoy $1 national draft beers and $2 craft pours from many of Asheville's legendary breweries, like Hi-Wire and New Belgium.
COLUMBIA FIREFLIES
Segra Park, South Carolina
The new state-of-the-art Segra Park sits at the center of the urban-revival BullStreet District, a walkable hub of shopping, dining, and plentiful greenspace. Past the arched brick entrance is an equally traversable concourse offering views of the field from multiple angles, with picnic tables on the first- and third-base lines below. The team name celebrates the famous fireflies of nearby Congaree National Park; dog lovers can even bring furry fans to the ballpark on Wag-Along Wednesdays.
BLUE WAHOOS
Admiral Fetterman Field, Florida
Overlooking Pensacola Bay, Admiral Fetterman Field offers sea breezes along with an exquisite view. The surrounding Community Maritime Park includes a water-front boardwalk and is walking distance from historic Seville Quarter. Come hungry: The park boasts four major concession stands and features original fare like the Crabzilla, a monstrous sandwich filled with crab remoulade, pork belly, soft-shell crab, crab mac and cheese, and fried shrimp. After every Saturday home game, a dazzling fireworks show lights up the bay.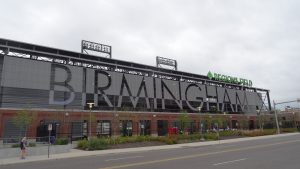 BIRMINGHAM BARONS
Regions Field, Alabama
Modern amenities and historical attractions come together for a winning day at Regions Field. Watch the action from anywhere on the stadium's 360-degree concourse, or head to the Powerhouse Batting Cages to perfect your swing in the same practice cages the Barons use. (Younger fans can burn some energy on the Wiffle ball field.) Across the street, step back in time 100 years and learn about early Black baseball heroes at the Negro Southern League Museum. Or, plan your visit around the annual Rickwood Classic "Turn Back the Clock" game—with vintage uniforms, old-timey music, and manually operated scoreboards—at the Baron's former home at Rickwood Park, the oldest in-use baseball stadium in America.
________________________________________________________
This article appears in the Spring/Summer 2023 issue of Southbound.