On a shady corner in a Kirkwood, new boutique Mini Friday showcases trendy graphic tees, rompers, and track suits, all in "pint sizes" for toddlers and kids. The manicured potted plants and crisp white exterior frame cute designer streetwear from Insta-friendly brands like Mini-rodini, Ammehola, and A.B.C. Step inside and there's a mural reading "Love Equally" in bright green letters, signaling a broader message of compassion and individuality. We sat down with owner and mother-of-three Allie Friday to chat about her vision for the store and inclusiveness in childrenswear.
Mini Friday is believed to be the first gender-neutral children's clothing store in Atlanta. What inspired you to open it?
When my [7-year-old-daughter] Erin was five, she voiced her preference for streetwear, over princess dresses—and no tight-fitting leggings. It began as a conversation about clothing, and over the next few years Erin had broader questions like, "What does it mean to be a boy? Or a girl?" She told me, "I don't want people to think I'm weird for not liking the girlie stuff." We would buy Barbie, but she preferred the Ken doll. For Halloween she wanted to dress up as Hulk, so we painted her green. I just wanted a happy kid.
When did you think a store like this could be a potential business idea?
I knew Erin couldn't be the only kid in the world that didn't like the frilly stuff. Personally, I've always loved streetwear and the sort of androgynous look. As a kid, I loved sneakers, and wearing brands like Nautica and Polo—but still having my nails done. I lived in Los Angeles for a few years, and I love the whole Kanye vibe—kind of like grunge. I thought, man, kids could be so cute dressed this way!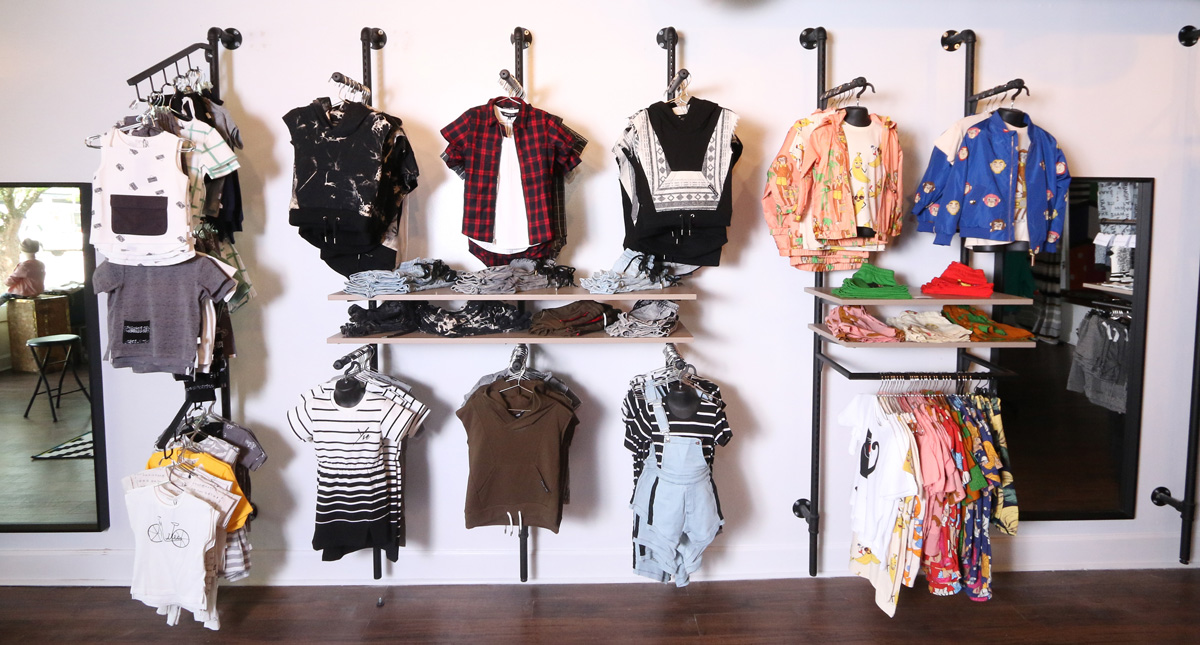 What did you do professionally before opening the store?
A mix of day jobs in customer service and social media. But I've always had a drive for entrepreneurship. In high school (Redan High in Stone Mountain) I launched a makeup service for homecoming, and later after going to Paul Mitchell School had a bridal makeup business for five years.
There are a lot of gender-neutral and streetwear brands online, so there is access for people seeking these looks. Why a brick-and-mortar store?
You're right, and I discovered these brands online first, and thought about doing an e-commerce store. But I felt like the brick-and-mortar was important because it's a safe space. As a parent, you could shop from comfort of home and keep [this conversation] at home, still a little bit secret. Mini Friday creates a safe, fun space out in the world.
Landing on this spot in Kirkwood was lucky. As a first time store owner, I hit some roadblocks finding a space. A friend recommended I check out Kirkwood. I hadn't realized how much the neighborhood had changed. I called the woman who owned the building and she said she loved the concept. That's all she wrote! We opened three months later.
Let's back up. What makes a piece of clothing "gender-neutral" anyway?
That's a good question! Because a lot of the lines I carry aren't actually marketed as uni-sex. I just shop the pieces that I think work with the aesthetic of the store. I buy many oversized pieces—track pants, hoodies, shorts with drop-crotch. There are some dresses. Jaden Smith wore a dress before and he made it dope. It could be a tunic. If there's a little boy who wants to wear a dress, it's his prerogative. No judgments.
The prints on the clothing are mostly animals, foods, or, say, bicycles—but not [stereotypically-gendered] hearts and stars for girls, nor trucks for boys. We do have pink and purple pieces, but overall the colors are more neutral—grays, blacks, and tans.
How do you see the trend of gender-neutral parenting evolving?
For me, I see it as an opportunity to allow people—because kids are really little people—to be exactly who they are. This movement hopefully educates others to be more compassionate and without judgment on how children choose to express themselves. I'm glad to be a part of it.
What's next for Mini Friday? Any thoughts on expanding?
I'm still waiting on this store to do great. I would love to have a store in Los Angeles, too, one day. Right now, we're getting to know our Kirkwood community. Next up we'll be hosting mommy and me events and kids yoga classes in our great backyard space. We just want people to come in and have fun! 2033 Hosea L. Williams Drive Northeast, shopminifriday.com