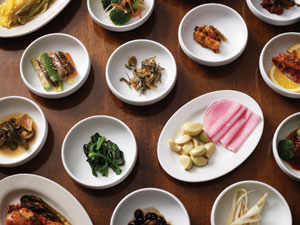 My first encounter with Korean culture took place in the small Greenwich Village apartment my future husband shared with the son of the Korean ambassador to the United Nations. Young Victor Han kept kimchi in the refrigerator and a tiny metal hibachi in the living room for his grilling needs.
I moved up the food chain when Victor's parents entertained me at a sit-down dinner at the new embassy in Vienna, where they were posted a year later. I remember very little of the meal, except that it was long and formal and I had no idea how to eat a whole fish with chopsticks.
Since then, I have made up for my naivete and eaten hundreds of Korean meals in and around Atlanta, where the community has grown in size to rival that of Los Angeles. One of the main reasons I spend a lot of time outside the Perimeter is the extraordinary number of Korean establishments all over Gwinnett County. Many Westerners find the cuisine of Korea intimidating. They have the vague notion that it is invariably spicy (mostly true, but not always) and that it uses a lot of garlic (it does). They are justifiably anxious about restaurants that often do not have signs in English and that specialize in esoteric dishes.
One may need an adventurous palate to discover the wonders of black goat soup, buckwheat noodles in broth with small chips of ice, raw crab over rice, and, scariest of all, blood sausage with sliced liver and heart on the side—all dishes I love. On the other hand, Korean barbecue grilled over charcoal is easy to enjoy; boiling-hot tofu soup (almost never vegetarian) can be magically comforting; and a long list of Korean dishes—from dumplings to pastries, soothing porridges, rice casseroles, and unbelievable fried chicken—will appeal to a broader spectrum.
There is no such thing as a Korean meal without kimchi. Every kitchen has its own variation of this fermented condiment, which is typically made with Chinese cabbage salted and rubbed with a paste of red pepper, garlic, fish sauce, and other seasonings. I consider Gene Lee, a Korean American foodie who lives in Atlanta, my expert on the subject. His blog—Eat, Drink, Man (eatdrinkman.blogspot.com)—has a special kimchi section, and his reports on the Asian dining scene are invaluable. Kimchi is an essential part of the lavish spread called banchan—small plates of brined or pickled vegetables, marinated tofu, seafood pancakes, dried or fresh fish, and more—usually included with the meal.
The following list, favorites ranked from easy to hard-core and double-checked with Lee, will help you appreciate the extraordinary range and diversity of the local Korean food culture.
Christiane's Korean Restaurant Notebook
Easy-to-love specialties

Maum Bakery
Buns stuffed with bean paste, soft Korean-style egg bread, and a dazzling number of pastries in modern, attractive surroundings.
7130 Buford Highway, Doraville, 770-263-7447; 3182 Steve Reynolds Boulevard, Duluth, 770-813-8874

New York Baden
Supercrisp fried chicken with daikon radish and seasoned salt in a beer-garden atmosphere.
3585 Peachtree Industrial Boulevard, Duluth, 770-623-1146

Pizza & Chicken Love Letter
A cute Asian riff on familiar foods with exotic and spicy touches.
10820 Abbotts Bridge Road, Johns Creek, 770-813-8882
Han Il Kwan
A broad spectrum of impeccable traditional dishes (including crisp seafood pancakes) in a friendly dining room popular with a diverse crowd. 5458 Buford Highway, Doraville, 770-457-3217
Myung Ga Won
This high-end barbecue offers marinated, grilled Angus beef and stays open twenty-four hours. 1960 Day Drive, Duluth, 770-622-1300
Honey Pig
Pork belly (in several variations) cooked at the table over domed grills in a hip place that has earned crossover success. 3473 Old Norcross Road, Duluth, 770-476-9292

Intermediate-level dining

Chosun Ok
Dim decor and superb barbecue. Grill your own bulgogi (marinated beef) or kalbi (ribs) and don't expect much help. 5865 Buford Highway, Doraville, 770-452-1821
Tairyou
The place for Korean-style sashimi (often wrapped in lettuce) and seasonal sushi in an upscale room. 5953 Buford Highway, Doraville, 770-455-4131
Abaee Noodle
A full range of simple Korean noodle dishes and soups such as spicy pork and oxtail. 2476 Pleasant Hill Road, Duluth, 770-817-0906
Bonjuk
Wonderful rice porridges mixed with other grains, mushrooms, abalone, and more. Takeout and dine-in equally wonderful. 2645 North Berkeley Lake Road, Duluth, 770-232-1944
So Kong Dong
Hot tofu soups, bibimbap (a warm rice, egg, and vegetable salad of sorts) in stone pots, and high-quality banchan in an intimate setting. 5260 Buford Highway, Doraville, 678-205-0555
Bud Namu
Call ahead to order two incredible fortes: stuffed Korean duck baked in clay and small pumpkins filled with rice. 3585 Peachtree Industrial Boulevard, Duluth, 770-622-8983

For adventurous palates

Masan A-Gu Jim
The word "seafood" is the only English on the restaurant's sign. Raw crab with chili, black goat soup, and the best spicy monkfish you will ever taste. 2550 Pleasant Hill Road, Duluth, 770-232-4848
Mirak
Great homemade blood sausage with sliced liver and tripe on the side, hearty seafood soups, and other staples in convivial but basic surroundings. 7130 Buford Highway, Doraville, 770-807-7249
Ham Heung Nang Myn
Pork neck-bone soup and old movie posters in a spot favored by nostalgic expats. 3230 Steve Reynolds Boulevard, Duluth, 770-622-9260
Kang Seo
Slow-cooked, milky-white beef-bone soup with various meats reminiscent of a French pot-au-feu. Wins the prize for most comforting. 2790 Lawrenceville Suwanee Road, Suwanee, 770-932-7753

Cafe Todahmgol
A typical working-class, hard-drinking establishment; alcohol included in the price of entrees. Among other things, the cafe serves pork belly casseroles and "army base" stew made with Spam and hot dogs. 2442 Pleasant Hill Road, Duluth, 770-813-8202